Rankings
Mid-June MLB Power Rankings: New York Houses the Two Best Teams in Baseball
New York continues to dominate baseball, plus the hottest team in June makes a massive jump.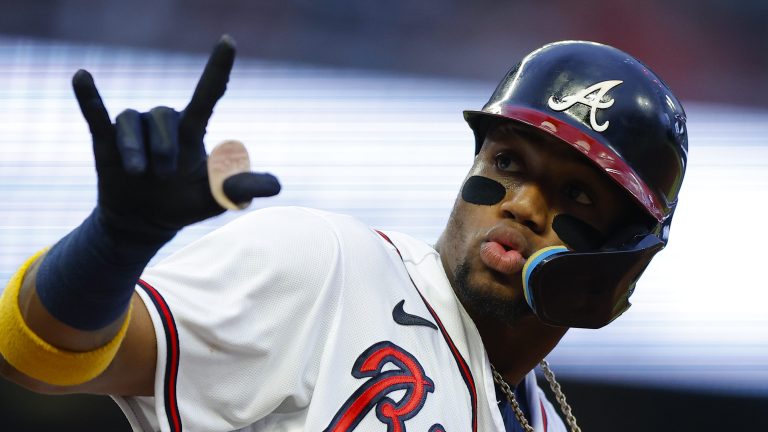 "Alexa, play Empire State of Mind by Jay-Z and Alicia Keys."
New York City needs us to throw them a bone. They only have absolutely everything, from Duane Reades to a rat problem. Good news for them: the Yankees and Mets could meet in the World Series and not surprise a soul.
Plus, a team from Atlanta is surging and Houston drops a bit. Congratulations, Future. My condolences, Travis Scott.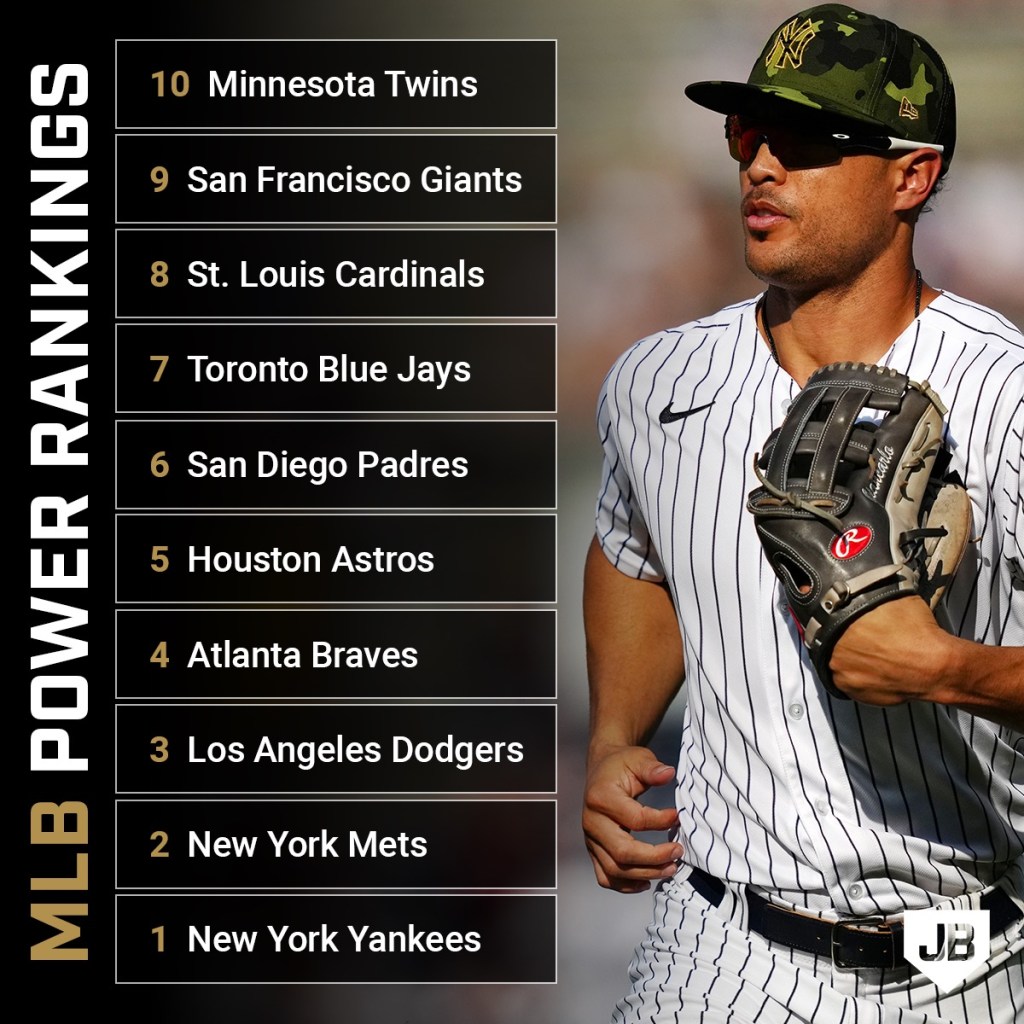 1. New York Yankees (Previous Ranking: 1)
The best team in baseball has the best player in baseball. A recent struggle from Mike Trout allowed Aaron Judge to sprint away from the pack as the front-runner in a loaded American League MVP field. Would you be shocked if I told you after a month of May where Judge logged a 1.077 OPS, he's got a 1.166 OPS in 12 games in June? Payday, incoming.
2. New York Mets (Previous Ranking: 4)
The New York Mets have not lost more than two games in a row at any point this season. Much of that has to do with their starting pitching's ability to rebound. Last week in San Diego, Taijuan Walker and Chris Bassitt were both handed losses in poor outings. The last two games the Mets have played, they've outscored the Angels and Brewers 8-1 with wins from Taijuan Walker and Chris Bassitt. Oh, and two of the best pitchers on the planet are set to return sooner rather than later.
3. Los Angeles Dodgers (Previous Ranking: 2)
The Dodgers have lost six of their last nine games, including a three-game sweep in San Francisco over the weekend where they put up four runs in three games. The offense may be stalling, but the true panic comes from the starting rotation in light of the Walker Buehler news. Tony Gonsolin has been incredible this year, but how do the Dodgers replicate the security and production of Buehler for the next three to four months? I think it may be impossible to entirely spell. Also of note: after a 1.157 OPS in May, Mookie Betts is slashing .208/.222/.340 in June.
4. Atlanta Braves (Previous Ranking: 13)
The hottest team in baseball has Ronald Acuña Jr. back in the fold. That should be enough, right? Well, Dansby Swanson and Adam Duvall have been utterly dominate in the first two weeks of June, and Kyle Wright and Max Fried are proving to be a viable 1-2 punch with Charlie Morton off his game. The missing piece to the puzzle seems to be starting pitching depth, but they may have it with young swingman fire-baller Spencer Strider and a loaded Triple-A rotation. Alex Anthopoulos could be quiet at the deadline this year. Stunning.
5. Houston Astros (Previous Ranking: 3)
The Astros are sputtering a bit, dropping six of their last 10 games. With the Angels slumping, the 'Stros may have missed their opportunity to put the division away in early June. However, that's no fault of Yordan Álvarez; in 12 June games, Yordan is slashing .488/.574/.814 with 15 RBIs. If Judge ever comes back to earth, Álvarez may swoop in and steal some MVP voted.
6. San Diego Padres (Previous Ranking: 6)
Fernando Tatis Jr.'s timeline being pushed back is a massive blow to this team's regular season aspirations. Luckily for San Diego, they should still cruise into an expanded postseason field. Joe Musgrove has been pitching like a nine-figure man. Left-hander MacKenzie Gore seems to be throwing like the National League Rookie of the Year. Anything more that you get from Darvish, Manaea, and Snell is gravy. That's a wonderful situation to be in without the best shortstop in baseball available.
7. Toronto Blue Jays (Previous Ranking: 12)
Brace yourselves; we're entering a summer dominated by Blue Jays catchers. After making the call to promote top-10 overall prospect Gabriel Moreno, Alejandro Kirk may have the chance to keep his bat in the lineup while getting off his feet. Kirk has been purely fantastic, and he should be the starting catcher for the American League in the MLB All-Star Game.
8. St. Louis Cardinals (Previous Ranking: 11)
Utterly gutted for Miles Mikolas, losing a no-hitter with two outs and two strikes in the ninth inning on Tuesday night against the Pirates. But, a testament to Mikolas; he has been pitching like a guy who could throw a no-hitter all year long. Mikolas has been great, but the return of Jack Flaherty could be massive for a team that craves pitching depth at this point. If you're wondering, yes: Paul Goldschmidt is still hitting .478 with a 1.412 OPS against left-handed pitching.
9. San Francisco Giants (Previous Ranking: 9)
As underwhelming as this team was in May, they've turned it on through the front-half of June, highlighted by a sweep of the Dodgers over the weekend. This is no fluke; the pitching staff currently owns a 2.73 ERA, which is the best in the National League. The bats are slightly-above-average, but rest assured: this team with go wherever the staff takes them on the mound.
10. Minnesota Twins (Previous Ranking: 10)
The key to the Twins' survival this summer seems to be just that: survival. If their hitters can stay on the field, they have a chance to do something special offensively. The problem is, they've already been dealt a blow with Royce Lewis re-injuring the same ACL that kept him out of competition last year. Correa, Buxton, Polanco, and batting average-savant Luis Arraez need to stay on the field for the Twins to take care of the weakest division in the game.
11. Tampa Bay Rays (Previous Ranking: 7)
All hail the American League Cy Young front-runner, Shane McClanahan. The way that McClanahan complements a high-90s fastball with a high-velocity slider and knee-buckling curveball could make Da Vinci bust out a canvas. The most impressive part of McClanahan's season has to be his durability and his command; he's averaging north of six innings per start, and is walking a minuscule 1.6 hitters per every nine innings. However, McClanahan can't do it all by himself; Wander Franco, Brandon Lowe, and Mike Zunino are on the 10-Day IL, while Andrew Kittredge and J.P. Feyereisen are bullpen pieces that are shelved.
12. Milwaukee Brewers (Previous Ranking: 8)
What on earth is going on with the Brewers? Milwaukee's 1-9 in their last 10 games, and have put up two or fewer runs in half of those games. The offense needs to be present and over-perform with Brandon Woodruff and Freddy Peralta both on the injured list (Peralta on the 60-Day). In order for this team to be a legitimate contender, they're going to need to be active at the trade deadline.
13. Boston Red Sox (Previous Ranking: 14)
The three-best staff ERAs in June reside in the AL East, and Boston is the best of the bunch. Through 12 June games, Red Sox pitching owns a collective 2.01 Staff ERA with 78 hits allowed and 107 strikeouts in 107 2/3 innings of work. Any chance that I get to acknowledge the turnaround that Nick Pivetta has had this year, I'll do it. Pivetta, after an 8.27 April ERA, logged a 2.11 ERA in May and has allowed just five earned runs in 20 June innings.
14. Philadelphia Phillies (Previous Ranking: 16)
It's impossible to ignore what's happened in Philadelphia since they fired manager Joe Girardi. This team is playing rejuvenated baseball, against fairly decent competition. The problem is, how sustainable is this? This team is still the second-worst team in the game in Outs Above Average and Defensive Runs Saved, only ahead of the lowly Nationals. However, if Zack Wheeler and Aaron Nola continue to pitch the way they have, defense could be a moot point.
15. Cleveland Guardians (Previous Ranking: 17)
Don't look now! The Guardians have won five of their last six games, and they're clear of the White Sox by 2.5 games in the AL Central standings. They've done it in a couple ways: the pitching has been excellent as of late, highlighted by Triston McKenzie seeming to figure out the best version of himself and Shane Bieber overcoming a couple ticks down in velocity. The bats, meanwhile, have been surprising. Steven Kwan and Owen Miller had sensational April's, but newcomer Oscar Gonzalez has been the star of the show as of late, slashing .377/.386/.507 in 17 games. With all of this, José Ramírez has been as good as anyone in baseball, logging 38 extra-base hits in 57 games and leading all of baseball with 62 RBIs.
16. Los Angeles Angels (Previous Ranking: 5)
Oh, boy. Like we mentioned earlier, Mike Trout's slump didn't last long. However, it's hard to win games when nothing is working. The Halos are 2-17 since May 25th, and have lost games 1-0 and 11-10. Whatever thing they seem to be doing somewhat well that day, the other team is better at it. I have no idea what facet of the game needs to improve. All of it? Keep your chin up? What do you say to them?
17. Chicago White Sox (Previous Ranking: 15)
The "Fire Tony" chants have been heard loud and clear on the South Side. Managerial ineptitude has limited this team, but underwhelming production from the players that have been on the field is the key to the failure to run away with the AL Central like everyone expected. Offensively, Adam Engel and AJ Pollock have OPS's under .670, Yoan Moncada is hitting .141 in 27 games, and Tim Anderson, Yasmani Grandal, and Eloy Jimenez are all on the Injured List. On the mound, Dylan Cease leads the American League in walks issued, Lucas Giolito's ERA again hovers near 4.00, and Liam Hendriks and Aaron Bummer find themselves on the IL. Thank goodness for Michael Kopech preserving my sanity.
18. Miami Marlins (Previous Ranking: 18)
The Marlins' roster may be the most top-heavy in baseball, talent-wise. Sandy Alcantara should be the leader in the clubhouse to win the NL Cy Young Award with teammate Pablo Lopez not far behind, but the other three days in the rotation seem to be a lost cause (yes, including Trevor Rogers). Offensively, Jazz Chisholm Jr. and Garrett Cooper (!!) have been excellent, but it's hard to find anyone else pulling their weight. Think it's time for a center fielder, Aram?
19. Texas Rangers (Previous Ranking: 24)
Ah, yes. The Texas Rangers have jumped the LA Angels for second place in the AL West. They still cannot pitch to save their lives, but the call-up of Ezequiel Duran seems to have sparked something in the lineup. And, how about Marcus Semien? After as brutal a start to the season as anyone in Major League Baseball, Semien's slugging .607 with five home runs and five stolen bases in June.
20. Seattle Mariners (Previous Ranking: 20)
Shall we blame it on the newcomers? After coming oh-so-close to the postseason last year, Seattle went big to sign Robbie Ray and trade for Jesse Winker and Eugenio Suarez. Through 13 starts, Ray's got a 4.52 ERA and his walks-per-nine has jumped over 3.0 again. Winker, in 60 games, has a .622 OPS. Ty France should start at first base in the All-Star Game and Julio Rodriguez's AL Rookie of the Year candidacy is picking up steam, but his team is doing anything but parlaying that steam into wins.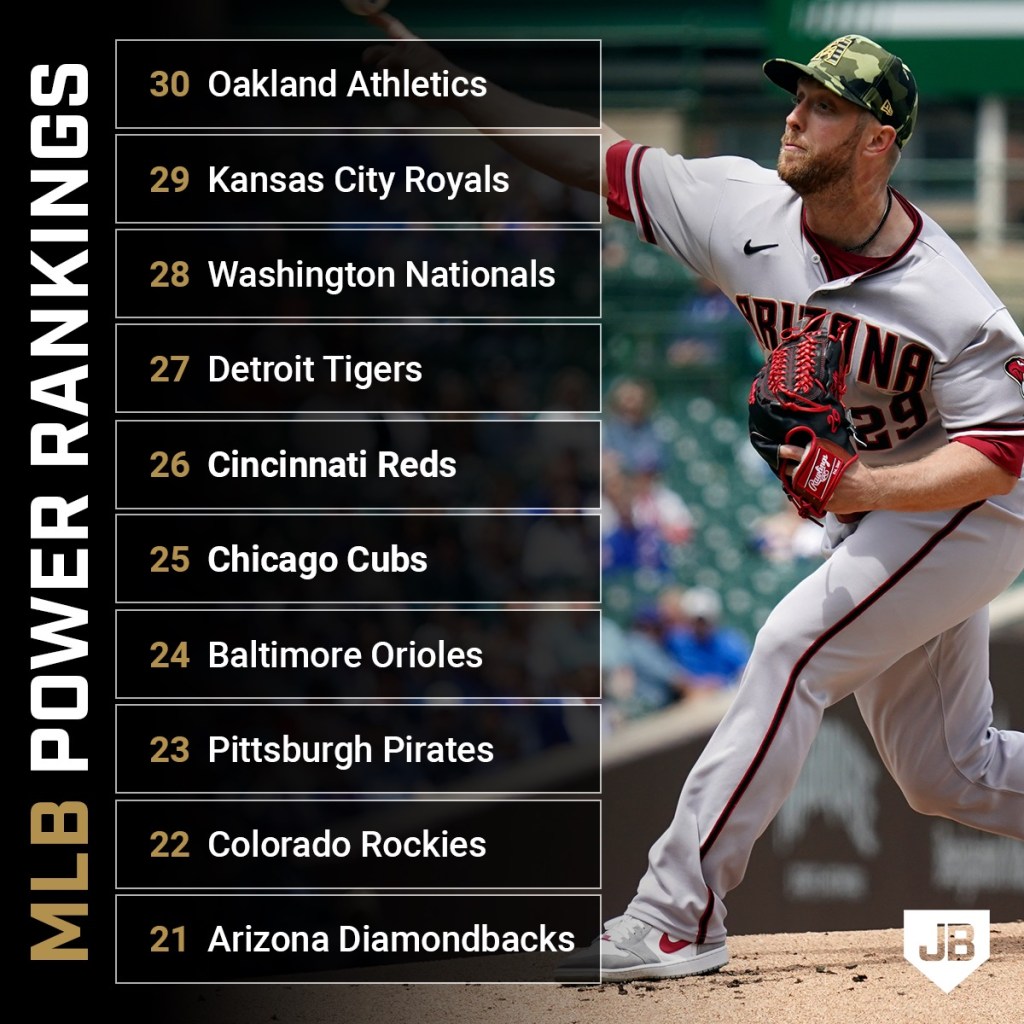 21. Arizona Diamondbacks (Previous Ranking: 19)
The offense AND pitching are finally starting to normalize. We all knew that Arizona couldn't actually be a .500 team, right? It's been a bad month for the starter trio of Merrill Kelly, Madison Bumgarner, and Zac Gallen. Offensively, Alek Thomas has been great, registering a .779 OPS in his first 34 career games. Christian Walker has been a revelation, and could be an enticing trade chip at the deadline.
22. Colorado Rockies (Previous Ranking: 21)
These poor Rockies. Kris Bryant cannot stay healthy this year, appearing in just 17 games so far. C.J. Cron has slowed down mightily, hitting just one home run this month. The pitching will forever be the downfall of the Colorado Rockies, who own a staff ERA of 4.97, good for fourth-worst in all of baseball.
23. Pittsburgh Pirates (Previous Ranking: 26)
"But Jack, they've lost nine in a row! And they were a strike away from being no-hit on Tuesday!" This is the highest the Pirates can possibly get this year, but this roster is getting more talented by the day. The intrigue of having Roansy Contreras toe the rubber every fifth day and having Canaan Smith-Njigba and Cal Mitchell joining Bryan Reynolds in the outfield is legitimate. Now we just wait for the tall shortstop.
24. Baltimore Orioles (Previous Ranking: 22)
Here comes Ryan Mountcastle. After an incredibly slow start to the season, Mouncastle has an even 1.000 OPS with four homers and 10 RBIs in 12 June games. Young arms are starting to join the young bats (including a slow-starting Adley Rutschman), and if Grayson Rodriguez gets healthy this year, we could be looking at a team that is socially acceptable to watch.
25. Chicago Cubs (Previous Ranking: 23)
Just as Frank Schwindel was starting to get going, the pitching has gone ice cold. Granted, it's been a brutal schedule during their eight-game losing streak, Seeing the Cardinals, Orioles (outlier), Yankees, and Padres. Willson Contreras is the best thing to happen to the Cubs this year, turning his trade value into something worthy of a king's ransom.
26. Cincinnati Reds (Previous Ranking: 28)
Our favorite bottom-dweller is starting to climb! The Reds are an even 5-5 over their last 10 games, which is absolutely a moral victory. Joey Votto is fully overcoming his brutal start, and Jonathan India is finally off the shelf. Hunter Greene is figuring out his fastball and turning into must-see TV, while Graham Ashcraft has been the best arm in the rotation over the last month.
27. Detroit Tigers (Previous Ranking: 27)
This team cannot hit. They're the second worst team in baseball in terms of on-base percentage, and the worst in the slugging department. Javier Baez has a .519 OPS, and Spencer Torkelson is hitting .181 with a .292 slugging percentage. The only way this season could've gotten worse was if pitcher health took a dive, and it did tenfold with the Casey Mize news.
28. Washington Nationals (Previous Ranking: 30)
The Nats are out of the cellar! This may not be a permanent fix though, with Stephen Strasburg headed back to the IL after one appearance and no other pitcher carrying their weight. Juan Soto's .833 OPS feels horrible for Juan Soto standards, and Josh Bell has hit a complete standstill. Coincidental wins are the only thing keeping this team from the very bottom of the barrel.
29. Kansas City Royals (Previous Ranking: 29)
Bobby Witt Jr. is playing his best baseball at this very moment. That is the only reason to watch an inning of Royals baseball at this point in the season. MJ Melendez is swinging a pretty solid bat, not a single active bat has an OPS over .780. On the mound, they've been the worst staff in the American League by a wide margin with a collective 5.17 ERA (the next highest in the AL is Oakland at 4.42).
30. Oakland Athletics (Previous Ranking: 25)
A new Mr. Irrelevant! The second-worst Staff ERA in the American League, and the second-fewest runs scored in the American League. Oakland A's games are non-competitive at this point. Just take us out of our misery; trade Frankie Montas, maybe Sean Murphy, and pack it up for 2027.