Analysis
Mike Trout's Rare Slump Proves His Greatness
Despite going through the worst slump of his career, Mike Trout's numbers still rank among some of the best players in the game right now.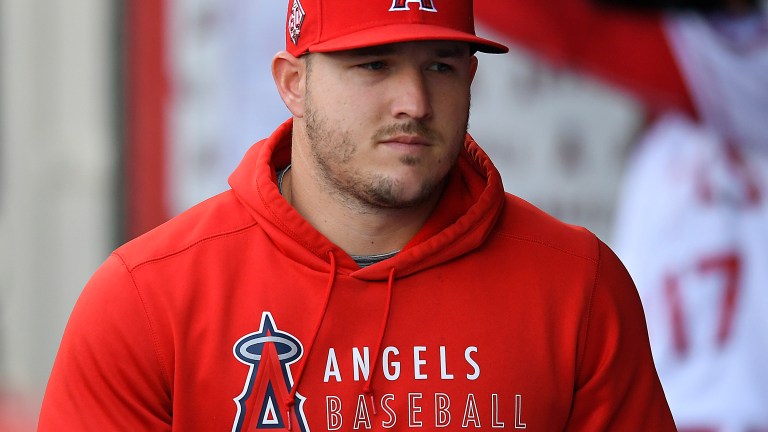 Mike Trout is slumping. Mike Trout also has the third best odds to win the AL MVP Award. Both can be true.
Trout has transcended baseball for a decade. Anyone who knows the first thing about baseball knows that he is a future Hall of Famer and is the best player of this generation. Trout has been so good for so long that when he puts up a season with 33 home runs, 22 stolen bases, a .306/ .442/ .629 slash line, and a 180 wRC+, nobody bats an eye. Those were his stats from 2017, where he didn't earn a single first-place MVP vote.
The same story could be told about his 2018 season, where he only earned one first-place MVP vote during an even better season. With that being said, in just 12 seasons, and only eight seasons of more than 100 games played, Trout is still a three-time MVP, nine-time All-Star, eight-time Silver Slugger, and former Rookie of the Year.
However, the 30-year-old is now in the worst slump of his playing career. As of June 7th, he is three for his last 34 plate appearances and has only reached base six times in that span. It's no wonder that the Angels 13-game losing streak has coincided with the worst slump of his career.
For a slump this long and this bad, anyone would expect Trout's numbers to free fall and for this to turn into his worst season by year's end. While his numbers have plummeted, Trout is giving us the best example of how good he really is.
For example, Trout is still slashing .284/ .388/ .601 and has a 183 wRC+, which is still fourth in baseball behind Paul Goldschmidt, Yordan Alvarez, and Aaron Judge. Beyond that, Trout's best season at the plate was back in 2018 when he hit .312 with 39 home runs and had a 188 wRC+, so comparably, Trout is currently having one of the best offensive seasons of his career, despite a massive cold stretch.
It's hard to believe that after the worst slump of anyone's career, they'd still be one of the best hitters in the league. However, when Mike Trout does it, I'm not even surprised. There is not a doubt in my mind that he will break out of his slump and have a fantastic season from here on out.
To that point, he hit a home run in last night's game against the Red Sox, before exiting with a left groin strain.
He currently has the third-best odds to win the AL MVP at +400 and many believe he has a pretty good chance to win it. If Trout can work his way back to how strong he was earlier in the season and stay healthy, he can challenge Aaron Judge and teammate Shohei Ohtani for the AL MVP Award.