Analysis
Way-Too-Early NL and AL Cy Young Favorites
With a third of the season in the books, here are the early favorites to win the Cy Young Award in each league.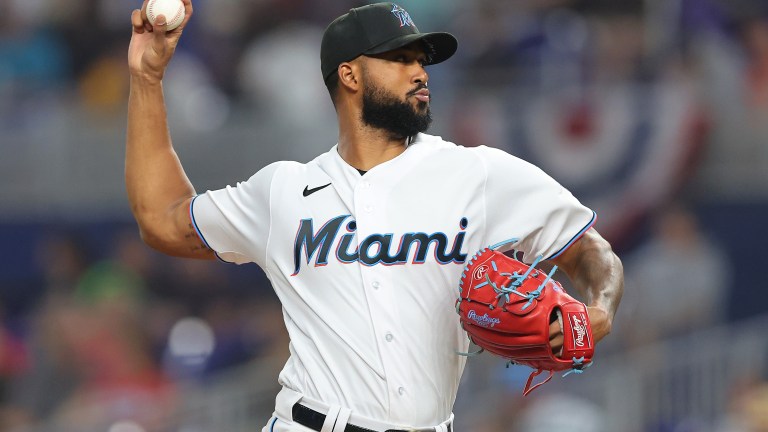 Yesterday, we took a look into which players are currently leading the pack when it comes to the MVP race a third of the way through the season. Today, we are going to do the same thing, but for pitchers who are on track to contend for a Cy Young.
Each league has countless candidates who could conceivably make a push to win the Cy Young this year, as we are watching brilliant starting pitching on a nightly basis around baseball.
National League
We begin with the Senior Circuit, which features so many young talented arms that it is hard to nail down just a top three.
Corbin Burnes is the reigning NL Cy Young and is currently pitching to a 2.50 ERA, while striking out a league-best 31.3% of the batters he faces. While there is no doubt he could win back-to-back Cy Young Awards, he does not make our list.
Pablo Lopez and Kyle Wright each have ERA's under 2.50, but they too are just honorable mentions compared to our top three. The craziest part about the pitching in the NL is that it could be even better, with former Cy Young's Jacob deGrom and Max Scherzer currently on the Injured List.
Here are our current favorites to win the NL Cy Young:
3. Zack Wheeler
Zack Wheeler is a distant third on this list when it comes to ERA, but that does not mean he should be counted out as a dark horse who has a great chance to win his first career Cy Young.
The Phillies ace stumbled out of the gate this season, as he did not throw a pitch in Spring Training making his rusty return to the mound on April 12th against his former team, the New York Mets. Wheeler allowed just one run in that game, but went on to pitch to a 5.79 ERA across four starts in April. Then the calendar turned to May and Wheeler went back to pitching at a Cy Young level.
Since May 1st, Wheeler is pitching to 1.86 ERA across six starts with 49 strikeouts in 38 2/3 innings pitched. He is leading the MLB with a 1.7 fWAR during that span, and his 11.41 K/9 is the best mark in the NL outside of Hunter Greene.
Dating back to his first season with the Phillies in 2020, no pitcher has thrown more innings than Zack Wheeler and his 11.4 fWAR trails only Corbin Burnes (11.7 fWAR). If Wheeler can somehow lead the Phillies into the playoffs, he will have a good chance of winning the Cy Young.
2. Joe Musgrove
The San Diego Padres have gone out of their way to acquire an ace through trades over the last few years. They traded for Mike Clevinger, then Yu Darvish and Blake Snell. This offseason, they made a move to acquire Sean Manaea. Still, the one trade that stands out above the rest is a deal that was not considered too significant at the time.
Prior to the 2021 season, the Padres acquired Joe Musgrove in a three-team deal, bringing the hometown kid back to San Diego. The story became a fairy tale when Musgrove pitched the first no-hitter in franchise history in just his second start with the team.
The no-hitter was no fluke though, as Musgrove did not stop dealing. He has only gone on to cement himself as the Padres ace, pitching at a level we never saw in his previous stops with the Houston Astros and Pittsburgh Pirates.
This season, Musgrove is pitching to a 1.64 ERA, which is the best mark in the National League. The right-hander is 6-0 in 10 starts and is tied with Zack Wheeler's league's best 1.9 fWAR. If nothing else, Musgrove is a lock to make the first All-Star appearance of his career this season.
1. Sandy Alcantara
Pablo Lopez was looking like the Miami Marlins ace early in the season, and is still in the thick of the Cy Young race in his own right, but Sandy Alcantara is once again leading this rotation with his sparkling 1.81 ERA. More importantly, Alcantara is an absolute workhorse.
The 26-year-old flame-thrower currently leads all of baseball with his 74 2/3 innings pitched and also leads the NL with the lowest H/9 from any qualified pitcher (5.9 H/9).
Looking at Alcantara's last five starts, it is clear why he is currently the leader in the clubhouse when it comes to being the early Cy Young favorite. Alcantara has gone at least seven innings in each of his starts dating back to May 11th and has allowed just three earned runs for a 0.69 ERA.
The Marlins are 7-4 this season in games started by their ace and are 16-26 when they don't have him on the mound. Considering his impact, Alcantara has a chance to become the first pitcher in the history of the Marlins franchise to win a Cy Young Award.
American League
The American League Cy Young race is wide open. Gerrit Cole and Justin Verlander generally factor into these conversation and both are off to solid starts that could just be the beginning of a Cy Young campaign.
Martin Perez is pitching better than ever before, rocking a 1.56 ERA through his first 10 starts with the Texas Rangers and Alek Manoah lowered his ERA to 1.81 on Tuesday night with six scoreless innings against the Kansas City Royals.
Yet none of these pitchers find themselves on our way-to-early list of the top three favorites to win the AL Cy Young this season.
3. Shane McClanahan
Shane McClanahan is a stud. The Rays left-handed starter is striking out 36% of the batters he faces this season, which is even more impressive when you consider that he is only walking batters 4.9% of the time.
While his 2.10 ERA is not the top mark in the American League, his 1.87 xFIP is, showing that his success preventing runs this season is no fluke. In fact, he could be even better as the season wears on. McClanahan's 20% Home Run to Fly Ball rate is the second-worst in the AL to only Nathan Eovaldi. Assuming that comes down a bit, McClanahan could be even more devastating for the Rays.
2. Nestor Cortes
How could you not include the MLB ERA leader on this list?
Nestor Cortes has made 10 starts this year and is pitching to a 1.50 ERA. The Yankees left-hander is striking out 29.7% of the batters he has faces, which ranks in the 85th percentile and his 2.19 xERA ranks in the top-four percent of MLB pitchers. It is also the best mark among qualified starters in the American League.
Despite throwing softer than most of the top pitchers in the game, Cortes has been flat-out dominant. Proving there is more than one way to get outs in the big leagues.
1. Kevin Gausman
Could the Toronto Blue Jays have back-to-back Cy Youngs?
Last year, Robbie Ray won his first Cy Young Award pitching for the Blue Jays, yet Toronto decided to let him walk in free agency in favor of signing Kevin Gausman. Gausman signed a five-year, $110 million deal to become a Blue Jay, which was just five million dollars less than what Ray got with the Seattle Mariners.
So far this season, it appears like Toronto made a great choice, as Ray has struggled in Seattle, while Gausman is looking like a Cy Young favorite in his first season North of the border.
Gausman's 2.78 ERA might not jump off the screen, but his 2.8 fWAR does, as he has been one of the most valuable pitchers in baseball this season. Gausman's 1.61 FIP is by far the best mark in the majors, with Tarik Skubal's 2.10 FIP coming in second.
Through 11 starts, Gausman has 73 strikeouts to just seven walks. That is a strikeout-to-walk ratio of 10.43, the highest mark in baseball. Gausman is also keeping the ball in the yard, with a 0.3 HR/9.
Limiting walks, striking out batters in bunches and avoiding the longball is a great recipe for success and one that Gausman could follow all the way to winning his first ever Cy Young Award.