Analysis
State of the AL East: Baseball's Most Competitive Division?
In the latest State of the Division podcast, we dive into whether the New York Yankees have the best rotation in baseball.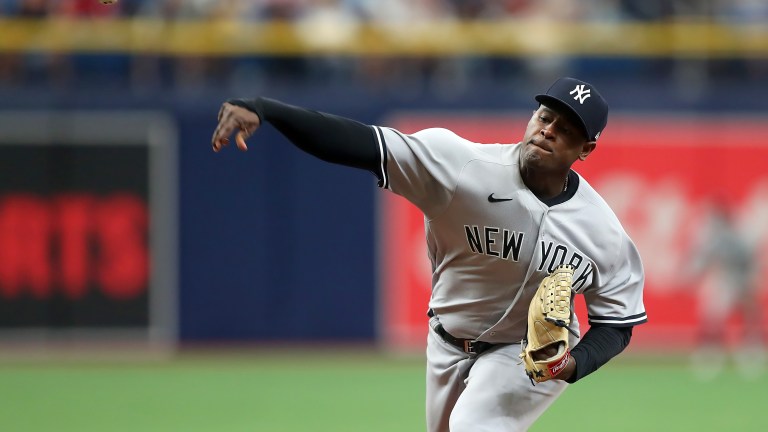 We are officially finished with the first two months of the MLB regular season, and the American League East is becoming more and more entertaining every single week.
The New York Yankees have the most dominant pitching staff in all of baseball right now. Toronto put together a solid week last week in an attempt to dethrone the Bronx Bombers. Boston is putting the entire league on notice with their incredibly talented lineup. Tampa Bay is winning despite their offensive struggles. And finally, Baltimore was dealt an awful hand this week with their top prospect, Grayson Rodriguez, shut down until September.
Let's break down the last week in the AL East.
Yankees Pitching Continues to Shine
The New York Yankees have fully cemented themselves as the best team in baseball. Their 39-win total tops all of MLB, as they've taken a commanding seven game lead in the AL East.
Historically known for an immense amount of power bats, the Yankees are staying true to character. Their 117 wRC+ as a team is tied for the league lead with the New York Mets. Mashing a staggering amount of home runs in their first 54 games, the Bronx Bombers lead the league with 80 tanks. Aaron Judge is playing at an MVP level. The veteran support of DJ LeMahieu, Giancarlo Stanton and Josh Donaldson is paying dividends. And Gleyber Torres has bounced back from an abysmal 2021 campaign.
However, where the Yankees have shone the most this year is with their starting rotation.
All the Yankees starters have an ERA below 3.00, outside of Jordan Montgomery, who sits at 3.02. The $324 million dollar man in Gerrit Cole isn't even the Yankees best pitcher. It's Nestor Cortes Jr.
Cortes has pitched to the tune of a league-low 1.50 ERA through his first ten starts. He has been completely and utterly dominant in 2022 and has put himself in early contention for the Cy Young award just 50 games into this new season.
Over their past five games, the Yankees have outscored opponents 30-7. New York starters have only allowed a measly three runs during that stretch. They've been the most dominant pitching staff in baseball. With this team firing on all cylinders, the sky's the limit.
Toronto's Bats Are Finally Heating Up
The Toronto Blue Jays bats have finally awoken after racking up 42 runs in their six games last week. Following a mediocre start of 21-17 compared to this team's standards, they've leapfrogged the Tampa Bay Rays for second place in the American League East.
Jays catcher Alejandro Kirk has been one of the hottest players in baseball over the past month. During the month of May, Kirk hit .347 with 11 RBI's and a .984 OPS. The American League hasn't really had a catcher produce the way Kirk has over the past month, and he will be garnering All-Star votes because of it.
We all knew that the Blue Jays offense was elite. We were just waiting for this kind of production from them.
Bo Bichette has finally crawled out of an early season slump. George Springer continues to be an elite center fielder, smacking his 50th career leadoff home run just a few nights ago. Vladimir Guerrero Jr. is mashing again, now tallying 13 home runs. And we're beginning to see both outfielders Teoscar Hernandez and Lourdes Gurriel Jr. break out of their early season struggles.
But the real question is, how can Toronto catch the New York Yankees?
Bullpen depth is an ultimate need for this team. The Blue Jays 3.98 ERA from their relievers is just the 16th best in all of baseball. Outside of closer Jordan Romano, there aren't many reliable arms at the back-end.
Another necessity for this team is to see starting pitcher Jose Berrios come back to his late 2021 form. His most recent outing was incredibly promising, going seven innings of one run ball. His 5.24 ERA is very uncharacteristic of the pitcher. If Berrios gets hot, and these bats continue to rake, there's a real chance that this team could catch the red-hot Yankees.
What's Going on with the Rays?
After splitting a four-game set with Texas and losing a series to a mediocre White Sox team, the Tampa Bay Rays find themselves in third place in the American League East.
The soul-searching begins.
The Rays have been one of the most dominant teams in baseball over the past few years, taking the crown of this division over the past two seasons. Known for getting the best out of their talent without making major payroll expenditures, Tampa knows how to win baseball games.
However, there is cause for concern with this 2022 team. Texas and Chicago are two teams that the Rays are used to stomping all over. Coming off a 3-4 week, surely they're disappointed.
Ranked as the 17th best team in wRC+, this offense has been tough to watch at times. Star shortstop Wander Franco is currently on the IL with a quadriceps injury. But before this, he was struggling at the dish. Typically, an on-base machine, Franco's OBP stands at a mere .305. Former All-Star catcher Mike Zunino is struggling, only posting a 50 wRC+ in his first 38 games. Brandon Lowe is still hurt. And Brett Phillips is striking out a whopping 43% of the time.
On the bright side, starting pitcher Shane Mclanahan looks like one of the best pitchers in baseball right now. His 1.7 WAR tops the team, and partners that with an insane xFIP of 1.87.
Hopefully Tampa Bay gets healthy, and back to their old ways. It's hard to see this team struggling for much longer, but these bats have got to wake up.
The Best Offense in Baseball?
The Boston Red Sox struggled mightily out of the gate. For about a week's stretch, they were the fifth-place team in this division. But slowly and steadily, Boston is back!
Winners of seven of their last 10 and now a +39 run differential, the Boston Red Sox are slowly entering the playoff race. The three-headed monster of Xander Bogaerts, JD Martinez, and Rafael Devers have been electric this year at the plate. Martinez specifically, has been one of the best bats in baseball during 2022. Slashing .358/.422/.551 with a 178 wRC+, we should be talking about this guy far more often.
Their team wRC+ of 107 is the 11th best mark in the sport. Franchy Cordero and Trevor Story are also chipping in offensively, while outfielder Alex Verdugo's struggles continue.
This team could always hit. A top-five offense in baseball over the past few years, it's great to see that they've finally arrived this season. Rumors of selling off the team at the deadline were rampant just a few weeks ago, but now they're competing.
If Boston can continue to mash like this, there's a ton of potential for this team and their playoff aspirations. Even as a Yankees fan, I have to tip my cap! They're doing their thing right now.
Orioles Top Prospect Shut Down
Baltimore is a team that is in a clear rebuilding phase. Their 23-33 record suggests that. Orioles fans are excited for this team's future, with some of the brightest prospects in the sport included in their farm system.
Catcher Adley Rutschman is up and has taken over the starting role behind the plate. While he hasn't gotten off to an incredible start (26 wRC+), there's clear certainty that he is one of the brightest young stars in the game and improvements will come.
The Orioles were dealt with another blow this week, as the fourth-ranked prospect in all of baseball, Grayson Rodriguez, was shut down until at least September with a strained lat muscle. Rodriguez has posted a 2.09 ERA in his eleven Triple-A starts this season, and there was hope that he could soon make his MLB debut.
This now seems unlikely this year with the 22-year-old now missing significant time. For Baltimore's sake, hopefully he is able to make a full recovery. But for now, Orioles fans will eagerly await his return, and hope that he can bounce back from this setback.