Analysis
Swing Adjustments Have Taken Ezequiel Duran to the Next Level
A simplified approach at the dish has helped Ezequiel Duran make a leap offensively, earning him a promotion straight from Double-A.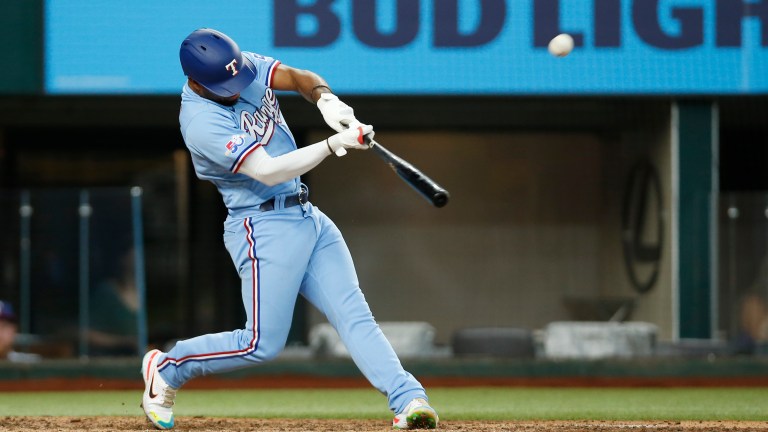 When Ezequiel Duran was packaged with three other Yankees prospects to pry Joey Gallo from the Texas Rangers last season, he had the looks of the highest upside prospect in the deal, but also arguably the highest risk. Less than a year later, Duran has mashed his way through Double-A and made his big league debut for the Rangers to kick off the month of June.
Duran entered this season with a .776 OPS and 27% strikeout rate in more than 250 professional games, but continued to show flashes of potential stardom with intriguing tools across the board and plus raw power over the last few years.
The newly-turned 23-year-old showed much of the exciting upside last season between the Yankees and Rangers organizations, launching 19 homers and swiping 19 bases while posting an .827 OPS in High-A. The glaring issue for Duran was his 28% strikeout rate, which seemed likely to jump above the dreaded 30% clip in the upper-minors given his approach and swing inconsistencies.
Duran has looked like a different hitter this season, cutting his strikeout rate down to 18% without his production being impacted. Through 45 Double-A games prior to his promotion, Duran was hitting .317/.365/.574 with seven homers and seven stolen bases.
While prospects are volatile by nature, we rarely see that kind of K-rate improvement at the upper levels without the player making a tangible swing adjustment. After doing some digging, it was clear that Duran had done just that, and I am going to break down the tweaks that have the Rangers prospect on a fast-track to an everyday role in the big leagues.
Swing Adjustments
I will always maintain that certain hitters can get away with certain moves. There are plenty of guys out there who rake with a leg kick and some other generally disruptive movements (see the Dodgers' Justin Turner and the Diamondbacks' Alek Thomas). That said, if a hitter is struggling with consistency, it's a no-brainer to take a look at the extraneous movements in their swing and see if it is possible to quiet the movement down while trying to maintain similar impact on the baseball.
Now, it's much easier said than done to makes these kinds of changes. Most of these guys have been able to get away with timing-disrupters in their swings through natural talent and athleticism, taking hundreds of thousands of swings one way their whole life. If it were that easy to just make things simple and still impact the baseball with the same authority, everyone would do it.
The video below is Duran in early 2021, just before his trade to the Rangers. As you can see, he deployed a sizable leg kick with some extra hang time, which is almost impossible to time up consistently.
Depending on when Duran was getting his foot down, he could either feel rushed like he did in the video above or be out in front and lose his backside too early like he does in the video below. An inefficient swing results in the hitter often needing to make decisions sooner. If you pair earlier decisions with a lack of body control, you get a lot of swings like the one below.
The good news? Those two swings above are a thing of the past.
Duran not only has boiled things down in the box, but he is repeating his simplified moves exceptionally well. Always having been able to generate high-end bat speed, Duran is incredibly quick to the ball with little effort. As a result, we are not only seeing him make better swing decisions, but he is also using the whole field more than he ever has thanks to being much more under control.
Duran is driving the ball to center field and the other way at a higher rate than he ever has, while crushing pitches in the heart of the zone at the highest clip of his professional career. The fact that Duran can even get to the pitch below is a testament to his adjustments.
When Duran is on time, it is a pleasure to see his natural bat speed shine through. The pitch above is one that few guys can get to even if they are in a good launch position in time. Now that Duran is giving himself a chance with more frequency at the plate, his born talent is shining through.
We've already seen how Duran has improved his ability to get the barrel around in the reaction zone, but he also has much more control over his lower half, which helps him stay in his back hip longer and use the entire field.
Even when Duran is fooled, and not able to get off his "A-swing", his ability to stay back and not lose his lower half enables him to still get off a decent cut as you can see in the swing above. We always knew that Duran could let it eat in leverage counts, but it was really feast or famine for him because there was no competitive "B-swing". This last swing here is a new and refreshing look for Duran and a big reason why he has had so much success in 2022.
Overall Outlook
A top-100 prospect for us entering this season in large part to his upside, Duran has translated projection into production and should be one of the biggest risers in our top-100 prospect update, should he not graduate by then.
A versatile defender, Duran's glove work has also improved a bit across the infield and while he may just be passable at shortstop, he is able to play second base and third base as well. The stolen bases may not be as easy to come by for Duran at the highest level, but his improvements in the box should lead to a ton of doubles–he currently leads MiLB in that department–and 20+ home runs.
Now that Duran has found more consistency at the plate, a .270-.280 batting average with a ton of doubles and a good amount of homers seems like a very possible outcome for one of the Rangers top prospects.