News
Stephen Strasburg Returns After More Than A Year Off
The former World Series MVP made just his eighth start since winning it all and signing a seven-year contract extension back in 2019.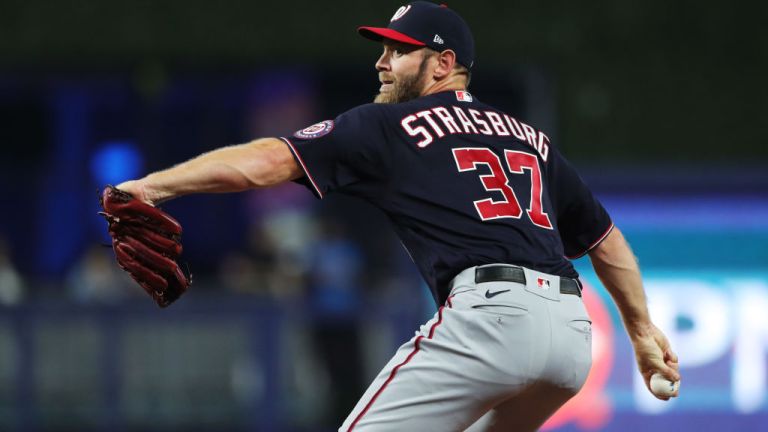 The last time Stephen Strasburg toed the rubber for the Washington Nationals, he was sharing a dugout with Max Scherzer, Trea Turner and Kyle Schwarber. More than a year later, the three-time All-Star made his return to the mound, providing a glimmer of excitement for one of baseball's most diminished rosters.
Despite a rough showing in the box score, surrendering seven earned runs over 4 2/3 innings, Strasburg was able to toss 83 pitches and struck out five.
"He's back," said Manager Dave Martinez. "And I love having him here."
Strasburg missed nearly all of last season after undergoing surgery for Thoracic Outlet Syndrome, a compression of nerves and blood vessels in the shoulder region. The 33-year-old's illustrious MLB career has been disrupted at times by arm troubles, however the diagnosis of Thoracic Outlet Syndrome and the track record that comes with it casted doubt over his future.
"It's crazy…I guess now everybody throws 96, 97 (mph)," Strasburg said with a laugh. "It felt good, I'm excited to learn from it and get back out there for the next one."
Strasburg averaged 90.3 mph on his heater, topping out at 92 mph. The last successful campaign we saw from the right-hander in 2019 was a season in which his fastball averaged about 94 mph. Both Strasburg and Martinez seemed confident that the velocity would continue to come back for Strasburg and the priority was placed on how he felt between innings and his mechanics.
After a rough first inning, Strasburg bounced back in the second by striking out the side with the help of his changeup. As he has aged, Strasburg has used the changeup more and more through the years. It is probably too early to draw any major conclusions arsenal wise, but both Strasburg and Martinez said that he should've went to the changeup more.
As for the rest of his arsenal, Strasburg told reporters after the game that he felt his fastball command left a bit to be desired in the outing, while he had a sense of confidence with the curveball in spots.
"The 'strike' breaking ball was good, the 'chase' breaking ball was a little bit too much of a miss," he said.
Moving forward, Strasburg is eager to get back into a routine and the plan is to throw every fifth day. The Nationals want to be cautious but also would like to get Strasburg built up. Both Martinez and Strasburg reiterated the importance of monitoring the days after he throws and how the 33-year-old feels.
In the past, Strasburg's health had been a frequent topic of discussion for a Nationals team that was trying to compete. Now, the situation is a bit different, but there will undoubtedly be a few extra smiles in attendance when one of the best players in franchise history takes the mound in Nationals Park again.