Analysis
New York Yankees Pitching Continues to Impress
While the Yankees' bats struggle to warm up, New York's deep pitching staff has done the heavy lifting and kept the team afloat.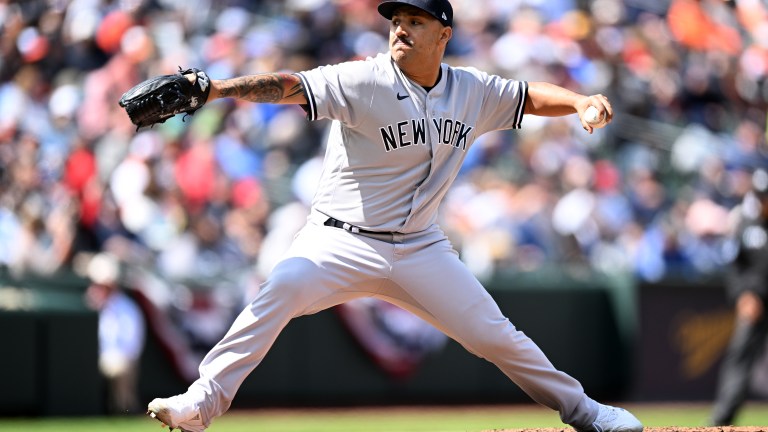 We're not even two weeks into the 2022 MLB season, but the New York Yankees' pitching staff has already left its mark. Last season, the Yankees had the sixth-best team ERA in baseball (3.76). Through 12 games this year, they've been even better. New York currently has the third-best team ERA in MLB (2.52). They're also top 10 in team FIP (3.25), fWAR (2.0), K/9 (9.76) and HR/9 (0.65).
It has been a remarkable display of depth, as 12 of the team's 14 arms that have pitched at least four innings have an ERA under 4.00. In addition to that, eight of those 12 are at 2.08 or lower. New York is currently 7-5 on the young season, and they owe that almost entirely to the work of their pitchers.
Starting Rotation
Just as it was last year, the Yankees' starting rotation has been solid in the early going this season. The staff currently ranks ninth in starter's ERA (3.14), eighth in FIP (3.48) and top 10 in both K/9 (9.93) and BB/9 (2.79). Interestingly, they've done this despite Gerrit Cole's issues (6.35 ERA), but we'll dig deeper into that later. As for the rest of the group, Nestor Cortes (0.00 ERA in 9.1 innings) is proving last year was no fluke, Luis Severino (2.08 ERA) is having success with his new cutter (58.3% whiff rate on the pitch), and both Jordan Montgomery (3.24 ERA) and Jameson Taillon (3.72 ERA) are fine middle-of-the-rotation arms.
However, there has been a problem with length thus far. As pitchers continue to build themselves up following the lockout-shortened Spring Training, starters throughout the league aren't working deep into games.
For the Yankees, it's been rather extreme, as they currently sit 21st in baseball in starter's innings pitched at 51.2 frames in 12 starts. A big reason for that is Cole lasting only 11.1 innings in three starts thus far. This is something that should even out as the calendar turns over to May.
Still, you don't want to see the bullpen getting taxed this early in the season, and that's exactly what's happening.
Bullpen
While the starting pitchers have done a fine job, it's the Yankees' bullpen that has been truly elite. New York's relief gang has the sport's third-best 'pen ERA (1.98) in the second-most innings (59.0). The group is also seventh in bullpen FIP (3.06) and second in fWAR (1.0). They are, without a doubt, the biggest reason the Yankees currently have a winning record. This comes as no surprise, seeing as New York has had a top-10 bullpen ERA in four of the last five seasons.
While Aroldis Chapman, Clay Holmes and Chad Green have all been as strong as anticipated, the real story here is the ascension of two unheralded relief arms. In 15 combined innings, Michael King and Clarke Schmidt have allowed just two earned runs (1.20 ERA). King is currently tied for second on the team in fWAR (0.5), behind only Nestor Cortes (0.6).
In his career, King has a 6.52 ERA in 38.2 innings as a starter, and 3.10 ERA in 61 relief frames. Meanwhile, Schmidt has possibly been the Yanks' most pleasant surprise of the season thus far. A former top prospect, Schmidt is now a 26-year-old pitching in long relief and excelling. In 7.1 innings this season, he has a 1.23 ERA and 0.96 WHIP.
Stars Struggling
We've already touched on it, but what makes New York's early-season dominance on the hill even more impressive is that they've done it while arguably their two best pitchers from last year, Gerrit Cole and Jonathan Loaisiga, who have struggled mightily.
Cole is off to the worst start of his career, with a 6.35 ERA and 1.41 WHIP in just 11.1 innings over three starts. Cole also has a 14% walk rate currently, shattering his previous career-high of 7.1% in 2016. Given his track record and pedigree, it's probably only a matter of time until Cole figures it out. However, I also think there should be some level of concern that he isn't the top-flight pitcher he once was. Remember, Cole also had a 4.14 ERA and 1.28 WHIP in the second-half last year.
Out of the bullpen, Jonathan Loaisiga has been a shell of his 2021 self. Last season, Loaisiga had a 2.17 ERA in 70.2 innings and was third among all relievers in fWAR (2.4). It's obviously a small sample size, but so far his sinker (a pitch Loaisiga throws over half the time) has been nowhere near as effective.
Last season, the sinker limited hitters to a .286 slugging percentage. In 2022, that number is up to a staggering .600. As a result, Loaisiga has a 7.11 ERA and 1.74 WHIP in 6.1 innings. The sinker has gone from a -13 run value pitch in 2021 (37th best in baseball), to a run value of 2 this year (444th in baseball). Loaisiga obviously needs to get that pitch right to turn things around.
| | |
| --- | --- |
| Yankees' Team ERA | ERA |
| Gerrit Cole & Jonathan Loaisiga Combined | 6.62 |
| Everyone Else Combined | 1.74 |
Outlook
Eventually, the Yankees are going to need their bats to wake up. They're currently 25th in baseball in runs scored, and even with an elite pitching staff, that isn't going to cut it.
While I don't believe this offense is close to elite, I do expect a team built on hitting the long ball to be better once the weather warms up and the ball starts carrying. In the meantime, the pitching staff is buying time for the offense and keeping the team afloat in the early going. That could prove to be crucial down the stretch in the ultra-competitive American League East.