List
Who Should Start the All-Star Game for the American League?
Aaron Judge leads the pack, but who else should get the starting nod in the junior circuit?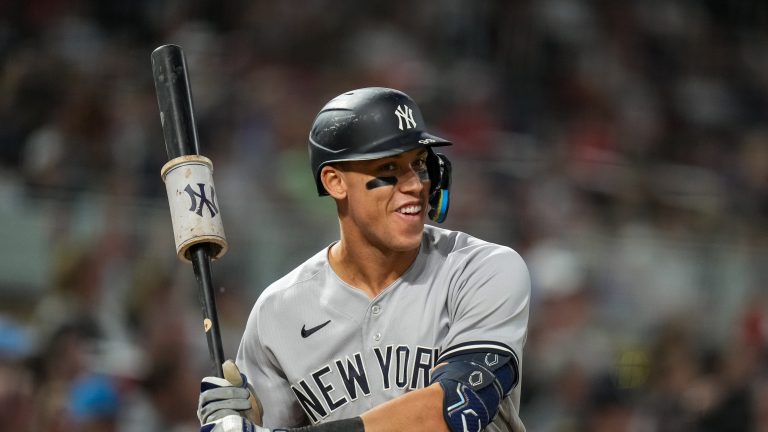 The Midsummer Classic will always be the gold standard of All-Star experiences. The result of the game may not matter any more, but baseball's brightest stars still come together to play a hotly-contested game for millions to see.
Just Baseball's Ryan Finkelstein handled who should be starting for the National League. I'll now handle who's deserving of the starting nods in the American League, selecting one player from each infield position, three outfielders, a designated hitter, and a starting pitcher.
First Base – Ty France – Seattle Mariners
2022 Stats: .327/.402/.491, 9 HR, 38 RBI, 167 wRC+
This was a relatively easy choice. The only other name that we considered for a moment was Minnesota's Luis Arraez, but France has utterly dominated American League first baseman in nearly every statistical category. France is sixth in all of baseball in on-base percentage, and has the second-most hits in the Major Leagues, only trailing Boston's Rafael Devers.
Second Base – Jose Altuve – Houston Astros
2022 Stats: .280/.355/.530, 11 HR, 19 RBI, 159 wRC+
The only reason you may take pause when voting for second basemen is seeing that Andrés Giménez is eligible to start for the AL. Giménez has actually accumulated more WAR than Altuve, but the Astros' stalwart has a better wRC+ and OPS. Plus, he's on a much, much better team. That counts for something.
Third Base – José Ramírez – Cleveland Guardians
2022 Stats: .284/.388/.619, 15 HR, 55 RBI, 182 wRC+
As of Friday morning, Ramírez leads all of baseball in RBIs, and is one of five qualified hitters with an OPS over 1.000. Rafael Devers is the incredibly notable omission here (hitting .336 with a .960 OPS), but any chance we get to bolster the type of season (and career) that J-Ram's having, we feel this moral obligation to do so.
Shortstop – Tim Anderson – Chicago White Sox
2022 Stats: .356/.393/.503, 5 HR, 19 RBI, 162 wRC+
This was as tight a three-horse race as we have in the American League. Astros rookie Jeremy Peña leads all AL shortstops in fWAR, thanks to his electrifying defense. Boston's Xander Bogaerts is third among all shortstops in wRC+, and is second in batting average at .319. However, it's so hard to ignore .356 at the beginning of the slash line. When he's been on the field, Tim Anderson has been as productive a shortstop as any in baseball. Thankfully for the White Sox, it seems like he may not be shelved for as long as initially anticipated.
Catcher – Alejandro Kirk – Toronto Blue Jays
2022 Stats: .322/.401/.477, 5 HR, 16 RBI, 152 wRC+
Alejandro Kirk has 1.8 fWAR in 48 games this season. The two preseason "favorites" to hold this starting nod, Yasmani Grandal and Salvador Perez, have combined for -0.7 fWAR. This is a terrible crop of catching in the American League right now, but make no mistake: Alejandro Kirk has been arguably the highest-impact bat in a potent Blue Jays lineup, and shouldn't lose a single at-bat after the call-up of top prospect Gabriel Moreno.
Outfield – Aaron Judge – New York Yankees
2022 Stats: .310/.383/.671, 22 HR, 45 RBI, 197 wRC+
There's no question who the top vote-getter in the American League should be. Judge leads Major League Baseball by five home runs, he leads in slugging percentage by 34 points, and leads in OPS by 29 points. Aaron Judge is the best player on the best team in baseball, and he's on a fast-track to the American League MVP.
Outfield – Mike Trout – Los Angeles Angels
2022 Stats: .284/.388/.601, 14 HR, 30 RBI, 181 wRC+
If it wasn't for the worst slump of his entire career, Trout may be the front-runner for the MVP award, despite the season that Judge is putting together. Trout got off to the best start of anyone in April, hitting .323 with an 1.141 OPS in 18 games. In 27 May games, Trout hit .290 with a .972 OPS. His struggles bled into June, where he was 3-for-21 before going down with a groin injury. The good news: it doesn't seem to be serious.
Outfield – Kyle Tucker – Houston Astros
2022 Stats: .261/.362/.472, 10 HR, 34 RBI, 145 wRC+
This was an incredibly tight finish for the third outfield spot. Taylor Ward is certainly the first name that jumps to mind, boasting a league-best 211 wRC+. The problem is, Tucker's played 14 more games than Ward, which is a large enough sample-size to come back down to earth. George Springer and Byron Buxton should also be mentioned, but Tucker is providing a more well-rounded game than either of those two so far, with an fWAR two-tenths higher than Buxton and nearly a win higher than Springer.
Designated Hitter – Yordan Álvarez – Houston Astros
2022 Stats: .299/.395/.630, 17 HR, 38 RBI, 194 wRC+
J.D. Martinez is hitting .351, but Yordan Álvarez is doing literally everything else. Yordan is second in home runs only to Aaron Judge, and ranks second in OPS, only to Judge. Álvarez was recently compensated as the best designated hitter in the game, and he's run away with that title. Yordan's 2.5 fWAR through 51 games blows any other primary DH out of the water.
Starting Pitcher – Shane McClanahan – Tampa Bay Rays
2022 Stats: 12 GS, 7-2, 1.87 ERA, 72.1 IP, 98 K, 13 BB, 0.86 WHIP
There are many candidates that would be deserving of the starting nod, from Texas' Martín Perez, to Toronto's Kevin Gausman, to Houston's Justin Verlander.
However, after eight innings of bully-ball pitching against the St. Louis Cardinals in Tampa on Thursday, Shane McClanahan should be the man to get it.
McClanahan has ascended to not just being the ace of the Rays and possibly making Tyler Glasnow expendable, but the likely front-runner for the AL Cy Young. He leads all of baseball in strikeouts, he's sixth in ERA, and he's second in WHIP, only to Verlander. Sold.