Analysis
MLB Trades We'd Like to See
With the trade deadline fast approaching, here are some trades we'd love to see teams make for the playoff push this year.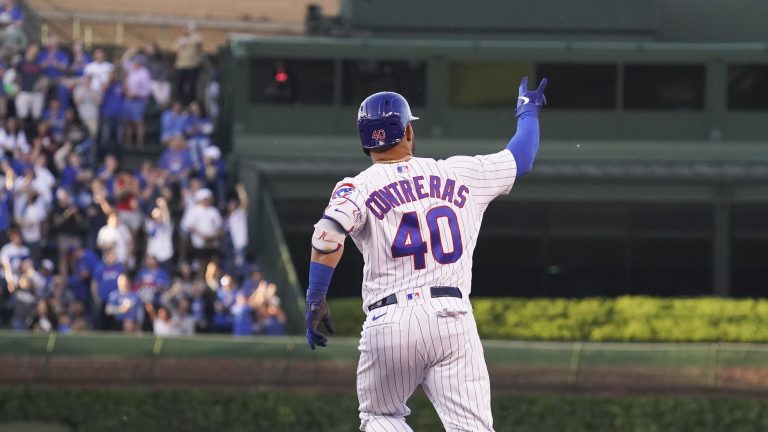 It may be hard to believe it, but we are already in June and MLB's trade deadline is only a little more than six weeks away. As every deadline usually goes, there will be a few surprise blockbusters along with plenty of expected trades of expiring contracts on bad teams. My goal is to give you a little bit of everything in this article.
Willson Contreras and Bullpen Help to Mets
Mets Receive: Willson Contreras and David Robertson
Cubs Receive: Mark Vientos (1B/OF), Joel Diaz (RHP), Mike Vasil (RHP), Dominic Smith (1B/OF)
Mets Side
For the Mets, this is an immediate upgrade in arguably their most vulnerable spot. Mets catchers have posted a 68 wRC+ this season and while James McCann has been on the shelf for much of the year, I am not sure he offers much of a boost at this point when healthy.
The Mets have super-prospect Francisco Alvarez tracking towards a 2023 debut and a rental like Contreras could be the perfect bridge to next year for a team that is dead-set on winning now.
Though the Mets bullpen has been solid, I don't think there is a fan in Queens who would argue against reinforcing the team's bullpen. David Robertson seems to have rediscovered his stuff at age 37 and is another high leverage arm the Mets can trust in the presumptive postseason.
Cubs Side
It's tough to gauge what exactly the Cubs are looking for given the fact that they clearly don't want to go all-in on a rebuild, but also don't seem likely to extend Wilson Contreras and already dealt many of his longtime teammates last year.
The headliner in this deal is obviously Mark Vientos, a top 100 prospect who has really gotten things going after a slow start in Triple-A. Joel Diaz is an 18-year-old arm who is admittedly a bit of a lottery ticket, but could pay off big. The right-hander's mid 90s fastball boasts a ton of life and his secondaries have plenty of potential. Diaz will take several years, but could be worth the wait.
At one point, Mike Vasil was viewed as a potential first round talent, though inconsistencies at the University of Virginia resulted in him falling to the 8th round a few years later. In the early going of his professional career, Vasil has shown flashes of that once perceived first-round talent pitching to a 1.80 ERA through eight starts in Low-A and recently earning a promotion to High-A Brooklyn. Still just 22 years old, Vasil offers the higher floor of a college arm and still some upside to dream on.
I feel like I don't need to get too deep into who Dom Smith is, but the guy has had stretches of swinging the bat well at the big league level and at just 26 years old, a change of scenery could be exactly what he needs.
Austin Hays to the Padres To Spark Their Outfield
Padres Receive: Austin Hays (OF)
Orioles Receive: Ryan Weathers (LHP), Robert Gasser (LHP), Esteury Ruiz (2B/OF)
Padres Side
I have never known an AJ Preller who is quiet during trade season. Especially when the Padres have looked as good as they have without their best player, Fernando Tatis Jr. The Padres look to be better than the diminished Giants and have kept pace with the Dodgers.
Upgrading an outfield that is currently 24th in all of baseball in wRC+ (83) and 23rd in fWAR (0.8) could be exactly the boost the Padres need along with simply getting Tatis back. Hays has been one of the most underrated producers in baseball this season, hitting .288/.357/.445 with six homers and a career-best strikeout-to-walk ratio.
With control through 2026, the price won't be cheap for the Padres. That said, Hays is probably one of the best players they can get without having to part with one of their more elite prospects.
Orioles Side
What in the world is Ryan Weathers' value? I can't pretend to fully know and I am not even sure if either party involved in this trade has a firm grasp on the value of Weathers. A former first round pick, Weathers was fast-tracked to the big leagues and had success in spurts. After missing time last year with an injury, Weathers has been pitching in Triple-A where he has frankly been a disaster.
Still just 22 years old with nearly 100 competitive big league innings under his belt, this could be a great opportunity for an organization that could use pitching to buy low on an essentially big league ready, young and controllable arm.
Robert Gasser is another southpaw who offers plenty of upside. The 71st overall selection in 2021 has good stuff and a funky delivery which has helped Gasser rack up strikeouts in bunches this year.
Esteury Ruiz has been one of the most exciting breakout prospects in baseball this year, tied for the MiLB lead with 37 stolen bases along with 9 homers and a .344 batting average in Double-A. The Padres may be a bit reluctant to part with a prospect who looks like he may have figured it out…or they will want to sell high.
Andrew Benintendi to Rays for Much-Needed Pitching
Rays Receive: Andrew Benintendi (OF)
Royals Receive: Tommy Romero (RHP), John Doxakis (LHP)
Rays Side
This move just screams Tampa Bay Rays to me. Benintendi has been one of the best hitters in baseball so far this year and it seems like nobody is noticing because he is playing for a lowly Royals team. Through 52 games, Benintendi is hitting .321/.384/.415 and while he leaves a bit to be desired in the power department, the 27-year-old would currently rank second on the Rays in OPS behind only Ji-Man Choi.
Benintendi is set to be a free agent after this season just as Nelson Cruz was when the Rays acquired him at last year's deadline. Similarly, the price should be relatively cheap for a player of Benintendi's caliber thanks to his rental status.
Also, I would love to see Benny on an AL East revenge tour to finish out his contract year.
Royals Side
In any trade that the Royals make, they should be looking for arms. Frankly, the Royals should acknowledge their weakness and take the Angels approach to the 2021 MLB Draft and only go after pitchers for the most part.
Offensive prospects continue to develop nicely in the Royals system while many of the high profile arms falter. If I'm President of Baseball Operations Dayton Moore, I am looking to throw as many irons in the fire as possible. You can't possibly screw up every single arm, can you?
Tommy Romero is a high-floor back end of the rotation option who dominated the upper-minors last season. 2022 has been a bit of a struggle in the early going, but the 24-year-old has been tinkering with his arsenal a bit so that his minor league results will translate more directly to the big leagues. What Romero lacks in raw stuff, he makes up for with one of the fastballs with the most ride in the minor leagues and strong command.
Doxakis has carved his way through the minors since being drafted in the second round by the Rays in 2019 and after recently being promoted to Double-A, could be a big league option be the second half of 2023. The southpaw possesses plus command and a good feel for multiple secondaries.
Both Doxakis and Romero look to be high floor arms that could factor into the equation for the Royals as soon as this year for Romero and next year for Doxakis.
Ramon Laureano to the Phillies to Save Their Defense
Phillies Receive: Ramon Laureano (OF) and Lou Trivino (RHP)
Athletics Receive: Alec Bohm (3B), Johan Rojas (2B/OF), Ethan Wilson (OF), Logan O'Hoppe (C)
Phillies Side
Let's kill two birds with one stone here for a team that needs defensive help more than any team in the league and has needed relief help for what seems like in perpetuity. Now, this is the one deal that I am not sure would be enough to get it done, but at the same time it largely depends on where the A's value Bohm, which I'll get to in their portion of this breakdown.
For the Phillies, they get one of baseball's best defenders in center field to make up for what has looked like a beer league softball team at times. Since returning from his PED suspension, Laureano has started to heat up, posting a 112 wRC+ in 26 games.
Trivino has had some rough outings inflate his ERA, but his stuff looks good and the underlying metrics point towards better days ahead. Regardless, any bullpen arm with some track record of success should be on the Phillies radar.
Trading Bohm is an unfortunate end to what was once an extremely promising piece for them, though I don't thing a defensive liability at third who is still trying to find consistency at the plate lines up with the Phillies organizational mentality right now. Bryson Stott has been heating up and would instantly offer better defense and speed. I like the bat better long term as well.
Laureano comes with two years of control after this season, so the Phillies don't have to worry about pushing the luxury tax threshold with this move.
Athletics Side
The A's have shown a willingness to take on young, controllable MLB assets combined with prospects in deals. I do worry that Bohm's lack of power will further be exposed in Oakland, however you could also say that there's more room for balls in the gap to fall.
Still just 25 years old, Bohm could benefit from a change of scenery and has a great chance to be the longterm answer at third for the A's while he continues to develop in a much lower pressure environment.
Despite early struggles this year, Johan Rojas is a prospect who I feel is a bit overlooked. Plus plus speed, elite defensive upside and sneaky power potential make Rojas an intriguing upside option in the deal from a system that just doesn't have much to offer position player wise.
I know that the A's just added Shea Langeliers and still have Sean Murphy on the roster, but honestly, a rebuilding organization should hoard as many assets as possible and O'Hoppe could be a nice value pick up here. O'Hoppe has been swinging the bat really well in Double-A with a .301/.414/.583 line paired with 11 homers and a 15% strikeout rate. The depth of Langeliers and O'Hoppe could make the A's confident enough to part with Sean Murphy for a king's ransom.
Ethan Wilson was the 49th overall selection in 2021's draft with an exciting combination of left-handed power and athleticism. The results have not quite been there yet for the 22-year-old, though he offers as much upside as any other bat in this system.
Cardinals Add Much-Needed Arm From A's
Cardinals Receive: Frankie Montas (RHP)
Athletics Receive: Masyn Winn (SS), Joshua Baez (OF), Alec Burleson (OF)
Cardinals Side
As Cardinals writer for the Athletic Katie Woo told us on the Just Baseball Show, the St. Louis brass is not keen on parting with their big three prospects: Jordan Walker, Nolan Gorman and Matthew Liberatore. The good news for the Cardinals is that several other prospects have made the figurative "leap" this year and now players like Montas could be attainable.
The Cardinals have survived pitching wise this season thanks to a Miles Mikolas rediscovering his stuff, Dakota Hudson being healthy and Adam Wainwright continuing to defy aging norms. The Cardinals do have the return of Jack Flaherty to look forward to, though I am not sure it would be very proactive to assume Flaherty will be able to shoulder a legitimate load right away.
Matz and Hicks are both on the IL and were ineffective for the most part when active. Even with the strong performances thus far, the Cardinals rank 21st in baseball in FIP. Montas would be a game changer for a team that is getting MVP-level production from 34-year-old Paul Goldschmidt, a typical Nolan Arenado season and one last hoorah with the vintage Cardinals: Albert Pujols, Yadier Molina and Adam Wainwright.
Come on, Cardinals. Push all the chips forward!
Athletics Side
I am sure the Athletics would love one of Gorman or Liberatore. That said, Masyn Winn is almost surely going to be on our top 100 prospect update in the coming weeks and is closer in prospect value to the top prospects in the Cardinals system than some may think.
The extremely athletic shortstop is hitting .333/.395/.543 between High-A and Double-A while going 16/16 on stolen bases. Winn could be a legitimate 20/20 threat with staying power at shortstop.
Joshua Baez is another high school prospect the Cardinals gave first round money to in the second round, tantalized by his elite raw power and sneaky athleticism. Baez, 18, is far from his big league debut, but has all of the upside in the world.
As for the final piece, Alec Burleson might be one of the most underrated prospects in baseball. Since being drafted in the second round of 2020's MLB Draft, Burleson has done nothing but rake at ever stop. In 165 MiLB games all the way up to Triple-A where he is now, Burleson has hit .286/.339/.489 with 34 homers.
Best of all, Burleson seems to get better at each level, hitting .325/.365/.575 in 46 Triple-A games with 12 homers and a minuscule 13% strikeout rate. The offer may bot jump off of the page, but I love the balance of high floor and high upside.