Analysis
Just Baseball's September Team of the Month
Playoff-bound superstars Ronald Acuña Jr. and Jose Altuve highlight Just Baseball's Team of the Month for September.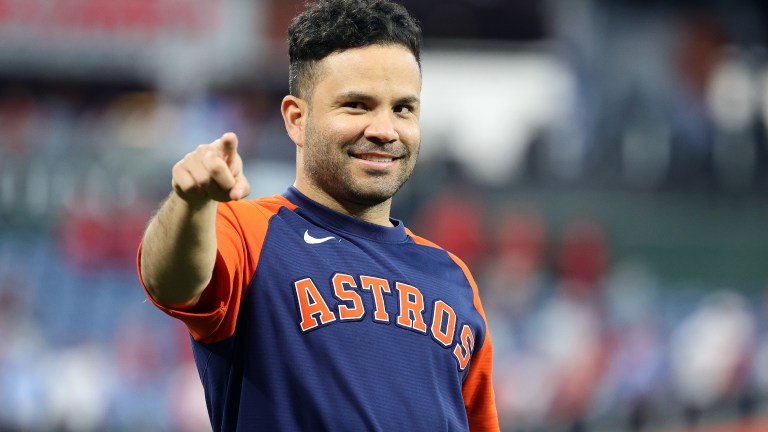 The calendar has flipped to October. With that in mind, Just Baseball has selected a September Team of the Month. (You can read our March/April, May, June, July  and August lists, as well.)
Catcher: William Contreras, Milwaukee Brewers
Contreras and Adley Rutschman have arguably been the two most productive catchers in baseball this year, and that continued into the final month of the regular season. Contreras — acquired in the three-team trade that sent fellow catcher Sean Murphy from the Oakland Athletics to the Atlanta Braves — hit .324 with 13 RBIs and 20 runs scored in September.
Honorable Mention: Adley Rutschman, Baltimore Orioles
First Base: Matt Olson, Atlanta Braves
It's a shame for Olson that this is the year he decided to lead the National League in home runs, RBIs and slugging percentage, because in most seasons, he would be a more serious MVP candidate. Nonetheless, he hit 11 home runs in September, which helped him to break Andruw Jones' Braves single-season home run record.
Honorable Mention: Yandy Díaz, Tampa Bay Rays
Second Base: Jose Altuve, Houston Astros
Altuve hasn't been the best second baseman in the state of Texas in 2023, but at least for the month of September, we'll give him the edge over Marcus Semien. The eight-time All-Star homered seven times and drove in 17 runs in September.
Honorable Mention: Marcus Semien, Texas Rangers
Shortstop: Xander Bogaerts, San Diego Padres
From a team perspective, Bogaerts' first season in San Diego has been a disaster, as the Padres will miss the playoffs after entering the season with World Series expectations. However, Bogaerts individually has been excellent during the final month of the first season of his 11-year, $280 million contract. The 2.0 fWAR that Bogaerts posted in September was the top mark among all position players.
Honorable Mention: Trea Turner, Philadelphia Phillies
Third Base: Austin Riley, Atlanta Braves
While he's perhaps been outshined by some of the other pieces on his own team, Riley posted a .932 OPS in September and has probably been the best third baseman in baseball in 2023. Hey, maybe he's not Babe Ruth or Lou Gehrig to the 1927 New York Yankees, but Earle Combs is still in the Hall of Fame.
Honorable Mention: Manny Machado, San Diego Padres
Left Field: Juan Soto, San Diego Padres
A run of success in September for the Padres proved to be too little, too late to make the playoffs, but Soto was one of the best players in baseball, hitting .340 with 10 home runs. It will be very interesting to see whether the Padres shop Soto this offseason, as 2024 will be a contract year.
Honorable Mention: Nolan Jones, Colorado Rockies
Center Field: TJ Freidl, Cincinnati Reds
It was quite the final month for the 28-year-old, who homered seven times, drove in 18 runs and posted a 1.7 fWAR that was top five among all position players. Will that be enough for him to be an Opening Day starter in 2024 for a Reds team that has seen a significant influx of young talent?
Honorable Mention: Brandon Nimmo, New York Mets
Right Field: Ronald Acuña Jr., Atlanta Braves
While both Aaron Judge and Seiya Suzuki (minus that one play in right field at Truist Park) had excellent months, Acuña homered 11 times, drove in 23 runs and stole 10 bases. It may have been enough for Acuña to edge out Mookie Betts for NL MVP.
Honorable Mention: Seiya Suzuki, Chicago Cubs
DH: Yordan Alvarez, Houston Astros
An oblique injury limited Alvarez to less than 115 games this season, and yet he's put up a full year's worth of offensive production. In September alone, last year's World Series hero hit eight home runs, walked 18 times and drove in 20 runs.
Bryce Harper and Freddie Freeman might have something to say about it, but it would hardly be a hot take to call Alvarez the best left-handed hitter in baseball today.
Honorable Mention: Kyle Schwarber, Philadelphia Phillies
Starting Pitchers
Gerrit Cole, New York Yankees; Tarik Skubal, Detroit Tigers; Blake Snell, San Diego Padres; Michael King, New York Yankees; Grayson Rodriguez, Baltimore Orioles
Since the Yankees will miss the postseason for the first time since 2016, Cole's 2023 season is over. But while it was a disappointing season from a team perspective, Cole was once again excellent, including going 3-0 with a 1.03 ERA and 1.7 fWAR in five September starts. Cole finished runner-up in AL Cy Young voting in 2019 and 2021 but appears like the favorite to take home the honor in 2023.
Honorable Mention: Reese Olson, Detroit Tigers
Relief Pitchers
James McArthur, Kansas City Royals; Colin Poche, Tampa Bay Rays; Jeff Hoffman, Philadelphia Phillies
Former first-round pick Jeff Hoffman got on the radar of the Phillies when he looked dominant pitching in a live batting practice session against a rehabbing Bryce Harper in April. He's ended up being arguably the team's best relief pitcher this season, including posting a 1.64 ERA across 13 high-leverage outings in September.
Honorable Mention: Robert Stephenson, Tampa Bay Rays