Analysis
Just Baseball's July Team of the Month
Cody Bellinger, Manny Machado, and (obviously) Shohei Ohtani highlight Just Baseball's Team of the Month for July.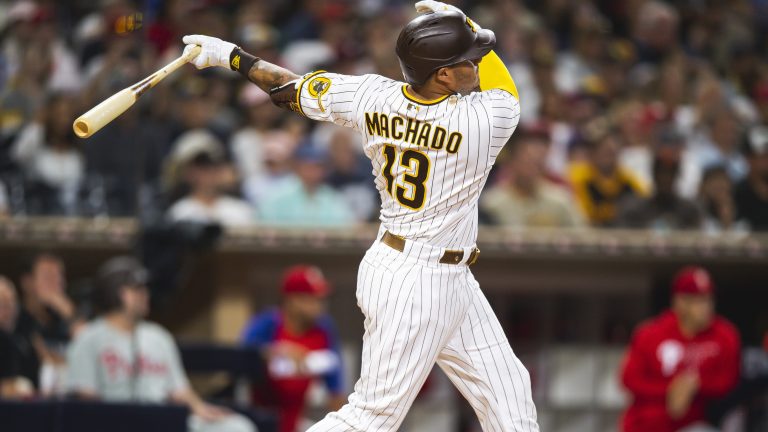 The calendar has flipped to August. With that in mind, Just Baseball has selected a July Team of the Month. (You can read our March/April, May and June lists as well.)
Catcher: William Contreras, Milwaukee Brewers
Acquired from the Braves in a three-team deal that also sent catcher Sean Murphy from Oakland to Atlanta last offseason, Contreras put together an excellent month for the Brewers. The 25-year-old slashed .359/.388/.554 with 17 RBIs in July for the Brew Crew, who remain in the NL Central race.
Honorable Mention: Francisco Álvarez, New York Mets
First Base: Cody Bellinger, Chicago Cubs
The Cubs have opted to hold onto Bellinger and other players once thought destined to move before the trade deadline, and the former NL MVP's production this month was one of the biggest reasons why. While splitting time between first base and center field, Bellinger hit .406 with 24 RBIs and a 1.8 WAR, which FanGraphs says is the top mark among all position players for July.
Honorable Mention: Wilmer Flores, San Francisco Giants
Second Base: Ha-Seong Kim, San Diego Padres
Since disappointing in his first MLB season in 2021, Kim has turned into one of the game's most versatile players. In July, he hit .341 with a 1.004 OPS. Among all position players, Kim's 5.2 WAR is the second highest by Baseball Reference's formula, trailing only Ronald Acuña Jr., the favorite to win NL MVP.
Honorable Mention: Edouard Julien, Minnesota Twins
Shortstop: Bobby Witt Jr., Kansas City Royals
If not for a right thumb sprain, Corey Seager of the Texas Rangers may have taken this honor for the second consecutive month. There are plenty of other deserving candidates, though, and Witt is at the top of the list. The former No. 2 overall pick hit .327 with six home runs and 21 RBIs, a lone bright spot in another lost season for the Royals.
Honorable Mention: J.P. Crawford, Seattle Mariners
Third Base: Manny Machado, San Diego Padres
Machado hit his 300th career home run on July 15, one of 11 roundtrippers for the six-time All-Star in July. It's becoming more and more difficult to refer to Machado as anything other than a future Hall of Famer.
Honorable Mention: Rafael Devers, Boston Red Sox
Left Field: Whit Merrifield, Toronto Blue Jays
For years, Merrifield outplayed the team-friendly deal he was on with the Royals. Acquired in a trade by the Blue Jays last summer, the super-utility star continues to drastically outperform his $6.75 million salary, as he hit .365 with six home runs and 19 RBIs in July. Will the Blue Jays consider picking up their half of his $18 million mutual option for 2024?
Honorable Mention: Christian Yelich, Milwaukee Brewers
Center Field: Chas McCormick, Houston Astros
McCormick made an insane play to rob Philadelphia Phillies catcher J.T. Realmuto of extra bases in Game 5 of last year's World Series, and he's stayed hot ever since, turning in a career year in 2023. The 28-year-old slashed .351/.440/.688 with a 1.6 WAR in July.
Honorable Mention: Lars Nootbaar, St. Louis Cardinals
Right Field: Kyle Tucker, Houston Astros
Speaking of Astros outfielders who provided some big moments in the World Series a season ago, Tucker was also excellent in July. One of the most underrated players in the sport, he hit .352 with seven home runs, 21 RBIs and a 1.130 OPS.
Honorable Mention: Ronald Acuña Jr., Atlanta Braves
DH: Shohei Ohtani, Los Angeles Angels
Is it reckless for the Angels to hold onto Ohtani as he approaches free agency? Probably, but the same was true last offseason. The Angels are going for it with the most unique talent in MLB history, and that's a lot more fun than trading him for a group of prospects who would be unlikely to collectively turn in the output that the two-way superstar does.
Oh, and he hit another nine home runs this month, including two in the second half of a doubleheader against the Detroit Tigers, which followed up a complete-game shutout in game one.
Honorable Mention: Masataka Yoshida, Boston Red Sox
Starting Pitchers
Corbin Burnes, Milwaukee Brewers; Aaron Civale, Cleveland Guardians*; Blake Snell, San Diego Padres; Zack Wheeler, Philadelphia Phillies; Joe Musgrove, San Diego Padres
Honorable Mention: Justin Verlander, New York Mets*
Civale finished the month of July with a 3-0 record across six starts, also turning in a 1.45 ERA and 3.01 FIP over 37 1/3 innings pitched. The Guardians — locked in a battle with the Minnesota Twins for the AL Central title — proceeded to trade him to the Tampa Bay Rays on July 31, getting 23-year-old first baseman Kyle Manzardo back in return.
Relief Pitchers
Félix Bautista, Baltimore Orioles; Giovanny Gallegos, St. Louis Cardinals; Nick Pivetta, Boston Red Sox
Between the Phillies and Red Sox, Pivetta has had his fair share of trials and tribulations as a starting pitcher. But perhaps Boston has stumbled upon his niche, because a 1.29 ERA over 21 innings in the month of July is pretty impressive work.
Honorable Mention: Devin Williams, Milwaukee Brewers