List
Just Baseball's April Team of the Month
From Yandy Díaz to Gerrit Cole, Just Baseball selects the top players at each position for the first month of the 2023 MLB season.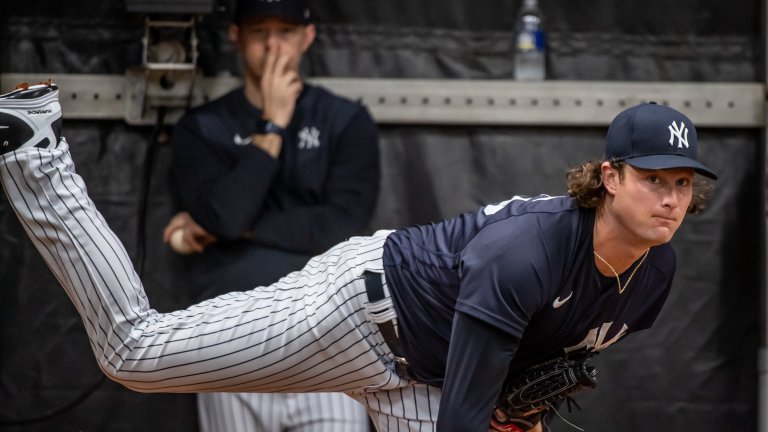 The calendar has flipped to May. With that in mind, Just Baseball has selected an April (and last day of March) Team of the Month.
First Base: Yandy Díaz, Tampa Bay Rays
The Rays finished April with an MLB-best 23-6 record and a staggering +103 run differential. Díaz has been at the forefront of that, with seven home runs, 16 RBIs and a 1.005 OPS.
Honorable Mention: Paul Goldschmidt, St. Louis Cardinals
Second Base: Thairo Estrada, San Francisco Giants
There were quite a few options to pick from here, but Estrada is slashing .346/.393/.529 with two defensive runs saved and one out above average.
Honorable Mention: Nico Hoerner, Chicago Cubs
Shortstop: Xander Bogaerts, San Diego Padres
April was a mixed bag for the Padres, but Bogaerts was excellent in his first month after signing an 11-year/$280 million deal. Bogearts is hitting .308 with six home runs and a 1.7 WAR, per FanGraphs.
Honorable Mention: Wander Franco, Tampa Bay Rays
Third Base: Matt Chapman, Toronto Blue Jays
If there were an AL MVP for April, Chapman would be at the forefront of the race. He is slashing .384/.465/.687 with a 1.152 OPS, quite the start to a contract year.
Honorable Mention: Max Muncy, Los Angeles Dodgers
Right Field: Ronald Acuña Jr., Atlanta Braves
Acuña once again looks like the explosive superstar that he was prior to tearing his right ACL in July of 2021. Most notably, Acuña is leading baseball with 13 stolen bases.
Honorable Mention: Corbin Carroll, Arizona Diamondbacks
Center Field: Brandon Nimmo, New York Mets
After signing an eight-year, $162 million deal to return to the Mets, Nimmo is hitting .330 with three outs above average. When Nimmo is healthy, he's an All-Star caliber player.
Honorable Mention: Brandon Marsh, Philadelphia Phillies
Left Field: Randy Arozarena, Tampa Bay Rays
Arozarena has carried a strong showing for Team Mexico in the World Baseball Classic into the regular season. The former AL Rookie of the Year has seven home runs, 28 RBIs and a .965 OPS thus far.
Honorable Mention: Jarred Kelenic, Seattle Mariners
DH: Yordan Álvarez, Houston Astros
Arguably the best left-handed hitter in baseball, Álvarez has 27 RBIs and a 156 OPS+. He'll likely never have a bigger hit than his go-ahead home run in Game 6 of last year's World Series, but it feels like a matter of when, not if, he wins an AL MVP.
Honorable Mention: Shohei Ohtani, Los Angeles Angels
Starting Pitchers: Gerrit Cole, New York Yankees; Zac Gallen, Arizona Diamondbacks; Spencer Strider, Atlanta Braves; Sonny Gray, Minnesota Twins; Luis Castillo, Seattle Mariners
It would be hard to have a better start to the season than Cole has had. The five-time All-Star is 5-0 with a 1.11 ERA, 2.10 FIP and AL-leading 1.7 WAR.
Honorable Mention: Jacob deGrom, Texas Rangers
Relief Pitchers: José Alvarado, Philadelphia Phillies; David Bednar, Pittsburgh Pirates; Yennier Cano, Baltimore Orioles
In 12 appearances in 2023, Alvarado has five saves, three holds, 24 strikeouts, zero walks and just six hits allowed. The hard-throwing lefty has a minuscule 0.73 ERA and a 0.55 FIP. He's one of the best shows in baseball right now.
Honorable Mention: Josh Hader, San Diego Padres