Analysis
Just Baseball's May Team of the Month
From Freddie Freeman to Riley Greene, Just Baseball selects the top players at each position for the second month of the 2023 MLB season.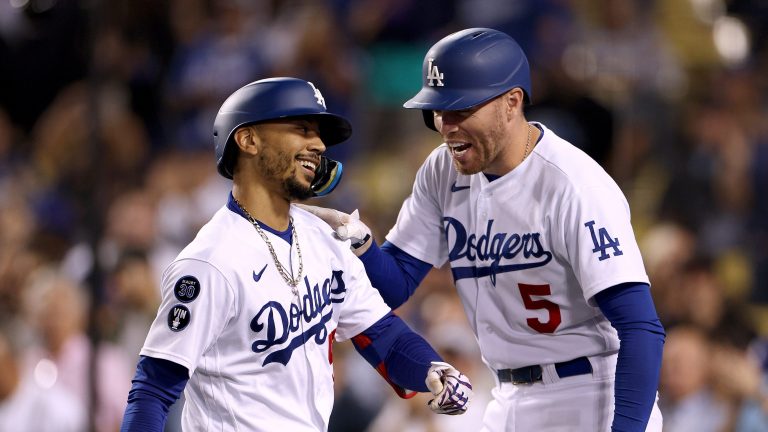 The calendar has flipped to June. With that in mind, Just Baseball has selected a May Team of the Month. (You can read our March/April team here.)
Catcher: Sean Murphy, Atlanta Braves
Murphy, acquired in a trade from the Oakland Athletics this past offseason, has been the best catcher in baseball thus far in 2023. The 28-year-old hit .313 with five home runs and 22 RBIs in May. Murphy already has a Gold Glove Award on his resume, and he's trending towards making his first All-Star Game appearance in 2023.
Honorable Mention: Will Smith, Los Angeles Dodgers
First Base: Freddie Freeman, Dodgers
Freeman was the best player at any position in the National League — if not all of baseball — in May. As the former NL MVP attempts to cement his Hall of Fame case, he was worth 2.1 WAR in May alone, according to FanGraphs. No other first baseman was worth more than 1.0.
Honorable Mention: Yandy Díaz, Tampa Bay Rays
Second Base: Marcus Semien, Texas Rangers
As we wrote earlier this month, it's an odd year, so Semien appears on track to be an American League MVP finalist. Semien posted an .898 OPS in May, and he's a major reason why the Rangers currently lead the AL West, despite Corey Seager and Jacob deGrom having missed chunks of the season.
Honorable Mention: Michael Massey, Kansas City Royals
Shortstop: Bo Bichette, Toronto Blue Jays
For the second time in as many months, Wander Franco is the runner-up at shortstop, this time because he was edged out by an AL East rival. While a disastrous throw by Bichette did cost the Blue Jays a win in Philadelphia this month, he hit .345 and posted a 1.4 WAR, the top mark among all shortstops.
Honorable Mention: Wander Franco, Rays
Third Base: Nolan Arenado, St. Louis Cardinals
If you thought that a disappointing first month was a sign that Arenado's peak might be over, you thought wrong. The future Hall of Famer homered seven times in the month of May, a nice rebound after he posted an underwhelming .600 OPS in March/April.
Honorable Mention: Josh Jung, Rangers
Right Field: Aaron Judge, New York Yankees
If Freeman wasn't the best player in baseball in May, Judge was. The reigning AL MVP was one of two players in baseball with 12 home runs in the second month of the season, while also finishing in a tie with Freeman for the top WAR at 2.1, per FanGraphs.
Honorable Mention: Mookie Betts, Dodgers
Center Field: Riley Greene, Detroit Tigers
Greene will open June on the injured list with a stress fracture in his left leg, but that's only after he hit .365 with a 1.008 OPS May, emerging as a legitimate All-Star candidate. The Tigers also finished May with a 16-11 record, thanks in no small part to the 22-year-old's performance.
Honorable Mention: Luis Robert, Chicago White Sox
Left Field: Juan Soto, San Diego Padres
The version of Soto that looked like a young Barry Bonds in Washington has finally arrived in San Diego. At 10-16, May was a dismal month for a Padres team with World Series aspirations. But don't blame Soto for it, he finished the month with a .333 batting average and 25 walks.
Honorable Mention: Lourdes Gurriel Jr., Arizona Diamondbacks
DH: Marcell Ozuna, Braves
Probably the most surprising name on this list, Ozuna looked like a candidate to be designated for assignment when he hit .085 in the first month of the season. But the former All-Star re-emerged in May, hitting .293 with nine home runs and 20 RBIs. That's a welcome sign for the Braves considering that Ozuna is making $16 million in 2023, and is owed another $16 million in 2024.
Honorable Mention: Jorge Soler, Miami Marlins
Starting Pitchers
Michael Wacha, Padres; Bryce Miller, Seattle Mariners; Framber Valdez, Houston Astros; Logan Webb, San Francisco Giants; Nathan Eovaldi, Texas Rangers
The Padres signed Wacha to a four-year, $26 million deal this past offseason, but it's a complicated deal that includes a $16 million mutual option for 2024 that the righty seems increasingly likely to decline. Across five starts in May, Wacha went 3-0 with a 0.84 ERA and 2.91 FIP.
Honorable Mention: Joe Ryan, Minnesota Twins
Relief Pitchers
Yennier Cano, Baltimore Orioles; Alex Diaz, Cincinnati Reds; Evan Phillips, Dodgers
For the second time in as many months, Cano is one of our three picks among relievers. The 29-year-old righty posted an 11.50 ERA in 13 appearances last year between the Minnesota Twins and Orioles, his first Major League action. But after another excellent month, Cano looks like he's going to be an All-Star, as he has a 0.93 ERA and 1.5 WAR after two months.
Honorable Mention: Trevor Gott, Mariners