Analysis
Mike Trout's Run at History Reminded Us He's Still the Game's Best Player
Mike Trout came a game short of tying a record for the longest home run streak in MLB history, showing us he is still the game's best player.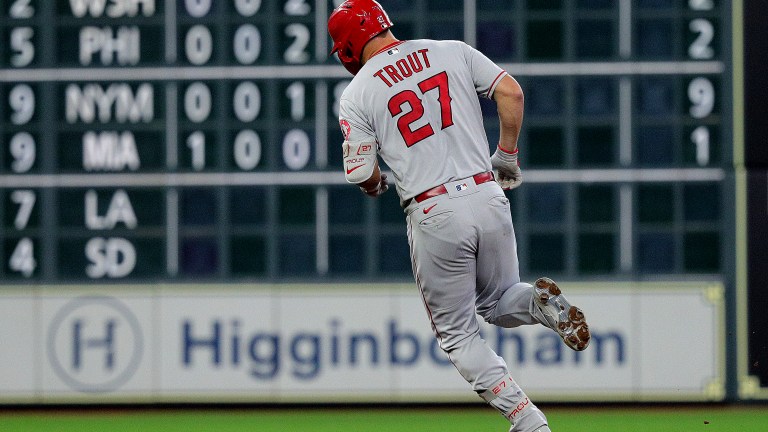 Aaron Judge is having a season for the ages. Shohei Ohtani is a somehow a top-15 pitcher and hitter at the same time. Yet despite all of that, let us not forget who the best player in the game is, because he also might just be the greatest of all-time.
When healthy, there is no one better at baseball than Mike Trout. The man could retire tomorrow and he would be ushered into Cooperstown before they even put his name on the ballot.
A three-time MVP, who should probably own at least two additional awards, Trout is the most consistently excellent player of this generation. A career .303/.415/.586 hitter, who is closing in on 350 career home runs before his 32nd birthday, there is simply no precedent for Mike Trout.
Over the past week, Trout nearly added another mark on history, homering in seven-consecutive games, falling just one shy of a MLB record. In doing so, he reminded us all just how good he still is.
Breaking Down Trout's Home Run Streak
Mike Trout returned to the lineup off the injured list on August 19th, after missing just over a month with a rib injury. It took him a handful of days to warm up, but once he did, Trout started leaving the yard with regularity.
Starting on August 23rd, Trout flirted with a home run streak, leaving the yard in the three-consecutive games. After going homerless on August 27th, Trout homered again on the 28th, making it four out of five games. He finished the month of August with four home runs in 47 at-bats.
Then we got to September.
In typical Angels fashion, Trout's team was losing 7-0 when he stepped into the box in the eighth inning on September 4th. Trout blasted an offering by Brandon Bielak, which would begin a torrid stretch, of which the game has only rarely seen before.
After the Astros left town, the Tigers came to Anaheim next and Trout would have a field day going up against Detroit's pitching staff. He went 6-for-12 in the series, with three home runs, one double and scored five runs.
Next, the Angels traveled to Houston for a two-game set against the Astros. In Game 1 of the series, Trout broke a scoreless tie in the sixth inning, hitting a two-run shot with an exit velocity over 110 miles per hour.
Trout homered again the following night, this time taking Jose Urquidy deep for a three-run shot.
Trout would extend his home run streak to seven-consecutive games against the Guardians two nights later, making him just the ninth player in MLB history to accomplish that feat. To put that into context, there have been 23 recorded perfect games in MLB history, but just nine seven-game home run streaks.
While he came up a game short of matching Ken Griffey Jr., Don Mattingly and Dale Long for the longest consecutive home run streak, Trout still accomplished one of the rarest feats the game has.
Through it all, Trout has put together a remarkable start to the final month of his 2022 campaign, as he is currently hitting .333/.409/.923, with a 267 wRC+ in the month of September.
For the season as a whole, Trout has once again eclipsed the 35-home run plateau, a feat he has now accomplished five times in his 12-year career. Based on the pace he has been on over the past month, there is a good chance Trout will turn in the third 40-home run season of his career.
Baseball is filled with incredible superstar talent right now, as rosters around the league are littered with studs who are doing remarkable things on the diamond. Still, there is only one Mike Trout, and we should appreciate his greatness while we are still fortunate enough to witness it.