Analysis
Just Baseball's August Team of the Month
Dodgers star Mookie Betts and Phillies DH Bryce Harper headline Just Baseball's Team of the Month for August.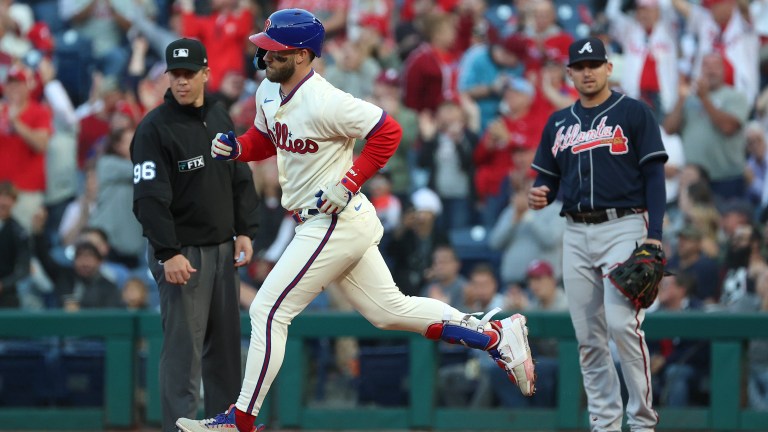 The calendar has flipped to September. With that in mind, Just Baseball has selected an August Team of the Month. (You can read our March/April, May, June, and July lists, as well.)
Catcher: Keibert Ruiz, Washington Nationals
Acquired in the July 2021 trade that sent Max Scherzer and Trea Turner to the Los Angeles Dodgers, Ruiz put together an excellent month of August in what's been a solid season for the 25-year-old. In 96 plate appearances, Ruiz slashed .326/.396/.558 with five home runs and 16 RBIs.
Honorable Mention: William Contreras, Milwaukee Brewers
First Base: Freddie Freeman, Los Angeles Dodgers
Matt Olson is probably going to hit 50 home runs this season, so it's hard to say that the Atlanta Braves made a mistake in letting Freeman walk after 2021. But Freeman — now a seven-time All-Star — remains baseball's best first baseman. He hit .375 with a 1.052 OPS this month.
Honorable Mention: Ryan Mountcastle, Baltimore Orioles
Second Base: Mookie Betts, Los Angeles Dodgers
Betts was the best player in baseball in August, and at the very least, he's pulled even with Ronald Acuña Jr. in the NL MVP race. The 30-year-old still played some right field in August but saw the bulk of his action at second base.
Wherever he played defensively, he produced at the plate, slashing .454/.512/.796 with a league-leading 3.0 fWAR. Hall of Famer Frank Robinson is currently the only player in MLB history to win an MVP in both leagues, but he may soon have some company.
Honorable Mention: Gleyber Torres, New York Yankees
Shortstop: Corey Seager, Texas Rangers
The aforementioned Turner had a magical month for the Philadelphia Phillies, and Bobby Witt Jr. is a legitimate star on a bad Kansas City Royals team. But it was Seager — likely to be a finalist in AL MVP voting — who had the best month. As the Rangers compete in a three-way AL West race with the Houston Astros and Seattle Mariners, Seager did his part in August, hitting .337 with 10 home runs.
Honorable Mention: Bobby Witt Jr., Kansas City Royals
Third Base: Ke'Bryan Hayes, Pittsburgh Pirates
After a promising start, 2023 has turned into another lost season for the Pirates. However, Hayes gave Buccos fans a reason to keep watching in August, hitting .320 with a .956 OPS and 152 wRC+.
Honorable Mention: Alex Bregman, Houston Astros
Left Field: Kyle Schwarber, Philadelphia Phillies
Schwarber won't hit for a high average, and the hope for the Phillies is that he'll be able to DH more down the stretch. But despite hitting only .213 in August, Schwarber homered 10 times, drove in 20 runs, drew 25 walks and posted a .944 OPS. Even if he's boom or bust, Schwarber boomed enough in August to earn this honor.
Honorable Mention: Randy Arozarena, Tampa Bay Rays
Center Field: Julio Rodríguez, Seattle Mariners
Seattle opened the month looking like sellers, but they'll enter September locked in a tight AL West race after going a staggering 21-6 in August. J-Rod — the face of the franchise — led the charge, hitting .429 with seven home runs, 30 RBIs and a 2.4 fWAR that led all players in the junior circuit.
Honorable Mention: Cody Bellinger, Chicago Cubs
Right Field: Teoscar Hernández, Seattle Mariners
And Teoscar goes to … no one. At the beginning of the month, Hernández seemed like a trade candidate. Ultimately, president of baseball operations Jerry Dipoto held onto the impending free agent, and Hernández rewarded them with a monster month, hitting .365 with nine doubles, seven home runs and 22 RBIs.
Honorable Mention: Kerry Carpenter, Detroit Tigers
After hitting his 300th home run on Aug. 30, Harper even dropped a hint about hoping to remain with the Phillies beyond his current contract, which runs through the 2031 season.
Honorable Mention: Marcell Ozuna, Atlanta Braves
Starting Pitchers
Cole Ragans, Kansas City Royals; Pablo López, Minnesota Twins; Freddy Peralta, Milwaukee Brewers; Spencer Strider, Atlanta Braves; Lance Lynn, Los Angeles Dodgers
For as incredible of a hitter as Luis Arráez has been for the Miami Marlins, he's hitting just .281 since the All-Star Break, more than 100 points off the .381 clip that he hit for in the first half of the season.
Meanwhile, Lopez — acquired by the Twins in return for Arráez — went 4-1 with a 2.25 ERA and 3.38 FIP in August and has logged over 160 innings for a team in playoff position. Perhaps this trade will work out for both sides.
Honorable Mention: Kyle Bradish, Baltimore Orioles
Relief Pitchers
Raisel Iglesias, Atlanta Braves; JoJo Romero, St. Louis Cardinals; Cionel Pérez, Baltimore Orioles
In 12 appearances during the month of August, Iglesias didn't allow a single earned run, while earning six saves for the Braves.
Honorable Mention: Yennier Cano, Baltimore Orioles