Analysis
Just Baseball's June Team of the Month
From Michael Harris II turning his season around, to Shohei Ohtani owning the sport, Just Baseball selects the top players for June.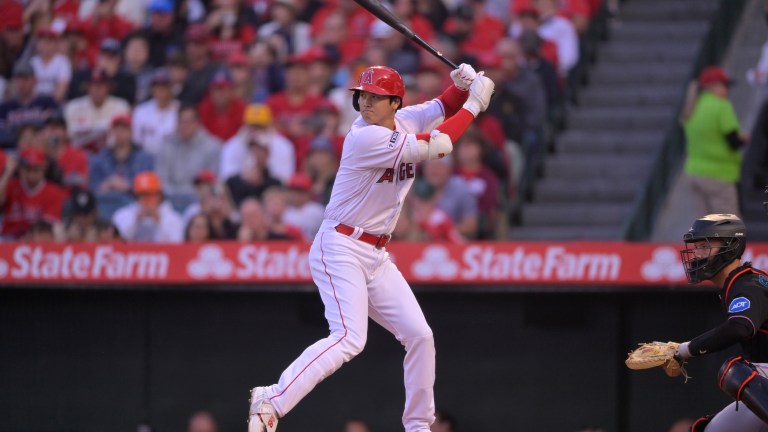 The calendar has flipped to July. With that in mind, Just Baseball has selected a June Team of the Month. (You can read our March/April and May lists as well.)
Catcher: Patrick Bailey, San Francisco Giants
San Francisco won 10 games in a row at one point in June, and the rookie catcher was a major reason why. He hit .319 with 11 RBIs in the third month of the season, and has graded out very well behind the dish this year with seven defensive runs saved.
Honorable Mention: Jonah Heim, Texas Rangers
First Base: Christian Walker, Arizona Diamondbacks
The Diamondbacks will enter July in first place in the National League West, and their first baseman is at the forefront of what's been a magical season to this point. In addition to his Gold Glove defense at first, Walker hit .361 with 19 RBIs and a 1.061 OPS in June.
Honorable Mention: Josh Naylor, Cleveland Guardians
Second Base: Luis Arráez, Miami Marlins
During the month of June alone, Arráez recorded three five-hit games. That speaks for itself, but in case it doesn't, a quartet of Hall of Famers — Ty Cobb, Stan Musial, Tony Gwynn and Ichiro Suzuki — hold the MLB record for five-hit games in a season at four. Arráez almost matched that this month.
Honorable Mention: Ketel Marte, Diamondbacks
Shortstop: Corey Seager, Texas Rangers
In the second season of a 10-year, $325 million pact, Seager is going to be the starting shortstop for the American League in the All-Star Game, and a monster month of June is a major reason why. The former World Series MVP slashed .369/.440/.650 in June, and as the All-Star Break approaches, the Rangers still lead the AL West.
Honorable Mention: Elly De La Cruz, Cincinnati Reds
Third Base: José Ramírez, Cleveland Guardians
It feels like we don't talk enough about how Ramírez is putting together a career worthy of Cooperstown consideration, so here's your latest reminder. In June, the 30-year-old hit .340 with seven home runs, 23 RBIs and a position-leading 1.7 WAR, per FanGraphs.
Honorable Mention: Gunnar Henderson, Baltimore Orioles
Left Field: Corbin Carroll, Diamondbacks
Corbin Caroll might be the best young outfielder to come into the sport since Ronald Acuña Jr. and Juan Soto burst onto the scene in 2018. He runs like a racehorse, and also homered eight times and drove in 22 runs in June.
Honorable Mention: Eddie Rosario, Atlanta Braves
Center Field: Michael Harris II, Braves
Last season's NL Rookie of the Year was hitting just .174 entering June, but broke out in a big way in the third month of the season. For a Braves team that seems well on its way to a sixth-consecutive NL East title, Harris slashed .378/.394/.633 in June, increasing his batting average to .266, nearly 100 points higher than it had been at the outset of the month.
Honorable Mention: Luis Robert, Chicago White Sox
Right Field: Ronald Acuña Jr., Braves
There were two deserving candidates here, and you can't go wrong with either one. Acuña was our pick, as he hit .347 with eight home runs, 20 RBIs and 13 stolen bases. Acuña is headed to his third All-Star Game, and the 25-year-old may just take home his first NL MVP this season.
Honorable Mention: Fernando Tatis Jr.
DH: Shohei Ohtani, Los Angeles Angels
What's even left to say? Ohtani won the AL MVP in 2021, before finishing runner-up a season ago. And as free agency approaches, it feels like he's having his best season yet. Ohtani casually hit .392 with 14 home runs and 28 RBIs in June, while posting a 2.7 WAR as a hitter alone, by far the top mark among all qualified players. Oh yeah, he pitched too.
Honorable Mention: Marcell Ozuna, Braves
Starting Pitchers
Blake Snell, San Diego Padres; Eury Pérez, Marlins; Ranger Suárez, Philadelphia Phillies; Clayton Kershaw, Los Angeles Dodgers; Taijuan Walker, Phillies
After struggling for the first two months of the season, the Phillies starting pitching really hit their stride in June, with Suárez and Walker at the forefront of that. Suárez — a playoff hero from a season ago — posted a 1.08 ERA and 1.2 WAR in the month of June. Meanwhile, Walker got off to a very slow start in the first season of a four-year, $72 million deal. But across six starts in June, the former All-Star went 5-1 with a 1.50 ERA, while averaging an even six innings per outing.
Honorable Mention: Kevin Gausman, Toronto Blue Jays
Relief Pitchers
Josh Sborz, Rangers; Felix Bautista, Orioles; Craig Kimbrel, Phillies
While we're on the Phillies, Kimbrel turned back the clock during the month of June. After recording his 400th career save last month, Kimbrel went 2-0 with a 0.69 ERA and five saves in 13 games in June. The one-year, $10 million investment president of baseball operations Dave Dombrowski made in Kimbrel after a down season with the Dodgers a year ago looks like a bargain right now.
Honorable Mention: Brock Stewart, Minnesota Twins