Analysis
The Case For Betting On Kris Bryant to Win NL MVP
Kris Bryant is going to see a huge boost in numbers hitting at Coors Field this season, making him an intriguing dark horse to bet on in the MVP race.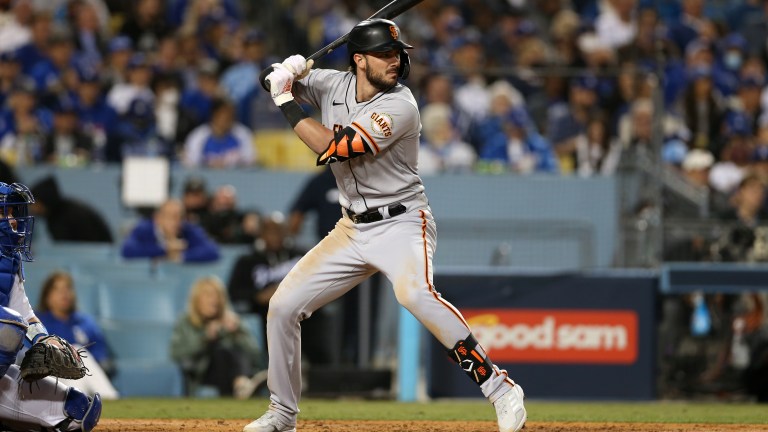 The baseball world is in collective shock. Kris Bryant signed a seven-year deal worth $182 million with the Colorado Rockies.
Check out our latest article if you're curious about how this impacts the Rockies.
Before fully diving into Kris Bryant's case for NL MVP, it is important to note this is truly a value play to bet on Bryant. He is certainly not the favorite. Juan Soto is the favorite and for good reason. He's likely the best hitter in baseball and he just got some premium protection in the lineup with the Nationals signing Nelson Cruz.
The current odds for Soto to win are +350. Compare that to the +4000 odds you are getting with Bryant, and you can start to see why this is an enticing price point when you look at the odds for his competitors.
| | | |
| --- | --- | --- |
| Rank | Player | NL MVP Betting ODDS |
| 1 | Juan Soto | +350 |
| 2 | Mookie Betts | +700 |
| 3 | Ronald Acuna Jr | +900 |
| 4 | Bryce Harper | +1000 |
| 5 | Trea Turner | +1500 |
| 6 | Francisco Lindor | +2500 |
| 7 | Manny Machado | +2500 |
| 8 | Nolan Arenado | +2500 |
| 9 | Tyler O'Neil | +2800 |
| 10 | Christian Yelich | +3000 |
| 11 | Austin Riley | +3000 |
| 12 | Ozzie Albies | +3000 |
| 13 | Pete Alonso | +3000 |
| 14 | Jonathan India | +3500 |
| 15 | Max Muncy | +4000 |
| 16 | Justin Turner | +4000 |
| 17 | JT Realmuto | +4000 |
| 18 | Starling Marte | +4000 |
| 19 | Paul Goldschmidt | +4000 |
| 20 | Kris Bryant | +4000 |
| 21 | Rhys Hoskins | +4500 |
| 22 | Joey Votto | +4500 |
| 23 | Willy Adames | +5000 |
| 24 | Brandon Crawford | +5500 |
| 25 | Jake Cronenworth | +5500 |
| 26 | Cody Bellinger | +6000 |
| 27 | Frank Schwindel | +6000 |
| 28 | Brandon Belt | +7000 |
| 29 | Marcell Ozuna | +7500 |
| 30 | Bryan Reynolds | +8000 |
Evaluating the Competition
Just because a player has a great season doesn't mean they'll win MVP. Everything has to go right. Generally the award goes to the player with the best statistical season, but team success and overall narratives factor into the MVP conversation as well.
Juan Soto (+350)
Juan Soto is making a case to become the best player in the league, but can he win the MVP on a Nationals team that isn't expected to seriously contend?
Last year, Soto got on-base at an absurd .465 clip, which was by far the best mark in baseball. He still ended up coming short in the MVP race, finishing in second to Bryce Harper. Harper's numbers were slightly better in a few categories, but his biggest separator from Soto could have been that the Phillies at least finished over .500.
It is strange to say that Soto's own team is the only thing holding him back from winning this year's MVP, but that could actually be the case.
Fernando Tatis Jr (Was +350, odds have not reflected injury)
This was my favorite pre-season pick, and look how well that's going!
Fernando Tatis Jr. will be out until the middle of June after getting surgery on a fractured wrist. This injury takes him out of the running.
Ronald Acuna Jr (+900)
This would be my pick if it weren't a Kris Bryant article. It is slightly problematic that he is coming back from a torn ACL. He pulled it on June 10th, so it's possible his knee is not 100% to start the season.
Bryce Harper (+1000)
Harper has all the capabilities to win his third MVP, but the chances are slim. The Phillies will probably finish third in the division, and the last time a player won consecutive MVPs was Mike Schmidt in 1980 and 1981.
LA Dodgers (Trea Turner, Freddie Freeman, Max Muncy, Mookie Betts, etc)
The Dodgers have been one of the best teams in baseball for the past five years, but no MVPs. Clayton Kershaw was the last Dodger to take the award back in 2014. It's hard to choose an MVP on a team loaded with them.
Past MVP Success for the Rockies
Before we talk Kris Bryant, it's essential to evaluate past winners on the Rockies to see what kind of season he would have to produce. Putting up gaudy numbers with the Rockies is more manageable, as Coors Field has the highest park factor for offensive players. The air is thin, and the outfield is vast, leading to more doubles in the gaps and more balls leaving the yard.
Larry Walker is the last Colorado Rockies player to win the NL MVP back in 1997. The Hall of Famer finished his career with a .313/.400/.565 slash line with 383 home runs, seven Gold Gloves, and three batting titles between the Expos, Cardinals, and Rockies. His only MVP came with these Rockies, where he demolished baseballs to the tune of a 177 wRC+. In that 1997 season, he slashed .366/.452/.720, led the league in home runs at 49 and added 46 doubles to take home the hardware.
The Rockies did not make the playoffs in 1997, finishing with an 83-79 record, good for third place in the NL West. So there is precedent for a Rockie to win it even if the team doesn't make the playoffs.
Nolan Arenado and Troy Tulowitzki have been the marquee Rockies over the past 15 years. Neither of them ever won an MVP in the white and purple, but they came pretty close on multiple occasions.
In 2010, Troy Tulowitzki was unstoppable. He finished fifth in MVP voting, made the All-Star team, won a Gold Glove and a Silver Slugger. He slashed .315/.381/.568 with 27 HR and a 138 OPS+. The crazy thing is, his teammate, Carlos Gonzalez, finished third that year. He slashed .336/.376/.598 with 34 HR and 26 SB. The Rockies finished 83-79, missing out on the playoffs.
In 2018, Nolan Arenado was the best third baseman in baseball, playing at the top of his game. He finished third in NL MVP voting, made the All-Star team, won a Gold Glove and a Silver Slugger. He slashed .297/.374/.561 with 38 HR, 110 RBI, and a 133 wRC+.
His teammate Trevor Story also finished eighth on the ballot that year. The Rockies had one of their best years in the past decade, finishing second in the NL West at 91-71, before being swept in the first round of the playoffs.
Even if the Rockies don't make the playoffs, Kris Bryant has a shot. But he will still have to post astronomically good numbers to win the award in that scenario. Then again, if Bryant leads the Rockies into the playoffs with this current roster, maybe he should get the award of that miracle alone.
Evaluating Kris Bryant
It's been a while, but Kris Bryant won an NL MVP in 2016. He finished eleventh in MVP voting the year before and seventh in 2017. Since then, he hasn't finished in the top 10 but has two All-Star appearances, most recently in 2021.
In 2021, Bryant hit .265/.353/.481 with 25 HR and a 123 wRC+. That's very solid, but not an MVP-caliber type season. However, he isn't far removed from a 2019 season where he registered a 134 wRC+, which is a tick higher than Nolan Arenado in 2018.
Kris Bryant was made for Coors Field. He hit 62.1% of his balls in the air last season, with an even distribution between line drives and fly balls. You'll want to keep the ball in the air as much as possible, especially in Coors Field.
The only issue is his .757 OPS at Coors Field isn't very good. Context is crucial here, as he's only played 16 games at Coors Field in his career. In those 16 games, he has two home runs and a slash line of .263/.354/.404. What do I make of these numbers?
Not much, as it's such a small sample of games over a seven-year career.
Final Decision
I'm not telling you to hammer Kris Bryant to win NL MVP. It's +4000 for heaven's sake, but man, I love this value.
Take a look at the other players who are going into this season with +4000 odds.
Max Muncy, Justin Turner, Paul Goldschmidt, JT Realmuto and Starling Marte all have identical odds, and outside of Goldschmidt it is hard to argue that any of these players is even going to be the MVP of their own team.
For further comparison, Jonathan India has better MVP odds than Bryant at +3500. India is fine player coming off a Rookie of the Year season, but Bryant is a much better MVP dark horse to wager on.
Bonus: He's +2000 to lead the National League in home run. Not Gambling Advice