Analysis
Minnesota Twins Sign Carlos Correa to Win-Now in 2022
The Minnesota Twins are going for it this season, signing the top free agent available to a record-breaking contract.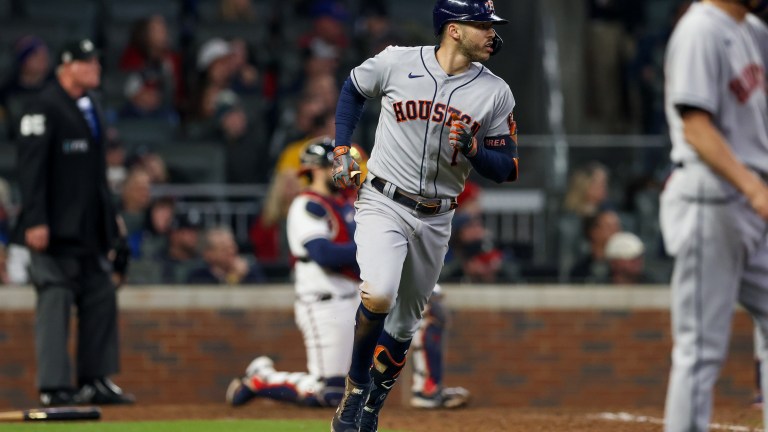 One of the "mystery teams" swooped into the Carlos Correa sweepstakes last night and landed the top free agent of this offseason. That "mystery team" is the Minnesota Twins, who have just completed a roster overhaul that has them looking dangerous heading into the 2022 season.
The Twins cleared a ton of money the other day, when they got Josh Donaldson's contract off the books in a deal with the New York Yankees. Now they have re-invested that money in Carlos Correa, signing the 27-year-old superstar to a three-year, $105.3 million deal.
This move makes the Twins an instant contender, bolstering their lineup with one of the best two-way players in the sport. At the same time, it is a shocking turn of events for Correa, who ends up signing a short-term deal that gives him the flexibility to become a free agent again in the near future.
Correa Lands One-Year Deal After All?
Over the past couple of days there had been rumblings that Carlos Correa may look to sign a one-year deal in free agency, instead of landing the decade-long contract we were all expecting.
Corey Seager signed a 10-year, $325 million contract earlier this offseason, which was supposed to set the market for Correa. Instead of setting the market, it may have stole it. Correa never received the type of long-term contract he was looking for to top Seager.
Instead, Correa went the high AAV route, signing the largest contract ever for a infielder in terms of average annual value.
Correa's new contract provides him ultimate flexibility to maximize his earning potential over the next couple of years. He likely wanted to receive $35 million a year over a long-term contract, but when that wasn't available, he instead takes it over the next three seasons.
Still, the chances of Correa actually playing out this entire contract is rather slim, as it really is a one-year deal masquerading as a three-year one. Correa can opt out of his contract after each season, allowing himself the security of a three-year pact, but the flexibility to hit the open market again after a strong season.
If Correa plays the same way he did last season, the shortstop will hit free agency again next year at the ripe age of 28. He will have no qualifying offer attached and also could enjoy a better market in an offseason that isn't interrupted by a lockout.
There is also the Scott Boras wrinkle to this, as it had been reported that Correa's new agent would stand to benefit greatly from him signing a one-year deal. Because Correa switched representation mid-offseason, his old agent would have been the beneficiary of whatever contract he signed. Now next offseason, that money will go to Boras.
Minnesota Twins Complete Roster Overhaul
When we were still in the middle of the lockout, Just Baseball's Aram Leighton wrote about how the Minnesota Twins were quietly building a future contender. Well there is nothing quiet about this build anymore, as the Twins have been churning out headlines over the past week.
First the Twins made some small moves around the edges, trading catcher Mitch Garver to the Texas Rangers in a deal that landed them shortstop Isiah Kiner-Falefa and pitching prospect Ronny Henriquez. For about 24 hours, it looked like IKF would be the new shortstop for the Minnesota Twins.
Turns out the Twins had different plans altogether, later re-routing IKF to the New York Yankees in a deal that also helped shed $50 million in salary owed to Josh Donaldson over the next two years. Minnesota got Gio Urshela and Gary Sanchez in the deal, giving them a glove-first infielder and a bat-only catcher to bolster their lineup.
Those moves were nice, especially paired with another trade that Minnesota made (prior to the Donaldson deal) to acquire a de facto ace for their barren rotation, landing Sonny Gray from the Cincinnati Reds.
Still, the Twins needed to make one more big splash to become legitimate contenders and shortstop seemed like the most obvious position of need. Trevor Story was thought to be the perfect fit, but when it became clear that Carlos Correa could also be had on a short-term deal, Minnesota put all their chips on the table to land the best free agent on the market.
Correa is coming off arguably the best season of his career. He not only had a great offensive season but also took home the Platinum Glove for being the league's top overall defender. The 27-year-old has an absolute cannon of an arm at shortstop and is coming off a season where he was worth 20 defensive runs saved.
Having great defense up the middle is always a recipe for team success and there might not be a better combination at the two premium positions of shortstop and center field than Correa and Byron Buxton. Both players have injury concerns in their past, but if they are healthy this season, you would hard-pressed to find a better two-way duo than Buxton and Correa.
Last year, Correa hit .279/.366/.485, with 26 home runs, 92 RBI and a 134 wRC+. Buxton was limited to 61 games due to injury, but still hit .306/.358/.647, with 19 home runs and an absurd 169 wRC+.
The ceiling of the Twins season relies on their two superstars being healthy and productive, but that is a worthwhile gamble to take when you haven't won a World Series since 1991.
Even with the addition of Gray, the Twins are still thin on pitching, both in their starting rotation and their bullpen. There is not much left in free agency, so the Twins have to hope to get some breakout performances internally to be able to make it through the season.
Still, with the expanded playoff in place, the Twins have given themselves a real chance to make it back to October this season. And once they are there, don't count out the combination of Correa and Buxton to carry the Twins on a deep playoff run.