Analysis
2023 MLB Free Agent Tracker: Updates on Every Signing and Trade
Live updates on every major trade and free agent signing made during Major League Baseball's offseason ahead of the 2023 campaign.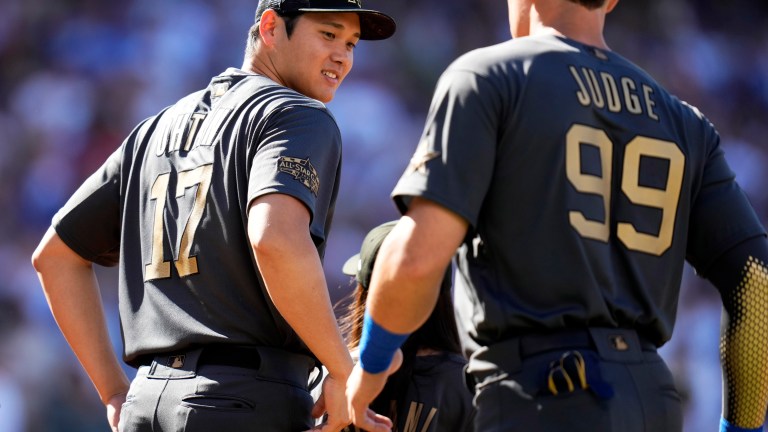 Update: 3:30 p.m. November 30th:
Winter meetings will begin this coming Sunday and more big signings will certainly trickle in soon. For now, we've got a few small moves.
Nationals Add Candelario and Garrett
The Nationals rounded out their 40-man roster with the addition of two possible impact bats. They will look to get value from these signings and improve an offense that struggled mightily last season.
They agreed to a one-year, $5 million deal with Jeimer Candelario yesterday. He was a very high-quality player for Detroit over the course of the 2020 and 2021 seasons but took a big step back this past year. He produced a 125 wRC+ to go along with 23 home runs over those two seasons, one of which was a brief one obviously.
However, he was one of many Tigers that failed to do anything in 2022 at the plate. He regressed to just an 81 wRC+ and saw his batting average fall from .278 all the way to a poor .217 this year.
However, he presents himself as a buy-low for the organization and could provide a lot more value than his contract.
They also agreed to a one-year, undisclosed deal with outfielder Stone Garrett. He spent the majority of the season in Triple-A within the Diamondbacks organization where he cranked 28 home runs and earned a shot at the Major League level.
He showed some serious pop, especially against left-handed pitching, but it wasn't enough to stick around in a crowded group of Arizona outfielders. However, the Nationals guaranteed him a spot on their 40-man and he'll have a chance to make the Major League roster.
Dodgers Add Shelby Miller
The Dodgers locked in a one-year, $1.5 million deal with the veteran pitcher. Miller wasn't even someone that seemed certain to get a big-league deal, but he's now been given a spot in the Dodgers bullpen to start the season.
The man most known for being the headliner in the trade that sent Dansby Swanson to the Braves, Miller has struggled to find his place in the league over the past few years. He was strong during his work in Triple-A though and will provide more veteran depth for Los Angeles.
The Dodgers had one of the best bullpens in the league but have spots to fill with a few arms departing and Blake Treinen seeming unlikely to pitch next season. They'll look to tap into Miller's experience and minor-league success as another mid-inning option.
Update: 2:45 p.m. November 28th:
We finally have another major signing to sink our teeth into as the Houston Astros have landed Jose Abreu on a three-year deal. For a full breakdown of the trade, follow this link.
Update: 11:00 p.m. November 27th:
The MLB Hot Stove has been quiet for the most part over the holiday weekend. Things should pick up as we head into December and approach Winter Meetings, but let's catch up on the few recent moves.
White Sox Take a Chance on Mike Clevinger
The White Sox inked starting pitcher Mike Clevinger today on a one-year, approximately $8 million deal. With limited money available and the need for more pitching, Chicago will hope that Clevinger can return to his elite form from prior to his Tommy John Surgery.
Clevinger was a borderline elite starter from 2017 through 2019 while pitching for the division rival Cleveland Guardians. He posted a 2.96 ERA with a very strong 28.3% strikeout rate over the course of those three seasons. He was part of massive trade that sent him to San Diego at the 2020 trade deadline but unfortunately, things didn't work out great in San Diego.
He missed the entire 2021 season while recovering from Tommy John Surgery but the Padres hoped he could become a key cog in their rotation this past season. This never became the case as another minor injury and overall poor performance put a damper on Clevinger's recovery.
His velocity and ability to miss bats seemed to get worse throughout the season and was never able to put it all together. However, it's worth noting that he hadn't thrown over 42 innings since 2019 and was able to throw over 100 this season even while struggling at times. He finished the year with a 4.33 ERA but has the ability to be much better.
The White Sox will look to tap into his ability and help him return to his former self. Given that the top four rotation spots are seemingly locked up by Dylan Cease, Lance Lynn, Lucas Giolitio, and Michael Kopech, the White Sox are simply looking for a quality back-end starter with the potential for more.
Pirates Sign Carlos Santana
The Pirates have now added three first base/designated hitters in the past week as they signed veteran Carlos Santana to a one-year, $6.7 million deal.
The thirty-six-year-old Santana has been known as an on-base machine his entire career and produced at a solid level last year with the Royals and the Mariners. While his .202 average doesn't look great, he hit 19 home runs and finished the year with a slightly above-average 102 wRC+ on the season.
This deal is somehow the largest given out by the Pirates since 2017 and the goal is likely a situation similar to the José Quintana deal given out last winter by Pittsburgh. He turned in a very solid year and the Pirates were able to flip him at the deadline to the Cardinals where he was even better down the stretch.
Regardless of the possibility of flipping him, Santana will be an upgrade over the awful production that Pittsburgh got from the position last year.
Update: 11:00 p.m. November 22nd:
The stove has been quiet the past few days, but a trade has occurred late in the evening as we head into the long weekend soon.
Brewers Send Renfroe to the Angels
The Angels have agreed to acquire outfielder Hunter Renfroe in exchange for three minor-league pitchers. This move adds to the already active winter for the Halos as they've now added three key players to their roster in the past few weeks.
Renfroe has been an extremely consistent offensive presence over the last two years with Boston in 2021 and Milwaukee in 2022. He's been good for an average between .255 and .260 with 29 and 31 home runs respectively these last two years. He's been consistently better against left-handed pitchers but has also held his own in general against right-handers as well.
Renfroe also provides solid value with his glove and has especially solid arm strength that has allowed him to be successful in right field. The Angels will have to figure out which one of him and Taylor Ward will shift left field, but either should be able to do so well.
Renfroe should see the majority of time in the third outfield spot alongside Mike Trout and Ward in Los Angeles. With the additions of Tyler Anderson, Gio Urshela, and now Renfroe, the Angels are clearly making an effort to build a better team around their two generational superstars.
The Brewers get back pitchers Janson Junk, Elvis Peguero, and Adam Seminaris from the Angels in the deal.
None of the three come as elite prospects but all have flashed upside at various points in their careers and will build the pitching depth of the organization.
Junk had a strong season in the minors in 2021 as well as a few quality appearances with the Angels but struggled for the most part in Triple-A this year. He has shown potential but hasn't been able to stick around with the Angels.
Peguero flashed very quality production to the tune of a 2.84 ERA in Triple-A this year but struggled a lot in his thirteen big-league games. He will likely start in Triple-A and provide depth if needed to the Brewers pitching core.
Seminaris is a young left-hander with only two years of minor-league pitching under his belt. He was excellent in High-A but couldn't continue that success at the two levels above the rest of the season. His 0.98 ERA at the High-A level was very promising but rose to a 4.7 or higher at both Double-A and Triple-A the rest of the year.
Update: 9:00 p.m. November 18th:
Non-Tenders Set to Hit the Market
Many notable players were ultimately non-tendered ahead of the 8:00 p.m. ET deadline and will not hit free agency this winter.
The standout is 2019 MVP Cody Bellinger who the Dodgers will potentially let go merely three seasons after his incredible MVP year. Bellinger's career has taken a serious turn for the worst over the last few years and his numbers over the last two years have been brutal.
The Dodgers will now turn to the market for outfield help and Bellinger will have many suitors hoping to help him rejuvenate his career with them.
Many other players with previous track records of success will also hit free agency with the hopes of getting their careers back on track in a new location.
This list includes names such as: RHP Alex Reyes (Cardinals), Rafael Ortega (Cubs), INF Edwin Rios (Dodgers), C Luis Torrens, OF Brian Anderson (Marlins), 1B Dominic Smith (Mets), RHP Erick Fedde (Nationals), Luke Voit (Nationals), RHP Ryan Yarbrough (Rays), OF Franchy Cordero (Red Sox), OF Aristides Aquino (Reds), OF Allan Cerda (Reds), 3B Jeimer Candelario (Tigers), INF Danny Mendick (White Sox)
There are many more to go along with these, but this adds more talent to the free agency crop as many of these players will have serious interest from new teams.
Many Avoid Arbitration
A number of arbitration-eligible players agreed to deals with their current teams to avoid arbitration and remain under contract.
The Yankees and Lou Trivino agree to a $4.1 million deal
The Rockies and Brent Suter agree to a $3 million deal
The Brewers and Adrian Houser agree to a $3.6 million deal
The Brewers and Matt Bush agree to a $1.85 million deal
The Tigers and Tyler Alexander agree to a $1.875 million deal
The Giants and Mike Yastrzemski agree to a $6.1 million deal
The Marlins and Dylan Floro agree to an undisclosed deal
The Cubs and Adrian Sampson agree to a $1.9 million deal
The Cubs and Rowan Wick agree to a $1.55 million deal
The Diamondbacks and Cole Sulser agree to an undisclosed deal
The Pirates and Miguel Andujar agree to a $1.5 million deal
All these players will not have to go through the arbitration process and are locked into their salary for next season.
Twins Add Versatile Kyle Farmer
The Twins aren't done dealing after they sent Gio Urshela to the Angels earlier today. They replaced him by adding Farmer who mostly played short for the Reds with a number of games at third as well.
Farmer turned in a .255/.315/.386 slash line this year to the degree of a slightly below average wRC+ at 90. The Twins are able to save some money and add some more versatility this year with the addition of Farmer.
The Reds get back a minor league arm in the form of Casey Legumina who struggled for much of the season as a starter in the Minnesota farm system. However, a shift to the bullpen showed promise as he went from a 5.23 ERA as a starter to a quality 3.57 out of the bullpen.
Update: 5:00 p.m. November 18th:
Angels Bolster the Infield by Acquiring Urshela
The Angels decided to add depth to a thin lineup by bringing in the versatile infielder from Minnesota as Urshela will now switch teams for the second offseason in a row.
Urshela was the primary third baseman for the Twins this past year and produced at a very solid level to the extent of a .285/.338/.429 slash line to go along with 13 home runs. He's always been a well-regarded defender and this remained the case in 2022. While he primarily played third, he figures to see some significant time in the middle infield as the Angels have Anthony Rendon when he's healthy.
The Angels lacked much of any offense behind the first three spots in the lineup last year and Urshela should provide a steady veteran bat to help ease the offensive burden on Mike Trout and Shohei Ohtani.
The Twins got back minor league right-hander Alejandro Hidalgo, who is more of a project than anything else. His 4.62 ERA last year was not special, but at only 19 years old the Twins will hope to develop him into a big-league arm.
Yankees Decide to Stick with Kiner-Falefa
While many thought and hoped the Yankees would be in the market for a top-end shortstop, they decided to re-up with Isiah Kiner-Falefa on a one-year, $6 million deal.
Kiner-Falefa produced a .261/.314/.327 slash line this past season with the Yankees and while many Yankees fans are not a fan of his, he was certainly not the major issue for most of the season.
With exciting shortstop prospects on the way, the Yankees decided to resign their current shortstop to fill innings next season. He may not be the everyday shortstop sooner than later, but his infield versatility and strong glove will be useful once again for New York.
Braves Extend Reliever Tyler Matzek
The Braves will bring back one of the bullpen arms as they agreed to a two-year, $3.1 million deal with the right-handed reliever. Matzek is set to miss the 2023 season while recovering from his October Tommy John Surgery but the Braves will look forward to his return in 2024. He will then have a club option on his deal for the 2025 season.
The Braves have the luxury of a deep enough bullpen that allowed them to bring back Matzek knowing that he won't be available at all this coming season.
Update: 11:30 a.m. November 18th:
Mariners and D-Backs Swap a Pair of Big Leaguers
Yesterday we saw the rare trade in which two teams make a 1-for-1 trade of big league players, as the Seattle Mariners sent outfielder Kyle Lewis to Arizona in exchange for catcher/outfielder Cooper Hummel.
Kyle Lewis is the more established of these two players, as he won the AL Rookie of the Year back in 2020. Lewis has struggled to find consistency at the big league level though, playing in 130 games across four different seasons. The numbers have been on a downwards trajectory too, as he just posted the worst OPS of his career at .529, albeit in a short sample size of 18 games played.
Lewis could benefit from moving to the hitter-friendly confines of Arizona, where the Diamondbacks will look to tap into his upside. After just acquiring Teoscar Hernandez, the Mariners had a glut of outfielders, so removing Lewis from the picture makes sense. In return they get an interesting young player to add some catching depth behind Cal Raleigh.
Cooper Hummel made his MLB debut in 2022 and did not find much success. He hit just .176/.274/.307 across his first 201 plate appearances at the big league level. In Triple-A though, Hummel hit .310/.423/.527, with 15 extra-base hits in 33 games.
The soon-to-be 28-year-old has played more outfield than catcher throughout his career, but nearly split playing time between the two positions with the Diamondbacks. As a catcher his bat would play up more, which could be what Seattle is thinking with this move.
Original Post:
The stove is burning hot right now, with top-tier free agents coming off the board and the first blockbuster trade of the offseason coming on Wednesday. Over the course of the offseason, this will be the place for you to go to stay up to date with everything that is going on with the hot stove.
First, let's get to the big trade.
The Seattle Mariners are acquiring All-Star and two-time Silver Slugger Teoscar Hernandez from the Toronto Blue Jays in exchange for a pair of pitchers.
Erik Swanson is the big name going back to Toronto in this deal, giving them a top-notch reliever who is under control for three more seasons. Swanson not only pitched to a 1.68 ERA last year, but he also struck out 11.7 batters per nine, with a WHIP under 1.00 (0.913).
Along with Swanson, the Blue Jays are getting a quality pitching prospect in Adam Macko, who was listed as the Mariners No. 8 overall prospect by MLB.com. Still, the headlining piece to this deal is Hernandez, who now joins Julio Rodriguez in the Mariners outfield.
One of the most prolific sluggers in the game, Hernandez trails only Aaron Judge, Kyle Schwarber, and Mookie Betts in home runs among outfielders since the start of the 2020 season. During that span, Hernandez has hit .283/.333/.519, with 73 home runs and a 132 wRC+. Unless extended, he will become a free agent after the season.
Free Agency Recap
So far in free agency, we have seen four of our top 20 free agents come off the board, while also seeing the top three relievers in our top 50 free agents all sign new deals. Here are the moves that have taken place so far:
Edwin Diaz was the first domino to fall in free agency, signing a five-year, $102 million deal to remain a member of the New York Mets.
Next, we saw more relievers come off the board, as Robert Suarez re-signed with the Padres on a five-year, $46 million deal and Rafael Montero sign a three-year, $34.5 million deal to stay with the reigning champion Houston Astros.
The Padres continued to invest in their bullpen as they also brought back versatile arm Nick Martinez on a three-year deal with options in the second and third years. He'll make $10 million next season and anywhere between $8 million and $16 million in the following two seasons.
The Dodgers are reportedly bringing back Clayton Kershaw on a one-year deal, which will be worth around $20 million.
Martin Perez and Joc Pederson were the only two free agents who accepted the $19.56 million qualifying offer, keeping them with the Rangers and Giants respectively.
Tyler Anderson was extended a qualifying offer as well, but instead of accepting, the left-hander rejected the offer and signed a three-year, $39 million deal with the Los Angeles Angels instead.
Last but not least, Anthony Rizzo returned to the New York Yankees on a two-year deal that guarantees him $40 million. Rizzo will earn $17 million a year over the next two seasons, then the Yankees hold a $17 million club option for the 2025 season. If they decline, Rizzo will receive a $6 million buyout.
That is all the action we have seen unfold up to this point. With Winter Meeting on the horizon, expect plenty more baseball news in the near future and check back here often to get updates on everything that is taking place.