Analysis
Which Non-Tendered Players Could Best Provide Value in 2023?
Cody Bellinger headlines this year's list of non-tendered players, who will be looking for new homes to resurrect their careers in 2023.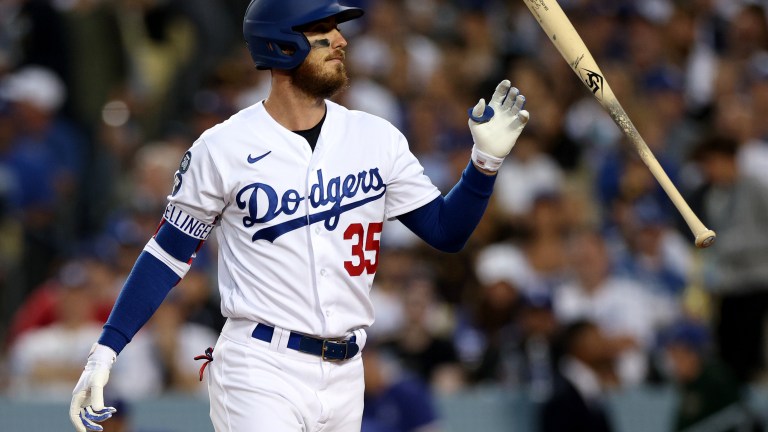 Each year when the weather gets cold the stove gets hot. Well, it's en fuego on this crisp fall night as the deadline to tender contracts hit at 8 PM Eastern. As always, the list included several surprises including a once MVP.
As these players become free agents looking for a new home, I wanted to dive into some of the more intriguing options. Take a look at which players might not only catch on elsewhere, but play a role and provide some value.
For a full list of non-tendered players you can click here: National League | American League . The below list is in no particular order.
Cody Bellinger – OF – Dodgers
2022 Stats: .210/.265/.389, 19 HR, 83 wRC+
A former MVP usually will not find themselves on this list, but Bellinger has not looked like the same player since 2019. In 2021 a shoulder injury helped blanket concerns after posting a 47 wRC+ but 2022 had less excuses. Bellinger struggled once again, while still provided elite defense in center, falling in the 92nd percentile in Outs Above Average.
The Dodgers could very well look to bring Bellinger back on a lower number than his projected arbitration price. However, with center fielders being difficult to find, a team could roll the dice with a multi-year deal. There's no doubt Bellinger will still command a lot of interest.
Rafael Ortega- OF – Cubs
2022 Stats: .241/.331/.358, 7 HR, 12 SB, 96 wRC+
Chicago is looking to get younger and better across the board. While Ortega is a perfectly fine fourth outfielder, the Cubs have their eyes on improving the roster. The 31-year-old Ortega fell into a full-time role in 2021, after the Cubs moved their franchise cornerstones at the deadline, and posted a 122 wRC+.
Ortega will not add power to your bench, but reasonable speed and a player who can fill in at all three outfield spots has value. His 11.9% walk rate and 19.9% strikeout rate are an added bonus.
Luke Voit – 1B/DH – Nationals
2022 Stats: .226/.308/.402, 22 HR,102 wRC+
Voit's 22 home runs matched his COVID-shorted total from 2020, a season where he only played in 56 games. Although Voit likely will not return to his 2020 rate, there's still some pop in that bat. I was surprised the Nationals did not hold onto him after being part of the Juan Soto return. He could have been moved at the deadline for something, but Washington elected to save money.
Any team interested in Voit, and there will be several, will be getting a righty power bat with reverse splits in 2022 and not much defensive value. But as we all know, power bats tend to get extra opportunities.
Dom Smith – 1B/OF/DH – Mets
2022 Stats: .194/.276/.284, 0 HR, 67 wRC+
Smith can be added to the list of "2020 shortened season breakouts who didn't pan out". After posting a 166 wRC+ in 2020, Smith did not breach 90 wRC+ in either of the following seasons. After falling out of favor, he was eventually send down to Triple-A.
A change of scenery was needed last year, but I guess it's better late than never. At 27 years old, there's still a chance Smith could have a productive career. Any interested team should be willing to give him plenty of at-bats to see if he can find a rhythm.
Luis Torrens – C – Mariners
2022 Stats: .225/.283/.298, 3 HR, 72 wRC+
Torrens time in Seattle was rather odd. From starter, to bench, to DH, to the minors. Rumor was he did not want to catch. Well, the Marines had other options at catcher making the decision to non-tender Torrens a bit easier. In 2021, Torrens slashed .275/.311/.542 off lefties making him a platoon option.
The issue is, most catchers bat righty. Finding a platoon will be difficult. If he is your back up and gets starts against the occasional lefty it could work. A 66th percilte barrel % and 61st percentile hard hit rate in 2021 could be intriguing to some teams. Betting on a slight bounce back from 2022.
Oh yeah, he can play some infield, too.
Jorge Alfaro – C – Padres
2022 Stats: .246/.285/.383, 7 HR, 90 wRC+
The Padres will finally give prospect Luis Campusano at-bats, allowing them to move on from Alfaro. No, Alfaro is not a starting-caliber catcher on most teams but would be a high level back up. He's never reached a walk rate above 5%, but has decent power and enough bat-to-ball to play for a catcher.
Alfaro has also seen time in left field but I hope that experiment is over. At 29 years old, I would not be surprised if Alfaro was able to land a two-year deal to fill a back up role with so many teams needing an experienced catcher.
Jake Brentz – LHP – Royals
2021 Stats: (5.1 innings in '22): 64 IP, 3.66 ERA, 10.69 K/9, 5.20 BB/9
Brentz had an injury that limited his 2022 season but his 2021 year will have teams interested. A bullpen lefty is always a need and the Royals brought Amir Garrett back, making the Brentz non-tender easier.
Like so many bullpen arms, the strikeout numbers are good but the walk numbers are concerning. A new opportunity, new coach, and new scenery could help Brentz find his 2021 form.
Ryan Yarbrough – LHP – Rays
2022 Stats: 80 IP, 4.50 ERA, 6.86 K/9, 2.48 BB/9
Yarbrough was a rare Ray that lasted several years, debuting in 2018. The soft-tossing lefty has bounced from rotation to bullpen with league average results. He does not strike batters out or gets ground balls at a high rate, which will scare some teams away. But as we know, lefties tend to get more chances than righties.
Yarbrough will profile as a fifth starter or better yet, swing man. He will not be terribly expensive, and comes with experience and a solid track record. A fall back option for completive teams who will likely end up on a less competitive roster.
Touki Toussaint – RHP – Angels
2022 Stats: 25.1 IP, 4.62 ERA, 9.24 K/9, 6.75 BB/9
Once a top prospect in the Braves system, Toussaint struggled to find his footing in a loaded Atlanta organization and was shipped off to the Angels. He's bounced between the bullpen and rotation with enough stuff to strike out batters but locating the zone has been a problem.
We know top prospects get multiple chances. A team will quickly jump on Toussaint and see if they can iron out the kinks. A low risk, high reward option for a team that needs bullpen depth.