Analysis
Cody Bellinger Is The Best Low-Risk Bet In Free Agency
Despite being one of the worst hitters in baseball since 2021, former MVP Cody Bellinger will have a long list of suitors in free agency.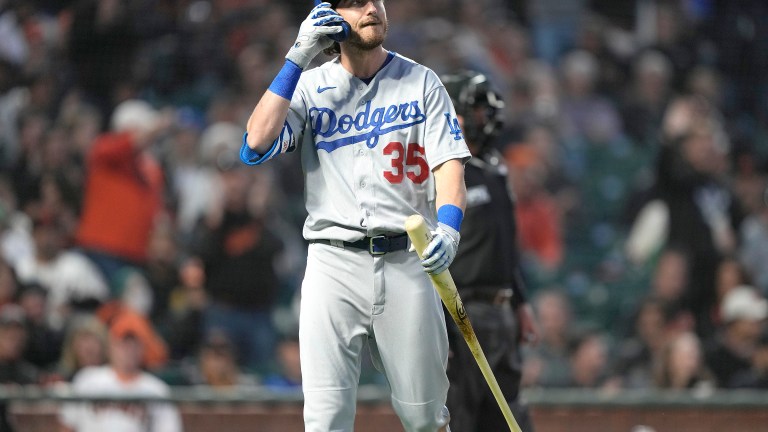 Cody Bellinger made history in the one of the worst ways at the end of last week. The 27-year-old became the first former MVP in MLB history to be non-tendered before making it to free agency. Even if the move was predictable based on his recent production, that is still a stunning revelation.
Bellinger is only three years removed from his award-winning 2019 campaign, where he blasted 47 home runs and posted a 161 wRC+. That fact alone will keep all 30 team interested (yes the Dodgers could still retain Bellinger, just at a lower salary) in taking a flier on him for the 2023 campaign.
If a team can unlock what was once there, they could be getting the steal of the offseason. Yet there is every chance that what we have seen over the last two years continues, and Bellinger never regains that All-Star slugger form again.
Bellinger's Ascent to MVP
Heading into the 2017 MLB season, Cody Bellinger was ranked as the No. 7 prospect in all of baseball by Baseball America. It took just one month into the season before the Dodgers called on their top prospect to aid an injured and struggling outfield.
The then 21-year-old made his debut in the starting lineup on April 25th, 2017 and quickly became the one of the game's biggest stars. Bellinger hit 25 home runs in the first half, setting an MLB record for becoming the first rookie to ever homer 10 times in a 10-game span.
He went on to make his first All-Star Game and competed in the Home Run Derby. The Dodgers had a superstar on their hands, as Bellinger went on to win the NL Rookie of the Year, after hitting .267/.352/.581, with 39 home runs, 97 RBIs and a 138 wRC+.
While Bellinger did take a step back in 2018, he still played in 162 games, hit 25 home runs and posted a 120 wRC+. He wasn't an All-Star but he was still a well above-average player. Then come October, Bellinger won his first Most Valuable Player award in the National League Championship Series.
Bellinger's impact was felt everywhere that series. In Game 4, he not only got the walk-off hit in the bottom of the 13th inning, he also made a game-saving catch half an inning prior. Bellinger's final hit was his most impactful, as he hit a game-winning homer in Game 7 to clinch the pennant.
We all know what happened next in 2019. Bellinger nearly hit 50 bombs and was on top of the world as the National League's Most Valuable Player.
The 2020 season was the beginning of Bellinger's decline, but no one was too concerned at the time, as he still hit 12 home runs in 56 games and posted a respectable 112 wRC+. Then he of course became a World Series champion.
Bellinger's resume is better than most of our top 50 free agents, but he isn't supposed to be on that list this year. He hits the open market a year too soon, after two seasons where he has been the worst hitter in Major League Baseball according to wRC+.
Going From MVP to the Worst Hitter in MLB
Since 2021, Bellinger has seen his strikeout rate climb and his walk rate plummet, all while being zapped of that signature power that made him one of the most valuable young players in baseball.
Bellinger was no stranger to strikeouts early in his career, but he cut his K-rate each season like you'd expect from any budding superstar. In his MVP season, Bellinger walked 14.4% of the time compared to a 16.4% strikeout rate. Even though he wasn't great in 2020, those rates remained consistent at 12.3% and 17.3% respectively.
Then you have the 2021 and 2022 campaigns, where Bellinger has seen his walk rate dip below 10% for the first time and his K% climb back to the same 27% we saw when he was a rookie.
This drastic shift in the quality of his at-bats has led Bellinger to hit below the Mendoza line over his last 900 plate appearances, posting a .193/.256/.355 slash line with just 29 home runs. The trends are alarming bad for Bellinger, both in terms of production and advanced data.
| | | | | | | | |
| --- | --- | --- | --- | --- | --- | --- | --- |
| Seasons | Slash Line | HR | K% | BB% | wRC+ | HardHit% | HR/FB% |
| 2017-2020 (4 seasons) | .273/.364/.547 | 123 | 21.5% | 12.4% | 137 | 43.6% | 21.2% |
| 2021-2022 (2 seasons) | .193/.256/.355 | 29 | 27.1% | 7.7% | 69 | 33.2% | 10.5% |
Beyond the obvious lack of production in regards to his slash line, the most concerning thing about Bellinger's regression is that he is just not hitting the ball hard anymore. In each of his first four seasons, Bellinger produced a max exit velo of over 110 MPH, reaching as high as 112.9 in 2018.
Across his last two seasons, Bellingers' max exit velo has been around 107 MPH and his HardHit% has dropped by more than 10%. This drop in hitting the ball hard has naturally sapped his home run power, with that rate being cut in half.
It is worth noting that Bellinger's MVP campaign came during the peak "juiced ball" season in 2019, which could explain some of that loss in exit velo, but certainly not all of it. A shoulder injury during the 2020 postseason that would later require surgery likely did not help things either.
Bellinger has tried to compensate for his weakened power by lifting more, with his average launch angle climbing over 20 degrees for the first time in 2021 and remaining above that mark in 2022.
Still 27 years old on Opening Day, Bellinger is young enough to turn things around, and certainly has all the athleticism in the world to bet on, yet that is not going to translate to a big contract in free agency.
Best One-Year Gamble in Free Agency
Over the last two years, Cody Bellinger has given us no indication that he can return to being an above-average MLB hitter again, but that does not mean he can't be an extremely valuable piece on any team he signs with.
The Dodgers won an MLB-best 111 games this year. Bellinger played in 144 games, and started 135 in center field. Since the Dodgers traded for Mookie Betts and pushed Bellinger from right field to center, he has been worth 16 OAA. This puts him just behind fellow free agent center fielder Kevin Kiermaier, who has 18 OAA during that span.
Bellinger won a Gold Glove for his work in right field in 2019 and is certainly capable of bringing in more hardware with the way he can run down fly balls in center. Due to his upside offensively, as well as being five years younger than Kiermaier, Bellinger is now the second-best center fielder on the free agent market behind Brandon Nimmo.
The only reason the Dodgers decided to non-tender Bellinger is because he was set to make north of $17 million in his final year of arbitration, which is a very hefty price tag based on his recent production.
Still, any team that signs Bellinger is getting an athletic 27-year-old, who can play center field, right field or first base exceptionally well. As a hitter who pulls the ball over 45% of the time, Bellinger will see an uptick in numbers with the elimination of the shift.
In 2022, Bellinger hit .210/.265/.389, with 19 home runs and 14 stolen bases. If the average can climb back up to .245 without the shift and his OBP gets back over .300, Bellinger can easily swipe a few more bags and become a 20-20 home run/stolen base guy, who brings elite defensive versatility. That will play on any club.
Agent Scott Boras told the Athletic's Ken Rosenthal that they have already received multi-year offers for Bellinger, but says to be looking only at one-year deals for his client. Considering the widespread interest he will receive, don't be surprised if Bellinger is able to sign a 1+1 deal, giving him an extra year of security with the ability to test the market again if he posts a strong bounce back season.
Players as talented as Cody Bellinger get many chances to succeed, as teams will not give up on his potential despite what the recent results would suggest. Hopefully, Bellinger can regain previous form and become one of the best stories of the 2023 season.