Analysis
Mets Find DeGrom Replacement, Sign Verlander to Two-Year Deal
Three days after losing a two-time Cy Young, the Mets have added the reigning AL Cy Young, Justin Verlander on two-year, $86 million deal.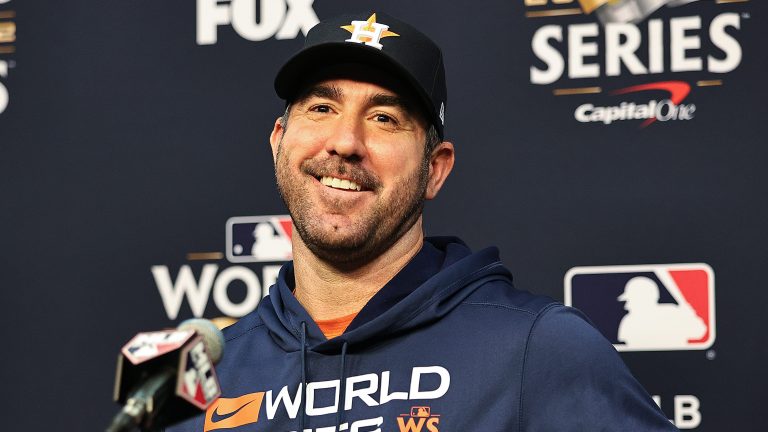 Well that didn't take too long. Everyone predicted the New York Mets would quickly have a countermove lined up for when Jacob deGrom chose to pitch elsewhere, and all eyes were pointed in one direction.
Justin Verlander, fresh of a Cy Young Award, hit free agency looking to cash a big bag ahead of his age-40 season. Steve Cohen wasted no time landing the three-time Cy Young, reuniting him with former Detroit Tigers teammate Max Scherzer.
Reports had indicated that the Mets wanted to sign deGrom to a three-year deal, worth around $115 million. Now all that money is heading into Verlander's bank account, as he signs a two-year deal with a vesting third-year option.
We learned last offseason that the going rate for a mercenary future Hall of Fame ace is $43 million per season, which is right in line with what Verlander gets by making $86 million over the next two years.
There is still inherent risk in signing what will be a 40-year-old pitcher by Opening Day, particularly due to the unprecedented nature of him coming off Tommy John surgery last season to pitch 195 innings (including playoffs), win the Cy Young and the World Series.
Verlander defies all rules of aging, but you still have to wonder how his arm will hold up over the next few years. Still, from the Mets perspective, Verlander is less of an injury risk than deGrom and certainly less of a liability on a two-year deal.
The Mets won 101 games in 2022, and deGrom started just 11 of them. With Edwin Diaz back and Verlander in the fold, the Mets are looking primed to make another run.
Brandon Nimmo is still a free agent that either has to be re-signed or replaced, and the Mets still need to add depth to both their rotation and their bullpen, but this signing really solidifies a foundation to build around next season.