Analysis
Who Should Start the All-Star Game for the National League?
Here are the players most deserving of starting the All-Star Game for the National League this season.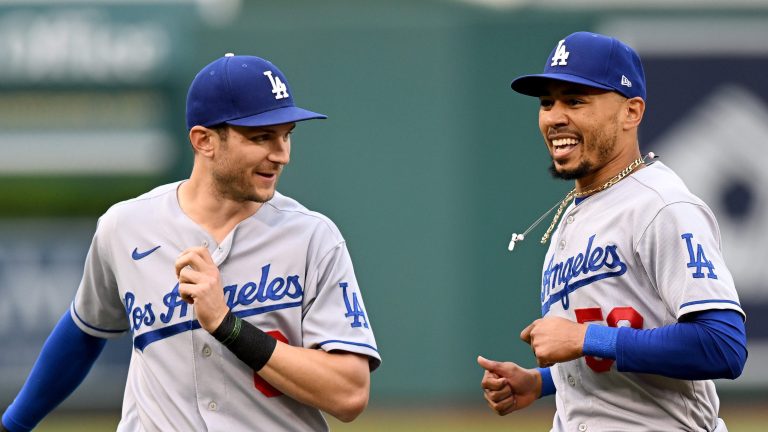 This week, MLB All-Star voting opened up, as we are nearly a month away from the Midsummer Classic!
There are so many great players in the game today, it can be hard to nail down who is most worthy of earning the distinction of starting in the All-Star Game. Today, I will make a case for the National League players who are most-deserving of getting votes on your ballot this season, while Jack McMullen handles those duties on the American League side.
Catcher: Willson Contreras, Chicago Cubs
2022 Stats: 201 PA, .277/.403/.530, 10 HR, 23 RBI, 162 wRC+, 2.2 fWAR
Willson Contreras is likely to be the Chicago Cubs' lone All-Star this year, but his place in the game will certainly be earned. Contreras has been the most valuable catcher in baseball this season based on his MLB-leading 2.2 fWAR and his 10 home runs lead the league for backstops as well.
Really the only catcher who could have threatened Contreras' starting spot is his little brother, if only he had gotten more playing time. William Contreras has eight home runs and a 189 wRC+ for the Atlanta Braves, but has yet to even receive 100 plate appearances this season.
First Base: Paul Goldschmidt, St. Louis Cardinals
2022 Stats: 247 PA, .338/.420/.596, 12 HR, 47 RBI, 186 wRC+, 3.0 fWAR
First base is probably the most stacked position in the National League. C.J. Cron and Christian Walker have almost 30 home runs between the two, but neither will sniff the All-Star game unless they are added to represent their team. Garrett Cooper, Matt Olson and Josh Bell are all having strong seasons as well, but there are still three other first basemen that stand out above the rest.
Paul Goldschmidt deserves the nod over everyone else to start at first base for the National League, as he has carried the St. Louis Cardinals so far this season.
The 34-year-old is leading the league in batting, wRC+, on-base percentage, wOBA (.436) and is third behind Manny Machado (3.5) and Mookie Betts (3.4) in fWAR. If Goldy keeps up this production, he could find himself winning the first MVP of his career.
Honorable Mentions: Pete Alonso, Freddie Freeman
Considering he plays in New York and the Mets are off to such a great start this season, Pete Alonso might just be the most likely first baseman to start the All-Star Game. While Goldschmidt is more deserving, it would be hard to be too mad at Alonso starting, with his league-leading 16 home runs and 54 RBIs.
If not Alonso, Freddie Freeman would be a viable All-Star starter as well. The new Dodger has posted a 2.0 fWAR through his first 57 games in Los Angeles, which is second behind Goldschmidt among NL first basemen.
Second Base: Jazz Chisholm, Miami Marlins
2022 Stats: 184 PA, .255/.311/.527, 10 HR, 37 RBI, 10 SB, 133 wRC+, 2.0 fWAR
Who would you rather see start an All-Star Game, Tommy Edman or Jazz Chisholm Jr.?
Edman might be having the better season statistically, but Chisholm is having the more memorable one because he is an absolute superstar in the making. The 24-year-old is a human highlight reel, capable of making amazing things happen with his athleticism. He also plays with a flair and swagger worthy of being showcased on the biggest stage.
Chisholm is leading all second basemen with his 10 home runs and 37 RBIs, while his 133 wRC+ trails only Jeff McNeil.
Honorable Mention: Tommy Edman, St. Louis Cardinals
Tommy Edman is now playing shortstop, but early in the season he was arguably the best second baseman in baseball. Edman's elite defense shines through when looking at his 2.8 fWAR, which is not only the top mark among middle infielders, it's fourth-best mark in the NL.
Shortstop: Trea Turner, Los Angeles Dodgers
2022 Stats: 247 PA, .302/.358/.477, 7 HR, 13 SB, 46 RBI, 135 wRC+, 2.0 fWAR
In a lineup with Freddie Freeman and Mookie Betts, it is Trea Turner who hits in the three-hole. The Dodgers shortstop has cleaned up all the RBI opportunities his fellow All-Star teammates give him and is on pace for a career-year in that department.
There are a lot of five-tool players in the game today, but few can get to all five of those tools as consistently as Trea Turner does each season.
Honorable Mention: Francisco Lindor , New York Mets
Francisco Lindor is leading all NL shortstops in fWAR, thanks to his always strong defense, as well as a strong start to his season offensively. Lindor's nine home runs are the most for an NL shortstop.
Third Base: Manny Machado, San Diego Padres
2022 Stats: 237 PA, .329/.401/.543, 9 HR, 36 RBI, 164 wRC+, 3.5 fWAR
Manny Machado is playing like an MVP this season, carrying the load for the Padres with Fernando Tatis Jr. out on the IL. Outside of home runs, Machado is basically leading every single offensive category among NL third basemen and his 3.5 fWAR is the top mark among all players in MLB.
Honorable Mention: Austin Riley, Atlanta Braves
Austin Riley is starting to heat up, as he has seven home runs over his last 15 games played. The Braves third baseman now has 15 home runs on the season, one behind Pete Alonso and Mookie Betts for the NL-lead.
Outfield: Mookie Betts, Los Angeles Dodgers
2022 Stats: 254 PA, .289/.366/.560, 16 HR, 39 RBI, 160 wRC+, 3.4 fWAR
There is really one outfielder that stands out above all the rest in the National League this year and it's Mookie Betts.
The 2018 AL MVP is playing like one again, posting the second-best fWAR in the sport, which is a mere point behind Manny Machado. Betts is the only outfielder in the NL with an fWAR over 2.0, meaning he has been over a full win more valuable than the next-best guy.
Outfield: Ronald Acuña Jr., Atlanta Braves
2022: Stats 132 PA, .312/.409/.514, 5 HR, 10 SB, 15 RBI, 154 wRC+, 1.3 fWAR
Even though he has only played half of the season this year, Ronald Acuña Jr. is clearly the second-best outfielder in the National League and by season's end, he could be the best.
Acuña has come off his knee injury looking as explosive as ever before, slugging over .500 with 10 stolen bases and 22 runs scored in just 29 games. It is no coincidence that the Braves have gotten their season back on track now that they have their best player back in the lineup everyday.
Outfield: Jeff McNeil, New York Mets
2022 Stats: 212 PA, .314/.368/.443, 3 HR, 28 RBI, 136 wRC+, 1.9 fWAR
If you are familiar with my previous work on Jeff McNeil, you may accuse me of a homer pick here, but there's a legitimate case to be made for the Mets super utility man to start this All-Star game.
Originally I had Juan Soto slated as the third Opening Day starter, because I wholeheartedly believe he will start the game when it's all said and done. With that said, this is who deserves to start the All-Star Game and I have a hard time putting Soto ahead of McNeil based on their respective play this season.
Soto is hitting nearly 70 points below his career average and is also playing like the worst corner outfielder in baseball (remember Nick Castellanos and Kyle Schwarber are playing outfield everyday in the same division). Meanwhile McNeil has unlocked the Mets lineups with his versatility, providing above-average defense at second base and in left field.
McNeil is also hitting about 90 points better than Soto and his 136 wRC+ is the third-best mark among qualified NL outfielders.
Designated Hitter: Bryce Harper, Philadelphia Phillies
2022 Stats: 225 PA, .308/.364/.637, 15 HR, 45 RBI, 168 wRC+, 2.2 fWAR
The reigning 2021 NL MVP has been relegated to a DH role this season due to a partially torn UCL, but that has not stopped him from being one of the most impactful players in baseball.
Bryce Harper's numbers speak for themself, as he is by far the most prolific designated hitter in the first official year of the universal DH.
Starting Pitcher: Sandy Alcantara, Miami Marlins
2022 Stats: 12 G, 6-2, 1.61 ERA, 83.2 IP, 77 SO, 24 BB, 0.94 WHIP
Sandy Alcantara should be the favorite to win the NL Cy Young this season. The Marlins ace is coming off nine scoreless innings pitched on Wednesday and has gone at least seven innings with one earned run or less in each of his last seven starts.
Across that span, Alcantara has racked up 46 strikeouts in 48 innings pitched and has lowered his season ERA from 3.03 to 1.61. Since May 11th, Alcantara has pitched to a 0.56 ERA. His 2.1 fWAR currently leads the National League.