Analysis
Way-Too-Early NL and AL MVP Favorites
With a third of the season in the books, here are the early favorites to win the Most Valuable Player Award in each league.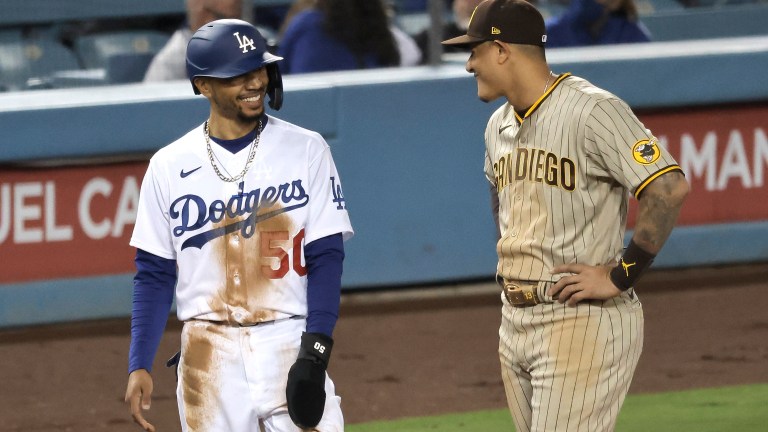 Summer is officially here and the Major League Baseball season is off to a great start!
We have seen about a third of the season played up to this point, which has allowed plenty of time for the best teams and players to separate themselves from the pack. In 2020, awards were issued to players after playing a 60-game season. This week, we are going to do the same with our way-too-early MLB awards.
We begin with the most prestigious award, the way-too-early Most Valuable Player for both the National and American Leagues.
(All stats and standings for this article were taken before play on June 6th)
National League
The National League has had many standout performers through the first third of the season. Reigning MVP Bryce Harper has 13 home runs, 40 RBIs and a 167 wRC+, yet I don't know if he would even finish in the top-five if MVP voting were to take place today.
Each of the best teams in the NL have dynamic duos who are carrying the load, whether that is Francisco Lindor and Pete Alonso with the Mets, Paul Goldschmidt and Nolan Arenado for the Cardinals, or even the trio of Mookie Betts, Freddie Freeman and Trea Turner for the Dodgers.
We could probably make a list of about 10 names of players who could conceivably make a push to win the NL MVP this season, but here are the three that stand out above all the rest to win it in 2022.
3. Paul Goldschmidt
An argument can be made that Paul Goldschmidt has been the best pure hitter in the National League this season. As of June 6th, he leads the league in hits (70), batting average (.343), on-base percentage (.423), OPS (1.031), OPS+ (196) and wRC+ (189).
Goldschmidt has been particularly hot since the calendar turned to May, as he has hit .381/.463/.754, with 11 home runs, 37 RBIs and a 234 wRC+ over his last 33 games played. The Cardinals have gone 21-14 during that span and currently sit a half game behind the Brewers in the NL Central.
At age-34, Goldy is putting up the best numbers of his career. If he can maintain this production and the Cardinals win the NL Central, Goldschmidt could win his first batting title and MVP in the same season.
The first baseman has two MVP runner-ups on his resume, in 2013 and 2015, as well as a third place finish in 2017. Last season, Goldschmidt finished sixth in the NL MVP voting.
2. Mookie Betts
The 2018 AL MVP finished runner-up in his first season with the Los Angeles Dodgers in 2020 and is once again looking like a favorite to take home the award this season. Based on fWAR, Mookie Betts has been the base player in baseball this season, as his 3.6 mark paces the league.
Similar to Goldschmidt, Betts' season took off once we got into May, as he has hit .343/.401/.708, with 13 home runs, 33 RBIs and a 206 wRC+ over his last 33 games. Betts bring premium defense along with his great offense, currently ranking in the top 20% of the league when it comes to Outs Above Average.
The one thing that could hurt Betts is the fact that he is playing on a team full of great players, who could all split votes come season's end. Freddie Freeman and Trea Turner have each gotten off to fast starts this year, forming the best trio of position players in baseball with Betts.
The Dodgers are the odds-on favorite to finish with the best record in the National League, but how much credit will Betts receive for their success?
1. Manny Machado
On the opposite end of the spectrum, most of the San Diego Padres success as a team can be attributed to Manny Machado.
The Padres only have one other player with an fWAR over 1.0 this season, with Jurickson Profar being the second-most valuable Padre at a 1.2 fWAR. Offensively Eric Hosmer has more than held up his end of the bargain when it comes to pre-season expectations, but he has cooled off greatly after his fast start when he hit .389 in April. If we really look at it closely, the Padres have largely been a one-man show, which vaults Machado to be the NL MVP frontrunner.
Through 52 games played, Machado is hitting .333/.409/.551, with nine home runs, 38 runs, 32 RBIs and a 168 wRC+. Machado has stepped up in the biggest of spots, as he sports an OPS over 1.000 in both medium and high leverage situations this season, compared to an .829 OPS in low leverage situations.
The two-time Gold Glove winner is angling for his first of the National League variety, currently leading all third baseman with his 6 OAA. Machado's combination of defense and offense has him just behind Mookie Betts for the MLB-lead with his 3.5 fWAR and his 3.4 bWAR actually leads the league.
More importantly, the Padres are sitting 33-21, just two games behind the Los Angeles Dodgers in the NL West on June 6th. If San Diego makes the playoffs and Machado continues to be their only standout position player, voters are going to have to respect his contributions as being the most valuable player in the National League.
American League
Aaron Judge has over 20 home runs through 52 games, Jose Ramirez seems to drive in two runs every game and Mike Trout is healthy, which is the only determining factor to if he will be in the MVP race. Xander Bogaerts, Jeremy Pena, Yordan Alvarez and Ty France have all gotten off to fast starts as well, but the top three in the American League seems pretty set in stone right now.
3. Mike Trout
The Los Angeles Angels are free-falling in the standings, as they have lost 11 games in a row and Mike Trout has been part of the problem that has led to this cold-spell.
Trout has not recorded a hit in his last seven games, going 0-for-26 during that span. And yet despite going ice-cold for really the better part of two weeks now, Trout has some of the best overall stats in baseball.
Through his first 50 games played, Trout is hitting .274/.378/.575, with 13 home runs and a 173 wRC+. The three-time MVP last won the award in 2019, and is a perennial contender as long as he is healthy.
Since he won the Rookie of the Year and finished second in MVP voting in 2012, Trout has finished in the top-five in MVP voting every season but last year, when he was limited to 36 games played due to injury.
2. Jose Ramirez
If MVP voting was based solely on the spirit of being the most valuable player to your franchise, Jose Ramirez would be the favorite, because where would the Guardians be without him?
J-Ram is a one-man show in Cleveland, driving in an AL-best 53 runs on a team where young Andres Gimenez has been their second-best position player. Ramirez is hitting .291/.393/.632, with 14 home runs and a 190 wRC+. More impressive, he has walked twice as often as he has struck out this season, with an incredible 7% K rate compared to a 14% walk rate.
Despite his best efforts, the Guardians are one game under .500 at 24-25 and currently sit 4.5 games back from the Minnesota Twins. If Ramirez can lead Cleveland to a winning record and a playoff berth, that would probably be worthy of winning his first ever MVP award.
1. Aaron Judge
As I explored in a recent article, Aaron Judge might just put together the greatest contract year in MLB history this season. Judge is the runaway favorite to win the AL MVP right now, as the leader of the best team in baseball.
The 6'7″ slugger has bashed 21 home runs already this season, putting him on pace for over 60 home runs. Judge leads the AL in home runs, wRC+ (200), fWAR (3.2), SLG (.677) and ISO (.364).
Judge finished as the MVP runner-up in 2017, the same year he won the Rookie of the Year after hitting a then-rookie record 52 home runs. If he keeps pace with what he has done through the first third of the season, there is no doubt that Judge will be winning the award this time around.