Analysis
Why Jeff McNeil is the New York Mets Most Valuable Player
On a team full of players with more name recognition, Jeff McNeil is proving to be the most important piece on this surging Mets team.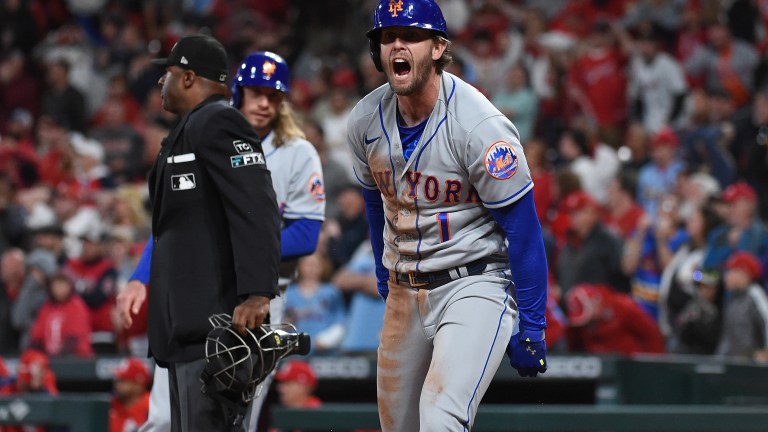 It doesn't matter where exactly they rank, the New York Mets have played like the best team in baseball this season. They have yet to lose a series and have already built the largest division lead in MLB, pacing the NL East by seven games through 31 games played.
On a team brimming with star power, with former All-Stars like Pete Alonso, Francisco Lindor, Starling Marte, Max Scherzer and Chris Bassitt, there is one player that goes under-the-radar who has been the Mets most valuable player.
That player, who is a former All-Star himself, is Jeff McNeil.
McNeil is currently leading all Mets with a 1.5 fWAR, which puts him in a three-way tie with Daulton Varsho and Jeremy Pena for the eighth-best mark among all position players. His 157 wRC+ puts him in the top-25 and is 11 points better than Alonso and Brandon Nimmo for the team lead.
The 30-year-old is so underrated that he even got snubbed from our very own show discussing the most underrated players in the game today. Nobody has been paying attention, but this guy is an unbelievably good baseball player, who has been quietly leading one of the winningest teams in the sport through the early stages of 2022.
As the chief advocate of the Mets for Just Baseball, I feel it is my duty to put some respect on McNeil's name so people will stop doubting what the "Squirrel" can do.
Always Overlooked
Jeff McNeil is a real success story from the Mets farm system, as they were able to find a future All-Star in the 12th round of the 2013 MLB Draft. McNeil never achieved top prospect status because he doesn't have any tools that would pop when scouts watched him. Yet every season the guy raked.
A career .312 hitter across 433 games played in the minor leagues, McNeil proved he could get knocks at every level. Injuries held him back in 2016 and 2017, when he played just 51 games in a two-year span. McNeil finally had a healthy season in 2018 and it ended with a graduation to the big leagues.
Never known as a home run hitter, McNeil finally started to put some balls in the seats in 2018 and it certainly caught the Mets attention. Beginning in Double-A, McNeil hit .327/.403/.626, with 14 home runs and 33 extra-base hits in 57 games. He was then promoted to Triple-A, where he hit .368/.427/.600 in 31 games.
On July 24th, 2018, McNeil made his MLB debut as a pinch hitter. He singled. Two days he made his first start, where he went 1-for-2 with three walks. McNeil has been a fixture in the Mets starting lineup ever since.
He would go on to finish sixth in the Rookie of the Year voting, despite playing only 63 games. McNeil hit .329/.381/.471 and showcased a pretty good glove over at second base.
You would've thought the Mets found their long-term answer at the position right? Wrong.
New GM Brodie Van Wagenen made it his first mission to supplant McNeil at second base, trading to acquire his former client Robinson Cano from the Seattle Mariners. McNeil was actually rumored to have been included in the early iterations of that deal, which would have only made a terrible trade worse.
Luckily for the Mets, they hung onto McNeil and brought him to spring training with no clear path to make the Opening Day roster after the addition of not only Cano, but also the signing of another former Van Wagenen client, Jed Lowrie.
Despite almost exclusively playing second and third base in the minors, McNeil taught himself how to play outfield on the fly and carved out a role as a super utility player for the 2019 Mets. McNeil started at least 15 games at four different positions (2B, 3B, LF and RF) and made his first All-Star team.
In 2019, McNeil hit .318/.384/.531, with 23 home runs, 75 RBI and 83 runs scored. His 144 wRC+ matched Pete Alonso for the ninth-best mark in MLB. After posting a very solid 2020 campaign, McNeil dealt with his first bit of adversity in his MLB career last season, as he had a very underwhelming year. This had many people questioning if he could be an impact player again.
Bounce Back Season
Like most of the Mets lineup, Jeff McNeil struggled mightily throughout the 2021 season. The utility man hit .251/.319/.360, with a 93 wRC+. He also watched his team trade for Javier Baez at the deadline to replace him as Francisco Lindor's double play mate at second base.
Many expected the Mets to re-sign Baez this offseason to keep their franchise player happy by retaining one of his best friends. Instead the Mets chose to do the opposite, doubling down on a homegrown player who they felt was much better than what he showed in 2021.
Much was made about the relationship between Lindor and McNeil after the two got into a clubhouse altercation last year, which was infamously covered with a lie about a rat. Or was it a racoon?
This season, the Mets have rats running on the field in their games, but no rat drama to report in the clubhouse.
If you notice McNeil is standing on second base at the start of that video with the rat, as he had just doubled in two runs to tie the game just before that.
But as they say, winning cures all and it certainly appears to have done that when it comes to the Mets duo up the middle.
McNeil and Lindor are currently ranked No. 1 and No. 2 on the Mets when it comes to fWAR and are forming a dynamic double play combination up the middle. McNeil ranks in the 92nd percentile with 3 OAA at second base and has also split time playing strong defense out in left field.
Buck Showalter has done his best to keep everyone engaged off the Mets bench, giving plenty of playing time to guys like Luis Guillorme, JD Davis, Dominic Smith and Travis Jankowski. McNeil is the piece that allows Buck to have that lineup flexibility, as he is the one player on the Mets roster who provides quality defense on the dirt and in the grass.
None of that would matter as much though if he wasn't swinging a hot bat, but that is exactly what McNeil has had all year. Through 29 games played, McNeil looks like an early contender for the NL batting title, with a .333/.400/.465 slash line to start the year.
Compared to year's past when he would try to lift the ball and hit home runs, McNeil has gotten back to what he does best. Choke up on his knob-less bat and hit it where they ain't.
This approach has McNeil ranking in the 30th percentile or worse in average exit velocity (28th), HardHit% (12th) and Barrel% (9th), but those numbers don't tell the whole story of his offensive impact.
McNeil still has 10 extra-base hits and has the second-best slugging percentage on the Mets behind Pete Alonso at .465. He will hit the ball on the screws when he gets his pitch, but isn't worried about his exit velos when a team is stupid enough to leave him an ocean to hit into on the infield.
When it comes to the make-up of the 2022 New York Mets, there is an argument to be made that Jeff McNeil is this team's most important player. He's a gamer that unlocks everything for this lineup, both offensively and defensively.
Hopefully with winning comes recognition and McNeil will soon be regarded for what he is. One of the best players in the game today.