Analysis
Paul Goldschmidt Is Keeping the Cardinals Afloat
Despite many players failing to meet expectations, the Cardinals are nearly atop the NL Central thanks to the incredible play of Paul Goldschmidt.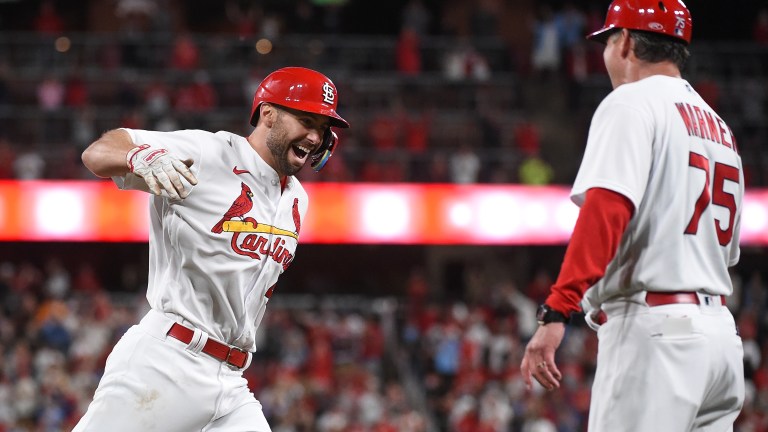 Paul Goldschmidt is the best hitter in the National League this season. This is not debatable, it is a fact. The Cardinals' first baseman leads the NL with his 187 wRC+, good for third in all of Major League Baseball. He sits behind just Aaron Judge (199) and Yordan Álvarez (195), and sits one place ahead of Mike Trout (182).
A player that has so long flown under the radar as one of the best pure hitters in the league is finding another peak at 34 years old. His move to St. Louis certainly helped his perception among more casual fans. Getting away from some lowly Diamondbacks teams gave him a larger platform to display his greatness.
Still, his first year in 'The Lou' did not exactly go according to plan. He had the lowest full-season wRC+ (117) of his career and hit just .260. Concerns arose that he was more a product of a good hitting environment in Arizona than truly one of the game's great hitters.
I think we can put those concerns to bed.
Since 2020, Goldschmidt has averaged 157 wRC+ and a .928 OPS. He has also added 49 homers over the course of 271 games since the COVID-shortened season. Over the last 365 days his slash line is an unreal .327/.404/.588 with 36 homers and an astronomic .992 OPS.
He is truly one of the games most under-appreciated hitters and is on a really good pace for Cooperstown. In 2022 more than ever, his greatness has come to the forefront.
Hot In Here
It is hard to pinpoint what exactly has led to such a leap from Paul Goldschmidt this year. His Hard Hit% is down, his Barrel% is down and his Average Exit Velocity is down. He does not rank higher than the 86th percentile in any one category on Baseball Savant, and his bubbles do not exactly light up the screen.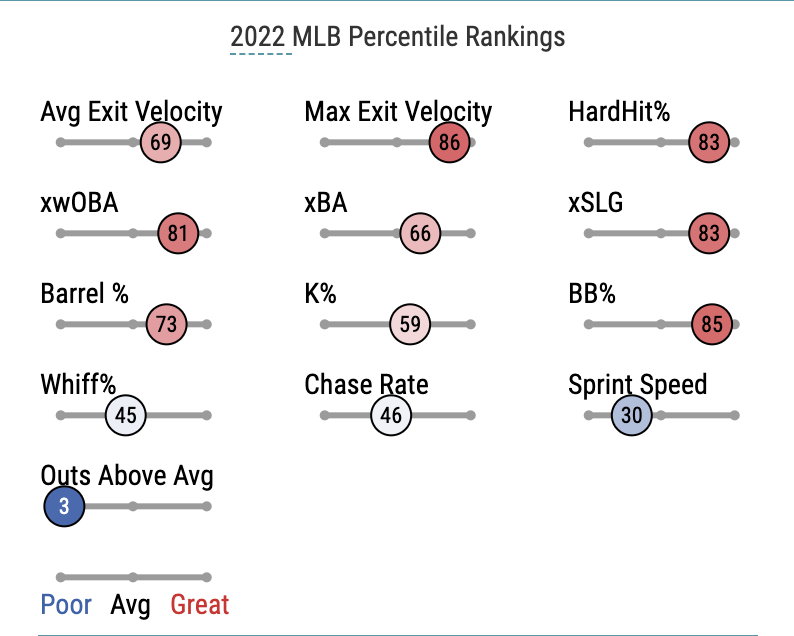 To be fair, this is still a very impressive Savant page. But just compare it to last year's page while keeping in mind that hitters were much better last season.

In a year where so many players around the league have taken a step back, Goldy has once again become one of the league's top performers. It shows how great of a pure hitter he is, he does not need balls that jump off the bat to be great. Sure, he can hit the ball as hard as anybody, but he does not always need to in order to put up outstanding numbers.
Even crazier is that he is actually chasing at a career-high rate, and swinging at fewer pitches in the zone than he ever has. Despite that, his walk rate is up nearly three points from last season and his strikeout rate is below 20%.
If anything explains this phenomenon, it is that he is making contact with pitches inside the zone at a near-career-best percentage. His 85.5% mark in that category is just .4% below his 2020 percentage.
There is one major improvement that Goldy has made in 2022 and it is laying off of breaking balls. His Whiff% against breakers this season, 27.3, is his lowest since 2013. That comes at a time where he is seeing breaking balls at a higher rate, 37%, than he ever has. His Hard Hit%, 47.1, is higher than it has ever been and four of his 12 homers this season have come on breaking balls.
The most amazing thing is that Goldschmidt got off to a terrible start and is still putting up career numbers. On April 21st he was slashing .146/.271./.195 with zero homers and 47 wRC+.
By month's end he had 114 wRC+
Ride With Me
It all came to life in May for Paul Goldschmidt when he won NL Player of the Month. He put together one of the great months we will see this season, hitting .404 with a 1.288 OPS and 252 wRC+, while socking 10 of his 11 dingers.
This prolific stretch is the main reason the Cardinals kept up with the red-hot Brewers. Milwaukee wet 17-12 in May, and St. Louis was able to keep pace with the exact same record. They finished the month right where they started, two games off the division lead. Now they have brought it within a half-game, as the Brewers have started June slow and the Cardinals have played solid ball.
Goldschmidt has made the entire thing go. The Cards are tenth as a team in wRC+, despite having just four qualified players with above 100 wRC+. It is important to remember that stats are severely deflated this year, so for individual performance OPS is much more reflective when a player is around 100 wRC+.
For example, Albert Pujols has 103 wRC+ but just a .691 OPS. Another example is Tommy Edman who boasts an impressive 125 wRC+, but just a .733 OPS. Basically, the Cardinals have an above-average offense, but in 2022 that is not saying much. Also, it would not be that way without Goldschmidt.
The Cards had multiple injuries in May, losing Tyler O'Neill and Dylan Carlson for portions of time. Their injuries may be an explanation, but both have been performed well below expectations. These were two massive pieces of what St. Louis was hoping to do in 2022, and they are posting 71 and 87 wRC+, respectively.
They also had to send shortstop Paul DeJong down to Triple-A after a dismal start. In 24 games the former All-Star hit .130 with a .417 OPS and 26 wRC+. It forced a shakeup in the middle infield and leaves them looking for an upgrade. Luckily for now, Nolan Gorman has been raking since coming up from Triple-A with an .898 OPS and three homers in 16 games.
On top of all of that, Nolan Arenado took a major step back in May as well. After he won NL Player of the Month for April, he hit just .196 and slugged a lowly .373. I guess this time April flowers brought May showers for Nolan.
Luckily for St. Louis, they had Goldschmidt to put them on his back and kept them within striking distance of the Brewers. Now if they can get all their guys healthy and rolling at the same time, they should be able to make a run at Milwaukee in the NL Central.
If those two teams both find their groove, we could be in for a special pennant race in the NL Central in the second half of the season.