Podcast
State of the AL East: Trevor Story's Finally Heating Up
The newest State of the Division podcast covers a suddenly surging Red Sox team, the debut of one of the best prospects in baseball and much more.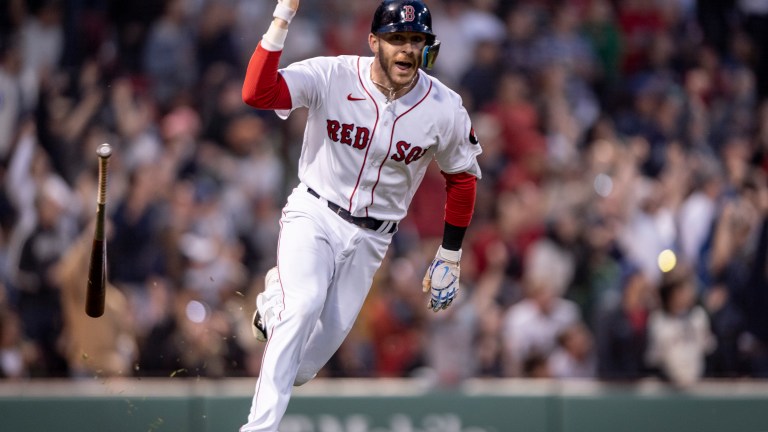 LISTEN TO THE STATE OF THE DIVISION ON APPLE PODCASTS
Another week has come and gone in the American League East, and it was without a doubt one of the most exciting we've seen in 2022.
New York suffered the wrath of Tim Anderson in the nightcap of the weekend last night. Trevor Story has fully arisen in Boston, smacking four homers in three days. The top prospect in all of baseball, Adley Rutschman, was called up and assisted Baltimore in taking a series against Tampa Bay. And Toronto still seems like a sleeping giant ready to be awoken at any moment.
With one of the best divisions in all the sport, these five teams have failed to disappoint us through their first six weeks. Let's recap the last seven days in the AL East.
1. New York Yankees: 29-12 (4-3 last week)
After another winning week, the Yankees still sit atop the AL East, still five games up on the second place Tampa Bay Rays. But something feels off. For the first time this season, I woke up on a Monday morning and am dissatisfied with this team as a fan.
The Yankees took three of the first four during their series with the Baltimore Orioles at the beginning of the week. The final game of the series felt a bit sour, with the Orioles walking it off in the bottom of the ninth courteous of an Anthony Santander three-run-homerun. Obviously not the end of the world, but it just felt as if the Yankees should've taken that final game.
Friday morning, the team announced that long-time Yankees' reliever Chad Green will undergo Tommy John surgery. One of the most consistent arms in the Yankee bullpen, he might've thrown his final pitch in pinstripes with free agency coming up in the offseason.
A rain out Friday led to a doubleheader Sunday. New York took the first game of the series Saturday, but controversy began to brew. Unless you're living under a rock, you are informed of the situation that occurred between Tim Anderson and Josh Donaldson during Saturday's matchup. I will not comment on the situation at hand, but we all know that Tim's blood was boiling.
And what did he do? Launch a three-run-homerun into the short porch on Sunday Night Baseball, shushing the crowd.
Yankees hitters combined for a measly six hits throughout the doubleheader. Can't win baseball games if you aren't hitting. It was a winning week for the best team in baseball but feels incredibly empty following last night's events.
The Yankees host the Orioles once again this week, beginning a three-game-set tonight. They then travel to Tampa Bay, with their first matchup of the year against the Rays on deck in a four-game-set during the weekend.
2. Tampa Bay Rays: 24-17 (3-3 last week)
Tampa Bay had a relatively uncharacteristic week last week, dropping a game against the Tigers and losing their weekend series against the Baltimore Orioles.
The Rays were walked off twice against the Orioles, with second baseman Rougned Odor clipping Tampa's relievers late twice. Known for picking up the easier victories against lesser oppositions, it was a disappointing week for them.
Still five games back of the first place New York Yankees, with Toronto only two games behind them, scary hours could be among us for the defending AL East champions. Surrendering 16 runs in their three games against the Orioles, Rays' pitching was a bit below par last weekend.
Some great matchups are on the horizon this week for the team. On a six-game home stretch that starts tomorrow, they first welcome their neighbors in the Miami Marlins to town for a two-game-series. The most anticipated series of the week however will be once they host the New York Yankees for a four-game set that will see both AL East giants duke it out for the first time in 2022.
With something to prove this week, Tampa Bay will seek to improve off their last seven days.
3. Toronto Blue Jays: 22-19 (4-2 last week)
They're alive! Toronto won both of their series' last week against Cincinnati and Seattle and are showing signs of life after such a slow start to their 2022 campaign.
Blue Jays pitching impressed last week, only allowing twelve runs in their six games last week. Starters Alek Manoah and Kevin Gausman can still both be found in the top twenty of ERA leaders this season. The largest improvement of the offseason, Blue Jays starters are combining for the ninth lowest starter ERA at 3.37.
There are still some concerns for the bats, however. Toronto regulars Bo Bichette, Matt Chapman, Alejandro Kirk, Teoscar Hernandez, and Lourdes Gurriel Jr. all have been below league-average hitters in 2022. The five all have a wRC+ tally below 100, and the team are the 20th ranked team in that department at 95.
I still have a ton of hope for this team, personally. The plethora of bats they are able to showcase aren't living up to their expectations whatsoever, and they are still four games above .500. And they won four games last week, so possibly the best is yet to come!
The Blue Jays will travel to St. Louis tonight, with a two-game set on tap against the Cardinals. After an off-day Wednesday, they'll cap off their week with a four-game series against the Los Angeles Angels.
4. Boston Red Sox: 19-22 (6-1 last week)
After an abysmal start to their season, the Boston Red Sox seem to be putting it together following last week's games.
Taking two of three in a rematch of last year's ALCS against Houston, and a four-game sweep of the Seattle Mariners, the Red Sox are rolling right now.
The headline of last week must be about Boston second baseman Trevor Story, who is finally starting to swing the bat well after signing a long-term deal with the Red Sox this offseason.
Story launched three home runs against the Mariners on Thursday night, then followed it up on Friday with a grand slam. In a 24-hour span, he accumulated four home runs and eleven RBI's. Massive. He was able to improve his OPS by over 100 points.
Following his slow start, many were concerned about the amount of money Chaim Bloom granted him in the offseason. But after this past week, Trevor Story has awoken from his slumber, and is back to stardom.
Boston's weekend was capped off yesterday with a walk-off grand slam by Franchy Cordero, securing their fifth win in a row. This team is on fire right now, and their offense has been electric.
Still sitting three games below the .500 mark, they are beginning to catch fire, and make up some ground in the AL East. This week is another huge opportunity for the team. After an off-day today, Boston travels to Chicago for a three-game set against the White Sox. They then come back home for a rare five-game-series against the Baltimore Orioles.
5. Baltimore Orioles: 17-25 (3-4 last week)
With a 3-4 record over the last week, you would think at face value that the Orioles have had an unsuccessful last seven days. You would be wrong! Baltimore had an incredible week!
Their first series against the Yankees wasn't ideal, dropping three of the first four. But on Thursday, Anthony Santander walked it off over the short porch at Yankee Stadium to give the Orioles a win in the last game of the four-game set.
But then, it happened. Friday morning it was announced that Orioles top prospect Adley Rutschman was coming to the bigs. His highly anticipated debut did not disappoint. Rutschman's first major league hit was a triple down the right field line, a dream scenario for your first major league game. One of his two hits on the weekend, the Orioles catcher scored the winning run during the Rays' walk-off victory on Sunday.
In the past, Baltimore has been the recipient of beatings from the Tampa Bay Rays. But this weekend, they were able to pull out an unlikely series win, a huge boost to their confidence. The Orioles are no loaded team by any means, but they certainly aren't the worst team in baseball. They've outperformed expectations during their first 42 games.
This week, Baltimore travels to New York again for a three-game-series, which is the beginning of an eight-game road trip. Then, they finish out their week with a five-game-set in Boston.
Recent Just Baseball AL East Stories
Here are some of the latest stories we have featured on teams in the American League East.