Analysis
Four Trevor Story Trade Destinations
The best landing spots for the deadline's biggest name.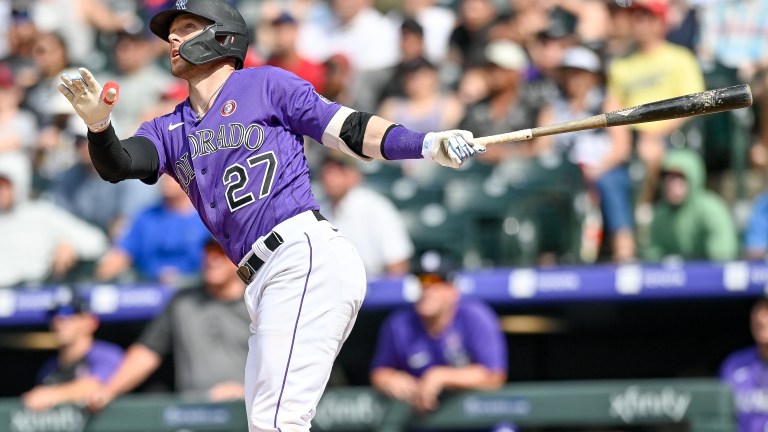 Since last season, everyone in the baseball world has been racking their brains, attempting to find the best destination for Rockies' superstar shortstop Trevor Story. The headliner of the upcoming free-agent class is seemingly a sure-thing to be dealt ahead of the July 31 trade deadline, but where will he land and what would a return look like?
Story likely won't be dealt ahead of the All-Star Game, as it is at his home stadium, but the mid-summer classic could be the final chapter of Trevor's story in Colorado. The 28-year-old has shaken off some early season injuries and is heating up at the right time, posting an OPS around .850 since June.
Return for the Rockies
What will limit the return on Story is his likely rental status, with the shortstop set for a major pay-day this winter. We saw how the Nolan Arenado contract limited the return for the Rockies, even with the franchise kicking in more than $30 million. Story is unlikely to commit to an extension with a team who acquires him, but he could really help a team making a push this year.
A decent reference point would be the Manny Machado trade to the Dodgers, but I'd expect a Story trade to be about 65 cents or so on the dollar in comparison to that deal. Machado was performing at a career-best level at the time of the deal, and Story is struggling away from Coors as much as ever this season (.184/.279/.368). The Orioles received Yusniel Diaz, who was a top 100 prospect at the time, as well as top 30 prospect Dean Kremer, and a couple filler prospects. I'd anticipate that Story does not earn the Rockies a top 100 prospect, but a couple solid pieces from a team's top 30 is a reasonable outcome.
Potential Suitors
It may be wise for the Rockies to package Jon Gray or another arm with Story, depending on the trade partner. Recent reports have distanced the Athletics from Story and connected the White Sox. Story would make an already fun White Sox offense even more ridiculous, but who else may be of interest in Story's services?
Los Angeles Angels
Yes, I know, the Angels need pitching. But, here lies the perfect team to package an arm along with Story in a deal with. A rental Trevor Story and an arm could help this Angels team immensely, which has navigated the Mike Trout injury by going 24-19 since the game's best player went down, and have won six of their last seven.
The Angels strong performance in Trout's absence has largely been due to Shohei Ohtani enjoying one of the best stretches we've seen in modern baseball, but first-time all-star Jared Walsh has shouldered a lot of the offense load as well.
The Angels are getting virtually no production from their middle infield. Jose Iglesias and David Fletcher are slick defenders, but they're combining for an OPS around .670. Anthony Rendon cannot stay healthy at third base, and outside of the team's two all-stars, Justin Upton (10-day IL) is the only player with an OPS over .800.
It will really boil down to what the Angels think they are capable of this year, but their ability to stay afloat with a team ERA of 5.01 (26th in MLB), Mike Trout on the shelf, Rendon banged up and Upton missing time should have GM Perry Minasian feeling pretty good. Jon Gray's contract is expiring as well, and even a package of the two players could command something similar to the Machado deal.
Even with a Story/Gray deal, the Angels could still put together a package for another solid starter on the trade market. I'd expect the Angels to be busy.
Chicago White Sox
As alluded to earlier, the White Sox have been tied to Trevor Story in recent days. The Sox have been banged-up since the start of the season, losing Eloy Jimenez for a majority of the year, Luis Robert for significant time, and now, Nick Madrigal is out for the season with a torn hamstring.
The White Sox of course have Tim Anderson at shortstop, and while Story may be the better defender, the potential newcomer could slide to second base. Prospects Gavin Sheets and Jake Burger have parlayed their great minor league seasons into early success in the big leagues, but neither can play second base. Utility-man Leury Garcia has filled in at second base, but offers virtually no production offensively.
Story to the White Sox makes all the sense in the world for a team that has seen its offense stall out a bit. Weirdly enough, Yasmani Grandal is the only qualified player on the active roster to own an OPS over .800 or a wRC+ over 130. Still 15 games over .500, with stellar pitching and an offense that is much more talented than it is showing right now, the Sox have to feel great about their chances of winning a pennant. That is enough for them to pursue Trevor Story, even in a rental capacity.
Atlanta Braves
It has been a weird year for the Braves. The team that was one game away from beating the eventual World Champion Dodgers has not looked the part through 83 games, sitting a game under .500.
In defense of the defending NL East champs, the Braves have been banged up as well. Starting catcher Travis d'Arnoud has been out since the first month of the season with a thumb injury, Huascar Ynoa broke his hand after losing a boxing match with the dugout bench, Mike Soroka re-tore his repaired Achilles, and Marcell Ozuna is out for the foreseeable future after a very public and reportedly violent domestic dispute.
Shortstop is an glaring hole for the Braves right now. After a career-best season in 2020, Dansby Swanson has disappointed this year, sporting a wRC+ of 89, while striking out 28% of the time. Swanson only has one more year of team control before he becomes a free-agent in 2023.
Of all the teams mentioned in this article, I believe the Braves could be the best bet to pull off an extension with Story. Atlanta will also have to pay Freddie Freeman after this year, but they have Ronald Acuña and Ozzie Albies on team-friendly deals for a long time.
Atlanta could potentially clear more than $50 million after this season. Charlie Morton ($15M), Drew Smyly ($11M), Ender Inciarte ($8.7M), and Travis d'Arnaud ($8M) are all set for free-agency after this year. The Braves could also non-tender Chris Martin ($7M) or trade Dansby Swanson ($6M). The Marcell Ozuna contract (4-years, $65 million) is looking like a dark cloud, but given the fact that Ozuna will likely face a massive suspension, along with possible jail time, the Braves should be cleared of at-least a season's worth of salary. I don't believe that Marcell Ozuna will or should ever be allowed to play in the majors again, but how the money works out will be complex.
The Braves only shortstop prospect remotely close to big league ready is Braden Shewmake, who has struggled this season against Double-A pitching. The Braves sit just 3.5 games behind the Mets for first place in the NL East, and also have the prospect capital to make multiple impact moves beyond Story.
I don't know about you, but as I am writing this, I am pretty sold on Story to the Braves.
Cincinnati Reds
Let me preface with the fact that Trevor Story would unequivocally be a rental in this instance for the Reds. That being said, there may not be a team in baseball who needs Story more than Cincinnati. I mean, they are starting Eugenio Suarez at shortstop. That's all I really need to say. I can pull-up the fielding metrics and all of that, but there's no need. They are starting EUGENIO SUAREZ at shortstop, while sprinkling in some Kyle Farmer who is a career .230/.292/.349 hitter.
What this will boil down to for the Reds, is whether they think that they can catch the red-hot Milwaukee Brewers (7 GB) or one of the three NL West forces in the wild-card (5.5 GB). I think they can and I'll tell you why.
MLB scheduling gave the Reds the perfect test ahead of the deadline for them to see where they are at. Split up by the All-Star Break, the Reds will face the Brewers for seven straight games (July 8th-18th), which should give them some clarity about two weeks ahead of the trade deadline.
Cincinnati has been playing good baseball over the last two weeks, going 8-4 in the last dozen games. The offense has been a force this year, ranking in the top 10 in hits, home runs and runs scored. A big reason for that has been the all-star duo of Nick Castellanos and Jesse Winker, who have combined for 6.1 WAR, 196 hits, 35 home runs, and 100 RBI in 151 games. The idea of Story, Winker, Castellanos, Votto and India at the top of an order is enough to get me to pick up the phone and call the Rockies if I'm in charge.
A big reason for the Reds hot streak has been the improved pitching as well. Sonny Gray just returned from the IL after missing roughly a month, and will surely be a huge boost. After a disastrous start to his 2021 season, Luis Castillo looks like himself again, pitching to a 2.25 ERA and 1.09 WHIP over his last five starts. 26-year-old Tyler Mahle has put it together for the Reds as well, punching out more than 11 batters per nine innings, while wily veteran Wade Miley has been fantastic this year as well.
Amir Garrett seems like he has worked through his struggles, and Tejay Antone (10-day IL) has been a stud when healthy. The Reds still could probably use some bullpen help too, but a call-up of Nick Lodolo could be an internal solution. Story might be just the boost that the Reds need, and legitimately puts them in the conversation with baseball's most elite offenses. The defensive improvement would be huge as well. Story is an above average defender at shortstop, but for a Reds team that ranks towards the bottom of baseball in most defensive categories, a true shortstop playing such a premium defensive position would be a big help.