Rankings
MLB Power Rankings: There's a New Best Team in Baseball
Just Baseball's MLB Power Rankings for Week 6.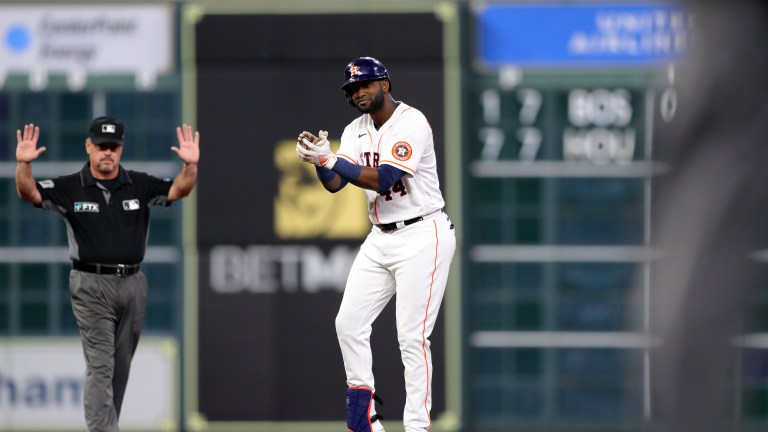 We've gotten through the initial opportunity for the early season Cinderellas to become mainstays. The more talented rosters are rising to the top of the rankings, while the decimated lineups and starting rotations are transitioning from "contenders" to "pretenders."
Still, these lists are as fluid as they come. If you're hot, you're hot. And you may just become the new No. 1 Team in Major League Baseball.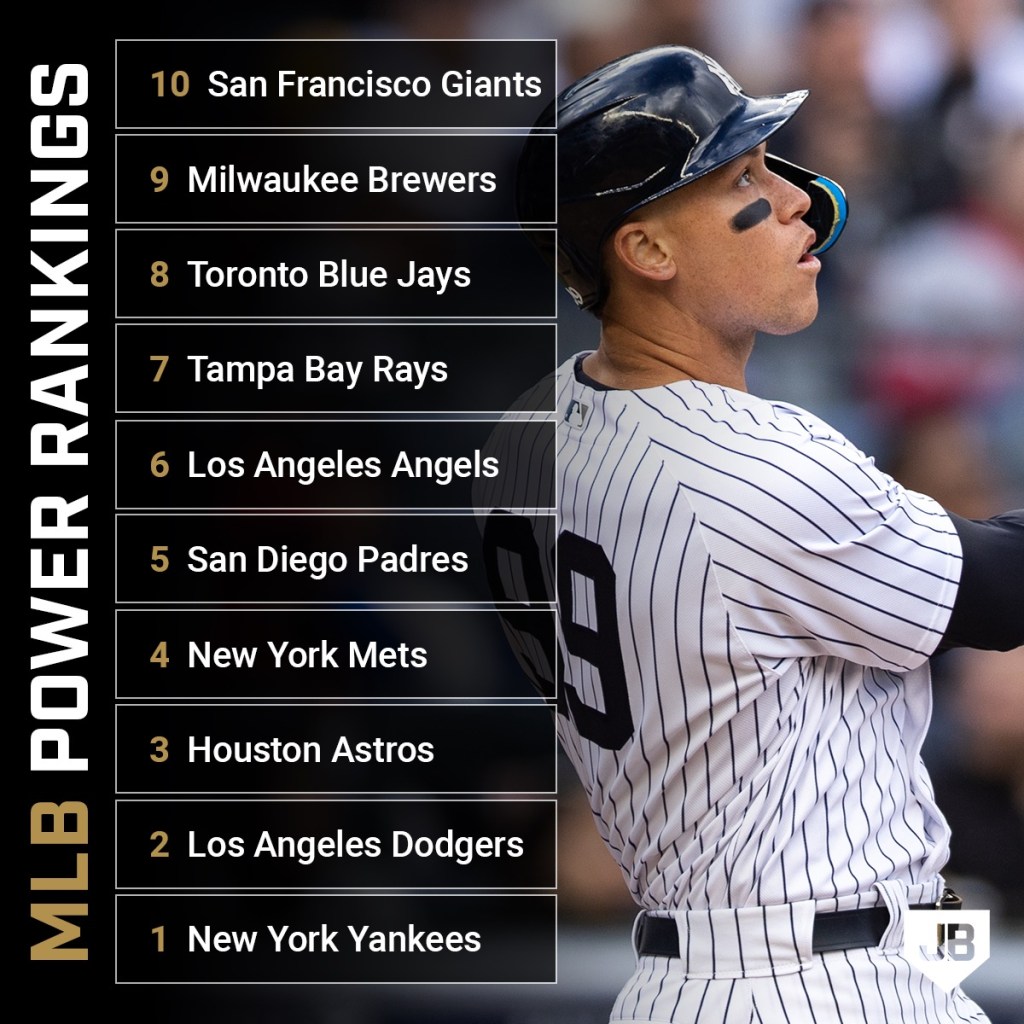 1. New York Yankees (Previous Ranking: 4)
The team with the best record in baseball now is just one run behind the Dodgers' league-leading +70 Run Differential. Nestor Cortes is proving with each start that he can be a legitimate star on the mound, and as of Monday morning, Aaron Judge joins Mike Trout and Manny Machado as the only three players in baseball with an OPS over 1.000.
2. Los Angeles Dodgers (Previous Ranking: 1)
A 5-5 stretch for the second-best team in baseball is fine, but it's not enough to hold serve when the best team in baseball is breathing down your neck. Clayton Kershaw's IL stint hurts this team in a major way. Here's to hoping the future Hall of Famer is back on the field quickly.
3. Houston Astros (Previous Ranking: 8)
A Saturday loss snapped a run of 12-straight wins for the hottest team in baseball, but the Astros are 12-2 in the month of May. Justin Verlander is Major League Baseball's leader in WHIP, Hits per Nine, and co-leader in Wins. And, it may be time to start calling Yordan Álvarez one of the best all-around hitters in baseball.
4. New York Mets (Previous Ranking: 2)
The leaders in the NL East have gone 5-5 in their last 10, but they have as much of a flare for the dramatic recently as anyone. Pete Alonso is the most prolific run producer in the National League, Brandon Nimmo is getting on base at a .414 clip in a contract year, and Patrick Mazeika was the clutch performer of the weekend, because of course he was.
5. San Diego Padres (Previous Ranking: 7)
It was a successful weekend in Atlanta for San Diego, capped off by an 11th inning onslaught of the Braves on Sunday morning. Go ahead and bask in it, Padres fans: Manny Machado and Eric Hosmer are the only two qualified hitters in Major League Baseball hitting .350 or better. Joe Musgrove continues to pitch like an ace, while Taylor Rogers shuts it down better than anyone on the back end.
6. Los Angeles Angels (Previous Ranking: 6)
Mike Trout heard everyone; the king remains the king. He doesn't just lead Major League Baseball in OPS; he leads Major League Baseball in OPS by SIXTY-FOUR POINTS. Oh, and Reid Detmers threw a no-hitter last week, while Chase Silseth looked locked in during his MLB debut.
7. Tampa Bay Rays (Previous Ranking: 9)
While Toronto continues to skid, Tampa continues to keep its racing line. The Rays haven't done anything spectacular recently, but they don't have to at the moment. Manuel Margot has been a revelation after the Rays recently extended him, probably because Erik Neander always knows something that we don't.
8. Toronto Blue Jays (Previous Ranking: 3)
The slide continues. With just three wins in their last 10 games, Toronto may be sitting here wondering how they regain that form that made them look like AL Pennant frontrunners through the first couple weeks of the season. For as good as Santiago Espinal has been, he's been forced to do too much with Bo Bichette struggling mightily.
9. Milwaukee Brewers (Previous Ranking: 12)
The team with offensive concerns has the fourth-most runs scored in all of Major League Baseball. Rowdy Tellez has become a cult hero, but Willy Adames has been the real star of the show, with nine home runs and 24 runs driven in. Oh yeah, and Christian Yelich might just be starting to heat up.
10. San Francisco Giants (Previous Ranking: 5)
A top-five scoring offense in baseball, San Francisco is again doing it with depth. Brandon Belt has been crushing it, and it's been wonderful for them to have a safety blanket in Joc Pederson. However, Carlos Rodon just got eviscerated on Sunday Night Baseball, and Logan Webb has been wholly underwhelming.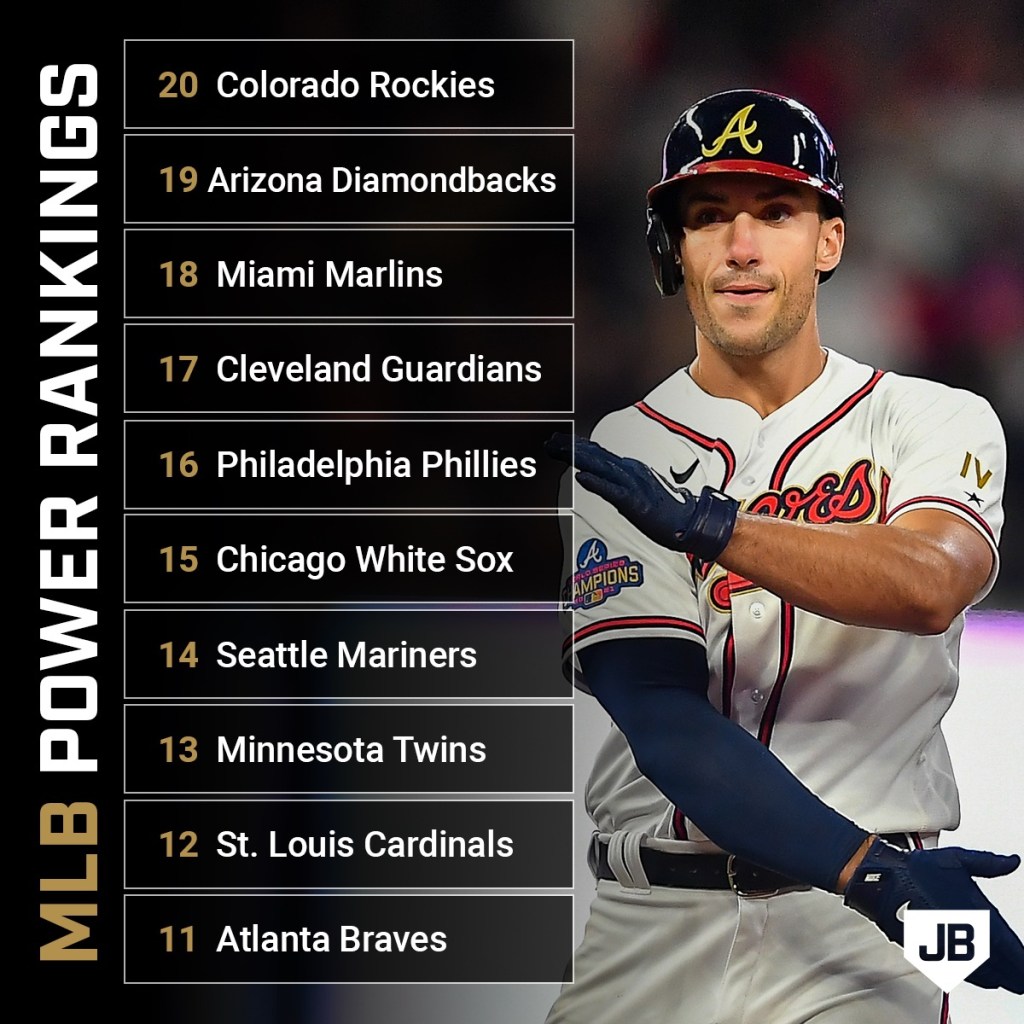 11. Atlanta Braves (Previous Ranking: 10)
It's getting harder and harder for me to justify having Atlanta this high. The talent is bountiful, and we know they can win. But if this run of form they're on keeps up, they may not even afford themselves the opportunity to contend for a repeat. Matt Olson has been awesome and Austin Riley has been very solid offensively, but that's about it.
12. St. Louis Cardinals (Previous Ranking: 13)
The Cardinals have just been fine as of late. Miles Mikolas continues to have an out-of-body experience, but a losing skid in the middle of last week didn't grant Oli Marmol the opportunity to use his gluttony of high-leverage arms for a couple of days. Nolan Arenado is tapering off from superhuman levels to only slighty-superhuman levels.
13. Minnesota Twins (Previous Ranking: 16)
The only team above .500 in the AL Central, the Twins continue to outperform their expectations on the mound and bash the ball with the best of them. The staff owns a collective 3.34 ERA (good for fifth-best in baseball), headlined by AL Rookie of the Year frontrunner Joe Ryan. Byron Buxton is playing like an MVP candidate, while Royce Lewis has come up and made an immediate impact.
14. Seattle Mariners (Previous Ranking: 11)
What a freaking series in Queens this weekend. Jesse Winker proved that he could be a villain in New York City, and they wrestled two away from the Mets. Reigning AL Cy Young winner Robbie Ray has been legitimately bad, but Logan Gilbert and a lights-out bullpen are picking up the slack. Plus, J.P. Crawford, Julio Rodriguez, and Ty France all provide palpable excitement offensively.
15. Chicago White Sox (Previous Ranking: 14)
This team is thanking their lucky stars that they sit just three games back of the Twins at the moment. The power production is nowhere to be found, resulting in the third-fewest runs scored in baseball. Slowly but surely, they're getting healthier, and Yoan Moncada made that apparent with two home runs in a weekend set with the Yankees. However, it's getting increasingly harder to bypass managerial ineptitude.
16. Philadelphia Phillies (Previous Ranking: 17)
Ah, the Phillies. The third-most runs scored in Major League Baseball, but the seventh-most runs allowed in baseball. Good. Alec Bohm continues to surge after some constructive criticism from Philly's finest, but Kyle Schwarber sits below the Mendoza Line and the pitching staff hasn't held their own whatsoever.
17. Cleveland Guardians (Previous Ranking: 19)
The insane start to the year is officially done with; no qualified hitter has a batting average over .300 anymore. May's been brutal for the bats. Franmil Reyes is hitting .333 through 11 May games, but Steven Kwan's at .208, José Ramirez is at .200, Owen Miller's at .182, and Myles Straw's hitting .156. Yikes.
18. Miami Marlins (Previous Ranking: 15)
Pick your poison as to who's been the worse offseason signing: Avisaíl García's hitting .211 with two home runs and seven RBI's, while Jorge Soler's at .188 with seven home runs and 16 driven in. Jazz Chisholm continues his ascension towards superstardom and Pablo López is still sporting a 1.05 ERA, but Sandy Alcantara is third among all starting pitchers in walks issued.
19. Arizona Diamondbacks (Previous Ranking: 24)
Of course you were expecting to hear this on May 16th: The Arizona Diamondbacks have the second-lowest starter ERA in all of baseball, with Zac Gallen, Merrill Kelly, and Madison Bumgarner all posting sub-2.00 ERA's through their first six starts. Daulton Varsho continues to swing a hot bat, and Alek Thomas has come out of the gates blazing hot to start his Major League career.
20. Colorado Rockies (Previous Ranking: 18)
The Rockies have cooled off mightily, but they're still a .500 team in the best division in baseball. C.J. Cron through his first 34 games this year is hitting .305 with a .940 OPS and 18 extra base hits. On the hill, the starting rotation had started to really struggle, with Chad Kuhl being the only consistent performer.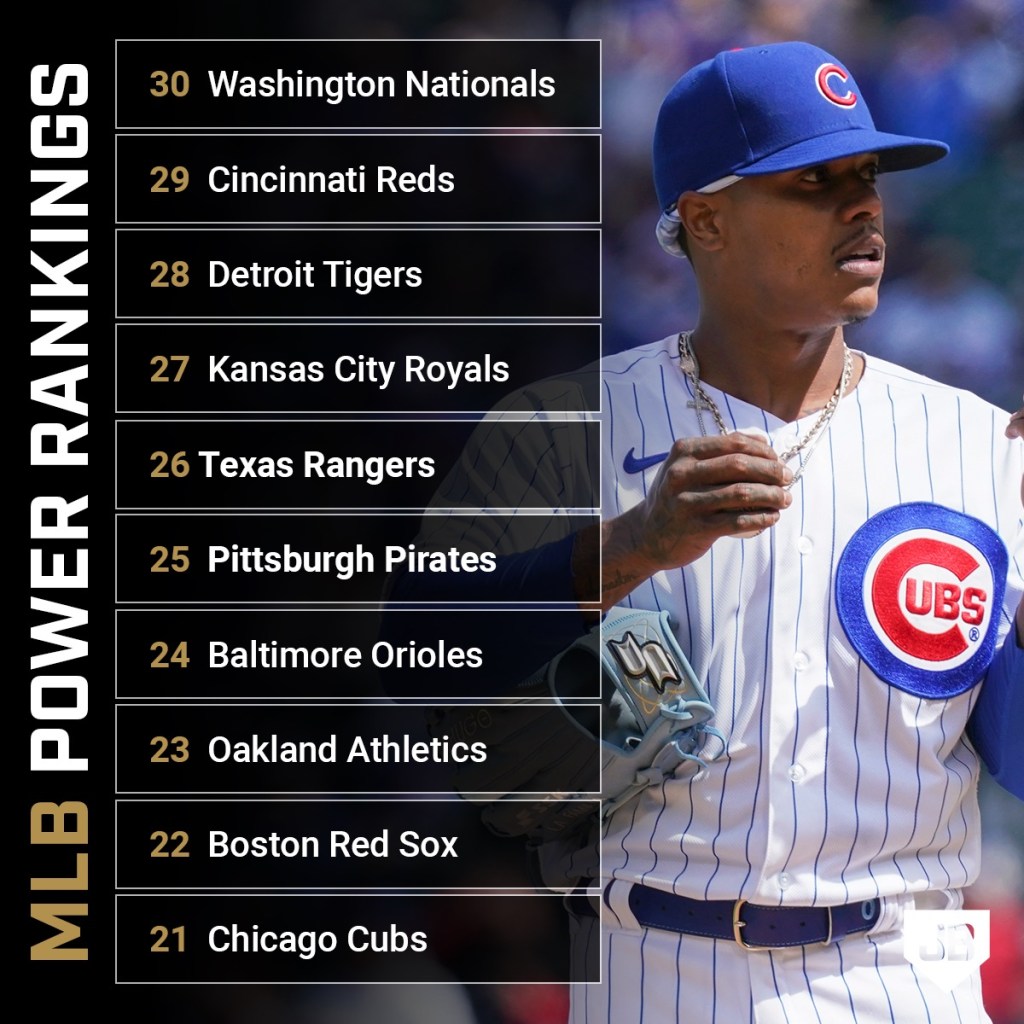 21. Chicago Cubs (Previous Ranking: 21)
After a horrid start to May for Seiya Suzuki, the marquee signing of the offseason seems to be reaching even water at around a. .840 OPS. Nico Hoerner, Nick Madrigal, and Marcus Stroman all being on the IL really hurts (literally).
22. Boston Red Sox (Previous Ranking: 20)
This team lacks any sort of direction at the moment. Xander Bogaerts, Rafael Devers, and J.D. Martinez are all hitting the ball particularly well, but we know that at least one of them seems to be on the way out (even though recent news surfaced that Bogaerts may be open to extension talks).
23. Oakland Athletics (Previous Ranking: 27)
The least inspiring roster in baseball has guys coming out of the woodwork to turn into legitimate contributors to a Major League Baseball team. Paul Blackburn has a 1.67 ERA through seven starts, while the now-injured Cole Irvin was sporting a sub-3.00 ERA through his first five nods. Offensively, Sheldon Neuse and his .734 OPS have been a pleasant surprise.
24. Baltimore Orioles (Previous Ranking: 29)
Jorge Mateo has been a joy to watch to this point. The 27-year-old shortstop has swiped 10 bags in 11 attempts, but was injured colliding with Spencer Torkelson on Sunday in Detroit and has been diagnosed with a chest contusion, according to the Orioles. Bruce Zimmerman continues to slice and dice, but there isn't much else going on.
25. Pittsburgh Pirates (Previous Ranking: 23)
Ah, to get no-hit and win. We really love to see it! While Bryan Reynolds continues to struggle, Ke'Bryan Hayes continues to pick up the slack. On the mound, the same can be said about the duo of Mitch Keller and Jose Quintana; Quintana's excellence has masked Keller's ineffectiveness.
26. Texas Rangers (Previous Ranking: 28)
It's really hard to get worse than Marcus Semien right now. With his $175 million deal still hot off the press, he's slashing .157/.216/.213 with no home runs yet.
27. Kansas City Royals (Previous Ranking: 25)
The first hitting coach firing of the season belongs to Kansas City, with the team announcing that they parted ways with Terry Bradshaw (different Terry Bradshaw). It's warranted; the team as a collective unit ranks in the bottom-five in Major League Baseball in all three components of the slash line.
28. Detroit Tigers (Previous Ranking: 22)
The Tigers have played 35 games, and have scored 100 runs. That run total is 14 fewer than Baltimore, who's the next worst offense in baseball. The only player that has hit marginally well is 39-year-old Miguel Cabrera.
29. Cincinnati Reds (Previous Ranking: 30)
They are no longer the worst team in Major League Baseball! Hunter Greene's no-hit, five-walk performance in a losing effort gave Reds fans a glimpse of what's to come from him, and the lineup is slowly-but-surely getting healthier. The rotation already got a boost, with Luis Castillo making his season debut last week.
30. Washington Nationals (Previous Ranking: 26)
The new cellar-dwellers. The Nats are 3-7 over their last 10 games, and have had putrid pitching drag them to the bottom of the NL East. Juan Soto's OPS has fallen below .900 (sound the alarms), and while Josh Bell and Yadiel Hernandez have been exceptional, this team looks more lost than any other in the game.