Analysis
Breaking Down Trevor Story Signing with the Boston Red Sox
After a relatively quiet offseason, the Red Sox made a big splash this weekend, signing a player who can transform their playoff hopes in 2022 and beyond.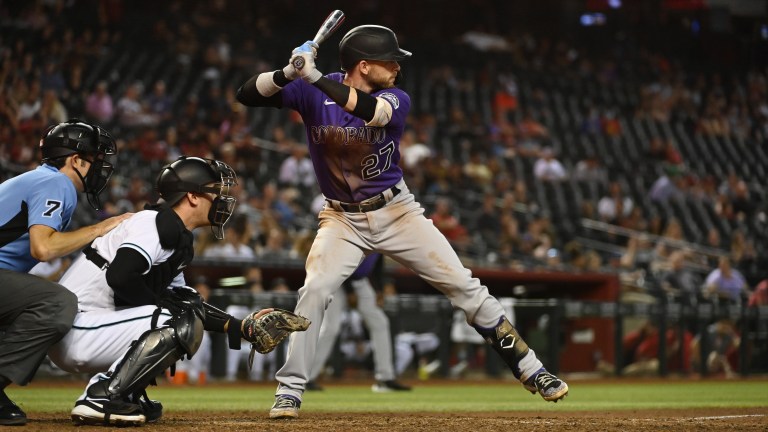 On Sunday morning, Trevor Story signed with the Boston Red Sox on a six-year, $140 million deal. The deal includes a creative opt-out structure after the fourth season in which the Red Sox can counteract that opt-out by adding a seventh year to the deal at $20 million.
Story was one of the last dominoes to fall in what has been a free agent bonanza post-lockout. Red Sox nation should be elated and their trust in Chaim Bloom should be at an all-time high. When right, Story is one of the best shortstops in the league, and has accumulated the 11th-most WAR by a hitter since 2018. He's also eclipsed 30 home runs twice and has averaged 29 home runs per season over his career, while swiping more than 20 bags in the last three full seasons.
Since 2019, his 36 defensive runs saved rank second among shortstops behind only Javier Baez. Story brings a combination of power, speed and defensive wizardry that few other shortstops in the game provide and will go a long way in shoring up not only the Red Sox lineup, but their defensive alignment strategy.
Transitioning from Coors to Fenway
The hot topic whenever a hitter moves away from Coors Field is whether their offense will translate. After all, the league as a whole has an OPS of .819 inside of Coors Field and an OPS of .737 apart from its confines since 2015, but that doesn't mean Story's offensive value will wiped away at Fenway Park.
The gist of Coors Hangover Effect is that pitches at other ballparks have more movement than pitches at Coors due to the elevation decreasing pitch movement. For example, Adam Ottavino's slider in 2018 moved nearly 20 inches horizontally on the road, but less than 15 inches horizontally at Coors, making it much easier for hitters to pick up pitches in Coors than outside its walls. This is a major reason for the drastic home-road splits Rockies hitters experience.
Yes, it is true that Nolan Arenado's numbers weren't to their usual strength in his first season in St. Louis. He posted an .807 OPS compared to the .924 OPS he compiled between 2014 and 2019. For every negative case though, there is a positive. DJ LeMahieu, who owned a .302 average and .774 OPS from 2014-2018 with Colorado, signed with the Yankees in the winter of 2019, and in three years in New York, he has hit .307 with an .831 OPS.
Fenway Park bodes well for Story's chances to end up more like Lemahieu than Arenado. Since 2019, Fenway ranks second to Coors Field in overall Park Factor, albeit with less aggressive splits between home and road. While the Rockies had a .174 OPS difference between home and road in 2021, the Red Sox had a .104 OPS difference in and out of Fenway.
Story, who hits the ball in the air more than 60% of the time, will have plenty of opportunity to meet his new best friend, the Green Monster, which has the power to turn fly outs into doubles and doubles into home runs. Looking at his spray chart from 2021, that's exactly the case.
It's important to note that batted balls travel farther at Coors, so it's not a perfect equation to translate his spray chart to Fenway, but the results point to Story making an easy offensive transition in Boston.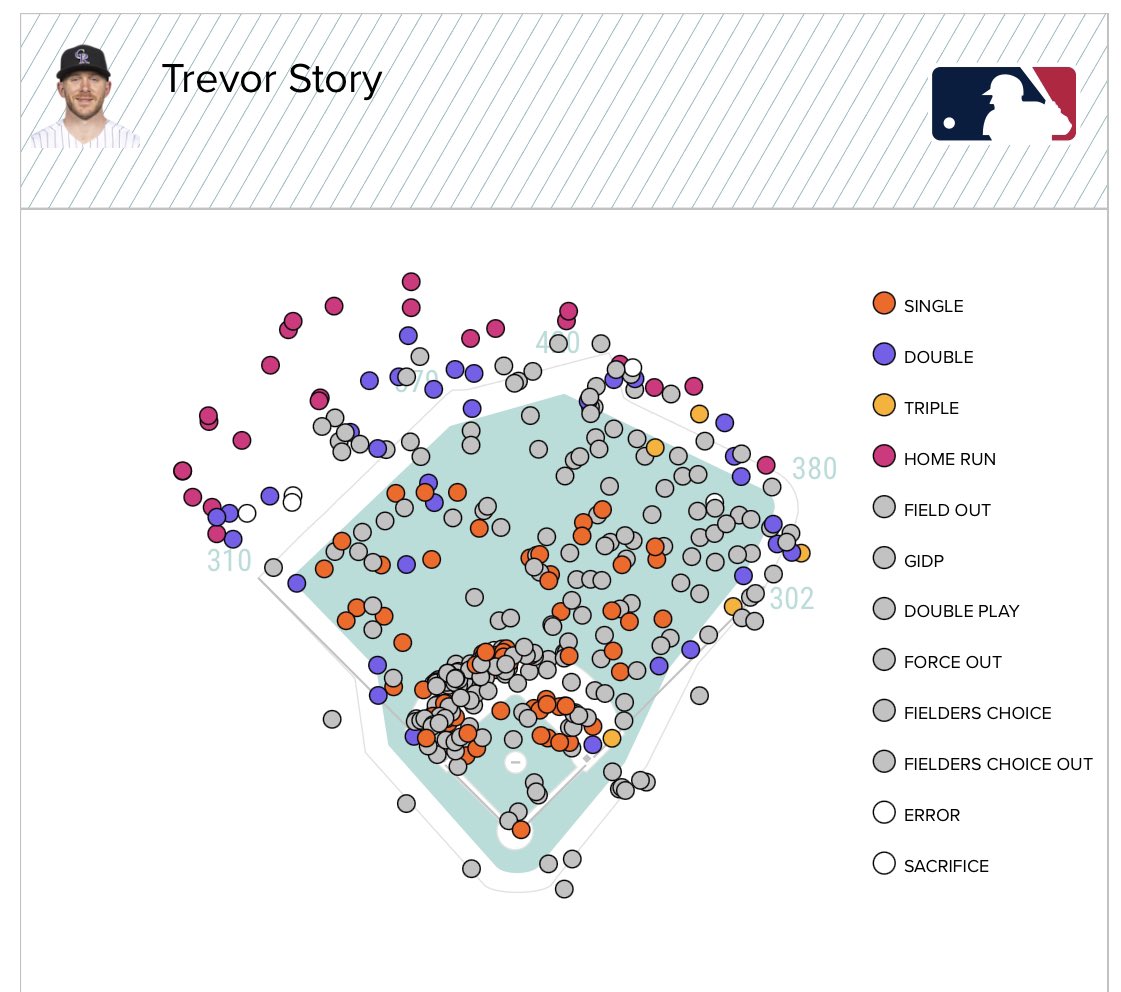 Built for the Present
One apparent takeaway from Trevor Story's free agency was his hunger to play for a contending team with winning aspirations. Something that he never come close to achieving in Colorado. The Rockies made the playoffs just once in Story's six seasons with the club, failing to move beyond the NLDS in 2018. The Red Sox, coming off of a 92-70 season and an ALCS appearance, bestow upon Story the chance to make a lasting impact as a performer on the biggest stages and in the highest leverage situations.
The Red Sox as constructed before signing Story, with Christian Arroyo and Jackie Bradley Jr. slated to take on near everyday roles, were still built to win in 2022, even if they were in the shadow of the Blue Jays, Rays and Yankees from a playoff projection standpoint. What Trevor Story gives the Red Sox is the flexibility to play Christian Arroyo, Jackie Bradley Jr. and Jarren Duran in more complimentary roles, while Kiké Hernandez can roam centerfield full-time, making not only their defense stronger, but their lineup deeper too.
Alex Cora already asserted that Xander Bogaerts will be the Red Sox shortstop. Story has also mentioned that he would be comfortable playing another position in the short-term, much like Trea Turner did with the Dodgers last season, playing second base while Corey Seager manned shortstop.
This does create a situation similar to the one Alex Rodriguez faced when he was traded to New York, playing third base while the worse defender, Derek Jeter, played shortstop. As I mentioned earlier, Story ranks second since 2019 in defensive runs saved, but Xander Bogaerts is on the other side of that coin, ranking third to last in defensive runs saved among qualified shortstops since 2019. Regardless, there is no question the Red Sox defense will be greatly improved with Story at second base.
Toward the end of last season, the Red Sox primarily used Kyle Schwarber and Hunter Renfroe out of the second hole in the lineup. With Renfroe being shipped off to Milwaukee for Jackie Bradley Jr. and Kyle Schwarber signing with the Phillies, the Red Sox are without a two hitter. It would make a ton of sense for Story, who gets on-base at an above-average rate and boasts plenty of speed, to fill that space in their absence.
Planning for the Future
While acquiring a talent like Story was a priority for the sake of the Red Sox outlook in 2022, locking down Rafael Devers to a long-term contract extension should be at the forefront of the Red Sox front office' initiative from now on. Boston cannot afford to let their star third basemen slip away like Mookie Betts.
The thought of Betts being traded away leaves a sour taste for every Red Sox fan to this day. It wasn't the right move then and in hindsight, it has turned out even worse than expected with Alex Verdugo underwhelming and Jeter Downs becoming nearly expendable. The Red Sox cannot be fooled twice.
Story's entrance leaves the door open for Xander Bogaerts to make an exit after the 2022 season. Bogaerts has a player option that if opted into, would activate a four-year, $80 million deal that extends his contract with the Sox through 2026. But Bogaerts, who has a 135 wRC+ since 2018, can likely command more than that on the open market as a 30-year-old. This leaves the Red Sox with a couple different options in 2023.
Possibility No. 1: Bogaerts opts in on an extremely team-friendly contract. With Bogaerts' defensive range declining, he makes the move to third base. Trevor Story slides over to shortstop and Nick Yorke, the Red Sox #3 prospect according to Just Baseball, will make his major league debut at second base alongside the Red Sox top prospect, Triston Casas. With the departure of J.D. Martinez, this allows Rafael Devers, who ranks last in defensive runs saved among third basemen since 2018, to move to designated hitter full-time.
Possibility No. 2: Bogaerts opts out and enters free agency. Trevor Story takes over the reigns at shortstop, drastically decreasing the defensive burden that Rafael Devers must take on at third base. Nick Yorke, who could vault his way into being a top-20 prospect in baseball after 2022, makes his debut as the second coming of Dustin Pedroia. The Red Sox can either re-sign J.D. Martinez, depending on his performance in 2022, or they can make Bobby Dalbec their DH and sign a righty-mashing lefty like Dan Vogelbach to create an elite platoon at DH.
Both scenarios leave plenty of flexibility for Chaim Bloom to potentially trade players like Jeter Downs, Bobby Dalbec and even Jarren Duran for more established pitchers. Also, Story's contract is quite affordable at $23.3 million a year, so it does not handicap the Red Sox from extending Devers to a massive deal or re-signing marquee guys like Nathan Eovaldi and Kiké Hernandez after this season.
Season Outlook
Signing Story is a testament to Chaim Bloom's forward thinking, yet build to win-now approach. Story takes the Red Sox from a team projected to win no more than 85 games to a well-rounded team capable of beating anyone in the AL East, while also not forfeiting the power to extend their star, Rafael Devers, and letting their minor league stars like Nick Yorke get a shot down the line.
The Red Sox still have holes in their rotation and bullpen, as do most teams, but what is clear is that Trevor Story puts the Red Sox in a place to win more games this season and beyond.