Analysis
Revisiting the Hunter Renfroe – Jackie Bradley Jr. Trade
Early on, the Brewers seem to be "winning" the trade over the Red Sox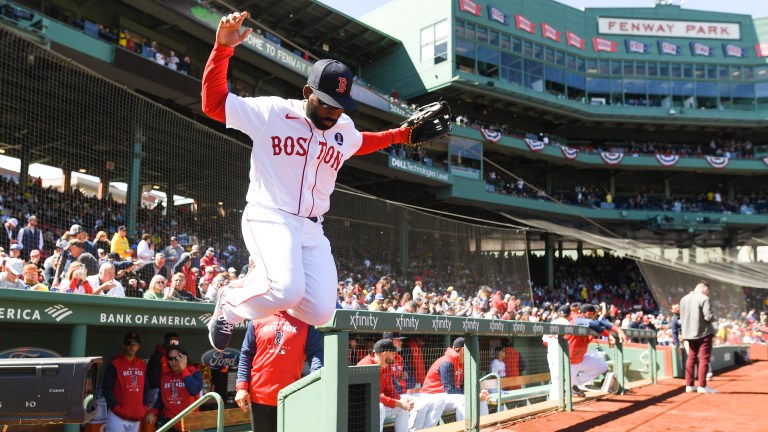 Just before the lockout in December 2021, the Red Sox and Brewers made a rather strange trade. The Brewers acquired slugging outfielder Hunter Renfroe for Gold Glover Jackie Bradley Jr., along with two minor-leaguers.
The trade was seen as a way to benefit both teams, adding strengths where weaknesses preside. Why did this trade make sense for both teams, and how have the early returns looked? Let's dive in.
Brewers
The Brewers won the NL Central in 2021 and put up one of their best seasons in team history, going 95-67. Starting pitching combined with a couple of elite bullpen arms carried this team to the playoffs, where they lost in the National League Division Series to the Braves.
While Milwaukee had a good team, they were in desperate need of offensive help. The majority of their lineup graded around league average to slightly-below league average. Right fielder Avisail Garcia departed, and hole needed to be filled.
Enter Hunter Renfroe. The 30-year-old outfielder had just completed his best season, finishing with a 2.1 fWAR. His 31 home runs would have been the team lead for the 2021 Brewers. He's not a great defender, but Milwaukee needed a bat and they got one.
Moving off the Jackie Bradley Jr. contract was huge for Milwaukee. With two years, $24 million (AAV) left, the Brewers cleared some space for 2022 and 2023.
Red Sox
Nostalgia is a hell of a drug. An expensive one, too. To be exact, the contract is $9.5 in '22 and $12 in '23 as the mutual option. Bradley Jr. spent his first seven seasons in Boston, finishing above league average from the plate three times. After a couple of mediocre years, he always seemed to put up a big one to keep the dreams alive. Bradley was a World Series Champ, ALCS MVP, Gold Glove winner, and one-time All-Star in Boston.
While the bat is not reliable, the defense is. Each season that Bradley has been in the league, he has finished about the 85th percentile in outs above average. The Red Sox were a miserable defensive team in 2021, and prioritized it over the offseason, adding Trevor Story as well.
Boston is in a weird spot. The success from last season lead them to add and attempt to compete, but in a cautious way. They are still in a position to trade off some veterans if the team underperforms and begin focusing on the future.
Hence, the prospect return. Take the expensive contract for the underperforming vet that the city loves and throw in two youngsters. Alex Binelas (22 year-old 3B) and David Hamiltion (24 year-old MIF) are now in the Red Sox organization with Binelas checking in as the #21 prospect according to MLB Pipeline.
Early Returns
I know, I know, it's only mid-May. This is by no means a final decision, but so far it's clear who the winner is – Milwaukee. Each team made the Playoffs in '21, and have intentions of returning this season. Because of that, the prospect return carries less weight for now.
| | | |
| --- | --- | --- |
| | Jackie Bradley Jr. | Hunter Renfroe |
| Average | .189 | .250 |
| On-Base % | .252 | .289 |
| Slugging % | .264 | .508 |
| Strikeout % | 23.9 | 26.8 |
| Walk % | 7.7 | 5.6 |
| wRC+ | 50 | 121 |
Well, looks pretty obvious to me. I haven't even mentioned Renfroe's nine home runs to Bradley Jr.'s 0. Again, still fairly early in the season and these are different players. Offensive totals will almost always favor Renfroe, so let's give Bradley his praise by moving to the Savant page.
Kids do not even enjoy looking at bubbles as much as baseball nerds.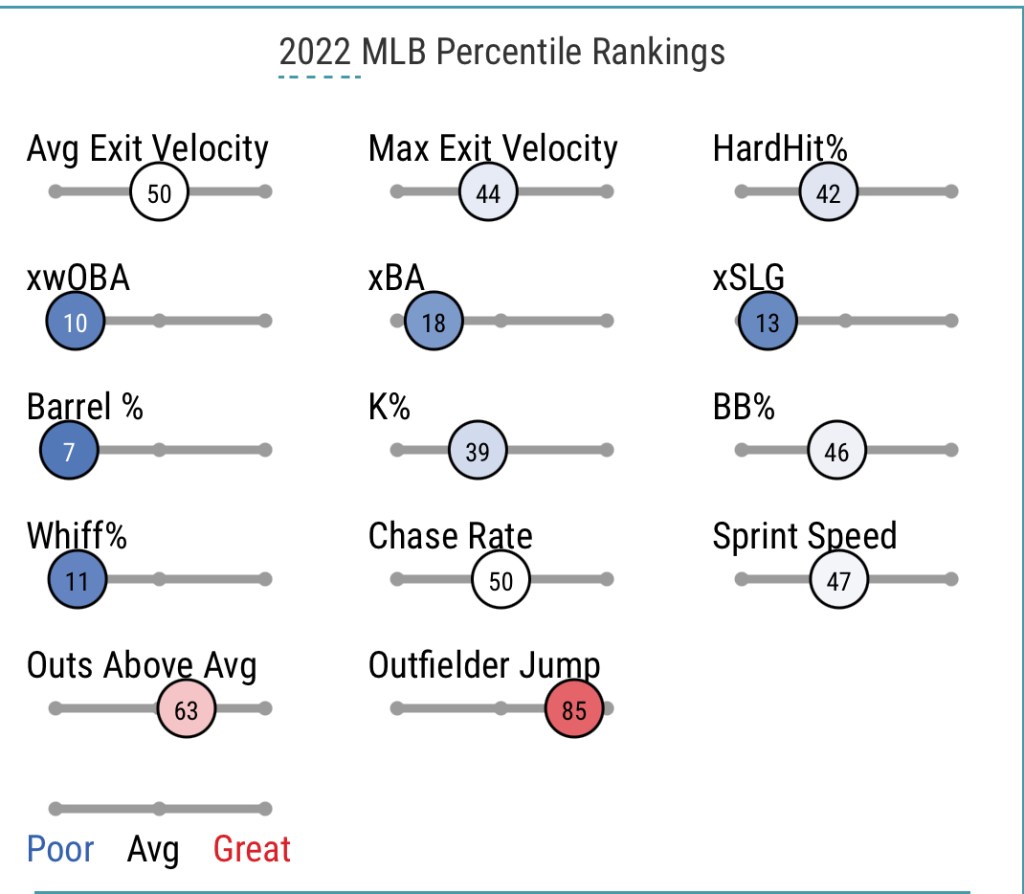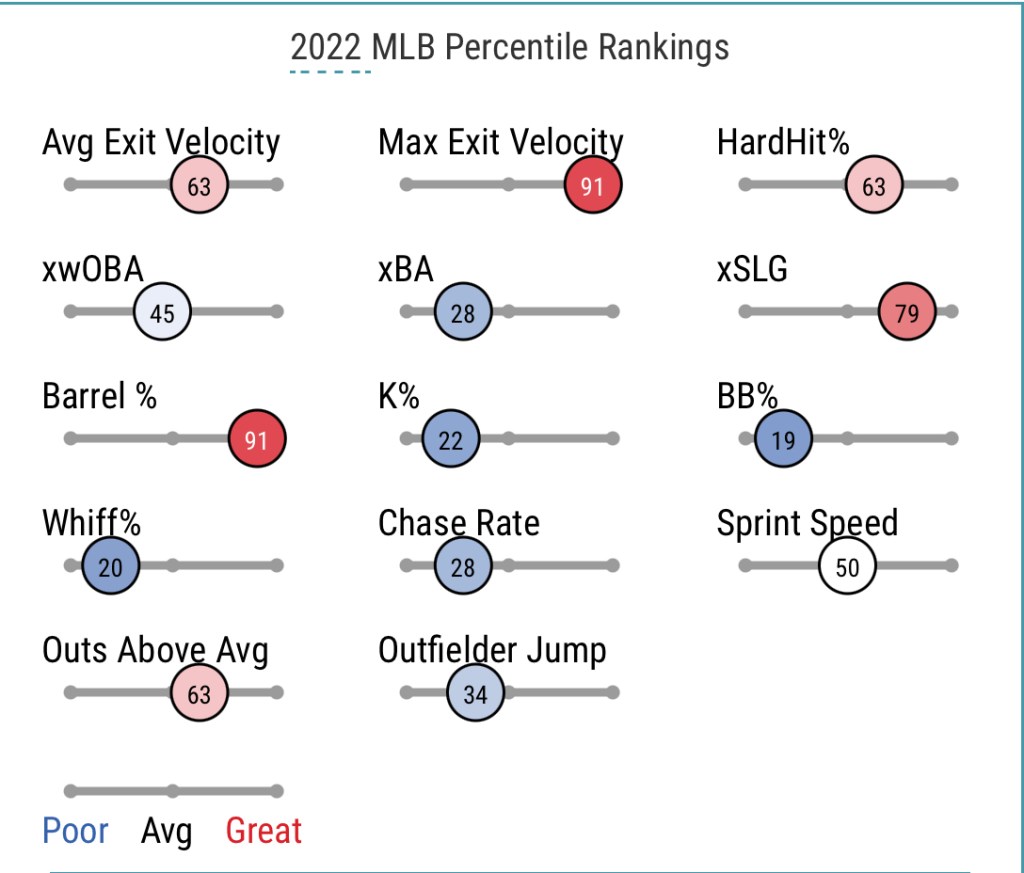 When I started this, I did not expect each outfielder to have the exact same outs above average. I have faith Bradley Jr.'s will improve over time, but the underlying metrics are not promising anywhere else. Sure Renfroe has plenty of blue, but he's crushing the ball. Even if Bradley returns to being the type of fielder we have seen in the past, it is still a steep price for a glove-first guy.
Let's not forget about the prospects. Binelas has a 142 wRC+ in High-A, while Hamilton has a 122 wRC+ in Double-A.
Perhaps the prospects flip this trade in the long run. Both Renfroe and Bradley are one-dimensional players, albeit very different dimensions, and one player is performing his craft while the other is lagging behind.