Analysis
Baseball's Best Starting Pitching Tandem Isn't Who You'd Expect
Kevin Gausman and Alek Manoah have established themselves as the best one-two punch in baseball, leading the Blue Jays to a fast start in 2022.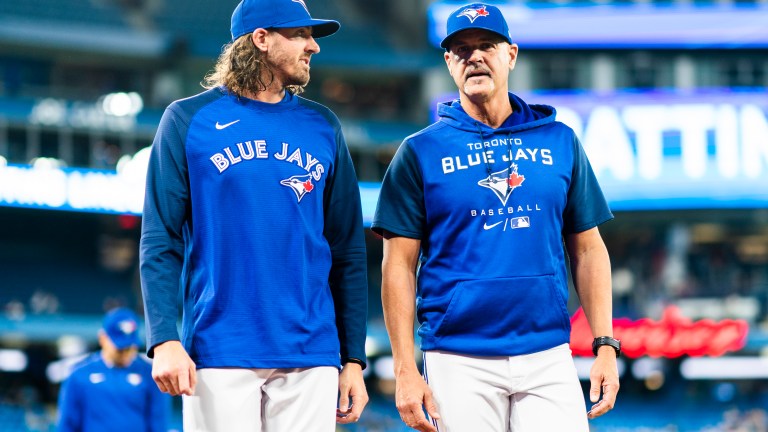 Buehler-Kershaw, Burnes-Woodruff, Wheeler-Nola. When thinking of the best starting pitching combinations, those are likely some of the pairings that come to mind. However, through the first month of the season, the best one-two punch in baseball resides north of the border.
Combining for 2.5 fWAR, no duo has matched Kevin Gausman and Alek Manoah of the Toronto Blue Jays. Despite early disappointment from their offense that's just 20th in runs scored, the Blue Jays currently hold the American League's second-best record at 16-10. Those two starters are largely responsible for that early season success.
Gausman's Giants Success Was No Fluke
So far in 2022, Kevin Gausman is proving that his breakout campaign last year with the Giants was legit. He's built on his 2.81 ERA and 1.04 WHIP from 2021 and improved to a 2.27 ERA and 0.98 WHIP in 31.2 innings this season. He also sports a laughable/nearly impossible 41:0 strikeout to walk ratio.
Gausman currently leads all pitchers with a 1.9 fWAR, which is 0.6 wins above second-ranked Carlos Rodón (1.3). The gap between Gausman and Rodón is equal to the gap between Rodón and 16th ranked Garrett Whitlock (0.7).
Gausman ascended last season largely due to the extreme success of his splitter. The pitch had a .133 batting average against, .224 slugging percentage and an elite whiff rate of 45.9 percent. The splitter also scored a run value of -23, making it the second-most effective pitch in the sport according to Baseball Savant.
The results have been even better this year. So far, batters are hitting .125 with a .143 slugging percentage against the offering. Additionally, the whiff rate is up to 51.8 percent, meaning hitters are more likely to swing and miss against the pitch than make contact. The development of that pitch has turned Gausman into a bona fide ace.
Manoah's Sophomore Leap
For anyone who watched Alek Manoah in his first 20 big league starts last season, the fact he's taken a step forward in his second season comes as no surprise. What is surprising, however, is how much of a leap he's taken thus far.
After pitching to a 3.22 ERA and 1.05 WHIP last season, Manoah has those numbers down to 1.45 and 0.84, respectively. In two outings against the Yankees' third-ranked scoring offense, Manoah has allowed just one run, on four hits, over 12 innings. He has essentially been unhittable.
Manoah is also one of just four pitchers, along with Dylan Cease, Nathan Eovaldi, and Tony Gonsolin, that has two pitches in Baseball Savant's top 50 in run value this year. His four-seam fastball (-4 run value) and slider (-4) are both in the top 45. So far this season, each offering is limiting hitters to a batting average under .150, a slugging percentage below .275 and generating a swing and miss over a quarter of the time. At 24 years old, Manoah has already developed a pitch repertoire that any front-line starter would envy.
Picking up the Slack
What makes the work of Gausman and Manoah even more important is that it's made up for the early-season struggles of both the offense (20th in runs scored), and José Berríos.
Through five starts this year, Berríos has an uncharacteristic 4.13 ERA, and unsightly 1.58 WHIP. His 4.97 FIP suggests he's lucky it hasn't been worse. Berríos ranks in the bottom 10% of pitchers in average exit velocity, hard hit rate and barrel rate. He's allowing line drives over 10% more often than he did last year. Simply put, Berríos is giving up way too much hard contact right now.
However, I don't think anyone expects the two-time All Star to continue to struggle to this extent. If and when he turns it around, this rotation could become a juggernaut. There's a reason many people pegged the Blue Jays as American League favorites before the season started. When a lineup that features Vlad Guerrero Jr., George Springer and Bo Bichette is backed up by three starting pitchers with ace potential, that's an elite team. Toronto is hoping they reach that potential.