News
Baltimore Orioles Promote MLB's Top Catching Prospect, Adley Rutschman
The Orioles top prospect will make his MLB debut in Baltimore, where he hopes to hold down the catcher position for the next decade.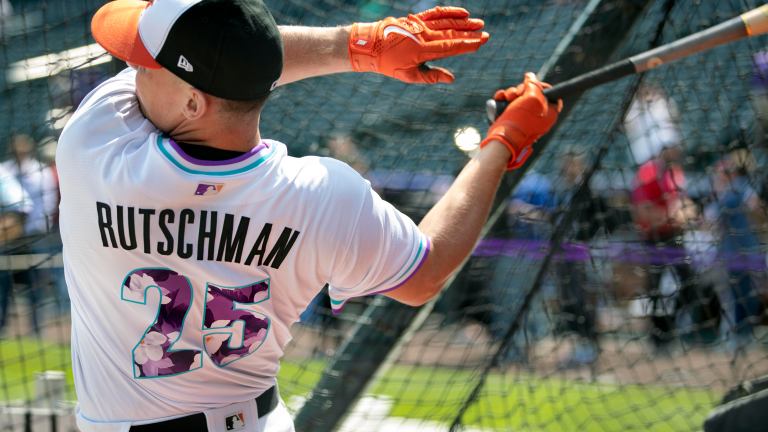 The top catching prospect in baseball is finally heading to the show, as the Baltimore Orioles have announced that Adley Rutschman will make his MLB debut on Saturday.
The 24-year-old was drafted by Baltimore with the first overall pick in the 2019 MLB Draft out of Oregon State University. In 2018, Rutschman led Oregon State to win the College Baseball World Series, where he was named the series' most outstanding player collecting 17 hits (a record) and 13 RBI. The switch-hitter hit over .400 in each of his final two seasons in college, before signing for $8.1 million, the largest signing bonus for an MLB draft pick at the time.
Last season, Rutschman hit .285/.397/.502, with 23 home runs, 50 extra-base hits and 75 RBI in 123 games played between Double-A and Triple-A. Rutschman was expected to compete for a spot on the Orioles Opening Day roster, but a strained tricep muscle delayed the start of his 2022 season.
Now Rutschman will make his long-awaited MLB debut, where he immediately becomes a franchise cornerstone for a rebuilding Orioles team that has finished in last place in four of the last five years.
Scouting Report
Adley Rutschman is not only the top prospect in the Orioles farm system, he is also a consensus top-three prospect in all of baseball. Rutschman checked in at No. 3 in our latest top 100. Here is what Aram Leighton wrote about baseball's top catching prospect.
3. Adley Rutschman – C – Baltimore Orioles
Age: 24 | Height/Weight: 6'2′, 220 | Bat/Throw: S/R | 1st Round (1), 2019 (BAL) | ETA: 2022
| | | | | | |
| --- | --- | --- | --- | --- | --- |
| HIT | RAW POWER | GAME POWER | RUN | FIELD | FV |
| 60/65 | 60/65 | 55/60 | 40/40 | 60/70 | 70 |
Baseball's best catching prospect in many years, Rutschman has the potential to provide high-end production along with elite defense behind the dish.
2021 Stats (AA/AAA): .285/.397/.502, 23 HR, 50 XBH, 144 wRC+, 16.6 K%, 14.5 BB%
Offense
Very simple setup and load from both sides of the plate. Starts slightly more open from the left side but other than that there are no significant differences in his left swing versus his right. He uses a small leg kick to create rhythm and timing and the balance he displays in his swing from both sides of the plate is truly spectacular, he's always aware of where his body is at and has a knack for getting his 'A' swing off against pitcher's pitches. His awareness and control of the strike zone sets him apart from nearly every other minor league player.
Rarely does he chase out of the zone and rarely does he take a pitch that he can drive. He creates easy plus power from line-to-line that starts with his XXL frame and long levers that create easy plus bat speed as well as tremendous leverage. He has a knack for back-spinning the ball to all fields with a slight preference to inflict pull-side damage, especially early or ahead in the count. His in-game adjustments are fantastic for a player with under 100 minor league games, which can be attributed to his ability to slow the game down and understanding how a pitcher is attacking him.
There isn't a lot of swing-and-miss in his profile, though as he advances through the higher levels it would do him good to let his athleticism and lower half adjustability work more as he gets behind in counts. Due to his lack of speed and preference to pull the ball, the shift could eat away at his batting average at the big league level, however, you can still expect batting averages in the .260-.280 range with top of the line on-base numbers and anywhere from 25-35 homers on an annual basis.
Defense/Speed
In addition to owning one of the most potent bats in all of the minor leagues, Rutschman's defense behind the plate has the potential to be elite as well. A kicker in his early years at Oregon State, Rutschman is extremely agile and athletic for his size and he possesses soft hands that create framing that could be elite as well. Rutschman also displays a plus arm and exchange behind the dish that should neutralize the running game even at the highest level. Rutschman's instincts, feel for the game and leadership truly stand out behind the plate, and he's exactly the kind of player that a team dreams of in terms of leading a pitching staff.
Outlook
Rutschman's combination of potentially elite hitting, elite fielding as well as elite makeup are rarely seen across the sport, and perhaps have never been seen before at the catching position. Adley has the kind of special skill set where essentially any comp isn't crazy. Name a catcher and there's a reasonable hope that he can attain that ceiling. Catchers who impact the game on both sides of the ball are just too rare nowadays. One hair splitting thing to watch: Rutschman's OPS from the right side this year is about 300 points higher than the left side, though his swing from both sides looks great. Expect to see him with a chance to crack the Opening Day roster for the Orioles in 2022.