Analysis
Brayan Bello Could Help the Boston Red Sox Soon
Much needed pitching reinforcements could be on the way for the Red Sox within the organization.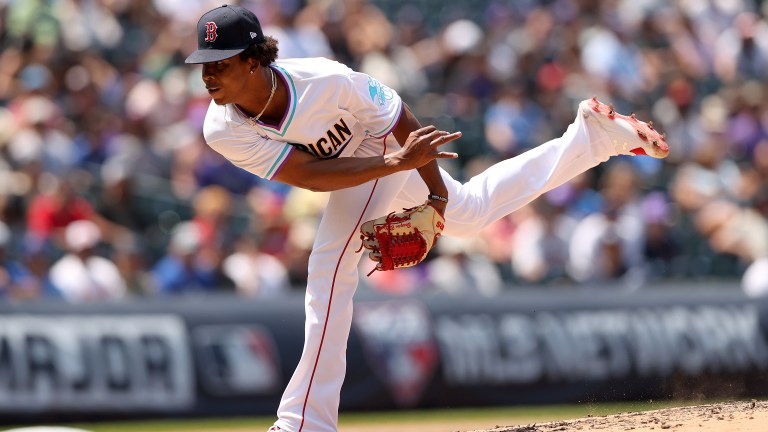 After being completely overlooked in the 2015 and 2016 MLB international signing periods, Brayan Bello finally signed with the Red Sox organization for $28,000 in 2017 thanks to his exciting arm speed that transcends his slim, wiry frame.
Bello has since beefed up a little bit, now listed at 6-foot-1, 170 pounds, but it is the massive strides he has made with his stuff and command that has the diamond in the rough carving through the minor leagues. We saw enough from Bello last season to place him in our preseason top 100 prospect list, though he has even exceeded our expectations so far this season.
The newly turned 23-year-old has been dominant through the upper-levels in 2022, pitching to a 1.60 ERA and 33% strikeout rate in 33 2/3 innings with the Double-A Portland Sea Dogs. The Red Sox saw enough to promote Bello to Triple-A where he was dynamite in his first outing, striking out 10 batters over six innings and only walking one.
Last season, the only real knock that could be made on Bello was how hittable his four-seam fastball would be at times, despite the high velocity. The right-hander has counteracted that in 2022 by mixing in a sinker that has been a weak contact machine. Upper 90s with plenty of horizontal run allows Bello to tie up right-handed hitters, setting up his vastly improved slider which dives away from them.
Most importantly, the sinker is an escape route for Bello. He can use the pitch to get himself out of hitter's counts or jams with weak contact often on the ground.
Bello keeps lefties honest with his two fastballs as well, spotting the sinker on the outer half effectively, getting hitters looking away which sets up his four-seamer and slider well. So far this season, Bello has seen his ground ball rate jump by 15% while opponent batting average has dipped by more than 100 points so far this season.
As you can see in the clip below, hitters can't just sit heater when ahead in the count because that could be an upper-90s sinker running away from them or an upper-90s four-seamer elevated.
The best part about all of this? The fastball was Bello's Achilles heel last year. Both his slider and changeup flash plus frequently and have been dynamite dating back to last season. Consistency is probably the last piece missing for Bello where the feel for his best pitch–the changeup–which when on can be a pitch that racks of whiffs in bunches.
While the changeup is not always there for Bello, the vast improvement of his slider has allowed him to go to that pitch when he doesn't quite have the feel for his change. With 18 inches of horizontal break at 90 mph, Bello's changeup has a chance to be a 70-grade pitch if he can continue to develop his feel for the pitch and there are many outings where the pitch looks every bit plus plus.
What stands out about Bello's arsenal is that the way it works off of itself and the late break that his pitches boast allow for all four of his offerings to be effective against both lefties and righties.
Of course, Bello leans on the changeup more against lefties and the slider more against righties, but a hitter cannot eliminate either of the offerings from the back of their mind no matter which side of the plate they hit from. Bello's slider has late drop and horizontal bite to it at 85-87 mph which allows it to dive under barrels while tunneling effectively with his other offerings.
How Soon Can we See Bello At Fenway?
A promotion to Triple-A on his 23rd birthday was probably ahead of any schedule the Red Sox could've imagined for Bello a couple years back. Bello's first outing for Triple-A Worcester inched him another step closer to a possible big league promotion. Not only was Bello dynamite, but he was dynamite against a lineup that featured five hitters who have seen big league time and several top prospects.
The walk-rate is still a hair higher than the Red Sox brass would probably like to see, however more than half of his walks came in back to back outings with only one free pass given out in four of his seven starts. Perhaps the most encouraging thing about Bello has been his ability to cruise deeper into ballgames thanks to his improved ability to induce weak contact early in counts or when he is behind.
Bello has pitched at least five innings in all seven starts this year, including a seven inning no-hitter in a shortened double-header. Last season was a big step for Bello workload wise as well, tossing 95 innings after the 2020 layoff.
Now that Bello is able to keep his pitch count in check and has the look of a more complete pitcher, it wouldn't be crazy to expect a big league debut from the electric righty before the All Star Break.