Analysis
Canada and Great Britain Set World Baseball Classic Record
The game between Canada and Great Britain set a single game record at the World Baseball Classic for the highest combined score ever.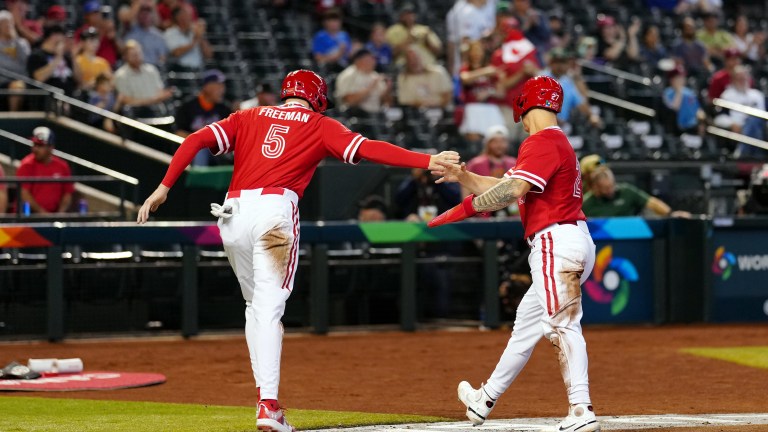 With the World Baseball Classic getting underway last week, Cuba and Italy have advanced out of Pool A, while Japan has already made it to the next round out of Pool B, with Australia, the Czech Republic, and Korea all vying for the second spot (at the time of writing, this was still to be determined).
Pool C and D now getting underway in Phoenix and Miami respectively, as each nation has now played at least one game in the World Baseball Classic, with some major upsets and incredible games already in the books. Fan favorite's in the Dominican Republic dropped their first contest to Venezuela, with the Venezuelan squad taking that momentum into yesterday's game against Puerto Rico and pulling out a win to take the early lead in Pool D.
Team Canada played its first contest yesterday against Great Britain, who lost their opening game against the United States by a score of 6-2. Canada, looking to advance out of the round-robin play for the first time in tournament history, sent Cal Quantrill to the mound, while Great Britain countered with right-hander Akeel Morris, looking to earn their first win in tournament history.
Canada and Great Britain set the highest-scoring single-game record at the World Baseball Classic with an 18-8 contest.
What eventually unfolded was a seven-inning affair that saw Great Britain fall victim to the mercy rule, with Canada pulling ahead and putting it on ice at 18-8. This combined score set a single-game record for the highest score at the World Baseball Classic, usurping the previous record that was held by Japan & China back in 2006 (Japan won 18-2).
In total, Canada and Great Britain combined for 26 runs, with 25 hits and 23 walked batters. Britain tied a tournament record with 16 free passes allowed. Each team scored in each inning until the top of the fifth, when Canadian right-hander Curtis Taylor was able to put a zero up on the board, with Britain failing to score after that inning until the mercy rule came into effect.
Britain got on the board first with three runs in the first inning, which got Quantrill pulled early from the game. Canada immediately countered in the bottom half, adding five of their own runs led by Minnesota Twins prospect Edouard Julien, who led the game off with a home run off of Morris's first pitch of the game, setting another historical benchmark within the World Baseball Classic.
At the top of the fourth inning, Mariners' prospect Harry Ford launched a three-run home run to left field, putting Britain to within two runs of their opponent. By the end of the fourth inning however, the score was 16-8 for Canada, with the Canadian squad capitalizing on some baserunning miscues and defensive mishaps from Great Britain, which eventually helped Canada win their first game of the tournament.
Freddie Freeman went 2-for-5 with a walk and was one of four Canadians who scored at least three runs in the contest. Cardinals outfielder Tyler O'Neill really had himself a day as well, going 4-for-4 with two walks, four runs scored and four RBIs.
This game could potentially have some major implications for the next World Baseball Classic in 2026, as the last-placed team in each pool will have to qualify for the next tournament. While each team still has to play a few more games within their pool (Britain has two and Canada has three), the competition will only get tougher for each squad within the stacked Pool C.