Analysis
Pittsburgh Pirates Offseason Outlook
The Pirates are still focused on player development, but have a lot that can be done to position themselves for future success this offseason.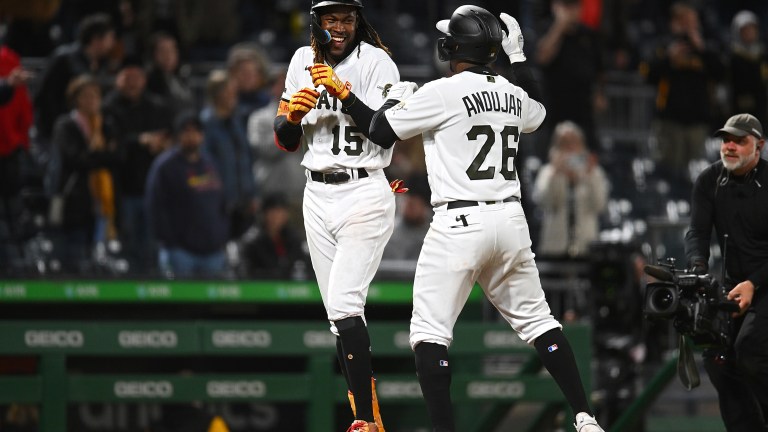 Despite a 62-100 finish, there were a lot of positives to take away for the Pittsburgh Pirates during the 2022 season. First, they saw superstar flashes from 6-foot-7 shortstop Oneil Cruz, a productive season from Bryan Reynolds and Ke'Bryan Hayes, while setting the franchise rookie home run record.
On the mound, they saw mid-level prospects such as Johan Oviedo and Luis Ortiz have breakout seasons, while their closer David Bednar made his first career All-Star appearance. Mitch Keller seemed to have turned a corner, finally putting up a season with an ERA under 4.
But now some glaring holes need to be addressed. Below, we analyze some possible decisions for Ben Cherington and the Pittsburgh Pirates, along with how last year's rookies need to be handled in 2023.
Who Plays First Base?
First base was the thinnest position for the Pirates in 2022. The majority of innings were split between Michael Chavis (426 PA/80 wRC+) and Josh VanMeter (192 PA/59 wRC+), both of whom are no longer in the organization. At their most desperate point, the Pirates put Ben Gamel first, who had just 11 innings at the position before this season.
In a perfect world, last year's Pirates would have had Chavis and VanMeter be placeholders for then-top prospect Mason Martin, who amassed a concerning 35.9% strikeout rate in 2022. Martin, who hit a combined 60 home runs over the 2019 and 2021 seasons, may now be an afterthought due to his glaring strikeout numbers and dip in power.
The future is still bright for Pittsburgh, however. While breakout prospect Endy Rodriguez (531 PA/.997 OPS) has logged some innings at first base, it seems that his future is ultimately behind the dish or at a corner outfield spot. In a midseason trade with St. Louis, the Bucs acquired corner infield prospect Malcom Nunez and righty Johan Oviedo in exchange for veteran lefty Jose Quintana and reliever Chris Stratton.
Nunez, a Cuban-born international signing had played in just 191 games with limited power across three seasons before 2022. Last season, Nunez broke out, slashing .262/.367/.466 with 23 home runs and a walk rate north of 13 percent. Due to his broad stature and Ke'Bryan Hayes holding down the hot corner, Nunez seems to fit best at first.
With that being said, the Pirates will still need a free-agent option to at least start the year at first base. Obviously, Pittsburgh won't be in on any of the Anthony Rizzo's or Jose Abreu's of the world, but a solid veteran option could be a nice trade piece at the deadline. Let's take a look at some options that could work.
Jesus Aguilar – No stranger to the NL Central, Aguilar broke out in 2018 for the Brewers, slugging 35 homers over an all-star campaign. Since then, Aguilar hasn't returned to his prior form, bouncing around with the Rays, Marlins, and most recently the Orioles. Over 507 plate appearances in 2022, the 32-year-old managed just a .660 OPS with 16 bombs.
For Latin American players, the Venezuelan slugger has been a leader both on and off the field. With the likes of Tucupita Marcano, Diego Castillo, Oneil Cruz, and Rodolfo Castro trying to stick in the big leagues, signing Aguilar could help the Pirates in a multitude of ways.
For obvious reasons, Aguilar shouldn't command a high price tag, providing a low-risk/high-reward placeholder option for the Bucs.
Miguel Sano – Sano was bought out on Monday, effectively ending his long career with the Twins. After finishing third in Rookie of the Year voting in 2015, Sano has been a consistent power bat in Minnesota's lineup, even managing 30 home runs in 2021.
Sano battled knee inflammation all of last year, logging just 20 games. Now a free agent, many teams may be interested in tapping back into his unreal raw power and All-Star potential. He isn't the safest option for the Pirates, as Sano would command high risk in both staying on the field and producing.
At just 29 years old, the once elite international prospect may be a risk that the Pirates are willing to take. Famously, Pittsburgh almost signed Sano as an amateur but failed to after concerns about his real age arose for then-international scouting director Rene Gayo, allowing for the Twins to swoop in and sign him to a $3.15 million contract.
Carlos Santana – On the surface, many are led to believe that Santana had an abysmal season, but that is far from the truth. The switch-hitting first baseman managed just a .202 average, but the numbers below show how productive he really was.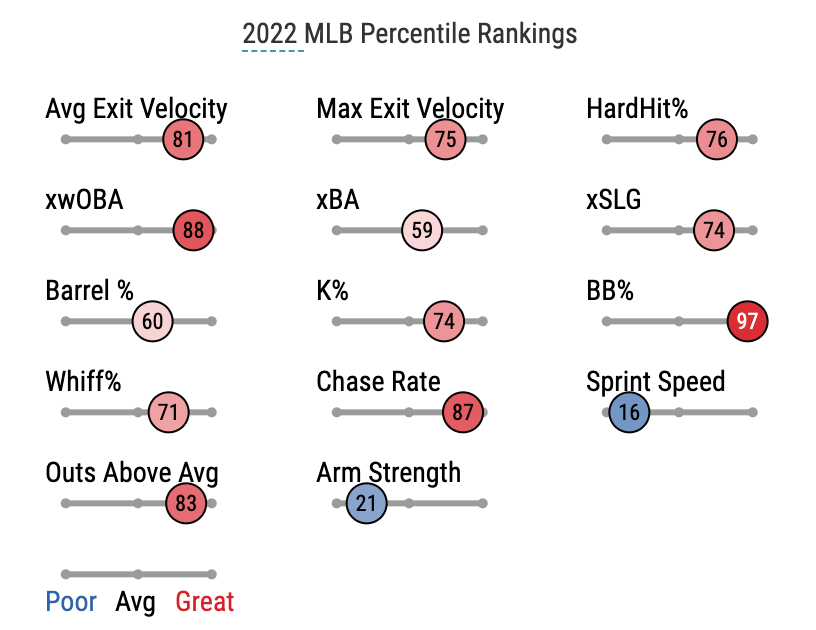 Unfortunately for the Pirates, a player of Santana's analytical significance could produce interest from contending teams. Some teams that come to mind include the Rays and Astros. At 36 years old, Santana may have a little left in the tank and could be a valuable signing for Pittsburgh.
Wil Myers – The Padres announced Monday that they are declining Myers' hefty club option, making him a free agent. A young Wil Myers once looked like the makings of a future superstar, winning the AL Rookie of the Year award with the Rays in 2013. Despite having a career .781 OPS with the Padres, Myers' play has fallen off as of late, but the Pirates may be interested in a possible revival.
One plus to the 31-year-old's game is his positional versatility, logging games across the outfield and at first base in recent years. Myers hasn't been bad by any means but with the Padres' recent acquisition of Juan Soto, it was time to part ways.
At his peak, Myers offers an exciting mix of athleticism, speed, and sneaky power. Other more competitive teams could be interested in Myers, but he shouldn't command a high asking price, so the Pirates seem like a solid fit.
Sign a Starting Pitcher
Before last season, starting pitching seemed to be a pretty thin area organizationally for the Pirates. With four of their five most recent first round picks being hitters, the Bucs didn't have any high-end talent ready to debut in 2022. Potential aside, JT Brubaker has been a below-average starter for most of his career and Pittsburgh was still waiting for Mitch Keller, Bryse Wilson, and Wil Crowe to provide quality innings.
Moving to 2022, the Pirates were fortunate to have Roansy Contreras (3.79 ERA/95 IP), Luis Ortiz (4.50 ERA/16 IP), and Johan Oviedo (3.21 ERA/56 IP) provide some hope for the future of the rotation. With top prospects Quinn Priester and Mike Burrows seemingly ready to debut in 2023, Pittsburgh will be careful with how they manage innings.
Pirates' general manager Ben Cherington mentioned in recent interviews that they are exploring the opportunity to sign a starting pitcher to a multi-year deal if the fit is right. This gave many fans the belief that they will sign a top arm, but this may be far from the case, at least for now.
The upcoming season will provide a lot of useful information about the future of this team, including an ETA on a competitive window. The focus for 2023 will surely be player development, as it has been for many years now. With their next wave of top prospects looking ready to debut soon, 2024 may be the year that they go after a top name on the starter market.
For now, Pittsburgh will probably look into a mid-level starter that could be a trade chip in August, if pitching well. A "multi-year" deal could help the Pirates in a couple of ways. First, if the player performs well enough to drum up trade interest, a second year of control could be very enticing for a competitive club. Second, if they aren't performing well, the Pirates have another year to try to reach a player's upside.
As previously mentioned, the names listed below won't be the Jacob deGrom's or Carlos Rodon's of the world. Rather, some more experinced options that have performed well in their careers.
LHP Matthew Boyd – Boyd would make the most sense for the Pirates, who have an extreme lack of left-handed pitchers on the big league staff. The 31-year-old southpaw has turned in some productive seasons throughout his career, the most recent being in 2021, where he held a 3.89 ERA over 15 starts for the Tigers.
After returning from the injured list last season, Boyd pitched exclusively out of the bullpen for the Mariners, logging a 1.35 ERA in 13.1 innings. He has dealt with elbow issues for the past two years, sidelining him for the majority. A two-year deal for Boyd would be a solid pickup and could allow the Pirates some time for him to build back up to a starter's workload.
RHP Zach Davies – The soft-tossing righty has had a solid big league career up to this point. In his first five seasons with the Brewers, Davies put up a 3.91 ERA and 4.22 FIP over 111 starts. Since then, it has been a bumpy road for Davies, who has jumped around between the Cubs, Padres, and Diamondbacks.
Despite his struggles prior, Davies put up a nice season in 2022, pitching to a 4.09 ERA over 27 starts in Arizona. Although he was productive, the Diamondbacks decided to decline his option, making him a free agent.
The 30-year-old won't command a high price tag and could be a solid multi-year option for a Pirates team desperate for quality innings. The only thing holding Pittsburgh back could be their plethera of right-handed pitching prospects that they need to get innings, as Davies doesn't do anything special.
RHP Zach Eflin – Eflin would command the highest AAV of any players on this list. On Monday, Eflin opted out of his mutual option with the Phillies despite its price tag of $15 million, but the thought is that he will look for a multi-year deal. The 28-year-old righty fought injuries in 2022 but was a big contributor out of the bullpen for the National League Champion Phillies.
Eflin has been a ground ball pitcher for his entire career, putting up solid season after solid season for Philadelphia. If the Phillies go after a high-level starting pitcher, it could push Eflin's innings to the wayside. While he likely won't get $15 million per year in a new deal, Eflin should be able to land a three to four-year contract.
Ben Cherington mentioned that the only way he would sign a starter to a multi-year deal is if it's a good fit. Of course, we don't know what his or his front office's thoughts on Eflin are, but he has the ability to lead this young pitching staff for years to come. Not to say he will be an ace, but quality innings are hard to come by in today's game and Eflin can give you a lot of them.
LHP Wade Miley – Miley fits the mold of what Pittsburgh did with Jose Quintana last year. The 35-year-old lefty could be brought in on a one-year deal with hopes to pitch well enough to be traded to a contender at the mid-year mark. Miley was only able to amass 37 innings due to injury in 2022, but he has been a productive pitcher for most of his long career.
Like many arms in his age bracket, Miley shouldn't command a high asking price and will give the Pirates a much-needed lefty starter. Miley does a good job of limiting walks and has been an extreme ground ball pitcher for all of his career. With solid infield defense behind him in Hayes, Cruz, and Castro, Miley could very well fit in Pittsburgh.
Predictions
1B Jesus Aguilar – 1 year, $3 million
C Roberto Perez – 1 year, $5 million
LHP Matthew Boyd – 2 year, $11 million ($5.5 AAV)
2023 Outlook
It isn't breaking news that the Pirates will likely have another losing season, but this upcoming campaign is important for the future of the organization. As mentioned above, every decision the team makes has to be benefiting player development. The future of the Pittsburgh Pirates currently sits in the upper levels of the minors, with some logging innings in the majors last season.
Up the middle, the Oneil Cruz and Rodolfo Castro tandem will work as the double play duo, while Diego Castillo and Ji-hwan Bae will be looking to move into super-utility roles. Both Castillo and Bae have had time in the outfield, with Bae looking like a legitimate center field option if Bryan Reynolds moves off of the position.
Reynolds has had trade talks surround him for the past year, but the Pirates don't seem to be in any hurry to move him, demanding insane packages in trade talks. Entering his last year of a two-year deal, Pittsburgh could look to extend him to a deal in the five to six-year range. Long term, Reynolds may end up in left field due to fielding concerns, but the bat is that of a multiple-time All-Star who will hit 25 to 30 homers consistently.
Flanking Reynolds will be a healthy mix of Jack Suwinski, Cal Mitchell, and Miguel Andujar. For Mitchell, production with the bat has never been an issue until he reached the majors last year. In 232 plate appearances, the lefty swinger managed just a .635 OPS, despite having a .339/.391/.547 slash in 63 Triple-A games. It's safe to say that he will get every opportunity to perform in 2023, as Mitchell has been compared to Michael Brantley by many analysts.
Suwinski showed a lot of promise for the Pirates after being called up straight from Double-A. While his slash line looked underwhelming, Suwinski owned a 100 wRC+ and hit 19 home runs in 106 games. Former top prospect Miguel Andujar will bounce around the field as the Pirates try to tap into his full potential, with most of his at-bats likely to come out of the designated hitter spot.
Fielding wizard Ke'Bryan Hayes will hold down third base in 2023, looking for a healthy and improved offensive season. Despite owning an 88 wRC+ last season, Hayes led the team in fWAR, showing how valuable he is as a defender. Although his offensive numbers weren't good, some of his underlying numbers point to a possible breakout year at the dish.
Next year's bullpen will be led by All-Star closer David Bednar after another strong season. The late innings is where it gets tricky, but Robert Stephenson turned in some nice outings toward the end of 2022. Wil Crowe did the same early on but had a very tough time in big spots while Bednar was sidelined. 2023 will likely be another year of making waiver claims and seeing who sticks in the bullpen.
With each year the Pirates get closer and closer to contention. While next year is still about the rebuild, there is starting to be some light at the end of the tunnel in Pittsburgh.