Analysis
Pittsburgh Pirates Offseason Outlook for 2023-2024 Free Agency
The Pittsburgh Pirates' have a bright future, and just a handful of moves could have them competing for a playoff spot in the NL next season.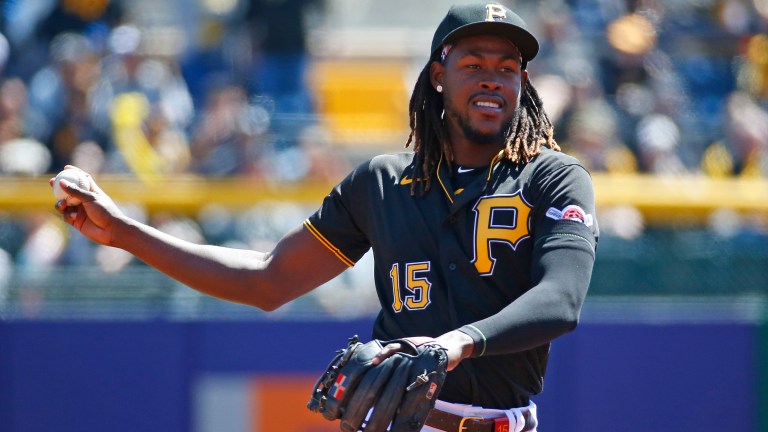 It might not be reflected in the win column, but the Pittsburgh Pirates had a successful 2023 season.
The Pirates finished the year with 76 wins, which their most since the 2018 season and was far-more than their preseason projected win totals. In the midst of a rebuild, Pittsburgh has established a strong foundation to build upon this offseason.
They managed to take a leap forward in 2023, and they did so without their budding star shortstop Oneil Cruz for (basically) the entirety of the season. They also managed to lock down an instrumental piece of their outfield in Bryan Reynolds, who signed an eight-year, $106 million extension at the end of April.
The pieces are finally coming together for the Pittsburgh Pirates. Couple their youthful MLB roster with the eventual MLB debut of Paul Skenes, and the Pirates could be a few acquisitions away from putting themselves in a position to compete for a playoff spot in 2024.
With that being said, the roster is far from perfect, and they will have holes to fill this offseason if they wish to compete for a postseason berth next year.
Let's dive into what their roster looks like heading into the offseason, and where the ball club could look to improve in order to see better results in 2024.
Contract Decisions
Arbitration-Eligible Players: RHP Mitch Keller, RHP JT Brubaker, RHP David Bednar, LHP Ryan Borucki, OF Miguel Andujar, OF Connor Joe
Of the six arbitration-eligible players listed above, I could see one of Andujar or Joe being non-tendered. I would expect the rest of the names to be on the 2024 Pittsburgh Pirates roster.
Contract Options: LHP Jarlin Garcia ($3.25 MM Club)
The Pirates signed Garcia to a one-year deal back in December of 2022, but after missing the entirety of the 2023 season with an injury to the nerves in his throwing arm, the Pirates will most likely decline his $3.25 million club option.
Free Agents: DH Andrew McCutchen, RHP Vince Velasquez
After putting together a strong 2023 campaign, Andrew McCutchen suffered a partial tear to his left Achilles tendon with just a few weeks left to play in the regular season. Assuming he recovers properly and expresses the desire to continue his playing career, I anticipate McCutchen returning to the Pirates on a one-year deal to eclipse the 300 home run mark (he currently sits at 299). With how much he means to the city of Pittsburgh, the organization, and the fans, Cutch should have one final ride as the Pirates' designated hitter in 2024, serving as a mentor to the younger players in the clubhouse.
Starting Pitching
| Starting Pitching Options | IP | K/9 | BB/9 | ERA | xERA | FIP | xFIP |
| --- | --- | --- | --- | --- | --- | --- | --- |
| Mitch Keller | 194.1 | 9.73 | 2.55 | 4.21 | 4.16 | 3.80 | 3.70 |
| Johan Oviedo | 177.2 | 8.00 | 4.20 | 4.31 | 4.61 | 4.49 | 4.87 |
| Luis Ortiz | 86.2 | 6.13 | 4.98 | 4.78 | 6.90 | 5.58 | 5.38 |
| Bailey Falter | 80.2 | 6.69 | 2.23 | 5.36 | 4.86 | 5.25 | 4.56 |
| Quinn Preister | 50.0 | 6.48 | 4.86 | 7.74 | 6.28 | 6.74 | 5.10 |
| Roansy Contreras | 68.1 | 7.24 | 4.21 | 6.59 | 5.41 | 5.19 | 5.20 |
2023 MLB Stats Courtesy of FanGraphs
Mitch Keller put together an All-Star season in 2023, and he was the lone anchor in the Pirates' rotation. He set career-highs in innings pitched, strikeouts (210), and fWAR (3.3). Keller is entering his second year of arbitration this winter, and he remains an extension candidate for the Pirates if they wish to compete in the near future.
Outside of Keller, the starting rotation was pieced together by several young arms for a majority of the season. Johan Oviedo's 2023 season had its ebbs-and-flows, but his overall numbers at the end of the regular season look promising enough to earn himself a spot near the back end of Pittsburgh's starting rotation next season.
Quinn Preister made his MLB debut in 2023, but it was shaky sledding through eight starts and two relief appearances. The 23-year-old will look to compete for one of the final spots in the Pirates' starting rotation in 2024 as he works to establish his footing in the majors.
Luis Ortiz also got his feet wet in the big leagues in 2023, and he showed flashes while struggling with consistency. Like Priester, he displays promise and will factor into Pittsburgh's pitching staff in some fashion next season.
Roansy Contreras opened the 2023 season as an intriguing starting option for Pittsburgh, but he struggled mightily through his 11 starts. He was moved to the bullpen in the middle of June, but that didn't resolve any of the struggles he was facing on the mound.
Contreras spent the second half of the season in the minor leagues after being demoted at the beginning of July, and Contreras will look to carve out a role for the Pirates in 2024, whether that at the back end of the starting rotation or in the bullpen.
Minor League Options:
RHP Paul Skenes, RHP Jared Jones, LHP Anthony Solometo
Paul Skenes, the No. 1 overall pick from the 2023 MLB draft, could make his MLB debut in 2024. Being one of baseball's top prospects, his debut could be the most anticipated since Stephen Strasburg debuted with the Nationals back in 2010. It will be worth monitoring how they handle his development, but there's no denying the excitement he would bring to this ball club if he were to reach the majors next season.
Beyond Skenes, prospects Jared Jones and Anthony Solometo could factor into the rotation as soon as next season as well. They would serve as even more youthful reinforcements for this Pirates starting rotation.
However, in order for the Pirates to take a legitimate step forward into playoff contention next season, they will need to tap into the open market and add a couple of veteran starters to help buoy this starting rotation while the young guys get established.
Potential Free Agent Targets:
LHP Hyun-Jin Ryu, LHP Martin Perez, RHP Luis Severino, RHP Kyle Gibson, LHP Jordan Montgomery, RHP Michael Lorenzen, RHP Frankie Montas, RHP Jack Flaherty, LHP Wade Miley
There are several avenues the Pirates could take to bolster their starting rotation. If they wish to spend up on a starter, Jordan Montgomery would be the most expensive of the bunch listed above. Montgomery was one of the better trade deadline acquisitions in 2023, and his success on the mound with the Texas Rangers extended through the regular season and went into his postseason starts as well.
He has been a key contributor for the Rangers, and there will be league-wide demand for Montgomery this winter. With that being the case, I'm not sure the Pirates will be willing to spend up to what it would cost to secure him.
Beyond Montgomery are several less expensive, but more risky, options that the Pirates could target. Specifically, Montas, Severino, and Flaherty could all yield short-term "prove it" deals after battling through injuries for the past handful of seasons. Still, they are guys who have vast big league experience and have put together successful MLB seasons when healthy.
In the end, there will be an opportunity for the Pirates to add a veteran to the starting rotation if they so choose. It all depends on their appetite for risk combined with their willingness to pay an established starter, but adding at least one or two arms to this rotation should be the top priority of this ball club this offseason.
Bullpen
| Reliever | IP | K/9 | BB/9 | GB% | ERA | xERA | FIP |
| --- | --- | --- | --- | --- | --- | --- | --- |
| David Bednar | 67.1 | 10.69 | 2.81 | 39.4% | 2.00 | 2.84 | 2.53 |
| Colin Holderman | 56.0 | 9.32 | 3.21 | 52,8% | 3.86 | 3.61 | 3.29 |
| Dauri Moreta | 58.0 | 11.79 | 3.72 | 39.6% | 3.72 | 3.04 | 2.93 |
| Jose Hernandez | 50.2 | 11.01 | 3.91 | 38.7% | 4.97 | 4.18 | 4.48 |
| Ryan Borucki | 36.2 | 6.63 | 0.98 | 46.2% | 2.70 | 3.21 | 3.77 |
| Carmen Mlodzinski | 34.2 | 8.57 | 4.15 | 47.9% | 2.34 | 3.96 | 3.95 |
2023 MLB Stats Courtesy of FanGraphs
Pittsburgh's bullpen was impressively pieced together in 2023. The headliner of the group is All-Star reliever David Bednar, who has been one of the best relievers in the sport in his time in Pittsburgh. After putting together a case for NL Reliever of the Year in 2023, Bednar is now pitching to a 2.25 ERA over 179.2 innings pitched in his last three seasons with the Pirates.
Bednar will be entering his first year of arbitration this offseason and remains an extension candidate for Pittsburgh. While he has been floated around in trade talks for the past couple of seasons, Bednar would be mightily important for this ball club if the Pirates wish to move past a rebuild and compete for a playoff spot next season.
The rest of the bullpen features lesser known names than Bednar, but it includes several different players who put together quality seasons for the Pirates. Of the names listed in the table above, Ryan Borucki will be entering his third season of arbitration, and the rest of the names are still in pre-arbitration heading into 2024.
Where the Pirates Can Add
The Pirates have an abundance of young players who can soak of innings of relief next season, but they could definitely add more experience to helps stabilize the back end of their bullpen.
Potential Free Agent Targets:
RHP Reynaldo Lopez, LHP Brent Suter, LHP Matt Moore, RHP Pierce Johnson, RHP Michael Fulmer, RHP Ryne Stanek, RHP Keynan Middleton
The options are endless if the Pirates wish to tap into the reliever market this offseason. The names listed above are just a select few who could fit the mold of what the Pirates could be looking for: an established reliever who wouldn't be near the top of the market in terms of price point but can provide dependable outings out of the bullpen.
The Pirates could construct their bullpen in a number of ways heading into next season. Some starter candidates will get some run as a reliever next season, especially if the Pirates round out their starting rotation with some veterans.
They have plenty of enticing, youthful arms they can call upon in 2024, but adding one or two proven relievers to this group could go a long way for this ball club.
Infield
The Pirates have a long-term answer at some key positions in their infield. The Pirates' hot corner is anchored by one of the best defenders in the sport in Ky'Bryan Hayes, and they have one of the most electric talents in baseball to hold down the shortstop position in Oneil Cruz.
Cruz fractured his ankle in a collision at home plate just nine games into the 2023 season, and the injury forced him to miss the rest of the year. He should be fully healed and ready to go for spring training, and his reinsertion to the Pirates' lineup will have monumental importance for their offense.
Endy Rodriguez made his MLB debut in July for the Pittsburgh Pirates, but he struggled at the plate through his 204 plate appearances. He will get a full offseason to work on his game and get established with the big league roster, and 2024 should pose better results for one of the league's most exciting young catchers.
At second base, the Pirates' primary long-term option resides in the minor leagues. Top prospect Termarr Johnson looks to still be a year away from taking over the Pirates' second base position, so the Pirates will lean upon a handful of players to provide a stopgap at second base while Johnson develops in the minor leagues.
Pittsburgh has a number of players they could use at second base next season, including Nick Gonzales, Liover Peguero, and Ji Hwan Bae. All three players struggled offensively in 2023, however, posting an OPS under .660 across the board.
With that being said, it was Bae's first full season at the big league level, and both Gonzales and Peguero were mid-summer promotions, seeing their first crack at full-time big league action. There is ample opportunity for one of those players to grab hold of the position next season as they continue to develop their game at the major league level.
Where the Pirates Can Add
Outside of bolstering their starting rotation, adding a veteran first baseman should be next on Pittsburgh's offseason agenda.
Carlos Santana and Ji Man Choi were both shipped away at the trade deadline, so the only players on Pittsburgh's roster who saw some run at first base are Connor Joe, Alfonso Rivas, and Jared Triolo. While the Pirates could attempt to piece together first base production with some combination of that trio, they will be better off picking up a true first baseman via free agency who can bring an offensive impact next season.
Potential Free Agent Targets:
Brandon Belt, CJ Cron, Rhys Hoskins, Jeimer Candelario, Garrett Cooper
Of the names listed above, Hoskins would be the most expensive of the group. Hoskins missed the entirety of the 2023 season after tearing his ACL just before the season started, but he has a track record of being an impact bat for the Phillies in his six seasons in Philadelphia. He'll be a sought after target, but Hoskins is one player the Pirates could look at if they wish to spend-up for a veteran who posses an explosive bat.
Belt, 35, is coming off a great season with the Toronto Blue Jays, slashing .254/.369/.490 for a 138 wRC+ including 19 homers and 23 doubles. He would be a cheaper option than Hoskins and has proven that he can still be a dangerous hitter in the middle of any lineup.
Cron, Candelario, and Cooper were all players who were traded at the trade deadline and will be entering free agency this offseason. All three names would serve as immediate upgrades over the options on Pittsburgh's roster and could be reliable short-term options at first base moving forward.
Outfield
The Pirates have a multitude of ways to construct their outfield heading into 2024. Headlined by star Bryan Reynolds, Pittsburgh relied upon a combination of Jack Suwinski, Connor Joe, Joshua Palacios, Ji Hwan Bae, and Henry Davis in the outfield for a majority of the 2023 season.
Suwinski took a step forward at the plate in 2023 and was a legitimate power threat for Pittsburgh. His 32.2% strikeout rate was concerning and contributed to his measly .224 batting average, but he put up a .454 slugging percentage and a .230 ISO on the year. He hit 26 homers and drove in 74 runs while also walking 14% of the time.
Henry Davis, the No. 1 overall pick in the 2021 MLB draft, is a candidate to see a good amount of playing time in right field during the 2024 season. After debuting at the end of June, Davis made 49 starts in right field in 2023. With Endy Rodriguez anticipated to see the majority of the work behind the plate next season, Davis could be one of the Pirates' main outfield pieces in 2024.
Outside of that core, Joe, Palacios, and Bae will see some sort of rotation in the outfield, just as they did in 2023. The Pirates could look outside of the organization and pick up an established outfielder via free agency, but I don't view it as a top priority this offseason.
If they wish to rely upon guys already within the organization, there is enough talent among this bunch to get them through the 2024 season.
Final Thoughts
The 2024 season could be the year the Pirates move past their rebuild and start to compete for a playoff spot. They have enough young talent on the big league roster to build around, they have one of the best, and deepest, farm systems in baseball, and they are just a few veteran acquisitions away from putting together a competitive roster in 2024.
Even if next season isn't the start of their anticipated window to compete, the first half of the 2023 season was an indication that this Pirates team might have the pieces to make a playoff push sooner than expected.
The ball club's floor depends on their willingness to spend in free agency this winter. They shouldn't have to break the bank to pick up marquee names, but if the Pirates are willing to be more active in free agency this offseason to address some major holes on their roster, they have a shot at contending for a postseason berth in 2024.