Analysis
Corbin Carroll Is Everything The Diamondbacks Hoped He Would Be
Just 90 games into his big league career, 22-year-old Corbin Carroll has become one of the best players in baseball.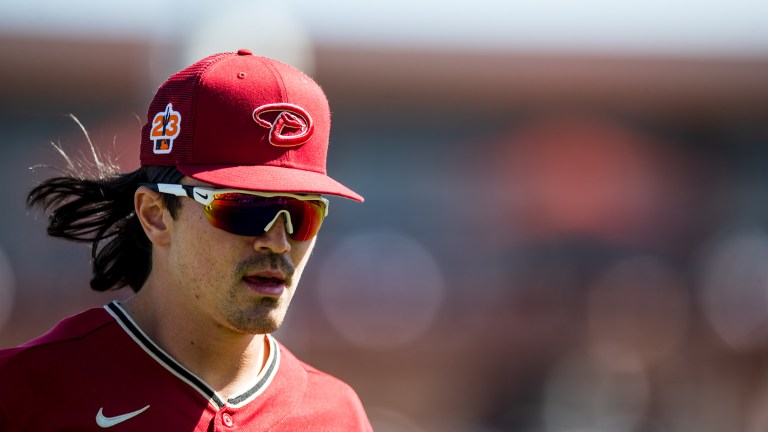 The 5-foot-10, 170-pound outfielder plays above his size in every facet of the game. He has a polished hit tool and a terrific feel for the strike zone with a patient approach in the batter's box. Carroll has no problem spitting on pitches just outside the zone and taking a walk, and then he can wreck havoc with his plus speed and advanced feel for running the bases.
The analysis would prove to be accurate.
That year, Carroll launched his D-backs career with their Arizona Complex team before being promoted to High-A Hillsboro.
Then — like most MiLB players — he missed the 2020 season due to the COVID-19 pandemic.
Carroll started 2021 in High-A but was out for much of the season due to a shoulder injury. Then in 2022, he toggled between Double-A Amarillo and Triple-A Reno, slashing .307/.425/.611 in 362 at-bats. He also hit 24 home runs and stole 31 bases in 36 attempts. He finished his minor league career with an OPS of 1.007 in 533 at-bats.
On August 29, 2022, he was called up and finished out the season with the Diamondbacks.
Carroll primarily played left field, slashing .260/.330/.500 in 104 at-bats. He was also the seventh-youngest ballplayer in the National League.
The D-backs knew they had a good thing, so in March 2023, they signed Carroll to an eight-year, $111 million extension. As Steve Gilbert points out, it is the biggest contract for an MLB player with fewer than 100 days of service time who has not played in a league outside the United States.
"I've felt that faith from the organization since the draft. This is a place where I feel very supported both on and off the field. Nothing has changed for me there," Carroll said. "Obviously they put some financial backing behind that now. But I want to go out there and be the same guy and player and not put any added pressure on myself and just go play baseball."
He is 22 years old and may potentially be with the Diamondbacks until he is 31.
Thus far, it's proving to be money well spent.
Okay, How's the Offense?
Before we get into the offensive numbers, let's take a moment to detail that "plus speed" Baseball America alluded to.
According to Baseball Savant, Corbin Carroll is the fourth-fastest player in MLB right now, with a sprint speed of 30.1 ft/sec. (Bobby Witt Jr is the fastest at 30.4 ft/sec.) Carroll can run from home plate to first base in 4.07 seconds. (Only Ji-Hwan Bae is faster.) In other words, Corbin Carroll's speed is elite.
Here's why it matters.
Check out the stolen base numbers. He has so far stolen 17 bases, the sixth-most in MLB. Carroll is also on a team with 60 steals total, the third-most in MLB. (Behind Carroll is Jake McCarthy, with 12 steals to his name.)
Actually, see for yourself. On the basepaths, Corbin Carroll is absolutely fearless.
When he gets on base — which is often — Carroll makes all kinds of mischief with his slightly-slower-but-still-very-fast teammates. This is a team built for MLB's new rules that reward base stealing.
Of course, a player has to first get on base before putting that speed to work, and on this front, Carroll has been adept.
In 57 games with the Diamondbacks, Carroll has slashed .287/.378/.520 with a wRC+ of 142. He's also hit 10 home runs, the second-most on the D-backs' roster.
Currently, Corbin Carroll is worth 2.5 fWAR, putting him on pace to surpass even the most optimistic of preseason projections.
Is His Defense This Good, Too?
Yes.
The D-backs are using him primarily in left and right field. In terms of Outs Above Average (OAA), he has four, tying him with six other players who have the third-most OAA in baseball. All that speed pays off.
MLB Film Room is a collage of breathtaking Corbin Carroll catches, so choosing just one is a challenge, but here's a nice sample:
In short, in addition to being effective offensively, Corbin Carroll is an elite defender.
Closing Thoughts
The Diamondbacks were not expected to be contenders until 2024. Clearly, that calculus has changed given their 36-25 record. If the season ended today, they would win the NL West. (Sorry, Padres and Dodgers.)
Corbin Carroll is part of a talented young core that includes Alek Thomas, Gabriel Moreno, Geraldo Perdomo, Dominic Fletcher, and Jake McCarthy — and we've not yet seen Jordan Lawler or Druw Jones or some of the young pitchers who will surely be called up this season.
Right now, however, most of the attention is on Carroll. Here's what manager Torey Lovullo had to say:
I think the best part of Corbin are the things I get to see that nobody else does. We all see the same thing and that's he's an unbelievable talent with the ability to drive the baseball, steal a base, make a great play. It's the preparation, the belief, the effort before he gets on to the field that I get to watch. The connections to his teammates, the connections to his coaches. Just a very open, honest dialogue. I think the best thing about him is he looks at his limitations and asks questions about how to get better every single day.
Keep an eye on Corbin Carroll and the D-backs because they're sneaky good and a lot of fun.