Analysis
Brett Baty and Francisco Alvarez Need to Start for the Mets
With top prospects Brett Baty and Francisco Alvarez at the big league level, the time is now for the Mets future starts to play big roles.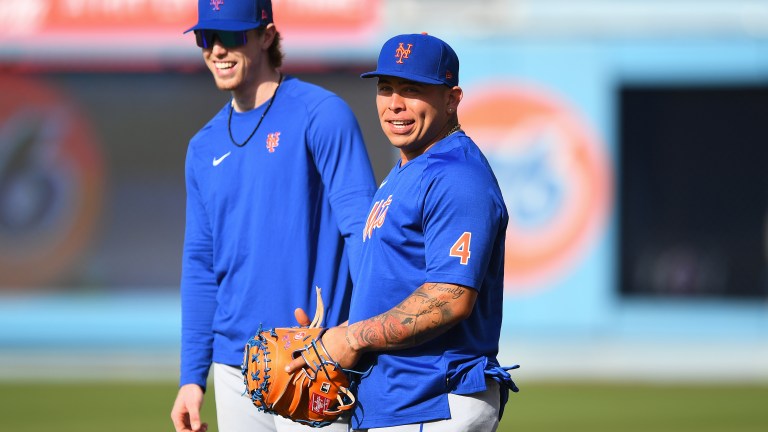 Outside of the San Diego Padres, there might not be a team in baseball that is more win-now than the New York Mets this season. It comes with the territory when the team is owned by Steve Cohen, the man who has a luxury tax threshold named after him in the new CBA.
Cohen all but promised a World Series in three-to-five years of his ownership of the Mets and they are now in year three. This puts the franchise in a very complicated position when it comes to the management of their prospects, as they balance development with contention.
Teams like the Pittsburgh Pirates or Cincinnati Reds can simply play all their top prospects and give them room to fail, because the MLB learning curve is the toughest jump for any young player to make. Yet if the expectation for a team is to win 100 games, waiting for a prospect to learn is sometimes the hardest thing to do.
Last year the Mets did what is always the safest thing for a franchise. They let their kids develop on the farm. It was not until August 17th that the Mets called on one of their top prospects to fill an MLB need, when Luis Guillorme got hurt and they promoted Brett Baty to play third base.
Baty eventually got hurt himself, leading to the promotion of Mark Vientos, who had spent the entire year in Triple-A. Francisco Alvarez would join the party late, making his MLB debut in the most pivotal series of the season, one that decided the NL East between the Mets and Braves.
The Mets did right by their young players getting them everyday playing time in the minors, but then at the last minute felt their MLB roster needed more and called on the kids. It was an unfair position to put their young players in and led to poor results across the board.
This spring, each of the three aforementioned players made their case to break the Opening Day roster, but none were included. Baty and Vientos were the most-deserving, coming off a great spring, which carried over into the minor league season as well.
The guy who needed the most seasoning was actually the first who made his season debut in 2023, as an injury to Omar Narvaez opened up a need in the backstop for Francisco Alvarez.
Baty would force the Mets hand soon after and Vientos is currently doing the same along with Ronny Mauricio in Triple-A. At what point can the Mets no longer afford to hold their youth back and just begin to rely on their kids everyday?
Let's explore each top prospects path to an everyday role in the Mets lineup.
Brett Baty – Third Base
For all intents and purposes, the third base job is Brett Baty's to lose right now. He may sit down against the occasional lefty, but being in the heavy-side of a platoon with Eduardo Escobar is still going to led to plenty of playing time right now.
Since being promoted, Baty has started six of seven games. The lone exception was last Thursday against the San Francisco Giants with lefty Sean Manaea on the mound. The Mets liked Escobar's matchup against Manaea and it paid off. He hit a two-run homer.
Still, it is Baty who is manning the hot corner most days and that is a trend that is sure to continue.
The Mets know what they have in Baty, as he has quelled all concerns about his defense and has not stop hitting since the beginning of last year. Baty put up the best wRC+ of any hitter in the Eastern League of Double-A last season and was hitting .400/.500/.886 in his first nine games of Triple-A this year. Baty gives the Mets their best chance to win at third base most days and they are going to live with the results.
It would take a prolonged slump for Baty to fall out of playing time with the Mets, especially when you consider Esobar's numbers to start the year (.477 OPS). The hits haven't started to fall for Baty yet, but they will come. He was ranked No. 8 in our top 100 for a reason.
While he is still waiting for his first extra-base hit, Baty has recorded hits in all but one of his first six starts and has recorded a max exit velocity of 109. Tuesday marks the beginning of Baty's first homestand of 2023 and he gets to face Josiah Gray and Trevor Williams in the same series.
Grab some popcorn, the Brett Baty show is about to take off.
Francisco Alvarez – Catcher
The handling of playing time gets far more complicated as we move to our next contestant, as Francisco Alvarez is in a way more delicate situation. If there is one prospect who the Mets really could've afforded taking their time on, it was the 21-year-old backstop.
Things are always more difficult on catching prospects, as they have more to learn than any other position in the game. There's developing Alvarez as a hitter and developing him as a catcher. And it has always been his glove trying to catch up to his bat, which kept forcing promotions.
Alvarez still hasn't even caught 200 games yet across his professional baseball career. He needs regular playing time to continue to hone that craft, so playing a year at Triple-A would not be the worst thing for him. Circumstances change though, and with Omar Narvaez out for at least two months, the Mets decided it was best for Alvarez to learn on the job.
The early returns of Alvarez defensively have been pretty promising. He actually caught the Mets best start of the season on Friday night, when Joey Lucceshi went seven scoreless against the Giants with nine strikeouts.
For a prospect who earned every promotion off the strength of his bat, the final one was more due to his glove. The Mets needed another catcher, so Alvarez is here. But they aren't giving him the keys, it is a time split between Alvarez and Tomas Nido.
Nido is a great defensive catcher, who pitchers love throwing too. It already seems like he is Kodai Senga's personal catcher and the Mets like his bat against lefties, as he was supposed to platoon with Narvaez.
Over the first 16 games since Alvarez was promoted, he has played in eight and started in seven. A 50/50 timeshare between Nido and Alvarez seems to be the direction the Mets are choosing to go, but I would urge them to do otherwise.
Alvarez has not hit his way into any more at-bats, but that is all the more reason to keep getting him in the lineup. Suddenly it is Alvarez's bat that is behind and it has been behind often in the early going. Alvarez has five more strikeouts than hits, as he has gone 4-for-27 up with nine strikeouts.
Still, he flashed the potential on Sunday, hitting a game-tying home run in the top of the 6th inning against Tyler Rogers, who is typically incredibly tough on righties.
The book on Alvarez is to attack him with fastballs up and out of the zone. But when Rogers tried to get his patented slider by him, Alvarez chased and connected for that homer.
While one home run doesn't erase all of his faults offensively, it does remind you what he is capable of. Nido never hit more than four home runs in a season. Last year, he got 313 plate appearances and only hit three.
Alvarez is going run into enough home runs to be more valuable than Nido with the bat, regardless of how much he struggles. This should give the Mets every incentive to force his bat into the lineup as much as possible.
There is still a lot to learn for Alvarez at the big league level, but if he's not going to play, he needs to be sent back down where he can get his consistent at-bats. The Mets ceiling as a lineup has Alvarez at catcher, even when Narvaez comes back. Even if its trial by fire, you have to prioritize giving him a chance to prove whether he can play, or if it's a year too soon.
Mark Vientos – DH
If there is one Mets prospect who has proved everything he needs to in the minor leagues, it is Mark Vientos. The 23-year-old finished his season in Triple-A in 2021 and spent all of 2022 there as well (outside of a cup of coffee with the Mets).
Across his first 19 games played in Syracuse this season, Vientos has hit .368/.457/.706, with six home runs and a 191 wRC+. He's posting his best walk rate since rookie ball at 12.3% and is striking out 5% less than last year at 24.7%.
There is no question that Vientos' bat is ready to face big league pitching, particularly as a guy that profiles to absolutely destroy left-handed pitching. His only issue is a lack of a position and a logjam in front of him on the big league roster.
The Mets are currently rostering both Tommy Pham and Eduardo Escobar as bats they want in there against left-handed pitching. Pham has been better than Escobar up to this point, but the Mets are not going to be quick to DFA either and sacrifice any of their depth this early in the season.
Daniel Vogelbach clutters things up as well, as he does not have a position and is not used against left-handed pitching. In the long run, the Mets would be better-suited to have Vientos play in an everyday DH role, but Vogelbach has done nothing to cede that position.
Vogelbach is currently getting on base at a .423 clip and has a 142 wRC+ across 72 games in Mets uniform since coming over in a trade last season.
Unfortunately it is a waiting game for Vientos, but as soon as injury opens up an opportunity where the Mets can get another bat in the lineup, he should be the one getting the call.
Ronny Mauricio – Super Utility?
Since the end of last season, there might not be a prospect in the Mets system that has turned more heads than Ronny Mauricio. This is due to that face that many were out on Ronny as a top prospect, looking at his alarming chase rates as enough of a reason to believe he wouldn't pan out at the big league level.
Fast forward to now, after a fantastic performance in the Dominican Winter League, a strong start to spring training and a torrid open to his Triple-A campaign and Mauricio is looking every bit a top 100 prospect (which he was for Just Baseball for the first time).
Across his first 21 games played in Triple-A, Mauricio is hitting .350/.395/.688, with six home runs and a 170 wRC+. Having just turned 22 years old at the beginning of this month, Mauricio has plenty of time to keep developing and round out his game.
A big step for Mauricio actually came this past week, when the Mets decided to start him at second base instead of shortstop for the first time.
Anyone who has listened to my show knows that for a long time I have said that once Mauricio starts moving around the diamond, that is when we will know the Mets view him as a piece of their future.
With Francisco Lindor entrenched at shortstop for longer than the Mets would even have control of Mauricio, there is no playing that position at the MLB level for Ronny. If he had remained solely playing the position, it would be to continue to improve his trade stock as a shortstop prospect.
Moving him off shortstop and giving him positional flexibility could very well be to get him ready for a role this year. As I mentioned with Vientos, an injury probably has to take place to open a need for him at the big league level. The same can be said for Mauricio, but he has the chance to give the Mets coverage in a lot more places.
Vientos has split time between first and third base this season, but there are doubts that he could play any position other than first in the majors. Mauricio on the other hand is athletic enough to play any position on the field, outside of center field and catcher.
Starting Mauricio at second base is interesting, because he best profiles as a third baseman. But with Baty entrenched at third, you can envision a scenario where the Mets want Mauricio up the middle at second, pushing Jeff McNeil into a corner outfield spot.
If Mauricio can prove that he can play these other positions, there is every chance he could be the next man up whenever an injury occurs.