Analysis
Hunter Brown Set To Play Bigger Role For Houston Astros in 2023
Houston Astros rookie Hunter Brown comes into the 2023 season with big expectations as he joins the MLB rotation for the first time.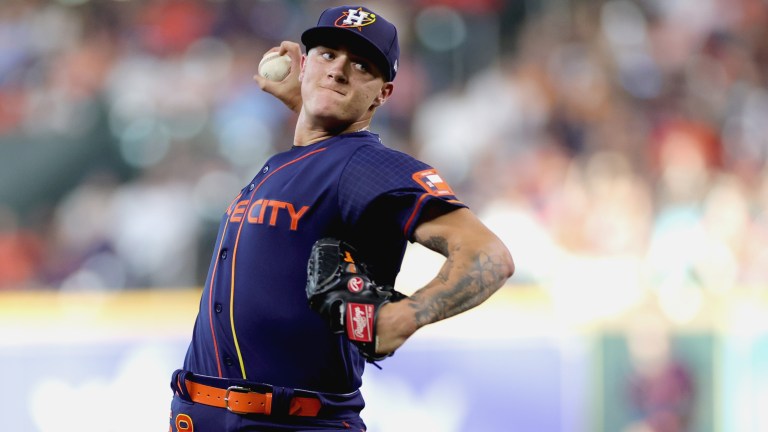 Written By: Tomas Romo
Hunter Brown was one of the Astros' top prospects in 2022 and had a dominant season in the minor leagues. He was the 2022 Pacific Coast League Pitcher of the Year and was a late-season call-up for Houston. He appeared in seven games, going 2-0 with a 0.89 ERA, 1.08 WHIP and 9.7 strikeouts per nine innings. Brown found himself on the playoff roster and has the opportunity to play an even bigger role this season.
With Justin Verlander leaving for New York and Lance McCullers Jr. dealing with an injury, Brown has an inside route to breaking camp as part of the Opening Day rotation. While he likely opens the year fifth on the depth chart when it comes to starters, Brown should have plenty of time to pitch his way into the fold even more. Even when McCullers returns, Brown will have every chance to outpitch Jose Urquidy to solidify his turn in the rotation.
Astros Opening Day Rotation
Atop their rotation, the Astros have two of the top 20 starting pitchers in baseball: Framber Valdez and Cristian Javier. Valdez is the biggest workhorse in this rotation, having made 31 starts last year, pitching to a 2.82 ERA across 201.1 innings pitched. He went on to win both of his starts in the World Series, allowing two runs over 12.1 innings pitched.
Javier probably has the nastiest stuff on this staff, coming off a season where he struck out 194 batters over just 148.2 innings pitched. He went on to allow just one hit and no runs across his two playoff starts in the ALCS and the World Series.
Losing a Cy Young is never easy, but Valdez and Javier will slide up and help the Astros to absorb the loss of Verlander. Still, other guys will have to step up to solidify the spots in the middle of the rotation that those two once held down.
Luis Garcia is certainly a viable no. 3 starter, coming off two seasons in which he was as dependable as they come. The 26-year-old pitched to a 3.46 ERA as a rookie and only fell off slightly to a 3.72 ERA in his sophomore season. When you look at his workload, Garcia made 28 starts and eclipsed 155 innings pitched in both seasons.
Garcia is currently starring on the World Baseball Classic stage, pitching for Venezuela. Another Astros starter whose team advanced to the quarterfinals is Jose Urquidy, as he is part of Team Mexico.
Urquidy was the odd man out of the rotation during the postseason, but he looks to return and will likely open as the fourth starter. While advanced metrics seem to point to some regression, Urquidy has still managed to pitch to a sub-4.00 ERA across 48 starts over the last two seasons. There may be limited upside for the 27-year-old, but he's at least a dependable arm to eat innings on a great team, with a strong bullpen behind him.
Having that type of depth ahead of him takes some pressure off of Brown to perform at the highest level. His stuff speaks for itself. Brown can light up the radar gun with an above-average fastball at 97 mph and flashes great command of his secondary pitches. According to @MLBMetrics on Twitter, Brown was the first rookie since Roy Halladay to throw at least 20 innings, have an ERA under 1.00, and record 20 strikeouts in his first seven MLB outings. That is great company to be in.
Right now, all that is expected of Brown is that he fills in at the back of the rotation while McCullers is on the injured list, but there is upside for a lot more. If Brown can stick in the rotation all year, he has the chance to slide ahead of Urquidy and even Garcia on the depth chart.
Last year, the Astros only used four starters in the playoffs. Houston relied on Verlander, Valdez, McCullers and Javier as their postseason rotation. Barring injury, three of those arms will return to the playoff rotation. If all breaks right for Brown, he could be the guy to claim the final spot.
Brown was shaky in his first two spring training starts but bounced back against the Miami Marlins in his third start last Sunday. He pitched three shutout innings, allowing no hits or walks, and completed his outing in only 34 pitches, throwing 26 for strikes. He showed great command of his pitches and attacked the strike zone.
It was a much-needed confidence boost for Brown, and he will be prepared to contribute with Houston this season. Brown has the potential to be a frontrunner for AL Rookie of the Year and is currently the third favorite at +800 to win, according to DraftKings. The last Astros player to win Rookie of the Year was slugger Yordan Alvarez back in 2019.
Consistency will be the biggest factor for Brown. If he is able to command the strike zone and go through opposing teams' lineups multiple times, this Astros rotation becomes dangerous. Houston will need a solid rookie season out of Brown if they want to repeat as World Champions.