Analysis
Loaded NL Rookie of the Year Race Is Already Heating Up
Featuring two top prospects, a diamond in the rough, and an international star, the NL Rookie of the Year race is one to watch this year.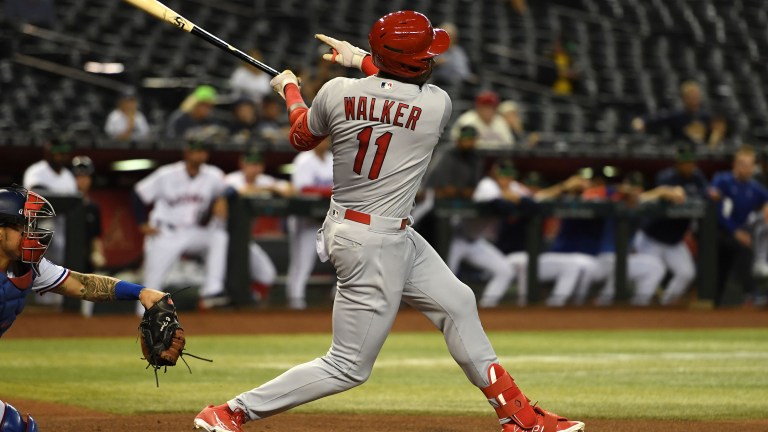 In 2022, the American League featured a cornucopia of a rookie class: Adley Rutschman, Steven Kwan, Jeremy Peña, George Kirby, Bobby Witt Jr., and of course Julio Rodríguez, who was the near-unanimous winner of the Rookie of the Year Award.
A year later, the NL seems ready to walk along that same path. Featuring two blue chips, a diamond in the rough and an international star getting acclimated to American soil, the 2023 NL Rookie of the Year race is already picking up steam halfway through the first month of the season.
Corbin Carroll
After a torrid 32-game stretch in his late summer call-up last year, which he parlayed into an eight-year, $111 million extension with the Diamondbacks, the former no. 1 prospect in the game entered 2023 as the favorite to receive the ROY hardware. The combination of Carroll's speed, bat-to-ball skills, elite athleticism and sneaky power gives him the potential to be at least a 20-20 player with Gold Glove defense, if not something more.
He is not playing at the same red-hot level in 2023, though he has still been perfectly serviceable (.759 OPS, 97 WRC+). But let's be fair, Carroll has only played 14 games. The season is still so mint-fresh that one colorful night at the plate could swing his numbers in a much better direction. Arizona is such a young team, and one can argue Carroll is the centerpiece of it, so he will be in the lineup nearly every day with no shortage of opportunities to make his mark — something he did to the fullest degree at every stop along the way while in the minor leagues.
Expect to see Carroll go toe-to-toe with any NL newcomer all season long, if not right at the forefront of the race.
Jordan Walker
At just 20 years old, the game's No. 2 prospect has wasted no time getting acclimated to big league pitching. After 14 contests, Walker finally proved himself to be human after all on Thursday against the Pirates, failing to record a hit for the first time in his young MLB career. It snapped a 12-game hit streak that began on Opening Day, a stretch that ranks among the game's all-time greats for a player age 20 or younger.
Walker has shown some early pop, already blasting a pair of home runs for the Redbirds. His OPS currently sits at .784, but it was at .894 entering Thursday's game. That's just another sign of how a player's numbers can drastically change in a hurry so early in the season.
For a guy that could easily profile as a tight end at 6-foot-6, 245 pounds, it's easy to marvel at Walker's speed. Sure, he doesn't run quite like his fellow rookie Carroll (who ranks in the 100th percentile in Baseball Savant's Sprint Speed), but Walker ranks toward the top of the league in sprint speed himself. In fact, he stole 22 bases in Double-A Springfield last year.
His defense has been suspect thus far. Some of that is due to the fact that he is more accustomed to third base (the position he was drafted to play) but has been moved to the outfield thanks to the future Hall of Famer boxing him out at the hot corner. Walker should have no issues hitting his way toward the top spot in the Rookie of the Year marathon. However, it's a question of whether or not he will be running the race with cinder blocks tied to his feet, since his defense will deteriorate some of his value, especially when measured by WAR.
James Outman
The Dodgers are doing it again: digging up a hidden gem in whom they found value that many others didn't, then proceeding to properly develop said player and turn them into a star in L.A. They did it with Tony Gonsolin, a ninth-round pick out of St. Mary's, and they revived the careers of Max Muncy, Justin Turner and Chris Taylor. There are plenty of other examples as well.
James Outman, the No. 85 overall prospect in baseball, is now taking his turn. A seventh-rounder out of Sacramento State who was a career .247 hitter with an .839 OPS during his three collegiate seasons, in a Division I conference that is often an afterthought in college baseball (the WAC), the Dodgers rookie is now tearing the cover off the ball.
This all started when he earned himself four games in the big leagues at the end of last season. Despite having just a cup of coffee, he put up a 1.409 OPS.
After turning heads throughout the spring, Outman didn't skip a beat when the lights flipped on and the games counted for real. He is slashing .282/.429/.667/1.095 with three home runs, a league-high three triples, two stolen bases and a gargantuan 184 WRC+.
But it's not just the power and bat-to-ball skills. Outman has shown the ability to post an elite walk rate (18.4%) while flashing well-above-average defense. Outside of posting a high strikeout rate through his first 14 outings (28.6%), he is doing it all, for lack of a better term.
If you placed a wager on Outman to take home the NL Rookie of the Year before the season kicked off, you could be in line for quite the payday down the road.
Kodai Senga
The ghost fork king himself. A star in Japan for 11 seasons with a career 2.59 ERA in NPB, Senga has asserted his presence through three starts for the Mets.
In his first two outings, Senga posted a 1.59 ERA with 14 punch-outs after buzz sawing through the Marlins lineup on two separate occasions. He wasn't quite as sharp on Friday against the Athletics, but he still boasts a 3.38 ERA with 11.81 K/9.
Senga flashes a four-pitch mix that is going to cause opposing hitters headaches. His ghost fork already looks the part, producing a Baseball Savant Run Value of -3 thus far. Opponents are slugging .048 against the pitch and whiffing at a 51.7% rate.
It is always a significant uphill battle for a starting pitcher to be crowned Rookie of the Year, the same way that they are at a disadvantage in MVP voting due to being on the field just once every five days. That being said, if Senga pitches like a top-of-the-rotation starter all season, voters will have no choice but to pay very close attention to his campaign.
Closing Thoughts
The NL has had some ridiculous rookie classes over the last handful of years. Ronald Acuña Jr., Juan Soto and Walker Buehler were all in the same class in 2018, and Acuña ultimately ran away with the award. Pete Alonso won it in 2019, with Mike Soroka, Fernando Tatis Jr. and Bryan Reynolds all placing behind him. Even just a season ago, Braves teammates Michael Harris II and Spencer Strider duked it out, only for Harris to eventually emerge victorious.
It's not often that it goes four-deep with players truly competing for the award the way that this 2023 class has a chance to do.
Yes, it's only been a couple of handfuls of games, and one or two of these candidates may dip out of the race at some point. But the fact that this group has the chance to be a fierce four-man competition, and that, for the most part, they have all hit the ground running right out of the gate, will make for some actual appointment viewing throughout the year.