Analysis
Just Baseball's Top Prospect Elly De La Cruz Promoted to the Reds
The Cincinnati Reds have finally promoted 21-year-old top prospect Elly De La Cruz, who they hope will be the future face of the franchise.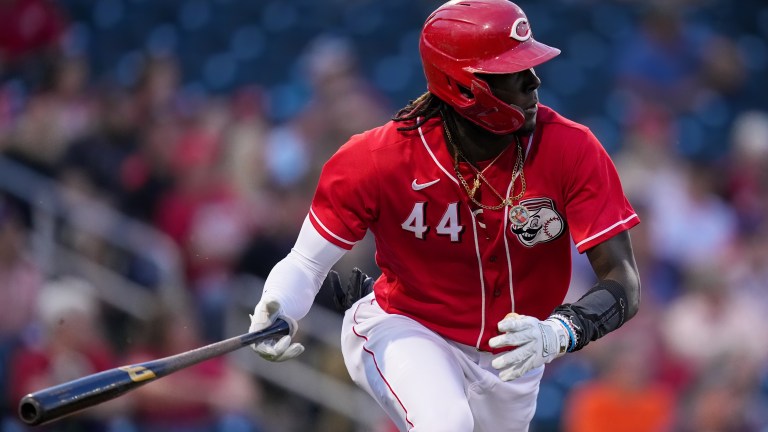 The day has finally come. Just Baseball's No. 1 overall prospect Elly De La Cruz has been promoted to Cincinnati and is expected to join the Reds lineup on Tuesday.
The 21 year-old, switch-hitting shortstop excelled through the minors the past two seasons and conquered Triple-A slashing .297/.398/.633 with 12 home runs and 11 stolen bases. More impressively, De La Cruz was regularly putting up exit velocities over 110 mph, while his monstrous moonshots circulated twitter highlight reels.
If you are not familiar with De La Cruz, here's what Just Baseball's Aram Leighton had to say about him when he put him at No. 1 on his latest top 100 list.
| | | | | | |
| --- | --- | --- | --- | --- | --- |
| HIT | RAW POWER | GAME POWER | RUN | FIELD | FV |
| 40/45 | 70/80 | 55/65 | 70/70 | 45/55 | 65 |
One of the more overlooked prospects in the 2018 International Free Agent class, De La Cruz signed for just $65K and is looking like the highest ceiling prospect we've seen in years.
Offense
A switch-hitter with big time raw power, De La Cruz has wowed with his jaw-dropping power through his first couple pro seasons. The 21-year-old features long levers and impressive bat speed, generating elite exit velocities and majestic home runs that carry deep out of sight. His 108 mph 90th percentile exit velocity was the highest mark in the organization last season and he produced 22 batted balls over 110 mph.
Of his two swings, De La Cruz packs more of a punch from the left side with a smoother swing that allows him to attack the entire field a bit better. His right-handed swing is a bit flatter and his lower half is not as effectively involved, but he is still a productive hitter from that side. The uneven at-bats could likely play a part in his left side being ahead of the other this early in his career.
Considering his present ability to impact the baseball with more room to fill out in his frame, it would not be extreme to project 80 grade power for the shortstop. The larger question in regards to De La Cruz's ceiling is around how much he is going to hit, but his ridiculously high slugging on contact and improved body control in the box bode well, even if he is a fringy hitter.
His 80% zone contact rate is strong enough to provide optimism that De La Cruz can be an average hitter–especially from the left-handed batter's box. His 31% strikeout rate seems to be more of a byproduct his high chase rates and overall iffy swing decisions; at 6-foot-5, he also has to deal with a larger strike zone than most hitters. He is quick enough to get to tough pitches and displays impressive plate coverage.
With more maturity, he should be able to get his strikeout rates to a more palatable level, but his ridiculous power output should help with that too. De La Cruz has a chance to be one of the most powerful switch-hitters we've ever seen.
Defense/Speed
There were some initial questions within the industry as to whether De La Cruz could stick at shortstop as he physically matures, but given that he is an off-the-charts athlete with a rocket for an arm, added muscle and weight shouldn't hold him back much, if at all. He quelled many concerns about his shortstop ability this year by showcasing impressive range and footwork with a plus-plus arm.
De La Cruz could use some refinement with his actions at short, which will come with more reps. He shouldn't have a problem sticking at shortstop and could be an above average defender there, but he has the goods to be an elite defender at third base if the Reds ever decided to give him a look at another spot.
An easy 70-grade runner, De La Cruz absolutely flies. His long legs move quickly, making it seem like he is taking three steps between bases. With back-to-back seasons of 9 triples, De La Cruz just glides around the bases. The speedster improved his base stealing efficiency drastically in 2022, getting better jumps and picking more opportune times to run. He swiped 48 bags on 54 tries last year and should be a perennial 30 stolen base threat at the highest level.
Outlook
Not only does De La Cruz possess arguably the most exciting offensive tools in Minor League Baseball, but he is translated those tools into production in what really is his first full professional season. Top of the scale speed with elite power potential as a switch hitter makes De La Cruz seem like he was created in a lab. His plus-plus arm from shortstop only adds to the allure.
Just 21 years old with Double-A success under his belt, the extreme risk around De La Cruz has been hedged ever-so-slightly. For De La Cruz to push towards his superstar ceiling, he will need to continue to refine his approach and make some tweaks to his right-handed swing.
Having only played just over 200 professional games, De La Cruz is ahead of the curve. If he continues to mature as a hitter, we could be looking at one of the best all-around players in baseball in a couple years.
_______________________________________________________________________________________________________
Reds fans have been waiting for this day for some time. After a couple of brutal years, Cincinnati is starting to put the return on display. Matt McLain and Andrew Abbott have dazzled in their debut, but Elly and the hype surrounding him are on a different level. This is the type of debut I would have recorded on VHS like I did with Jay Bruce and Homer Bailey as a kid.
De LA Cruz has that special type of buzz. All of the tools to truly become a superstar and bring Cincinnati back to being a playoff team. I don't want to get ahead of myself and set expectations too high too soon, but it's hard to not let the fan in me take over.
Oh yeah, don't' forget. There's still more talent on the way.