Analysis
Kodai Senga's Ghost Fork is Proving to Be Worthy of the Name
Few have come into MLB with more hype surrounding a pitch than Kodai Senga's 'Ghost Fork', but so far it has been as good as advertised.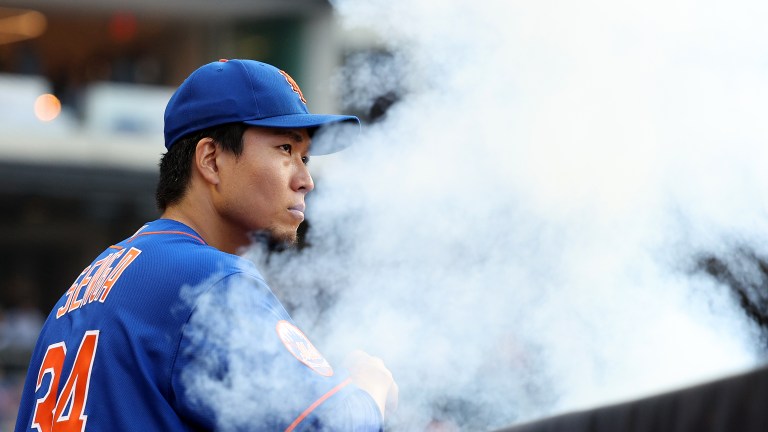 This is Ghost. It was one of the first sentences in English that Kodai Senga delighted the New York media and Mets fans alike with. The Japanese star came to the states this season with plenty of hype and a pitch that brought all the intrigue. His patented 'Ghost Fork'.
Everyone wondered if the pitch that had dazzled fans and befuddled hitters in the NPB could translate against MLB hitters. A marketing campaign featuring a ghost holding a pitchfork only added to the anticipation surrounding the pitch.
But more than a great name, it would have to be great against MLB hitters if the Mets and Senga were going to sell all that merchandise. So far this year, and particularly last night, the pitch has been worthy of those ghost fork car decals.
Senga is coming off his best start of the season, his first against the division rival Philadelphia Phillies. Pitching in front of a Citi Field crowd, Senga allowed just one hit, walked none and struck nine across seven scoreless innings pitched. His final pitch was his 100th, where Senga delivered his last strikeout of the day to a roaring ovation
Kyle Schwarber was the sixth Philly to strikeout swinging through a ghost fork, a common trend in most Senga starts.
In fact, the Phillies attempted to swing at the ghost fork 18 times last night and swung through it 12 times (67%). What happened the other six times you ask? Four foul tips, a pop up and a ground out.
Senga has been sensational pitching at home this season, featuring a 1.20 ERA in five starts at Citi Field. Every time he records a strikeout, it is recorded by fans with his Ghost Fork logo, a trend we once saw at the same park with Batman logos for Matt Harvey and Thor Hammers for Noah Syndergaard. Say what you want about the Mets, they know how to market pitchers to their fans.
The sensation that has been Senga at home though hasn't yet translated to the road, where the 30-year-old has pitched to an ERA over 6.00 in five starts.
Combine it altogether, you have a pitcher who sports a 3.44 ERA through his first 10 MLB starts, with 70 strikeouts in 55 innings pitched. Considering he is still technically an MLB rookie, those are pretty exceptional stats. Consistency will be required though for Senga to truly be considered one of the game's best arms.
Luckily some adjustments Senga made last night could bring that consistency moving forward.
Trusting the Ghost in Ghost Fork
When Kodai Senga throws his ghost fork, batters have two options. They can look at the pitch, or try to hit it. So far this year, just taking the pitch has been the better option, as swinging at it is rarely a measure for success.
Batters are currently hitting .107 with an expected batting average of .081 against the pitch, with a .125 SLG and a .105 xSLG. They have swung through the pitch and whiffed at a near 60% clip (59.1) and are striking out 59.1% of the time as well.
Senga's forkball ranks No. 1 in Whiff% and strikeout percentage, while being No. 2 in HardHit% (11.8%) among pitches that have ended a minimum of 50 plate appearances. More simply put, among starting pitchers, Senga's ghost fork has been the game's best strikeout weapon.
Having one great pitch can only get you so far as a starting pitcher though. Too frequently this season, batters would identify the ghost and just take it, as the pitch often ends up out of the zone.
This has led to a walk rate of 13.2%, which has consistently gotten Senga in trouble up to this point in the season. To really become a frontline arm, Senga has to find out how to attack the zone more frequently, which is tough to do when your best pitch is known for its ability to look like it's going to be in the zone, before disappearing (get it, GHOST!) on the batter out of the zone.
What we saw last night that could change everything though is a simple adjustment. Trusting the movement of his ghost fork that it will disappear on batters whether in or out of the zone.
Early in Senga's strikeout highlight reel, you will notice two at-bats in particular that stood out to me. One was a strikeout of Bryson Stott to leadoff the game and the other was getting J.T. Realmuto to strike out in the second inning.
In each of these at-bats, Senga is ahead in the count and he consistently attacks in the zone with his forkball. With Stott, he threw four fastballs to start him off and got to a 2-2 count. He then threw a forkball inside belt-high that Stott fouled off. He tried a fastball that Stott fouled off again, then went right back to the fork. This one ended up pretty much right down the middle but Stott swung over it.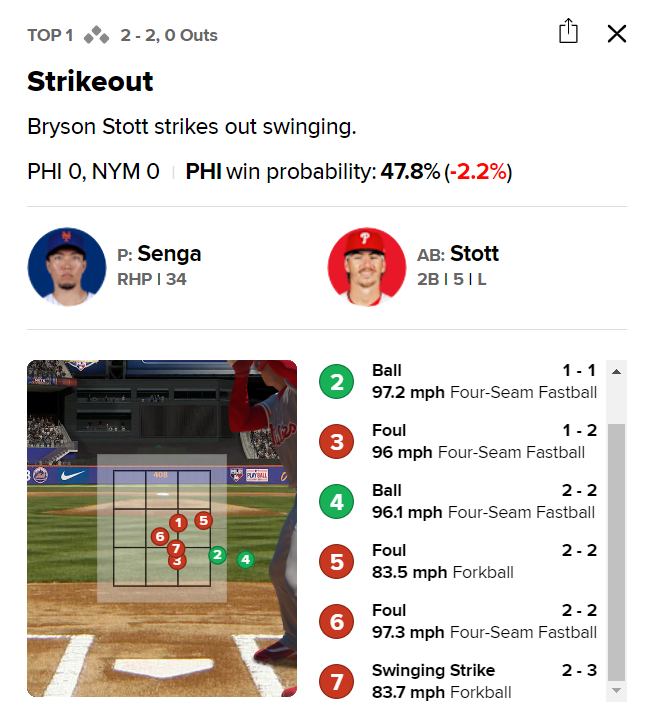 Next we look at the at-bat against Realmuto, where Senga quickly got ahead 0-2.
His first 0-2 offering was a fastball up and in at 98.5 mph. The goal of that pitch is to brush Realmuto back and change the eye level on him, before going to the well with his ghost fork to get a strikeout on the next pitch.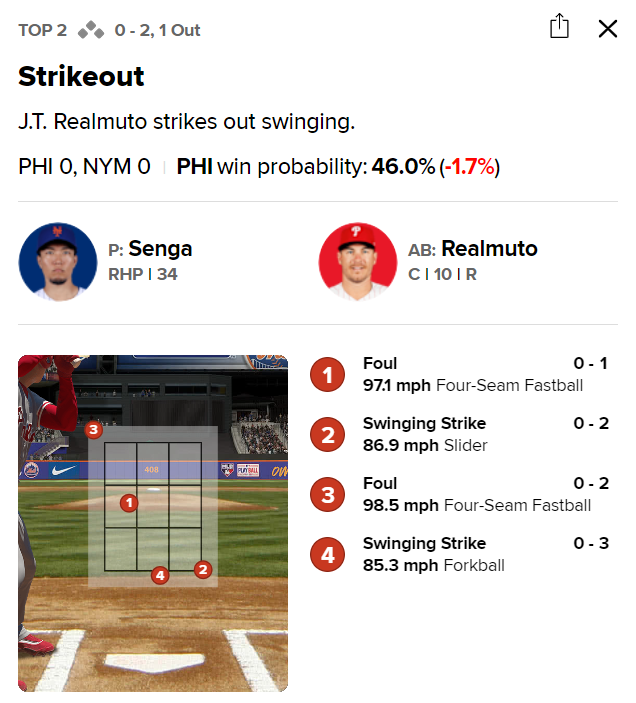 Senga could have thrown that ghost fork in the dirt twice, and early in the season, he probably would have. Instead he puts it perfectly at the bottom of the zone and Realmuto has no choice but to swing and look bad doing it.
The more we get into the season, the more I believe you will see Senga throwing his ghost fork and particularly throwing it in the zone, especially early in games with no one on the bases. Despite the success of the pitch, he has only thrown it 22% of the time this year. Last night he threw it 29%.
Building the Proper Arsenal Around the Ghost Fork
Like many Japanese pitchers before him, Kodai Senga came over with plenty of pitches in his bag that he could go to. He might not be Yu Darvish, but he has featured six different pitches, although he has primarily relied on a four-pitch mix.
Senga relies most heavily on his fastball, which averages at 95.9 MPH, but frequently tops out at 98. He throws that pitch 41.7% of the time and batters are hitting just .232 with a .286 slugging percentage against it.
He compliments the fastball with a cutter (22.3%), ghost fork (22.0%) and a sweeper (12.1%), while mixing in the occasional curveball or slider. When looking at run value, there was clearly a pitch that was underperforming against MLB competition.
Through 10 starts, Senga generated negative run value with his fastball -3, cutter -6 and forkball -3, but his sweeper has been a positive run value of 5. Four of the six home runs he has allowed this season have come on the sweeper, with the other two coming on his fastball.
Batters have hit .368 with a 1.053 slugging percentage against the sweeper. The expected stats aren't much better, as batters have an xBA of .357 and an xSLG of .800. Last night, Senga only threw his sweeper once.
Based on what we have seen this season, Senga should rely on his cutter and ghost fork as the main pitches to compliment his fastball and that is exactly what he did in his best performance of the season last night.
If Senga can consistently attack the zone and limit the walks moving forward, there is every chance he can build off this start and deliver on that frontline starter potential the Mets bought into when they signed him to that five-year, $75 million deal.
Through one third of the season, Senga has a 3.44 ERA, with 70 strikeouts over 55 innings pitched. Multiply that by three and you have Senga pitching to a sub-3.50 ERA with 210 Ks in 165 innings pitched if he can keep this up over 30 starts this season. The Mets would sign up for that today.
Where the excitement lies with Senga though, is the fact that he is capable of even more when at his best. If last night was any indication, the best is yet to come.