Analysis
James Outman Cannot Be Stopped
Dodgers rookie James Outman has forced his way into the everyday lineup, and he isn't showing any signs of slowing down.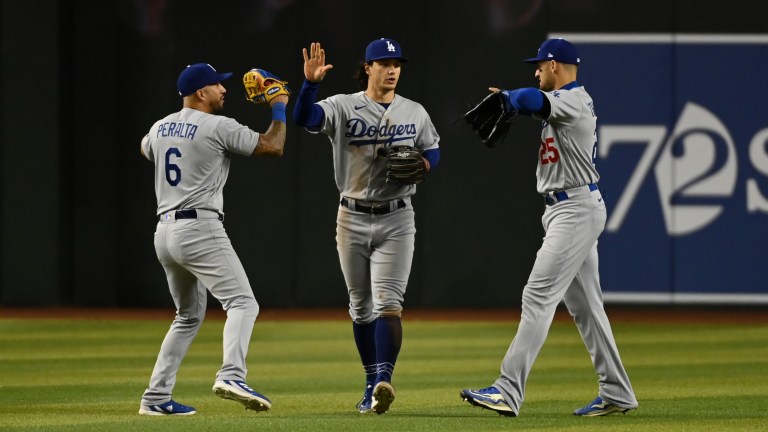 Heading into the 2023 season, James Outman was no guarantee to make the Los Angeles Dodgers' Opening Day roster. The team filled the hole that Cody Bellinger left in the outfield by signing veteran free agents David Peralta and Jason Heyward. Mookie Betts was obviously going to be a fixture in right field, so Chris Taylor and Trayce Thompson were set to be the outfield reserves.
Then, all of a sudden, Gavin Lux suffered a season-ending injury in spring training, and Outman earned his spot on the roster. Let's take a look at what happened next.
Where Did James Outman Come From?
In the 2018 MLB Draft, the Dodgers took Outman in the seventh round out of Sacramento State. Outman didn't make the Triple-A roster until halfway through the 2022 season. By then, he was having the best year of his minor league career, hitting .294 with 30 home runs between Double and Triple-A. When the Dodgers' outfield was beset by injuries in 2022, Outman came up for a short stint, officially making his major league debut. In a very limited sample size of 16 at-bats, he hit for a .462 average with a 288 wRC+. Many Dodger fans, myself included, were upset when he didn't stick around on the roster, but we can't live in the past.
James Outman Is Off to a Great Start in 2023
Outman has taken the league by storm this season and cannot stop raking. He has been blistering the baseball with a .301 batting average and a .675 slugging percentage. His 182 wRC+ currently ranks sixth in all of baseball. With his continued success in over 100 MLB plate appearances, it's safe to say Outman is here to stay.
Outman has been mashing both left- and right-handed pitching so much that we're now starting to see Mookie Betts playing second base and shortstop just to keep Outman in the lineup.
Can Outman Keep This Up?
Asking Outman to remain among the top ten in wRC+ during his rookie season is unrealistic, but he should be very good for the Dodgers all year. Entering Wednesday, he ranked in the 94th percentile in barrel rate and the 93rd percentile in expected wOBA. His 84th-percentile chase rate is also impressive.
His smooth swing should allow him to consistently barrel the ball, leading to long-term success. Outman started out +8000 to win the National League Rookie of the Year on BetMGM. Now, he is the favorite at +180. It's safe to say the Dodgers have found themselves an absolute gem once again.