Analysis
The Seattle Mariners Are Building a Perennial Contender
After winning over baseball fans with a miraculous 2021 season, the Seattle Mariners are out to prove it was not a fluke.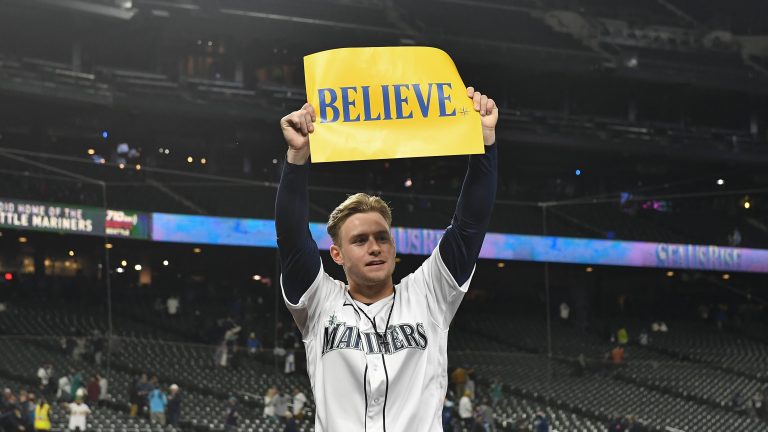 What a year it was for the Seattle Mariners last season. Projected to win just 72 games by Vegas sportsbooks, the Mariners smashed expectations by 18 wins, finishing just two games shy of the postseason.
Baseball fans marveled at what the Mariners were able to do down the stretch, not necessarily excelling in any one department, but the young team just continued to win ball games. Almost every offensive regular on the AL West runner-up was under the age of 30, aside from Mitch Haniger and the recently retired Kyle Seager.
Ty France and J.P. Crawford took their game to the next level last season, both producing over a 3.0 fWAR. Rookie outfielder Jarred Kelenic overcame a brutal start to his season, hitting .248/.331/.524 with seven home runs over the final month of the season. Not only was the strong finish encouraging, but Kelenic gained valuable experience playing meaningful games into the final days of the season.
On the pitching side, Chris Flexen made his way back stateside after pitching the 2020 season in the KBO and enjoyed a career year; the former Mets pitcher recorded a respectable 3.61 ERA and 3.89 FIP in 31 starts. Marco Gonzales continued to perform as a reliable arm for the Mariners, finishing his third consecutive season with a sub 4.00 ERA, and prior to injury, 26-year-old Justin Dunn looked to be putting it together on the mound.
Recently graduated top 100 prospect Logan Gilbert rode a bit of an up-and-down season for Seattle in 2021, but similar to Kelenic, the rookie put it together in September and helped the Mariners stay relevant into the final days of the season. After a disastrous August where Gilbert surrendered 24 earned runs in 23 2/3 innings, Gilbert pitched to just a 2.70 ERA over his final six starts.
Prospect Reinforcements
The Mariners made their big splash when they signed Robbie Ray to a five-year, $115 million deal prior to the lockout. With some of the aforementioned steady arms in the fold and several top prospects not far off, the Mariners could look to stand pat in that department.
George Kirby (No. 19 on our Top 100 list), Emerson Hancock (No. 40), Brandon Williamson (No. 81), and Matt Brash (No. 92) all saw time in Double-A last year and could each have a decent case to break in with the big league club at some point next season.
With his upper-90s fastball, which he commands as well as anyone in the minors, Kirby is probably the best bet to debut first, with Matt Brash and his freakish breaking ball not far behind. The fact that Kirby and Brash could struggle in the big leagues and the Mariners would still have Brandon Williamson–who struck out more than 12 batters per nine innings in Double-A–and former first round pick Emerson Hancock not far behind has to have the Mariners feeling good about their pitching situation heading into 2022.
On the offensive side of things, it is a similar story. Returning former AL Rookie of the Year Kyle Lewis will undoubtedly be a boost to a team that struggled with offensive consistency at times and the imminent call-up of top prospect Julio Rodriguez should offer a nice boost to the lineup as well.
As we saw last year with Kelenic, it can be a bit presumptuous to expect a top prospect to be able to make the leap to the big leagues and contribute immediately, however Julio Rodriguez has a special ability to hit that leads most to believe he may not blink.
Still, on the position player side of things, there are a few more questions to be answered. The two biggest being, who plays center field and can Abraham Toro really be an everyday third baseman for a playoff-caliber team?
Upgrading Centerfield
Centerfield was tackled by committee and the Mariners suffered defensively as a result. According to Fangraphs, the Mariners were the only team in baseball with a negative fWAR in centerfield at -0.4 and registered the worst Defensive Rating (DEF) in all of baseball at -8.7.
| | | |
| --- | --- | --- |
| Players | Def Rating | DRS |
| Jarred Kelenic (75 GS) | -6.4 | -16 |
| Taylor Trammell (36 GS) | 0.4 | 0 |
| Kyle Lewis (34 GS) | -2.3 | -1 |
| Jake Fraley (14 GS) | -1.8 | 0 |
Seattle Mariners Centerfield Defense in 2021 (Fangraphs)
As we saw in Lewis' rookie season, he has the ability to make highlight reel plays and at least graded out as a good enough defensive option. He has since dealt with more ongoing knee issues and after multiple surgeries, it is probably safe to assume that the Mariners will look to limit his innings in centerfield and possibly even rotate Lewis and Mitch Haniger back and forth from corner outfield to DH.
Kelenic was simply a disaster in centerfield, struggling with his reads and routes while displaying closer to average MLB speed. Some of the defensive struggles could be tied in with Kelenic's difficulties at the plate and it is fair to expect the 22-year-old to improve out there to some degree, but it is incredibly unlikely that he is a positive defender in centerfield at any point in his career. That said, Team President Jerry Dipoto does not seem overly concerned with the situation up the middle.
"I still suspect [Kelenic] is going to play a fair bit of centerfield," he said at November's GM Meetings. "We don't see it as one of our biggest needs."
Despite Dipoto's comments, the Mariners still reportedly dipped their toes in the centerfield market prior to the lockout. Ryan Divish of The Seattle Times reported back in October that the team had checked in on Pirates All-Star centerfielder Bryan Reynolds on a couple occasions. Talks quickly stalled when the Pirates reportedly asked for the team's top prospect, Julio Rodriguez.
It may be less about whether or not this is a priority for Dipoto's club and more about the fact that the centerfield market is ridiculously thin. Cedric Mullins has been a name bounced around a bit from the Orioles, however there are conflicting reports in regards to his availability. That said, the Mariners and Orioles seem to be excellent trade partners.
The Orioles have several young offensive pieces at the big league level accompanied by some extremely exciting offensive prospects. On the pitching side, things are not quite as rosy for the Orioles beyond pitching prospects Grayson Rodriguez and DL Hall. The Mariners could blow the Orioles away with their surplus of arms in an effort to go get Mullins, who is under control until 2025.
This question is: who would the Mariners be willing to part with?
"There's no scenario where we will move the top prospects in our system, the guys who are prominent in our system" said Dipoto, per Corey Brock of the Athletic back in November.
That vague statement would perhaps disqualify Julio Rodriguez, Noelvi Marte, and George Kirby from trade talks, however if the Mariners were tied to Bryan Reynolds and even Kris Bryant dating back to last season, there is no way that Dipoto thought he could acquire one of those guys without at least parting with someone like Brandon Williamson or even Emerson Hancock.
If the Mariners want to go for a less asset-depleting trade, they could continue their trade relationship with the Rays and go get defensive wizard Kevin Kiermaier. A three-time Gold Glover and Platinum Glove winner, Kiermaier would be a stark contrast from what the Mariners were accustomed to in centerfield last year.
This is not all to say that the Mariners are doomed if Kelenic plays centerfield next year. The young outfielder quite literally cannot be worse defensively than he was last season and could feasibly improve to the point where he is within arm's reach of league average defense. Personally, I'd rather Kelenic focus on the stick and let a true centerfielder roam T-Mobile Park.
Upgrading Third Base
The Mariners second-best prospect, Noelvi Marte, is still a couple years off from being able to help them at the MLB level and they traded third base prospect Austin Shenton over to the Rays in the Diego Castillo deal making it Toro or bust right now at the hot corner after Kyle Seager's retirement.
As our own Jack McMullen pointed out on the Just Baseball Show, Kris Bryant would be the perfect fit for this Mariners team that was reportedly the runner up in the KB sweepstakes. Bryant would take over duties at the hot corner, but could provide defensive versatility and an ability for Manager Scott Servais to mix and match with his lineup.
We have Bryant projected to bring in around $25 million AAV, about $7 million more than Kyle Seager made in the final year of his contract, which should be more than doable for a Mariners team that cleared Seager off of the books and is open to adding more payroll.
Toro, who was acquired in the Kendall Graveman deal, offers good bat-to-ball skills and defensive versatility, but the 25-year-old just does not offer the kind of power desired at the hot corner in today's game; especially for an infield that leaves a bit to be desired in the slugging department.
A trade for Matt Chapman is a possibility, though there is belief that the A's will likely ask for top infield prospect Noelvi Marte in return, a likely nonstarter. Josh Donaldson of the Twins could be a target as well, but given the fact that the 36-year-old is set to make $42 million over the next two seasons, it probably makes sense to just go after Bryant instead.
2022 Outlook and Beyond
According to Fangraphs, the Mariners were one of the most clutch teams of all-time in 2021. Whether you consider being clutch as lucky or something in a player's control to a degree, it is probably fair to say that the Mariners will struggle to match their clutch performances of 2021 which helped them win 90 games.
On the other hand, the Mariners swapped out Yusei Kikuchi with defending Cy Young Award winner Robbie Ray and will almost surely see a better version of Jarred Kelenic while returning Kyle Lewis and adding Adam Frazier. Julio Rodriguez will give the Mariners a boost at some point early in 2022, making up for the 33 home runs lost with Kyle Seager.
With several of the Mariners top pitching prospects potentially debuting next year, an improved Logan Gilbert and a healthy Justin Dunn, the Mariners rotation should take a step forward from last year. As is, this team should compete and will undoubtedly be a blast to watch.
The team's bullpen was good last year and should only be better in 2022 with the return of Andrés Muñoz and Ken Giles along with exciting arms like Diego Castillo, Drew Steckenrider Casey Sadler, and Paul Sewald.
If the Mariners go out and add Kris Bryant, or a centerfielder, it would not be crazy to call them a legitimate threat to win the AL West. Seattle could of course show some of their youth next year and struggle to get to where they were in 2021, especially if they don't make any other moves, however what is not up for debate is how incredibly bright the Mariners future is.
Julio Rodriguez and Jarred Kelenic have the potential to be one of the best outfield duos in all of baseball very soon and the pitching staff is a couple years away from being one of the best young rotations in the game.
The Mariners have quickly become one of the most exciting teams to watch in baseball, and they are positioning themselves for long-term success.