Analysis
Free Agent Trevor Story Could Be This Year's Marcus Semien
Marcus Semien bet on himself by signing a one-year deal last offseason and cashed on a $175 million contract. Could Trevor Story do the same this year?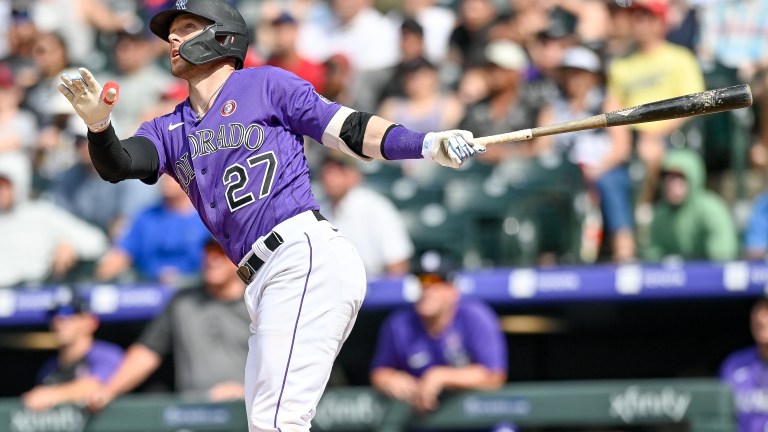 In 2019, Marcus Semien looked to be well on his way to earning a nine-figure contract. While he did not have a long track record of being an elite player, finishing third in the AL MVP voting changes your perception as a player.
After beginning his career with the Chicago White Sox, Semien was traded into obscurity in Oakland in 2015, where he was a slightly above-average shortstop through the first four full years of his career. Then in his age-28 season, everything clicked. Semien hit .285/.369/.522, with 33 home runs, 83 extra-base hits and 92 RBI.
Semien's 138 wRC+ was the first time in his career in which he posted a wRC+ over 100, and his 7.6 fWAR was the fifth-best mark in baseball that year. With a solid 2020 campaign, Semien was looking like a prime candidate to cash in on a great contract once he hit free agency.
Unfortunately things did not go as planned, as Semien struggled in the 60-game shortened season, hitting just .223/.305/.374, with a 91 wRC+ in 53 games. Suddenly Semien had to prove that his season in 2019 was more than just an outburst in a year where the baseball was juiced.
As a free agent, Semien signed a one-year, $18 million prove-it deal with the Toronto Blue Jays to play second base next to Bo Bichette. After a All-Star season in Toronto in 2021, Semien just landed a seven-year, $175 million deal with the Texas Rangers.
This offseason, another shortstop has hit free agency coming off a down-year, as Trevor Story stands to make significantly less money than he would have if he hit free agency a year ago.
After watching Semien lay out the blueprint, Story may just decide to bet on himself on a one-year deal, hoping to earn that nine-figure payday next offseason. If that's the case, he becomes one of the most fascinating and potentially valuable free agent propositions left on the market.
Free Agent Landscape for Story
Even though there are still plenty of talented players left on the market, it almost feels like all the waves of free agency have happened already. This is because we saw such a flurry of movement at the unofficial free agent deadline, where top players all pushed to secure their big contracts prior to the much-anticipated lockout.
When the smoke cleared and the lockout began, I identified the top 10 remaining free agents and ranked Trevor Story fourth on that list. Re-assessing that list today, I stand by that order, but might prefer Story to any of the free agents on the board if I was running a team.
The upside that Story could bring to a ball club lies in his diminished value, as opposed to signing a player like Carlos Correa, who is coming off a career-year. Correa is still the consensus top free agent left unsigned, but how high will the price tag climb to acquire his services?
This offseason was long anticipated to be the year of the shortstop, with a star-studded class that featured Correa, Story, Semien, Corey Seager and Javier Baez. Francisco Lindor was supposed to be part of this class as well, but he wisely signed on the dotted line a year early to secure his $341 million payday.
Seager was able to land a deal in the same neighborhood this time around, signing a 10-year, $325 million deal with the Texas Rangers. Meanwhile as previously mentioned, Semien signed for $175 million and Baez landed a six-year, $140 million deal right before the deadline to sign.
Now Correa and Story are left for the taking, with very different free agent cases. Correa is two years younger than Story and is coming off a season where he won his first Gold Glove and finished top-five in the MVP voting. If Seager got $325 million, Correa's representatives are likely viewing that as a starting point for his deal.
While no one would dispute that Correa is a better player today than Story, the inherent risk of signing a player to a contract that could be a decade-long worth a quarter of a billion dollars is enough to give any GM or team owner pause. Meanwhile Story is just sitting there, primed for a Semien-like bounce back for at least half the cost.
Even if Story lands a long-term deal, it would be hard to see him receive much more than the contract Baez just secured. A nine-figure deal could still be on the table, but with an average annual value much closer to $20 million than $30 million.
This season, Story hit .251/.329/.471, with 24 home runs, 75 RBI, 20 SB and a 100 wRC+. Skeptics will also point to his drastic (yet typical for Coors Field) home/road splits as another reason to pay less than top dollar. Teams clearly prioritized Seager, Semien and Baez in the first wave of free agency, which could show the hesitation to give Story that type of a long-term deal.
If Story is smart, he will look for the right situation like the one that Semien found in Toronto, where he can rebuild his value and try to double his money next offseason. Let's not forget, from 2018 through 2020, Story was the second-best shortstop in baseball according to fWAR.
Primed For a Bounce Back Season
While Trevor Story has not always been a model of consistency, he has more often than not been a well above-average all-around shortstop for the Colorado Rockies. Tasked with replacing a franchise legend in Troy Tulowitzki, Story burst onto the scene in his rookie campaign back in 2016.
In 97 games, Story hit .272/.341/.567, with 27 home runs, 52 extra-base hits, 72 RBIs and a 122 wRC+. He finished fourth in the NL Rookie of the Year voting behind Corey Seager, Trea Turner and Kenta Maeda. Story's K rate of 31.3% was concerning, but his 3.1 fWAR was the ninth-best mark among MLB shortstop, just ahead of the man he replaced, Tulowitzki.
In 2017, Story had down-year hitting just .239/.308/.457, with 24 home runs in 145 games. This is the only season in his career where Story posted a wRC+ below 100 at 82. Story proved that season to be nothing more than a sophomore slump though, as everything click starting in 2018.
Playing in all but five games, Story hit .291/.348/.567, with 37 home runs, 27 stolen bases and 108 RBIs. His 128 wRC+ was the five-best mark in the game among shortstops, as was his 5.1 fWAR. Story went on to post nearly identical numbers in 2019, in a season where his 6.0 fWAR ranked third.
Story was an All-Star in each of those campaign, taking home the NL Silver Slugger in both years as well. Story even performed well in the COVID-shortened season, with his 2.5 fWAR trailing only Fernando Tatis Jr. and Trea Turner among MLB shortstops.
All told, from 2018 through 2020, Story's 13.6 fWAR was tied with Xander Boegarts for the second-best mark in baseball among shortstops, behind only Francisco Lindor. Across 361 games played during that span, Story hit .292/.355/.554, leading all shortstops with 83 home runs.
Even accounting for the down-year in 2021, an argument can be made for Story being the best slugging shortstop in baseball since his debut in 2016.
Isolated Power (ISO) is a stat that measures a hitter's raw power and tells you how often they hit for extra-bases. While it does not account for park factors, which certainly inflate Story's numbers, his .251 ISO since 2016 is 32 points higher than the next primary shortstop, as Javy Baez is second at .219.
Just for fun, it is worth noting that Fernando Tatis Jr. is the new leader in the pack, posting an absurd .303 ISO across his first 273 career games played.
When it comes to defense, Trevor Story's 69 DRS is the third-best mark among shortstops behind Andrelton Simmons and Nick Ahmed since 2016. Any team that lands Story will be getting a strong defensive infielder who will provide instant pop to the middle of their lineup.
Best Landing Spots For Trevor Story
When it comes to finding a landing spot for Trevor Story, the type of contract he is looking for will certainly impact which teams will be interested in him.
The Seattle Mariners have reportedly shown interest in acquiring Story to play at the hot corner, but signing to play in one of the most pitcher-friendly ballparks in baseball does not make much sense, unless he is securing the nine-figure contract now.
For the purpose of this exercise, we are looking to identify the best one-year landing spots for Story to rebuild his value following the Marcus Semien blue-print. By signing with the Toronto Blue Jays, Semien joined one of the best young lineups in one of the most hitter-friendly divisions in baseball.
As they say, hitting is contagious, so being one cog in a great lineup is the best way to produce eye-popping numbers in a contract year. Semien belonged to a lineup that ranked third in runs scored, averaging 5.22 runs per game, while leading the league in home runs with 262.
Semien blasted 45 of those home runs himself, trailing only teammate Vlad Guerrero Jr. (48), Salvador Perez (48) and Shohei Ohtani (46) for the league lead. For the first time in his career, Semien was recognized as an All-Star, while he also posted his first 100-RBI season.
Everything lined up perfectly for Semien, as even his switch to second base paid dividends, with the 31-year-old taking home both AL Gold Glove and Silver Slugger honors. All of this lead to Semien's huge payday this offseason.
As we look at five potential landing sports for Trevor Story, the goal is to find him a team that is ready to win-now, with a surrounding lineup that can help him post his best season yet. The one difference for Story is that he has a qualifying offer attached that Semien did not have last offseason. This just means these win-now teams have to be willing to part with a draft pick if Story can be the piece that puts them over the top.
5. New York Mets
We can never count out Steve Cohen to spend a little dough in free agency and signing Trevor Story is no exception. The New York Mets free agent plan this offseason has been pretty simple. Sign free agents on short-term, big-money deals to preserve future financial flexibility, while they rebuild their farm system.
Starling Marte's four-year deal is the longest contract they have given out this winter, so Story could be an attractive piece to the Mets on a short-term contract. The only problem is the comp-pick. New York would be hesitant to sign Story and lose a draft pick they desperately need to fill out their top-heavy farm system.
Still, the Mets lineup lacks a little bit of pop right now and the prospect of pairing Francisco Lindor and Story up the middle could be too enticing to pass up. While he may want to stay at shortstop long-term, one year at second could prove valuable to Story in the same way it did for Semien when it comes to receiving recognition in All-Star voting and award races.
Full disclosure: I spent an entire podcast talking about this very notion, so the Mets were always going to be included in this list, even if I concede that it would be a long-shot.
4. New York Yankees
Coming into this offseason, Brian Cashman admitted that shortstop was a position of need for the New York Yankees and signing Jose Peraza to a minor league deal isn't exactly the solution to that problem.
After showing so much promise in his first two seasons, Gleyber Torres has hit a skid in his career over the last few years, as he has not looked like the same player who hit 38 home runs in 2019. The Yankees still have DJ LeMahieu for FIVE more years and are hoping last season's regression was just a one-year fluke.
Carlos Correa has long been rumored as a fit for the Yankees, but that could be adding even more risk to an infield that has a lot of long-term questions. If Correa's injury woes once again return and LeMahieu can't regain his form, suddenly the Yankees could have a lot of dead money on their roster. That's not even to mention Giancarlo Stanton, who is under contract through 2027, and has missed over 200 games due to injury in his first four seasons in pinstripes.
The Yankees have a strong enough farm system that they may be willing to part with a comp pick to enjoy the luxury of signing Story to a short-term deal. He could plug a huge hole for the Yankees in 2022, while leaving the door open for top prospect Anthony Volpe to develop into taking over the role in the near-future.
3. Houston Astros
While there is always a possibility that things can change, right now it certainly seems like Carlos Correa will be wearing another uniform next season. This leaves a massive void to fill at shortstop, for a team that came two wins away from winning the World Series.
With Correa in tow, the Astros featured the best offense in baseball in 2021 and Story would be a plug-and-play replacement that could keep that rolling in 2022. Minute Maid Park is ranked 11th in Statcast's Park Factor over the last three seasons, giving Story another hitter's friendly haven to call home.
Houston may also balk at the idea of giving up a valuable comp pick for one year of Story, but they may also be a team that would be interested in signing him to a long-term deal that fits more in their price range than Correa.
2. St. Louis Cardinals
Can you imagine what Trevor Story would look like playing alongside Nolan Arenado?! Oh right, I guess we have seen that before.
Teams can't be in contact with players during the lockout, but that does not mean players can't communicate with one another. Arenado could be calling up his old buddy right now and pitching the idea of a reunion out in St. Louis.
The Cardinals are going into next season with some combination of Tommy Edman, Edmundo Sosa and Paul DeJong up the middle, with Sosa being the projected starter at shortstop. While the 25-year-old rookie flashed some nice leather at short, Sosa does not have anywhere near the offensive upside of Story.
St. Louis just cleared a ton of money off their books, with Andrew Miller's contract expiring and the team declining options on Matt Carpenter and Carlos Martinez. While the Cardinals still need to address their pitching staff, Story is the perfect buy-low signing to take their offense over the top.
You could also envision the Cardinals as a landing spot for Story where he could receive the long-term deal he might covet, with a low enough AAV that the Cardinals to stomach adding him to a payroll that still includes Arenado and Paul Goldschmidt.
One downside is that St. Louis' lineup is already really right-handed heavy with Arenado, Goldschmidt and Tyler O'Neill, but there is nothing wrong with having four righties that rake in the middle of your lineup.
1. Toronto Blue Jays
The list really should end where it all began, with the team that helped Marcus Semien parlay a one-year contract into a $175 million payday. The Toronto Blue Jays need a new second baseman after Semien's departure and could look to Story as the ideal replacement.
The Blue Jays were rumored to be in the mix for a lot of the top free agents that came off the board prior to the lockout, making their one splash with the addition of starting pitcher Kevin Gausman. Toronto certainly has enough offense still on their roster to make due without getting a real Semien replacement, but if Story is just sitting there ripe for the taking, why not go all-in on trying to win with this young core now. Especially while they are all still cost-controlled.
The comp pick is the biggest hurdle for Story to be able to follow in Semien's footprints this offseason. In a lot of ways this is how the Rockies ineptitude has come back to haunt one of their former players. Had they dealt him at the deadline like they should have, he would not have to deal with a qualifying offer.
On the bright side if the Blue Jays, or any of these other teams, decide to give him a contract that allows him to test free agency again next season, Story will be able to hit the market then without that QO attached.
It is going to be really interesting to see exactly where Story ends up, but no matter where it is, I would expect he provides a lot of surplus value for his new team, just like Semien did last year.