Analysis
Two New Closers Taking on the Ninth in 2023
Trevor May and Alex Lange are both in a position to take on closing duties for the first time in their careers.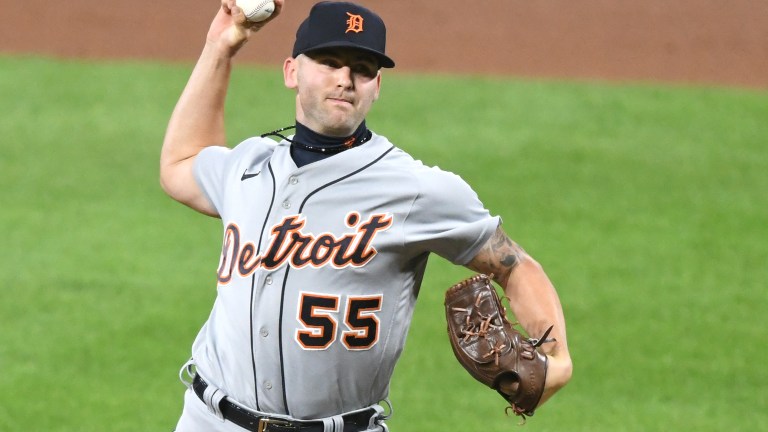 The title of "closer" was less meaningful than ever in 2022. For the first time in MLB history, more than 200 pitchers recorded a save – from Aaron Ashby to Zack Thompson and 220 arms in between. The Yankees and Dodgers led the way with 12 different pitchers to save a game, while even the Astros and Tigers at the bottom of the list still had 5 relievers earn at least one save.
Nevertheless, most teams will still name an official closer for the 2023 season. It's a longstanding tradition, and pitchers in the bullpen tend to feel more comfortable when they have a better understanding of their role. Closers make the game more exciting for fans too, as names like Edwin Díaz, Ryan Helsley, and Jordan Romano demonstrate. The magic of baseball is rarely stronger than in the moment when a star closer jogs out of the bullpen with the game on the line.
It's also exciting when a pitcher earns a closing job for the first time in his career. Whether he's a seasoned veteran or an up-and-coming young stud, earning the title marks a significant moment in his big-league journey.
Most managers have yet to formally name a closer for 2023, preferring to wait until spring training to do so. That being said, as rosters begin to crystallize, it's getting easier to predict who the choice for each team will be.
Among those in position to take on the closer's mantle are two relievers who have never held the job before. One is in his ninth MLB season, with more than 400 IP under his belt. The other is entering his third campaign and has yet to hit the 100 IP mark. Neither has ever led a bullpen before, so both have something to prove.
Trevor May
2022 Traditional Stats: 25 IP, 5.04 ERA, 1 SV, 0 BS, 6 HLD
2022 Advanced Stats: 3.87 FIP, 3.75 xFIP, 3.64 xERA
Trevor May became a full-time reliever in 2016 and broke out in 2018, posting a 3.20 ERA and 7.20 K/BB in 25.1 IP. He followed that up with three excellent seasons from 2019-2021, in which he appeared in 157 games and recorded 200 strikeouts.
Despite his excellent track record, May has never gotten more than four saves in a season. Overall, he is 12-for-21 in save chances since his debut. He does, however, have 65 career holds, and he ranked 13th among relievers with 41 holds from 2019-2021. He's a tried-and-true set-up man ready to take on the ninth inning.
In 2023, May should get ample opportunities to close. He signed a one-year, $7 million contract with the Athletics in December, making him the highest-paid pitcher on the team. He's also the most experienced player on the roster; with eight years of MLB service time to his name, he has more than twice as much big-league experience as anyone else on the pitching staff. Manager Mark Kotsay has yet to name a closer, but May is the best bet to land the role.
Alex Lange
2022 Traditional Stats: 63.1 IP, 3.41 ERA, 0 SV, 4 BS, 21 HLD
2022 Advanced Stats: 3.25 FIP, 3.23 xFIP, 3.29 xERA
Alex Lange made an excellent set-up man for the Tigers in his sophomore season. He finished third among AL relievers in appearances and ninth in strikeouts, and he improved upon his rookie campaign in almost every statistical category.
As the breakout star of the 2022 bullpen, Lange became the de facto closer when Gregory Soto was shipped off to Philadelphia. According to the Steamer and ZiPS projection systems, he has the lowest projected ERA of all Tigers pitchers. Although he doesn't have much experience, Lange looks like the most reliable option Detroit has.
However, manager A.J. Hinch has remained tight-lipped about who his closer will be.
"We'll have somebody close the game, I promise," he told members of the media, later adding, "I think those roles are going to have to sort themselves out."
For what it's worth, Lange was 0-for-4 in save opportunities last year, and he has just one save in seven chances for his career. Seven save opportunities is a minuscule sample size and doesn't reveal anything about Lange's skill or potential. However, given his negative experience closing games the past two years, Lange might enter 2023 with a chip on his shoulder. And who knows? Perhaps that will push him to even greater heights.