Analysis
Top 100 MLB Prospects By the Numbers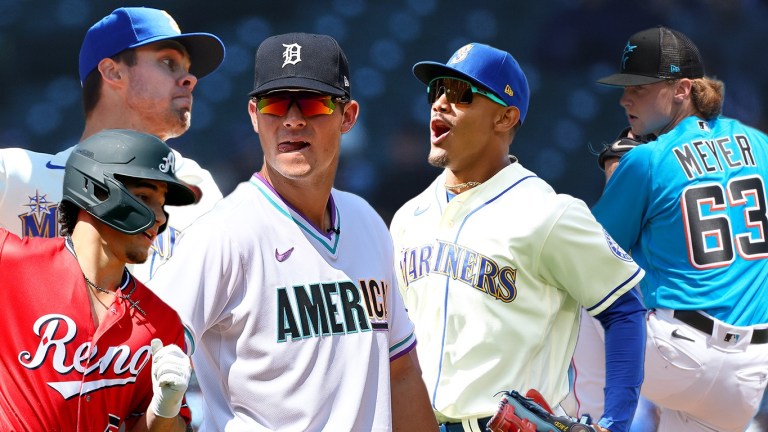 Earlier this week, we released our 2022 top 100 prospect list which featured detailed write-ups on each of the most exciting up-and-coming youngsters in baseball. Many players on this list were first round picks or prized international free agents, however a good portion of the 100 prospects signed for a fraction of the amount of their peers or were diamonds in the rough of their draft class. Let's take a look at our top prospect list by the numbers.
A Wave of Elite Catchers
It's no secret that finding well-rounded catchers at the big league level is extremely difficult. Catcher is such a demanding position that teams can often justify a lack of offense with phenomenal defense and game management skills. Overall, the catching position is relatively thin at the highest level, but that appears to be changing soon.
Of the 100 prospects ranked, 11 of them are backstops. Even more incredible, three of the top 10 overall prospects are catchers. Adley Rutschman (No. 3), Francisco Alvarez (No. 5) and Gabriel Moreno (No. 9) make up what is the most talented catching prospect trio in recent memory.
Last year's reigning home run champ in the minor leagues MJ Melendez checks in at No. 23, along with 2021's first overall selection Henry Davis checking in at No. 35.
Diamonds in the Rough
A top 100 prospect list is always going to be dominated by first round picks and bonus babies, however a large portion of our 2022 top 100 list features prospects who were signed for $300,000 or less.
With such a large talent pool to pull from all over the world, extremely talented players flying under the radar is almost inevitable. When it comes to international free agency, playing the percentages and signing as many high upside six-figure prospects as you can has become an approach many teams have taken and our top prospect list makes it easy to understand why.
Twenty of the 100 prospects on our list signed for $400,000 or less and eight prospects signed for less than $160,000. Some of the most notable bargains include: Gabriel Moreno ($25K), Elly De La Cruz ($65K), Ezequiel Duran ($10K), Brayan Bello ($28K), Edward Cabrera ($100K) and Endy Rodriguez ($10K).
Southpaws Are Still A Premium
There's a joke in baseball that left-handed pitchers never go away because they get so many opportunities. The reason why southpaws seem to get nine lives is that talented lefties are simply harder to find. Of the 27 pitching prospects on our list, only seven are left-handers.
With Mackenzie Gore and Nick Lodolo set to graduate from prospect status soon, that number could become even smaller.
In the last four years, only 11 left-handed pitchers have been selected in the first round of MLB's draft. Some have catapulted to the big leagues like Lodolo and Ryan Weathers, while guys like Asa Lacy, Zack Thompson and Jared Shuster have struggled out of the gate. Not only is identifying left-handed pitching talent difficult, but developing them can be a challenge as well.
A Large Graduating Class
The COVID-cancelled 2020 season delayed the development of most prospects and resulted in a bit of a "log-jam" on top 100 prospect lists. Many of the players on our list have either already debuted or are knocking on the door of a call up.
Fourteen players have already made their MLB debut, while 28 others are currently playing at the Triple-A level. It would not be outrageous to expect 20 of those 42 prospects to graduate from the list by the time our mid-season update goes live, opening up a fifth of the list to new names in the minor leagues. This is also a testament to the calvary of young talent making its way into the big leagues.
Loaded Systems
Organizations with six (6) top 100 prospects: Guardians, Dodgers and Mariners
Organizations with five (5) top 100 prospects: Reds, Pirates, Giants, Orioles and Yankees
The fact that eight teams can account for nearly half of the top 100 prospects in baseball is a testament to how much of an advantage strong scouting and development can provide a franchise. What the Mariners have built has to be the most impressive of all, boasting four top 50 prospects out of their six total and that is after trading away No. 54 ranked prospect Brandon Williamson.