Rankings
New York Yankees Top 10 Prospects
New York Yankees Top Prospects for 2021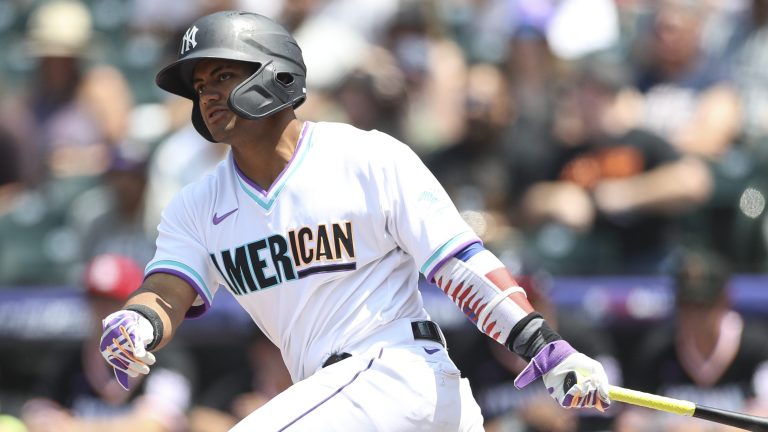 There may not be a system in baseball that had more players put together break out seasons than the New York Yankees. Even with the flurry of trades that Brian Cashman made at the 2021 deadline, this farm system is better off than it was heading into 2021. Here are the Top 10 Prospects after a big year for the Yankees Minor Leagues.
Age: 20 | Height/Weight: 5'11, 180 | Bat/Throw: R/R | 1st Round (30), 2019 (NYY) | ETA: 2023
| | | | | | |
| --- | --- | --- | --- | --- | --- |
| HIT | RAW POWER | GAME POWER | RUN | FIELD | FV |
| 55/60 | 45/55 | 45/50 | 50/50 | 45/50 | 55+ |
Offense
Relaxed and loose setup in the box with an advanced ability to use his lower half. Extremely whippy hands that allow him to make late decisions in the box. Volpe specializes in managing at bats because of his advanced feel for the strike zone and his ability to do damage on pitches over the plate. Perhaps Volpe's best attribute at the plate is his pitch recognition skills. He takes quality breaking balls out of the hand and can do significant damage when they're hanging.
He's also shown that he can adjust from pitch to pitch thanks to his ability to slow the game down in the box and barrel control. His bat to ball skills are tremendous and as he matures, he should be tough to strike out at the big league level (19% K-rate in 2021). While Volpe's raw power is above average at best, he's already shown that he can tap into it to his pull side and has shocked with his production this year (25 HR). Punishing hanging breaking balls over the left field fence could allow him to hit 20+ homers on an annual basis. Volpe's bat to ball and pitch recognition skills give him the profile of a high floor big leaguer capable of becoming an above average offensive force once his time comes.
Defense/Speed
Volpe's defensive tools are similar to his offensive ones; they aren't loud, but Volpe's instincts and feel for the game allow them to play up. He projects as an average shortstop thanks to his solid range and soft hands, however his average arm will likely keep him from becoming a true, impact defender at short. He is an average runner and will likely never steal a ton of bases, however, he should become a valuable baserunner thanks to his ability to make the most of his physical tools. Volpe's best position may be second base, where he could be an above average defender once fully developed.
Outlook
Volpe is a ballplayer plain and simple. You'd be hard pressed to find a hole in his game even if he hadn't launched 27 homers last season, but now it's hard to make any case against Volpe being anything but a top 15 prospect who balances a high floor and increasingly high ceiling.
Volpe's power was one of 2021's most pleasant surprises in the prospect world and 25+ homers at the big league level is a likely outcome for the Yankees top prospect. Pair the burgeoning power with an incredibly advanced feel to hit and you have one of baseball's most exciting prospects. Not to mention, he is only 20 years old. The Yankees have the future of their shortstop position and potentially a five-tool All Star in Anthony Volpe.
Age: 18 | Height/Weight: 5'10, 210 | Bat/Throw: S/R | IFA: $5 million – 2020 (NYY) | ETA: 2025
| | | | | | |
| --- | --- | --- | --- | --- | --- |
| HIT | RAW POWER | GAME POWER | RUN | FIELD | FV |
| 35/55 | 45/75 | 50/70 | 60/60 | 40/50 | 55+ |
Outlook
Starts somewhat upright from both sides of the plate, almost the exact same swing from both sides of the plate. Lots of moving parts both in the lower half as well as some with his hands. The load is slow and controlled, but he has a tendency to not know where his weight is in the lower half and his big, inconsistent leg kick leads to inconsistent timing. Has really struggled with quality fastballs thusfar in his limited career. On time for heaters roughly half the time and we think this is a big factor in regards to his 30% K-rate in Low-A.
Dominguez would greatly benefit from either toning down the leg kick or eliminating it altogether. With that being said, this is an 18-year-old with 200 minor league plate appearances who possesses arguably the most impressive toolset in all of the Minor Leagues. He looks like a bodybuilder already and all that muscle is full of quick twitch fibers. The bat speed is elite from both sides of the plate as is the ridiculous torque he can generate with his lower half when everything is in sync.
Dominguez already has plus-plus raw power, possessing the ability to do damage to all parts of any ballpark. It's too early to predict what kind of numbers he could produce, however, his power is so immense that it's hard not to believe he will hit homers in the big leagues one day. The hit tool is a big question mark, but Dominguez has shown flashes that he has solid bat to ball skills and lower half adjustability. His offensive ceiling is as high as any prospect in the minors, albeit with tons of variance regarding what kind of hitter he will ultimately become. 
Defense
Dominguez possesses ridiculous tools on the defensive side of the ball as well, starting with his plus speed that should allow him to generate a large amount of infield hits on an annual basis. His speed gives provides hope that he can stick in center, however Dominguez is very heavy on his feet at times, which affects his quickness to spots and routes. We haven't really seen a player with Dominguez's build also have plus speed, but right now his speed seems to be more straight line, lacking agility which can be seen on the base paths as well. Still, his plus-plus arm gives him a defensive toolset comparable to the best outfielders in the game today. Time will tell if his speed will translate to stolen bases, as he is so early in his development that he should have ample time to refine the smaller parts in his game that need to be ironed out. Dominguez has the opportunity to produce tons of value with his glove and legs if his footwork improves.
Outlook
Dominguez is the most interesting man in the Minor Leagues, as he possesses both an MVP-caliber ceiling as well as a mostly unknown floor. He truly is one of the highest variance prospects we've ever seen. Dominguez is still rough around the edges (as are all 18-year-olds) and he has tons of time to refine his game. He is polarizing in every way, and we are excited to see more of him as he progresses.
Age: 21 | Height/Weight: 6'0, 170 | Bat/Throw: R/R | IFA: $170K, 2017 (NYY) | ETA: 2022
| | | | | | |
| --- | --- | --- | --- | --- | --- |
| HIT | RAW POWER | GAME POWER | RUN | FIELD | FV |
| 50/60 | 50/55 | 40/50 | 60/60 | 55/60 | 55 |
Offense
Despite being younger than the average player of every Minor League stop he's been at, Peraza has held his own with both the bat and his glove along the way. 2021 has truly been a breakout season for Peraza, who is currently slashing .301/.364/.494 with 17 homers and 35 stolen bases in 103 games between High-A and Double-A. Not bad for a 21-year-old shortstop with a nasty glove. Peraza has a silky smooth right handed stroke that features a big, slow and controlled leg kick and a clean barrel path that stays in the zone for a long time. The swing takes extreme body control and athleticism that Peraza has a ton of.
He has good bat speed that allows him to produce above average raw power and he's starting to show he can get to it in games. Peraza also features a noticeable two strike approach in which he gets rid of the leg kick and looks to battle, similar to Bo Bichette. He'll need to continue to improve his knowledge of the strike zone as he moves up as he could stand to walk at a higher rate. The bat to ball skills are excellent and he has a real chance to become a plus hitter with solid power when all is said and done.
Speed/Defense
While Peraza isn't the most explosive athlete, he moves very well from side to side and has plenty of range at shortstop where he could become a plus defender. His plus arm strength allows him to make all the throws necessary and his hands are among the best in the Yankee system. His plus wheels should allow him to steal bases at the highest level and he has drawn high praise for his baseball IQ.
Outlook
Peraza's sweet swing from the right side and plus defnese at short make him a high probability big leaguer who has a chance to be an all star level talent, especially in Yankee stadium where his power would be allowed to play up. If he can improve his plate discipline and pitch recognition, we could see him in the Bronx before the end of the 2022 season.
4. Luis Gil – RHP – (MLB)
Age: 23 | Height/Weight: 6'2′, 190 | Bat/Throw: R/R | IFA: $90K (2015) – NYY | ETA: 2022
| | | | | |
| --- | --- | --- | --- | --- |
| FASTBALL | SLIDER | CHANGEUP | COMMAND | FV |
| 70/70 | 55/60 | 40/50 | 35/45 | 50 |
Arsenal
A hard throwing right-hander with electric stuff, Gil racked up whiffs at such a ridiculous rate through the upper minors that Yankees looked to him to help fill in for a beat up pitching staff. It was easy for Yankees fans to get excited about Gil when he was punching out almost 30% of big leaguers in his debut, affirming that his stuff is MLB quality, but 23-year-old has a ways to go with his command.
Gil's fastball is premium, sitting 95-97, occasionally touching triple digits. Thanks to the pitch's high spin and life, Gil is able to get a ton of swings and misses up in the zone as well as a lot of weak contact on the hands of righties.
The other potentially plus pitch Gil possesses is his slider. Sitting in the mid 80s and occasionally touching the high 80s, Gil's slider has sharp, late horizontal break making it effective sweeping away from righties and towards the back leg of lefties. Gil is better at commanding the pitch to his glove side, burying it under the hands of left handed hitters.
Gil's third offering is his changeup which is average with a chance to be above average. The changeup sits in the low 90s, which is probably too firm. At times, it looks more like a sinker given the pitch's high velocity and crazy arm side run, but he throws it with a changeup grip. As far as I've seen, the pitch operates best when closer to the upper 80's, giving him more separation from his fastball and allowing it to fade a little bit more. The fate of Gil's changeup probably coincides with the development of his overall command.
Outlook
Gil did make some improvements with his command in 2021, posting the lowest BB/9 in his career at the Double-A level (3.82). Once Gil earned his Triple-A promotion, the tighter strike zone started to compromise his ability to limit the free passes and the same rang true in the big leagues as he averaged nearly six walks per nine innings between the two levels.
When you have the kind of stuff that Gil has, the command only has to be fringe average to be a big league starter. Right now, his command is still comfortably below average and his mechanics need work. Gil is inconsistent with his landing spot and tends to fly open prematurely. As a result, his arm will either lag behind and he will miss arm side, or he will try to compensate and tug the ball into the dirt.
The good news is, Gil is a great athlete on the mound who has been able to compete with some shaky mechanics and a small tweak could make all of the difference. A pitcher with his kind of stuff is someone who is worth being more patient on. Gil's ability to at least mix in a third pitch is what gives me hope that he can remain in the starting rotation, but you just can't walk six batters per nine.
Gil's ridiculous fastball gives him a baseline that most pitcher's don't have and if his changeup can even be average along with fringe average command, you have an electric high strikeout starter who may be susceptible to the blow up start.
5. Everson Pereira – CF – (High-A)
Age: 20 | Height/Weight: 6'0′, 195 | Bat/Throw: R/R | IFA: $1.5M (2017) – NYY | ETA: 2023
| | | | | | |
| --- | --- | --- | --- | --- | --- |
| HIT | RAW POWER | GAME POWER | RUN | FIELD | FV |
| 35/50 | 50/55 | 40/55 | 55/55 | 50/60 | 50 |
Offense
Pereira was yet another example of a Yankees prospect taking his game to the next level in 2021, especially in the power department. Pereira added muscle during the layoff and it was evident in his batted ball data. After producing just five homers in his first 59 professional games between 2018 and 2019, Pereira exploded with 20 homers across all levels this season.
I was really impressed with the jump Pereira was getting off of the barrel when I watched, he had no problem leaving the yard to dead center and even opposite field. The 20-year-old posted exit velocities over 110 MPH on several occasions without a ton of effort in his swing.
Pereira starts with his weight already staked on his back side a bit, made evident by his front foot mostly being up on his toes. This likely serves as a reminder to stay in his back side, which he does a really good job of. The right-handed hitter deploys a bit of a leg kick that is more of a gather than anything to continue that weight shift into his back hip.
You can really see Pereira's athleticism make itself known in the batter's box with how explosive his lower half is and his twitchy bat speed. He is short and quick to the ball, able to turn on high end velocity in spots where big league hitters even struggle to get to. Whether it's turning around 96 up and in or making a late swing decision on something on the outer half, Pereira can get the bat there and drive it with authority to all fields.
There's some swing and miss concern (27.6 K% in 2021), but to me it seems to be more approach than anything. Pereira's swing and unteachable bat speed allows him to get to pitches many can't, when he is going wrong it seems to be more just over aggressiveness. Like many young hitters, Pereira would find himself going to get breaking balls and getting out of his base a little bit. Given his already demonstrated ability to let the ball travel and drive it to all fields when he is going right, I expect him to iron this out–especially when you consider the fact that he had no experience above short season ball prior to this season.
Defense/Speed
Pereira was closer to a plus runner when he was first signed, but since putting on weight is more of a 55 grade runner–still conformably above average. I have been really impressed with everything I saw from Pereira in centerfield and think he can be a well above average defender out there. He gets fantastic jumps on the ball and takes efficient routes while possessing an above average arm. I have little doubt that Pereira will stick in center.
Outlook
Not only is Pereira the most underrated prospect in the Yankees system, but he is arguably one of the more underrated prospects in baseball. The power he has already put on display at 20-years-old coupled with a high staying probably in center has me scratching my head as to why he is not considered a consensus top five prospect in the Yankees system. Swing and miss is the concern for some, but as I explained in the offensive portion of the write up, his at times inconsistent contact rate is not alarming to me given his limited experience and age.
If Pereira matures the way I think he is capable of at the plate, I see a combination of power and defense in centerfield that could make him one of baseball's more exciting prospects very soon.
6. Ken Waldichuk – LHP – (Double-A)
Age: 23 | Height/Weight: 6'4′, 220 | Bat/Throw: R/R | 5th Round (165) – 2019 (NYY) | ETA: 2022
| | | | | | |
| --- | --- | --- | --- | --- | --- |
| FASTBALL | Curveball | SLIDER | CHANGEUP | COMMAND | FV |
| 55/60 | 55/55 | 50/55 | 45/50 | 40/45 | 50 |
Arsenal
One of the Yankees biggest breakout pitching prospects in 2021, Ken Waldichuk piled up strikeouts in bunches behind a four pitch mix with build in deception. Waldichuk stands at 6-foot-4, 220 pounds and generates a ton of extension from his high three quarters release. While his stuff may not jump off the page pitch profile wise, it looks like it is coming out of a slingshot with the way he hides the ball. There are some similarities with Trevor Rogers in the way that Waldichuk's funkiness makes for a miserable at bat.
Waldichuk's heater sits in the low 90s, but is a high spin pitch averaging over 2400 RPMs which allows it to play up at the top of the zone. The fastball gets in on hitters really quickly, exploding out of his tough release point.
Waldichuk has a pair of above average breaking balls that he utilizes well. His sweeping curveball lives in the upper 70s and is a pitch that he likes to bury to set up his elevated fastball, but when his command is on he can backdoor righties with it. The slider is more of a sweeper in the low 80s which he throws more frequently to left-handed hitters. Think of every pitch building off of his seemingly invisible fastball because that is what the hitter is thinking about. As lefties are geared up for a fastball with life, Waldichuk will sling the slider resulting in some of the ugliest swings and misses from incredibly talented hitters. That told me all I needed to know.
The changeup is a pitch that I think will continue to play up as Waldichuk learns to command it. Trevor Rogers earned average grades on his changeup in the Minor Leagues due to the pitch profile, but as his fastball ticked up and his command improved, his changeup became his best offering because of the respect the hitter has to give to the fastball. Waldichuk understands that and uses his changeup more to right handed hitters who often times can't tell that it isn't the fastball until it's too late. Even if the changeup is an average pitch, it will play up.
Outlook
The more I watch Waldichuk throw the more confident I am in his longterm ability as a starter. There are still some command issues to iron out, but when guy is recording swinging strikes at a 15% clip on your fastball and have a feel for three other offerings, it's hard to not get excited. I think the stuff is pretty darn close to big league ready with the missing piece just being some room for improvement in the command department.
7. Trey Sweeney – SS – (Low-A)
Age: 21 | Height/Weight: 6'4′, 200 | Bat/Throw: L/R | 1st Round (20) – 2021 (NYY) | ETA: 2024
| | | | | | |
| --- | --- | --- | --- | --- | --- |
| HIT | RAW POWER | GAME POWER | RUN | FIELD | FV |
| 45/55 | 50/55 | 40/50 | 50/50 | 45/50 | 50 |
Offense
Drafted 20th overall in this year's MLB Draft, the Yankees loved Sweeney's polish at the plate and overall instincts for the game. Sweeney flew up the draft boards after a monster junior season to cap off an impressive track record of flat out hitting at Eastern Illinois.
Sweeney took home the Ohio Valley Conference Player of the Year Award with ease after hitting .382/.522/.712 with 14 homers in 48 games. Had Sweeney played in the Cape and presumably performed, we may be looking at a top 10 pick, but he played in the Coastal Plains League instead prior to his junior season, where he hit .397 with an OPS of 1.157.
It became evident that Sweeney was more than just a guy beating up on mid major pitching after his professional debut with the Yankees. Sweeney put his pure hitting ability on display in Low-A, posting an .875 OPS with six homers and just a 22% K-rate in 29 games. The left-handed hitter has a great feel for the strike zone and attacks the right pitches. Pair that with fantastic bat to ball skills and you have a comfortably above average hit tool.
All that said, Sweeney could make some adjustments to his swing to make things a bit easier timing wise. He has an aggressive leg kick that coincides with a bit of a hitch in his load that I would assume has been something he has done forever. It obviously has worked for him, but could be a bit of a challenge as he starts to see pitchers with three distinct speeds and better command. Though I am already very confident in his offensive profile, a slight tweak to his pre-swing movements will only make things easier for him as he presumably climbs the minors quickly compared to his peers.
Defense/Speed
The instincts that we see with Sweeney in the batter's box can be seen up the middle at shortstop as well. Sweeney moves well and makes all of the plays he needs to make. He has quick enough feet and the actions to stay at the position along with a solid arm. While he may not be the flashiest shortstop, I think he is a safe bet to stick at short.
Not quite a burner, Sweeney is a good athlete given his 6-foot-4 stature. He is a smart baserunner who will opportunistically swipe bags and make good reads on balls in play. Even if he slows down to an average runner, he will be a net positive on the base paths.
Outlook
Sweeney is a high floor prospect who can do a little bit of everything; it really is hard to poke a hole in his game. Left-handed hitting shortstops with 25+ home run pop and staying power at the position just don't grow on trees. If Sweeney irons out the small bumps in his swing, I would consider him one of the safest bets in the Yankees system to achieve close to what Yankees fans are hoping for. With his build, profile, and makeup, I can't help but see a Corey Seager lite.
8. Oswaldo Cabrera – 2B/SS – (Triple-A)
Age: 22 | Height/Weight: 5'10′, 150 | Bat/Throw: R/R | IFA: $100K (2016) – NYY | ETA: 2022
| | | | | | |
| --- | --- | --- | --- | --- | --- |
| HIT | RAW POWER | GAME POWER | RUN | FIELD | FV |
| 35/50 | 40/50 | 40/50 | 55/55 | 50/60 | 45+ |
Offense
Oswaldo Cabrera may just be the most interesting man in the Yankees system. An unimposing build at just 5-foot-10, 150 pounds, Cabrera was seen as more of a contact oriented utility man profile heading into the 2021 season. The 22-year-old added some strength prior to the season and focused on getting the ball in the air more. As a result, Cabrera launched 29 homers, putting him second in the organization in that department behind only Dermis Garcia.
A switch-hitter, Cabrera is far, far better from the left side. Across all levels, Cabrera's OPS was about 350 points higher when hitting from the left side. The good news is, switch hitters generally accumulate between two and three times the plate appearances from the left batter's box, however when the discrepancy is that large, you can't help but wonder if it's even worth it.
Cabrera's left-handed stroke is incredibly smooth and built for backspin. He starts slightly open with his bat on his shoulder before using a smooth leg kick to gather. You can really see Cabrera store that energy in his lower half before uncorking on the baseball with impressive raw bat speed and a powerful base.
Given his plus bat speed, great use and control of his body, and easy carry that his swing generates, I think that Cabrera can produce consistent power numbers despite his slender build. After all, Ozzie Albies was given power grades well below average throughout his career in the minors, but when athleticism met a great swing path and body control, one of baseball's best pound for pound power hitters emerged.
Defense/Speed
Cabrera moves well and has the arm to play shortstop, but could be a plus defender at second base. He has the versatility to play the hot corner as well if needed, making the super-utility profile intriguing. While he is a slightly above average runner, Cabrera is aggressive on the base paths and has a lot of confidence in his jumps. Cabrera stole 31 bases last year with 21 of them coming in the upper levels.
Outlook
I think the ability to hit for power is real for Cabrera from the left side. I'm not a fan of his right-handed swing and think that scratching it similar to how Cedric Mullins did ahead of his monster season in 2021 might not be a bad idea. Cabrera has an aggressive approach that will likely keep is on base percentage down a bit, but that also helped him run into some more homers in 2021.
As Cabrera matures, I expect him to find the spots to be more aggressive rather than an overall aggressive approach in all counts. If he is able to get on base at a bit higher of a clip, there is plenty to like with Oswaldo Cabrera. I see either a high slugging second baseman who can pick it well or a rare super-utility guy with sneaky pop as the potential positive outcomes for him.
9. Austin Wells – C/1B – (High-A)
Age: 22 | Height/Weight: 6'2′, 220 | Bat/Throw: L/R | 1st Round (28) – 2020 (NYY) | ETA: 2023
| | | | | | |
| --- | --- | --- | --- | --- | --- |
| HIT | RAW POWER | GAME POWER | RUN | FIELD | FV |
| 40/55 | 55/55 | 45/55 | 45/45 | 30/40 | 45+ |
Offense
Similar to the Trey Sweeney selection in 2021's draft, the Yankees went with another high-floor college bat in 2020's first round by selecting Austin Wells 28th overall out of Arizona. Wells mashed from the second he stepped foot on campus in Tuscon, hitting .353/.462/.552 as a freshman. That big first year earned Wells an opportunity to compete as one of the youngest players in the Cape Cod League where he did not disappoint, posting a similar slash line.
Wells has a simple, upright set up with a bit of a slow leg kick that leads into a really smooth swing. While there is not a ton of violence in his stroke, Wells produces some easy power thanks to his big strong frame and great feel for the barrel. Again similar to Sweeney–dating back to his college days, one of the most impressive things about Wells is his feel for the strike zone. Wells walked more than he struck out in his collegiate career and recorded an impressive 15% walk rate in his first professional season.
While the K's did spike a little bit in High-A for Wells, his production did not relent and he still offset the strikeouts with walks. Wells is a guy who adjusts as he progresses and I don't expect the strikeouts to be much of an issue moving forward.
Defense/Speed
If Wells were even an average catcher, he would probably be a top 100 prospect, but unfortunately I think his days are numbered back there. The Yankees have not experimented with him at any other position, however even in the Cape Cod League, many scouts wanted to see Wells at first base and outfield. While is arm is solid, Wells doesn't move great behind the dish, his receiving is a problem and he let 16 passed balls go by this season in 70 starts.
The good news is, Wells moves pretty well for a guy of his build and could accommodate a move to corner outfield. I mean, Kyle Schwarber did it. First base could be an option for Wells too, which I actually thought he looked pretty solid at in the Cape.
Outlook
With Austin Wells, the bat is the prize, however I have a lot of confidence in his bat. A sound approach with a good feel to hit and above average power plays anywhere, but will really play in Yankee Stadium–especially for a left-handed hitter. High on base with solid power numbers from the corner outfield outfield or first base is likely the outcome I think Yankees fans should be hoping for. Though it's not the most exciting outcome in the world, his high probability of reaching it makes him a top 10 prospect.
10. Hayden Wesneski – RHP – (Triple-A)
Age: 23 | Height/Weight: 6'3′, 210 | Bat/Throw: R/R | 6th Round (195) – 2019 (NYY) | ETA: 2022
| | | | | |
| --- | --- | --- | --- | --- |
| FASTBALL | SLIDER | CHANGEUP | COMMAND | FV |
| 60/60 | 55/60 | 45/50 | 45/50 | 45+ |
Arsenal
When it comes to pure pitching performance in 2021, there were few arms in the Yankees system better than Hayden Wesneski. The right-hander saw his fastball tick up to the mid 90s ahead of the 2021 season and the quality of his stuff with it.
Wesneski's heater lives in the 94-96 range, topping out at 98 with major arm side run. He also has a two seamer that has even more ridiculous arm side run and he will bury it in on the hands of righties often. The tailing fastball sets up his above average slider really well. The slider is in the low 80s, but Wesneski will throw it a bit harder at times and manipulate it to more of a cutter in the high 80s.
Wesneski's third offering is his changeup. Unsurprisingly, the pitch moves a ton horizontally to his arm side and when he commands it, it is an above average offering fading away from lefties.
Outlook
I really like the way that Wesneski's running fastball and slider work off of each other and his feel for a changeup gives him staying power in the rotation. The 6-foot-3 right-hander has above average command and projects as a solid back end of the rotation arm who could be big league ready as soon as next season.
Other Names To Watch
Elijah Dunham – OF – (High-A): Don't let the "undrafted" label fool you, this guy can play. A victim of the 2020 shortened draft, the Yankees scooped up Dunham as an undrafted free agent for $20K out of Indiana University. Dunham enjoyed a really solid first professional season and has been fantastic in the Arizona Fall League. With plus speed, sneaky pull-side pop and great bat to ball skills, Dunham is a name to watch in this system.
Luis Medina – RHP – (Double-A): I am prepared to hear it from Yankees fans on Medina not cracking the Top 10, but I find myself just trying way too hard to get excited about his outlook. After seeing him on several occasions, the fastball just doesn't quite play up the way you would expect a triple digits heat to. His command has not really improved much and I don't love the changeup. All that said, he still throws 100 MPH with a plus curveball but I think the hope is a Jonathan Loaisiga or Dellin Betances outcome in the most likely scenario.
Alexander Vargas – SS – (Complex): A 20-year-old speedster with intriguing tools across the board, Vargas has the potential to make the biggest leap in the system come next year. Like many young hitters, his swing is inconsistent, but he made some solid progress in the Complex League that has the Yankees brass excited about what is to come.
Anthony Garcia – OF – (Low-A): Another switch-hitting Yankees prospect with freakish tools? Of course. Garcia just turned 21 years old and stands at 6-foot-5, 205 pounds. He has already put up exit velocities over 110 MPH and homers that have disappeared into the night. There's a lot of moving parts to Garcia's swing and he did strike out more than 30% of the time last season, but his potentially prolific raw power from both sides of the plate is too much to ignore. The dude hit 14 homers in 39 games…
Beck Way – RHP – (High-A): I saw a lot of Beck Way in the Cape Cod League and there is a ton to like with this big right-hander. Way sits in the mid 90s with his fastball that has big time arm side run. Similar to Wesneski, Way's fastball sets up his plus slider really well–opponents hit below .100 against the offering. Way has closer stuff and despite some struggles in High-A at the end of the year, could be a really intriguing arm to follow.