Rankings
Seattle Mariners Top 10 Prospects
The top 10 Seattle Mariners prospects for 2021.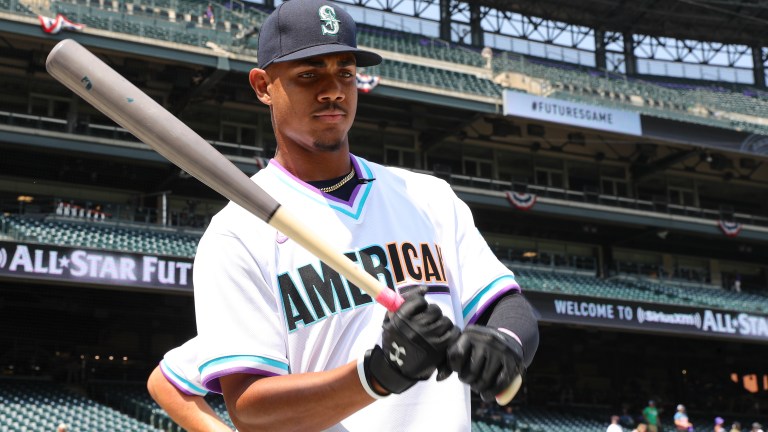 The Mariners system is one of if not the best in baseball. With star power at the top, and steady depth, there is a lot to be excited about in the years ahead for Seattle. The Mariners have seemed to fast track their rebuild, playing competitive baseball in 2021. Several of the organization's most elite prospects could debut by next season, along with others not far behind. Let's get into it!
Age: 20 | Height/Weight: 6'2′, 220 | Bat/Throw: R/R | IFA: $1.75 million, 2017 (SEA) | ETA: 2022
| | | | | | |
| --- | --- | --- | --- | --- | --- |
| HIT | RAW POWER | GAME POWER | RUN | FIELD | FV |
| 50/65 | 60/70 | 55/65 | 55/50 | 45/55 | 65+ |

Offense
Extremely advanced right handed swing, slight weight transfer in the lower half allows him to use it to its full potential. Slow and controlled load where his front foot lands very softly and consistently gets in a great launch position. Hands are extremely fast, and he produces top of the scale bat speed which leads to impact power to all parts of the field. Rodriguez probably has another 10 pounds of muscle to add to his frame, leading to the belief that he'll grow into 70 raw power. J-Rod controls the strike zone extremely well, and thus far in his career his ability to identify breaking balls has been one of his bigger strengths. Advanced approach allows him to drive fastballs in the oppo gab with authority, while driving hanging breaking balls with lift to his pull side. Line-drive machine. His quiet mechanics combined with his plus pitch recognition should give him a chance to put up an OPS over .900 on an annual basis, while also hitting 30-35 home runs.
Defense/Speed
Rodriguez is a terrific athlete for his size, and he currently posts above average run times to first base while also playing a competent center field. As his body matures, he may add some weight and lose a step, and he has the plus arm that suits him perfectly in right field. He takes naturally good routes to the baseball, and his makeup and work ethic are lauded upon by members of the Mariners front office. So despite a relative lack of speed, his athleticism and work ethic lead to an above average projection as a right fielder.
Outlook
Rodriguez's offensive ceiling rivals that of any prospect in minor league baseball. His advanced approach, incredible natural hitting tools, and plus makeup make it easy to believe that he will be an impact major leaguer sooner rather than later. It would not surprise me at all if he plays his way into the Mariners lineup by the time 2021 comes to a close, and it's not out of the question that Rodriguez is the best player on the Mariners 2021 roster.
Age: 19 | Height/Weight: 6'1′, 180 | Bat/Throw: R/R | IFA: $1.55M (2018) | ETA: 2023
| | | | | | |
| --- | --- | --- | --- | --- | --- |
| HIT | RAW POWER | GAME POWER | RUN | FIELD | FV |
| 35/50 | 50/60 | 45/55 | 60/55 | 40/50 | 60 |
Offense
Really good athlete. Broad shoulders and projectable lower half should lead to plus raw power in the future. Simple right handed swing with the ability to miss the barrel and still produce pull side power. Marte's swing path and body control should enable him to drive the ball to the opposite field with authority as his body continues to mature. Above average current bat speed and more to come. Solid approach at the plate, producing a 12% walk rate in Low-A against a 22% K-rate.
Defense/Speed
Current shortstop, but comes with questions of staying there long term. Marte has quick feet, but the angles he takes to the ball are poor and he will lose a step or two of range as he fills out. He projects as a below average fielder at short, however a move to third seems to be in his future and he profiles as an above average defender there. He is a plus runner presently, but will almost certainly lose a step with the weight he will gain.
Outlook
Marte has a high offensive ceiling and when combined with his ability to play the left side of the infield, him an extremely exciting outlook. Like Marco Luciano, Marte earned an aggressive promotion to High-A where his numbers have dipped a little, but Marte's at-bats have actually looked more comfortable. Still just 19-years-old, Marte is just scraping the surface of his offensive ability. 30 home runs along with impressive athleticism should give him a chance to be a multi All-Star, but like many of the young prospects on this list, we'll have to see how he handles higher quality stuff.
Age: 23 | Height/Weight: 6'4′, 215 | Bat/Throw: R/R | 1st Round (20), 2018 (SEA) | ETA: 2022
| | | | | | |
| --- | --- | --- | --- | --- | --- |
| FASTBALL | SLIDER | Curveball | CHANGEUP | COMMAND | FV |
| 60/65 | 40/45 | 50/60 | 45/55 | 60/70 | 60 |
Arsenal
High ¾ arm slot with a short arm action. Fastball has been 90-94 in the past, but was reportedly touching the upper 90's at the Mariners alternative camp. It has some ASR and sink, but the added velocity is huge for his long term value, as his fastball can become hittable at times. With that being said, a version of Kirby sitting in the mid 90's is terrifying given his incredibile command of the pitch. He can robotically locate it to his glove side, even better than most major leaguers. He can also locate it to his arm side at an above average clip, giving his fastball command a rare chance of being elite.
Kirby's curveball is his best secondary offering, flashing plus with it's lower 80's velocity. It has hard, late bite with it's 11-5 action, and it's his go-to pitch for whiffs. He can already bury it for strikeouts, as well as throwing it for strikes at will.
His slider gives him another quality breaking ball despite it's lack of current depth. It sits in the mid to upper 80's and has solid horizontal movement at the expense of not much drop. Like the first two pitches in his arsenal, he can throw it for strikes whenever he wants. He uses it to steal strikes and produce weak contact against right handed hitters, but as of now it doesn't project to miss a lot of bats.
The changeup is the only pitch in his arsenal that lacks average current command, but the drop and ASR on it give it the potential to be another above average offering. It sits in the mid 80's, and he uses it mostly against left handed hitters in even counts. As he develops the pitch, it could become a soft-contact inducing machine, capable of producing lots of groundbal rollovers.
Outlook
Kirby is the rare type of prospect who has both a high floor and a high ceiling. His increased fastball velocity combined with his potentially elite command, give him the floor of a 3-4 starter capable of eating innings while excelling at producing soft contact. If he's able to further refine his changeup and slider, Kirby has the potential to have four distinct speed differences, as well as multiple weapons to both induce soft contact and miss bats. If he's able to accomplish this, Kirby has the ceiling of a number two starter, and an outside chance of becoming an ace.
Age: 22 | Height/Weight: 6'4, 220 | Bat/Throw: R/R | 1st Round (6), 2020 (SEA) | ETA: 2023
| | | | | | |
| --- | --- | --- | --- | --- | --- |
| FASTBALL | SLIDER | CURVEBALL | CHANGEUP | COMMAND | FV |
| 60/60 | 55/60 | 45/55 | 50/55 | 40/55 | 55 |
Arsenal
A true power pitcher, Hancock has electric stuff and the body to support it. The 6'4, 215 pound righty deploys a fastball that sits in the mid-90s with heavy armside run. It naturally plays well down in the zone, resulting in a high rate of ground balls, but Hancock can also use the pitch to tie up right handed hitters. The tailing action of his heater overlays well with his slider that has flashed plus. Hancock has showed a level of comfort commanding the fastball to his arm side to set up the slider. The right-hander struggles at times to locate to his glove side, resulting in his fastball tailing back over the middle. The better secondary offering from Hancock so far in his near 50 professional innings has actually been his changeup, which also flashes plus.
Hancock is comfortable throwing the pitch to lefties and righties, but the late fade that he generates on the pitch makes it a nightmare for left handed hitters who are hitting .100 (6 for 60) against him this year. While his changeup is ahead of the slider right now, it would not be a surprise to see the latter catch up as we have seen flashes of a wipeout pitch. Hancock will also mix in an average curveball giving him a solid fourth offering.
Outlook
Regarded by many as the pitcher with the best pure stuff in the 2020 class, Hancock has lived up to the bill in limited action. Shoulder discomfort has kept him from a full season, but his physical body and strong mechanics give him a good chance to sustain the duration of a baseball season. Like many young pitchers, Hancock's command has waned at times, but it is not a major concern. In fact, I expect him to have above average command as he progresses. Hancock is a power arm with a good feel for his pitches, that generally is a fantastic combination for an impact starter.
Age: 22 | Height/Weight: 6'6, 210 | Bat/Throw: L/R | 2nd Round (59), 2019 (SEA) | ETA: 2023
| | | | | | |
| --- | --- | --- | --- | --- | --- |
| FASTBALL | SLIDER | CURVEBALL | CHANGEUP | COMMAND | FV |
| 55/55 | 50/55 | 60/65 | 45/50 | 45/55 | 50 |
Arsenal
Standing at 6-foot-6 with long levers, Williamson creates a deceptive, downhill plane from his high release point. Williamson's fastball sits 92-94 MPH, but plays up thanks to the aforementioned deception. Another big reason why Williamson's fastball plays up is the way it works off of his plus curveball. Williamson's downer curve has sharp 11-5 break from the same high release point. The two pitches work off of each other beautifully, reminiscent of a firmer Rich Hill bender. The vertical break of the curve allows it to work against both lefties and righties.
Williamson's changeup and cutter are vying to stand out as his third offering with both flashing above average. Williamson commands the cutter better to his glove side, making it an effective pitch to bore in on right handed hitters. The changeup has been inconsistent at times, but the pitch has a chance to be above average thanks to the deception that he creates with his delivery and the pitch's fade when he gets on top of it. While Williamson's command is presently average, he does not exhaust a ton of effort in his delivery and has even simplified his mechanics a bit since college; the southpaw showed great command in several individual outings last year including his final two starts of the season. I expect the command to develop to above average.
Outlook
A plus curveball, above average fastball and viable third and fourth offerings bode well for Williamson's chances to become a No. 3 or No. 4 starter in the big leagues; the natural deception the southpaw is able to generate only furthers that notion. The depth and vertical break on Williamson's curve makes it effective to both lefties and righties, giving him steady splits as well. At 6-foot-6, 210 pounds, I am still holding out hope that Williamson can see a bit of a velocity bump in the future. Still, the southpaw has been able to generate a ton of swings and misses (14 K/9) between High and Double-A. Williamson is no doubt a name to watch for the Mariners and could be big league ready by next year.
Age: 23 | Height/Weight: 6'1, 170 | Bat/Throw: R/R | 4th Round (113), 2019 (SDP) | ETA: 2022
| | | | | | |
| --- | --- | --- | --- | --- | --- |
| FASTBALL | SLIDER | CURVEBALL | CHANGEUP | COMMAND | FV |
| 60/60 | 70/70 | 45/45 | 45/55 | 40/50 | 50 |
Arsenal
Brash sits 94-96 MPH on his fastball, topping at 101, along with an assortment of secondary pitches. Containing somewhat of a reliever risk profile due to some injury concerns and the fact that his best out pitch is a wipeout slider, Brash has quelled those concerns thanks to his improved command and ability to mix in a changeup and curveball.
Throwing from a three-quarters arm slot, Brash is able to create a ton of deception and repeat his release point well. Brash's fastball has good arm side run, generating a difficult opposite action from his sharp slider. A big development for Brash has been the feel for his changeup, which he will mix in enough for left-handed-hitters to think about. From that same release point, it can be difficult to pick up, especially when you are geared up for an upper-90s heater. Just when a left-handed hitter is thinking about pitches tailing away from him, Brash has no hesitance when it comes to using his slider to back leg a lefty.
Outlook
Brash's ability to carve up lefties leaves me even more optimistic about the long term rotation outlook. If anything, Brash is actually a reverse splits guy, but righties haven't had success against him either. The Niagara University alum has held lefties to a slash line of .125/.238/.232 and righties to .224/.323/.304. While the three aforementioned pitches would be enough for Brash to have success, he mixes in a curveball that will often steal strikes early in the count, and offer another look as well. Brash has the stuff to be a high strikeout mid-rotation arm with the fallback of a lights out back end reliever. I have enough optimism in his secondaries and improving command to maintain a starter's projection, but he could slot into a big league bullpen tomorrow if the Mariners wanted him to.
7. Harry Ford – C – (Complex Level)
Age: 18 | Height/Weight: 5'10, 200 | Bat/Throw: R/R | 1st Round (12), 2021 (SEA) | ETA: 2024
| | | | | | |
| --- | --- | --- | --- | --- | --- |
| HIT | RAW POWER | GAME POWER | RUN | FIELD | FV |
| 35/50 | 50/60 | 40/60 | 65/55 | 40/50 | 50 |
Offense
One of the most dynamic players in the 2021 Draft, mock drafts had Ford going as high as the top five and as low as the twenties; the athletic catcher wound up somewhere in the middle, selected 12th overall by Seattle. The track record of high school catchers is a brutal one, so brutal that teams often stay away from them in the early parts of the first round. Ford, however, is an exception thanks to his unparalleled athleticism from the catching position.
At a physical 5-foot-10, 200 pounds, Ford generates impressive bat speed contributing to his plus raw power and already impressive game power. Ford scrapped the leg kick in favor of a toe tap which has helped him catch up to higher velocity and has not come at the expense of any power. Ford has a great feel for the barrel and is able to get to a lot of difficult pitches thanks to his lightning quick hands.
Defense/Speed
Ford has the makings of a five tool catcher. Does that look as weird to you as it does to me? Five tool catcher? But seriously, he has speed, raw power, and the athleticism to excel at several different positions in the field. The plan is for Ford to catch and he looks to have a chance to stick. Unsurprisingly, he moves well and is get to difficult pitches to block. His receiving is better than I thought it would be and his arm looks to be average. Should Ford not be able to stay at catcher, his athleticism would allow him to play center field and potentially play it well. Or he could do a little of both like Daulton Varsho. From what I've seen, Ford is quick enough to steal 30 bags.
Outlook
Projecting a player as unique as Harry Ford is difficult, but for nothing but good reasons. If Ford struggles behind the dish like many of his high school catching predecessors, he has a really exciting bat and plus speed to fall back on, essentially hedging any of the risk that comes with drafting a high school backstop. If Ford is able to stay at catcher, he could be one of the most dynamic prospects we have seen in a while. It is worth wondering if moving Ford to center field would be better for the longevity of his career and overall value; especially if the 18-year-old isn't providing value with his glove.
As a plus runner, years squatting at catcher would likely sap some of his explosiveness and speed, which is going to be a big part of his value. The Daulton Varsho type of mold could make a lot of sense for Ford and preserve his long term health. Catch a few days per week, play the field the other days. Ford's bat also comes with more upside than Varsho. If Ford continues to develop, he could be a perennial 20/20 candidate with an outside shot at some 30/30 seasons. I expect him to be solidly in our Top 100 list this coming season.
Age: 23 | Height/Weight: 6'1, 205 | Bat/Throw: L/R | 2nd Round (43), 2020 (SEA) | ETA: 2023
| | | | | | |
| --- | --- | --- | --- | --- | --- |
| HIT | RAW POWER | GAME POWER | RUN | FIELD | FV |
| 45/55 | 50/50 | 40/50 | 55/55 | 45/50 | 45 |
Offense
Deloach is yet another player who axed the leg kick in favor of a toe tap which helped him be on time, while having more control of his lower half. DeLoach made the switch after a down sophomore season at Texas and saw big results in the Cape Cod League where he edged out Nick Gonzales for the batting title. The left-handed hitting outfielder has a sweet swing that is more geared for gap to gap power, but has 20+ homers in the tank. Deloach picks his spots well to try to do damage and has a really patient approach, backed by his 12% walk rate between High and Double-A.
Defense/Speed
A solid defender in either corner, Deloach moves well and has an average arm. The 23-year-old takes good routes to the ball and profiles as an above average glove in either corner. An above average runner, Deloach will likely sneak in 10-15 stolen bases and track down balls in the outfield that some other corner outfielders can't.
Outlook
Deloach is a high floor prospect with a really good chance at becoming an average regular. For those who like comps, the former Aggie reminds me a lot of Nick Markakis. After hitting his way to Double-A midseason, Deloach has expedited his timeline to a big league call up and could be ready as soon as the end of next season. After watching Deloach for a full summer in the Cape, I had long maintained that he would be one of the 2020 Draft steals and he has been just that. His feel to hit and steady tools across the board should have Mariners fans very confident that they have an MLB player in some capacity in Deloach.
Age: 20 | Height/Weight: 6'0, 170 | Bat/Throw: R/R | 2nd Round (64), 2020 (SEA) | ETA: 2023
| | | | | | |
| --- | --- | --- | --- | --- | --- |
| FASTBALL | SLIDER | CURVEBALL | CHANGEUP | COMMAND | FV |
| 60/60 | 40/50 | 55/60 | 40/45 | 35/45 | 40 |
Arsenal:
Great raw stuff but inconsistent mechanics, Phillips was drafted as a high upside project who lacked pitchability. Phillips has fit the bill for better or worse this season, demonstrating an electric fastball that can reach the upper-90s and a curve that flashes plus. The 20-year-old righty has shown a two plane slider that has the potential to be an above average pitch, but he struggles to control it; Phillips' changeup has lacked consistency as well. When Phillips is on, he is as hard to hit as any High-A arm. The issue for Phillips has been repeating his mechanics, which is something that the Mariners will likely continue to hone in on with their recently drafted arm.
Outlook
Phillips pretty much embodies the profile of a young power arm with reliever risk, however his first professional season did not hurt his chances to remain a starter. The 20-year-old showed flashes of decent command in several outings, giving us a taste of what he can be capable of when everything clicks. I have liked what I have seen from Phillips slider when he has a feel for it, which could give him a solid third offering as well as the changeup. The lively fastball he possesses and sharp, late breaking curveball are a fantastic 1-2 punch which would be enough to be a back end bullpen arm. For now, the Mariners will try to clean up Phillips' mechanics and keep him in the rotation.
Age: 20 | Height/Weight: 5'11, 180 | Bat/Throw: L/R | IFA: 2017 (SEA) | ETA: 2023
| | | | | | |
| --- | --- | --- | --- | --- | --- |
| HIT | RAW POWER | GAME POWER | RUN | FIELD | FV |
| 35/45 | 50/55 | 40/50 | 40/40 | 40/45 | 40 |
Offense
Upright stance with a tap trigger into a leg kick which helps him get into his back side, but also could be harder to time against upper level pitching. Rodriguez has a swing geared for power and lift and has displayed some plus exit velocities. Sent over to Seattle in the Taijuan Walker trade, Rodriguez was said to have frustrated the Blue Jays by showing up to camp out of shape. Rodriguez changed that narrative with the Mariners and showed up in good shape, seeing the results in 2021. Rodriguez launched 10 homers in 93 Low-A games to go with a solid 12% walk rate earning him a late season promotion to High-A.
While Rodriguez has present power and good bat speed, there is some question as to how much more he has in the tank given the lack of projection in his frame. The 20-year-old has no problem lifting the ball pull side and looks to do damage that way a bit too much leading to some rollovers and getting out and around the ball. Still young with tools, good feel for the strike zone, and a sweet swing, Rodriguez could turn into a nice hitter for the Mariners as he polishes his approach.
Defense/Speed
Rodriguez is a bat first prospect who will end up in either corner of the outfield. His arm is good enough and he is moving as well as we have seen him move in the field which leaves some hope that he can become an average outfielder. With average speed at best, Rodriguez likely won't be much of a menace on the base paths.
Outlook
There is a lot of pressure on the bat of Rodriguez, but at just 20-years-old there is plenty to be excited about in that regard. His swing has some Jazz Chisholm in it, built for home runs despite not the most imposing stature. For Rodriguez to reach his full potential at the plate, he will need to demonstrate that he can drive the ball to all fields. Rodriguez has a natural feel to hit that should give him a chance to be a productive bat. 25 home runs and a decent walk rate is a feasible best case scenario for the Mariners prospect.
Names to watch
Adam Macko – LHP: A tough lefty with a mid-90s fastball and plus curveball, Macko could be in a big league bullpen by next year. The Mariners don't want to limit him to that yet, and as he refines his other offerings and looks to improve his command, the hope is that Macko will develop into a mid rotation swing and miss lefty. Unfortunately health was another obstacle for Macko in 2021, but he showed how good his stuff can be.
Milkar Perez – 3B: Still a teenager, Perez is far away from Seattle. In the limited action I have been able to see him, there is a lot to like with his offensive profile. A good approach and smooth repeatable swing geared for line drives, Perez has some intriguing components to his bat.
Kaden Polcovich – UTIL: A toolsy switch hitting second baseman, Polcovich has above average pop from both sides of the plate; he also can expand the zone with an aggressive approach. A plus athlete, Polcovich has the ability to play all over the field, logging games at second base, center field, shortstop, and third base. While I have some concerns around his hit-tool, Polcovich could be a really dynamic switch-hitting utility player at the big league level thanks to his versatility, athleticism and power.
Check out our other Team Top 10 Prospect lists!
Baltimore Orioles Top 10 Prospects
Tampa Bay Rays Top 10 Prospects
Kansas City Royals Top 10 Prospects
Detroit Tigers Top 10 Prospects